DeAndre Daniels
Recent Tweets
All Tweets
DraftExpress: Least productive player we wrote about. But there's a reason we did. RT @DraftExpress2 Alright DeAndre Daniels you've got our attention.
2012-11-09 19:43:42
Deandre Daniels quietly getting it done. Made some 3's, finishing in transition, playing hard. Never seen him before, looks interesting.
2010-08-26 00:25:07
Here comes Rivers, Johnny O'Bryant, Deandre Daniels, Adonis Thomas and maybe Jahii Carson? Rivers struggled in first game. Lets see now.
2010-08-26 00:20:38
Team: Connecticut, Sophomore
Physicals
Positions
Rankings
Misc
H: 6' 8"
W: 193 lbs
Bday: 04/15/1992
(21 Years Old)

Current: SF
NBA: SF
Possible: SF

Rank 40 in NCAA Sophomores
RSCI: 59

High School: Taft
Hometown: Woodland Hills, CA

Predraft Measurements
| Height w/o Shoes | Height w/shoes | Weight | Wingspan | Standing Reach | Body Fat | No Step Vert | Max Vert | Bench Press | Lane Agility | 3/4 Court Sprint | Class Rank |
| --- | --- | --- | --- | --- | --- | --- | --- | --- | --- | --- | --- |
| 6' 7" | NA | 193 | 7' 1" | NA | NA | NA | NA | NA | NA | NA | NA |



Basic Per Game Statistics

- Comprehensive Stats - Statistical Top 25s
| Year | League | Name | GP | Min | Pts | FG | FGA | FG% | 2Pt | 2PtA | 2P% | 3Pt | 3PtA | 3P% | FTM | FTA | FT% | Off | Def | TOT | Asts | Stls | Blks | TOs | PFs |
| --- | --- | --- | --- | --- | --- | --- | --- | --- | --- | --- | --- | --- | --- | --- | --- | --- | --- | --- | --- | --- | --- | --- | --- | --- | --- |
| 2012/13 | NCAA | DeAndre Daniels | 30 | 29.2 | 12.1 | 4.7 | 10.0 | 46.8 | 4.0 | 7.7 | 51.5 | 0.7 | 2.3 | 30.9 | 2.1 | 2.9 | 70.5 | 1.3 | 4.2 | 5.5 | 0.7 | 0.8 | 1.5 | 1.7 | 2.7 |

Player Page&nbsp&nbsp| Player Stats | Related Articles&nbsp&nbsp| Add to My Draft Express&nbsp
&nbsp
Top NBA Prospects in the Big East, Part Five
October 22, 2012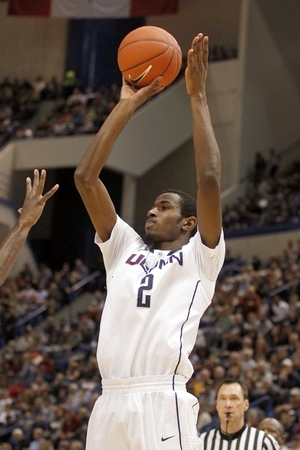 US Presswire



Joe Treutlein

Heading into his sophomore season, DeAndre Daniels should see plenty of opportunities to expand on his modest freshman debut, as four of the Huskies' top six scorers from last year are no longer on campus after transferring or being drafted. Daniels only averaged 12.1 minutes per game as a freshman, and didn't jump off the page in the box scores, but could change that this season.

Standing 6'8 with a decent frame that has yet to fully develop and very good length, DeAndre Daniels isn't an overwhelmingly athletic player, but is fluid, coordinated, and has enough quickness to get the job done given his good height and length. He's also very well conditioned, as evidenced by his finishing first for the second straight year in the Huskies men's basketball team's annual 3.4-mile "Husky Run."

Daniels started the year seeing between 15 and 36 minutes in all of his first seven games, but fell out of the rotation as the season went on. He barely played at all late in the year, seeing under seven minutes per game in all of the team's final nine games, including two DNP-CD's.

Despite being ranked in the top-20 in his class by four different recruiting outlets coming out of high school, with his scoring ability being a significant factor working in his favor, he struggled to ever get anything consistently going putting the ball in the basket as a freshman. While his three-point shooting is probably his most noteworthy skill at this stage (more than half of his attempts came from behind the arc as a freshman), he only managed to shoot 24% from three (and 34.1% overall).

Daniels appears to have a solid shooting stroke, being somewhat flat footed and having a slight tendency to fade away, but making up for it with his excellent extension and very high release point due to his size and length. The most interesting thing to watch for heading into his sophomore season is if he can reclaim the status as a very good three-point shooter that he had coming into college.

Daniels' dribble-drive ability is hard to evaluate based on his debut season, as he managed just eight isolation attempts in the 25 games logged by Synergy Sports Technology. Only two of those possessions resulted in scores, and both were on contested pull-up jumpers, as he hasn't displayed any ability to get past his man off the dribble at this level. His handle doesn't appear especially tight, not does he appear to have a very good first step with the ball, but it's really difficult to judge on the limited sample size and hopefully that's something we'll be able to get a better read on this year if he expands his role.

Other than his spot-up shooting, the other area Daniels managed to contribute some at a freshman was finishing on cuts to the basket and in transition, where he did a solid but not especially impressive job. He shows nice touch, coordination, and takes advantage of his size and length well, but doesn't play much above the rim and doesn't do well finishing through contact at this stage. Daniels' slight build in both his lower and upper body surely contribute to this, and how he can develop his strength in both areas will likely be a key to both his college success and pro potential. It's certainly possible he's not playing at his athletic peak from a quickness or explosiveness standpoint, and bolstering his lower body could help him there.

To Daniels' credit, he appears to be a good team player and is frequently cited as one of the hardest workers on the team by his coaching staff, which has been a theme in media reports this offseason. He does a solid job moving without the ball, hustling on both ends of the floor, and making flow-of-the-offense passes, so now it's just the matter of displaying the skills to earn a more significant role on the team.

Defensively, Daniels is a bit of a mixed bag, on one hand not having great foot speed moving laterally and not benefitting much from a relatively high center of gravity. However, he does do a good job utilizing his size and length to make up for his other shortcomings, allowing him to keep his man at bay and contest shots, while also showing a solid fundamental base. Given the Huskies' roster make-up, he may also see a good chunk of minutes at power forward this season, though given his lack of bulk and underwhelming rebounding, that may not be the best fit for him long-term and effectively takes away the size advantage he has on the wing.

Looking forward, it'd be foolish to read too much into Daniels' limited freshman season, though it was certainly not what those in Storrs were hoping for from a player ranked as high as #10 in his recruiting class. He should have endless opportunities to show vast improvement as a sophomore, and there's really no area of his game where he couldn't help himself by showing something more. How he develops physically could be the most important factor for him long-term, but he'll also need to show a consistent, NBA-level offensive skill at some point, until which time it's impossible to make any long-term projections about his potential.

[Read Full Article]

---