DeAndre Daniels
Recent Tweets
All Tweets
DraftExpress: At #37 Toronto selects DeAndre Daniels from UConn.
2014-06-26 23:15:19
DraftExpress: Least productive player we wrote about. But there's a reason we did. RT @DraftExpress2 Alright DeAndre Daniels you've got our attention.
2012-11-09 19:43:42
DraftExpress2: Alright DeAndre Daniels you've got our attention.
2012-11-09 19:24:54
Deandre Daniels quietly getting it done. Made some 3's, finishing in transition, playing hard. Never seen him before, looks interesting.
2010-08-26 00:25:07
Here comes Rivers, Johnny O'Bryant, Deandre Daniels, Adonis Thomas and maybe Jahii Carson? Rivers struggled in first game. Lets see now.
2010-08-26 00:20:38
Team: Perth
Physicals
Positions
Rankings
Misc
H: 6' 8"
W: 196 lbs
Bday: 04/15/1992
(23 Years Old)

Current: SF
NBA: SF
Possible: SF

RSCI: 59

High School: Taft
Hometown: Woodland Hills, CA
Drafted: Pick 37 in 2014 by Raptors

Predraft Measurements
| Year | Source | Height w/o Shoes | Height w/shoes | Weight | Wingspan | Standing Reach | Body Fat | No Step Vert | Max Vert |
| --- | --- | --- | --- | --- | --- | --- | --- | --- | --- |
| 2014 | NBA Draft Combine | 6' 7.25" | 6' 8.5" | 196 | 7' 2" | 8' 10.5" | 3.9 | 26.5 | 32.0 |
| 2013 | Kevin Durant Camp | NA | 6' 8.5" | 190 | 7' 0.5" | NA | NA | NA | NA |
| 2010 | NBA Top 100 Camp | 6' 7" | NA | 193 | 7' 1" | NA | NA | NA | NA |



Basic Per Game Statistics

- Comprehensive Stats - Statistical Top 25s

Player Page&nbsp&nbsp| Player Stats | Mock Draft History | Related Articles&nbsp&nbsp| Add to My Draft Express&nbsp
&nbsp
2014 NBA Combine Interviews: DeAndre Daniels and Shabazz Napier
May 16, 2014
[Read Full Article]

---
DeAndre Daniels Scouting Report and Video Breakdown
May 5, 2014
Scouting Report by Jonathan Givony. Video Breakdown by Mike Schmitz

DeAndre Daniels saved the best basketball of his career for the NCAA Tournament, stringing together an impressive six game run to help his UConn team win a National Championship. Daniels elected to strike while the iron was hot and declared for the NBA Draft a few weeks later. Now that his college career is over, we'll take an inventory of everything he displayed this season as an NBA prospect, as well as the things he still has to improve on.
---
-Adreian Payne Scouting Report and Video Breakdown
-Jordan Adams Scouting Report and Video Breakdown
-Isaiah Austin Scouting Report and Video Breakdown
-Jerami Grant Scouting Report and Video Breakdown
-James Young Scouting Report and Video Breakdown
-Gary Harris Scouting Report and Video Breakdown
-Kyle Anderson Scouting Report and Video Breakdown
-P.J. Hairston Scouting Report and Video Breakdown
-Zach Lavine Scouting Report and Video Breakdown
-Artem Klimenko Scouting Report and Video Breakdown
-Tyler Ennis Scouting Report and Video Breakdown
-Rodney Hood Scouting Report and Video Breakdown
-Doug McDermott Scouting Report and Video Breakdown
-Andrew Wiggins Scouting Report and Video Breakdown
-Elfrid Payton Scouting Report and Video Breakdown
-Marcus Smart Scouting Report and Video Breakdown
-NBA Draft Prospect of the Week: C.J. Wilcox (Video Scouting Report)
-NBA Draft Prospect of the Week: T.J. Warren (Video Scouting Report)
-NBA Draft Prospect of the Week: A.J. Hammons (Video Scouting Report)
-NBA Draft Prospect of the Week: K.J. McDaniels (Video Scouting Report)
-NBA Draft Prospect of the Week: Deonte Burton (Video Scouting Report)
-NBA Draft Prospect of the Week: Noah Vonleh (Video Scouting Report)
-NBA Draft Prospect of the Week: Nik Stauskas (Video Scouting Report)
-NBA Draft Prospect of the Week: Aaron Gordon (Video Scouting Report)
-NBA Draft Prospect of the Week: Clint Capela (Video Scouting Report)
-NBA Draft Prospect of the Week: Thanasis Antetokounmpo (Video Scouting Report)
-NBA Draft Prospect of the Week: Shabazz Napier (Video Scouting Report)
-NBA Draft Prospect of the Week: Bogdan Bogdanovic (Video Scouting Report)
-NBA Draft Prospect of the Week: Joel Embiid (Video Scouting Report)
-NBA Draft Prospect of the Week: Julius Randle (Video Scouting Report)
-NBA Draft Prospect of the Week: Jabari Parker (Video Scouting Report)
-Revisiting Giannis Antetokounmpo (Video Scouting Report)
-Revisiting Damian Lillard (Video Scouting Report)
-Revisiting Nikola Mirotic (Video Scouting Report)
-Revisiting Alexis Ajinca (Video Scouting Report)
---
Daniels looks the part of a NBA small forward. He has excellent size (right around 6-9 in shoes), with a long 7-foot wingspan, big hands, a frame that should fill out nicely in time, and above average athleticism.

Daniels' biggest strength as a NBA prospect, besides his excellent size and length, likely revolves around his perimeter shooting ability. He improved greatly in this area from his first two years in college, where he made just 33 of 128 attempts (28%) from beyond the arc to start off his career, knocking down an outstanding 42% of his 3-pointers (50/120) as a junior.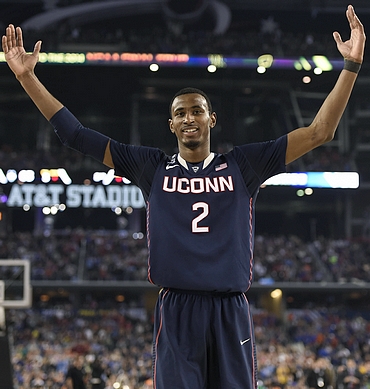 US Presswire



Although his release isn't ultra-quick, he has a high release point on his shot, which coupled with his size allows him to get his jumper off from a very difficult vantage point for defenders to contest. He was effective both with his feet set and off the dribble this season, and has the added bonus of being able to hit difficult turnaround jumpers from the mid and low-post over either shoulder, something UConn head coach Kevin Ollie utilized frequently as the season moved on.

Daniels played a variety of roles and positions for UConn this season, seeing time at small forward, power forward and even at center in small doses depending on the matchup, something that's possible thanks to his superior size and length. Although his defense was very inconsistent for most of the season, he showed great potential down the stretch when he was fully engaged and dialed in, showing the ability the lock down perimeter players and big men alike with his long reach and solid footwork. He shows nice timing as a shot-blocker, allowing him to average a solid 2+ blocks per-40 minutes in each of his three seasons at UConn, sometimes recovering nicely to make a play at the rim even after getting beat off the dribble.

Adding strength will be a major priority for Daniels, as he doesn't deal very well with contact on either end of the floor. He didn't put on much weight in his three years of college seemingly, being listed at 195 pounds by UConn this year after weighing 193 pounds four years ago at the NBPA Top-100 Camp.

Daniels is not a great ball-handler, showing a very high, loose dribble that mostly relegates him to being a straight-line driver, something he was able to do semi-effectively at the college level by being used as a mismatch threat from the elbows with his very long strides. When asked to create from further away, Daniels struggles, rarely getting all the way to the rim due to his average first step, lack of strength and tendency to shy away from contact. He converted just 49% of his half-court attempts inside the paint this season, a fairly poor rate, and got to the free throw line just 3.3 times per-40 minutes, the fifth worst rate of all college prospects in our Top-100 rankings.

Only generating 17 assists in 1100 minutes (one ever 65 minutes) this season, Daniels also ranks not only as one of the worst passers in this draft (dead last in our Top-100), but also historically as well. Daniels simply doesn't see the court at all once he puts the ball on the floor, as he regularly dribbles into double teams and struggles to make even basic passes to teammates. With his 3.6% assist percentage and .6 assists averaged per-40 minutes, he will be the worst passing small forward to get drafted since Al Thornton in 2007.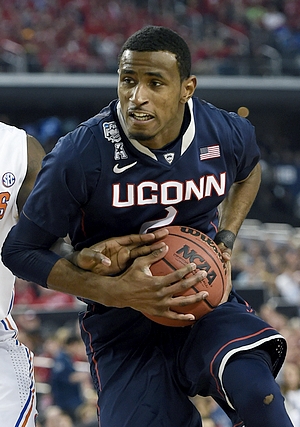 US Presswire



Defensively, Daniels has work to do as well. He shows average fundamentals, often playing hunched over, and not offering a great deal of resistance to stronger players both on the perimeter or inside the paint. While he got significantly better in the NCAA Tournament, his focus wavered here for much of the season, as he didn't always put the best effort here and had a tendency to give up on plays.

Daniels was fairly inconsistent in general for much of his college career, as he didn't crack double digit scoring in 11 of UConn's first 28 games, before catching fire at the end, doing so in 9 straight games leading up to the NCAA Tournament Championship game. NBA teams will have to decide how heavily to weigh the very impressive last month of his college career. Did the light bulb simply finally come on for Daniels? Will it stay on once the NBA season starts? While Daniels is far from a finished product, he's also a year older than his class, having just turned 22 and thus being older than some college seniors.

We've taken a more visual look at Daniels' strengths and weaknesses thanks to UConn game film in the following video scouting report, courtesy of Mike Schmitz.



All of our video scouting reports this season can be found here.

[Read Full Article]

---
Top NBA Prospects in the AAC, Part Four: (#11-15)
October 25, 2013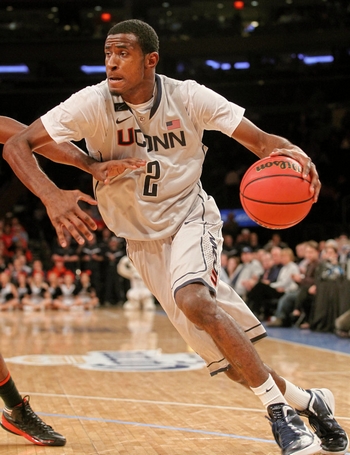 US Presswire



Josh Riddell

Up and down throughout his sophomore year, DeAndre Daniels ended his season on a high, averaging 21.2 points per game and 9.0 rebounds per game over his last four outings. He will look to ride this momentum into the 2013-14 season, as a 20-win Connecticut team returns all five starters and are now eligible for a postseason bid.

After playing only 12 minutes a game as a freshman, Daniels stepped into a bigger role in his second year, seeing 29.2 minutes per game. His production on a per-40 minute pace adjusted level also increased notably, but scouts will want to see more consistent production from him throughout the season. Daniels ended up scoring 12.1 points per game, shooting 51% on 2's and 30.9% on 3's while contributing 5.5 rebounds per game.

What has put Daniels on the map with scouts are his athletic tools and potential. Measuring 6'8 ˝" with a long 7'0 ˝" wingspan, Daniels has put on some weight while at Connecticut but still has some room to fill out his wiry 195 pound frame. He has great speed and is able to get up and down the floor quickly in transition faster than most players his size.

Offensively, Daniels has struggled to find one definitive skill he can hang his hat on to allow him to put up points on a nightly basis, besides filling the lane in transition. Daniels can be tough to matchup against, as he can shoot over smaller defenders in the post from the small forward position and beat bigger defenders off the dribble in isolation situations as a power forward. At this point in his career, his ball handling skills are merely average and he is not strong enough to back down post defenders, so it remains to be seen if he can find sustained success in either of these areas.

Daniels has decent shot mechanics, helped by his length to allow him to have a high release point preventing his shot from being blocked, but this hasn't translated into results yet. He shot only 35% on all jump shots last season, according to Synergy Sports. With his frail body type, Daniels projects as a perimeter player at the next level so he will need to become a more consistent shooter to show he can help stretch the floor.

Around the rim, Daniels improved from his freshman to sophomore season, both in the number of shots taken per game as well as his field goal percentage on these attempts (52.9% to 56.3%), according to Synergy Sports. As he continues to add strength, he will find it easier to finish, especially through contact. There are times when he is still unwilling to absorb contact which causes him to alter his shot in a negative way instead of drawing a foul. Scouts will want to see him be more aggressive on a regular basis, while using his explosiveness to play above the rim or creating free throw attempts by driving into the defense.

Defensively, Daniels has the physical tools to be an adequate defender but doesn't quite seem to have the fundamentals to match yet. While he has the speed to stay in front of ball handlers on the perimeter, he has the tendency to stand upright or be slow in moving his feet, which leads to him getting beat off the dribble. However, he then has the length and agility to recover and challenge the shot and his 2.0 blocks per 40 minutes pace adjusted ranked 6th among small forwards last season.

Bigger offensive players can take advantage of the strength discrepancy by posting up Daniels, as they are able to secure great position by backing him down on the block. Daniels' length allows him to mitigate this somewhat, as he can disrupt the shot attempt, but most good post players will be able to score on him until he adds some strength.

It will be interesting to see how Daniels fares in his second season as a major contributor for the Huskies. With all five starters returning, there should be some measure of cohesiveness that will hopefully improve an already efficient offense. Daniels' physical assets will always draw intrigue, but he will need to be demonstrate more consistent production on the offensive end to generate sustained interest and keep the attention of scouts as the season continues.

[Read Full Article]

---
Top NBA Prospects in the Big East, Part Five
October 22, 2012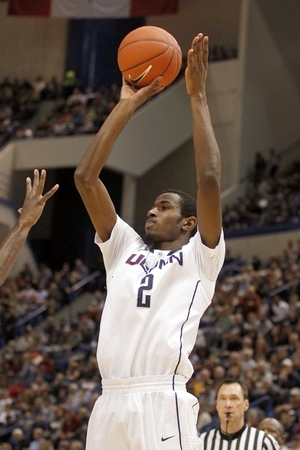 US Presswire



Joe Treutlein

Heading into his sophomore season, DeAndre Daniels should see plenty of opportunities to expand on his modest freshman debut, as four of the Huskies' top six scorers from last year are no longer on campus after transferring or being drafted. Daniels only averaged 12.1 minutes per game as a freshman, and didn't jump off the page in the box scores, but could change that this season.

Standing 6'8 with a decent frame that has yet to fully develop and very good length, DeAndre Daniels isn't an overwhelmingly athletic player, but is fluid, coordinated, and has enough quickness to get the job done given his good height and length. He's also very well conditioned, as evidenced by his finishing first for the second straight year in the Huskies men's basketball team's annual 3.4-mile "Husky Run."

Daniels started the year seeing between 15 and 36 minutes in all of his first seven games, but fell out of the rotation as the season went on. He barely played at all late in the year, seeing under seven minutes per game in all of the team's final nine games, including two DNP-CD's.

Despite being ranked in the top-20 in his class by four different recruiting outlets coming out of high school, with his scoring ability being a significant factor working in his favor, he struggled to ever get anything consistently going putting the ball in the basket as a freshman. While his three-point shooting is probably his most noteworthy skill at this stage (more than half of his attempts came from behind the arc as a freshman), he only managed to shoot 24% from three (and 34.1% overall).

Daniels appears to have a solid shooting stroke, being somewhat flat footed and having a slight tendency to fade away, but making up for it with his excellent extension and very high release point due to his size and length. The most interesting thing to watch for heading into his sophomore season is if he can reclaim the status as a very good three-point shooter that he had coming into college.

Daniels' dribble-drive ability is hard to evaluate based on his debut season, as he managed just eight isolation attempts in the 25 games logged by Synergy Sports Technology. Only two of those possessions resulted in scores, and both were on contested pull-up jumpers, as he hasn't displayed any ability to get past his man off the dribble at this level. His handle doesn't appear especially tight, not does he appear to have a very good first step with the ball, but it's really difficult to judge on the limited sample size and hopefully that's something we'll be able to get a better read on this year if he expands his role.

Other than his spot-up shooting, the other area Daniels managed to contribute some at a freshman was finishing on cuts to the basket and in transition, where he did a solid but not especially impressive job. He shows nice touch, coordination, and takes advantage of his size and length well, but doesn't play much above the rim and doesn't do well finishing through contact at this stage. Daniels' slight build in both his lower and upper body surely contribute to this, and how he can develop his strength in both areas will likely be a key to both his college success and pro potential. It's certainly possible he's not playing at his athletic peak from a quickness or explosiveness standpoint, and bolstering his lower body could help him there.

To Daniels' credit, he appears to be a good team player and is frequently cited as one of the hardest workers on the team by his coaching staff, which has been a theme in media reports this offseason. He does a solid job moving without the ball, hustling on both ends of the floor, and making flow-of-the-offense passes, so now it's just the matter of displaying the skills to earn a more significant role on the team.

Defensively, Daniels is a bit of a mixed bag, on one hand not having great foot speed moving laterally and not benefitting much from a relatively high center of gravity. However, he does do a good job utilizing his size and length to make up for his other shortcomings, allowing him to keep his man at bay and contest shots, while also showing a solid fundamental base. Given the Huskies' roster make-up, he may also see a good chunk of minutes at power forward this season, though given his lack of bulk and underwhelming rebounding, that may not be the best fit for him long-term and effectively takes away the size advantage he has on the wing.

Looking forward, it'd be foolish to read too much into Daniels' limited freshman season, though it was certainly not what those in Storrs were hoping for from a player ranked as high as #10 in his recruiting class. He should have endless opportunities to show vast improvement as a sophomore, and there's really no area of his game where he couldn't help himself by showing something more. How he develops physically could be the most important factor for him long-term, but he'll also need to show a consistent, NBA-level offensive skill at some point, until which time it's impossible to make any long-term projections about his potential.

[Read Full Article]

---