DeAndre Jordan
STRENGTHS:
- Ability to get to free throw line
- Excellent hands
- Nimble footwork
- Defensive potential
- Pick and roll defense
- Huge upside
- Work ethic
- Ability to finish around basket
- Freakish athleticism
- Incredibly quick
- Physical specimen
- Size for position
- Wingspan
- Excellent rebounder
WEAKNESSES:
- Extremely limited w/back to the basket
- Footwork/Post-moves
- Defensive awareness
- Gets backed down in post
- Shot-blocking skills
- Doesn't always play hard
- Fundamentals
- High bust potential?
- Maturity
- Mental/Physical toughness?
- Not ready to contribute immediately
- Not productive enough
- Poor passer
- Ability to finish through contact
- Strength
- Free throw shooting
Recent Tweets
All Tweets
DraftExpress: Jordan was projected top-5 too. RT @cjt20one: Drummond seems like a DeAndre Jordan clone, who went 2nd round. Why is AD projected Top 5?
2012-03-16 01:31:27
Hassan Whiteside's agent was super pissed that I compared him to DeAndre Jordan on twitter today. Both are super talents who fell to the 2nd
2010-06-24 21:38:00
Naa. That's Hassan Whiteside. He'll be co-authoring the book. RT @OtisSmithGM: Orton is going to be this years DeAndre Jordan. Book it.
2010-06-24 12:20:01
No. Think more along the lines of DeAndre Jordan. In a good way. RT @teebeebee: Good comparison to HWhiteside would be Anthony Randolph??
2010-03-11 22:48:06
Top 25s - Full List
Team: Clippers
Physicals
Positions
Rankings
Salary
Misc
H: 6' 11"
W: 250 lbs
Bday: 07/21/1988
(27 Years Old)

Current: C
NBA: C
Possible: C

RSCI: 14

Agent: Dan Fegan
Current Salary:$11,440,123

High School: Christian Life Center Academy
Hometown: Bellaire, TX
Drafted: Pick 35 in 2008 by Clippers
Best Case: Andrew Bynum
Worst Case: Patrick OBryant

Predraft Measurements
| Year | Source | Height w/o Shoes | Height w/shoes | Weight | Wingspan | Standing Reach | Body Fat | No Step Vert | Max Vert |
| --- | --- | --- | --- | --- | --- | --- | --- | --- | --- |
| 2008 | NBA Pre-Draft Camp | 6' 9.75" | 6' 11" | 250 | 7' 6" | 9' 5.5" | 7.5 | 26.0 | 30.5 |



Basic Per Game Statistics

- Comprehensive Stats - Statistical Top 25s
| Year | League | Name | GP | Min | Pts | FG | FGA | FG% | 2Pt | 2PtA | 2P% | 3Pt | 3PtA | 3P% | FTM | FTA | FT% | Off | Def | TOT | Asts | Stls | Blks | TOs | PFs |
| --- | --- | --- | --- | --- | --- | --- | --- | --- | --- | --- | --- | --- | --- | --- | --- | --- | --- | --- | --- | --- | --- | --- | --- | --- | --- |
| 2015/16 | NBA | DeAndre Jordan | 17 | 32.1 | 10.5 | 3.9 | 5.5 | 70.2 | 3.9 | 5.5 | 70.2 | 0.0 | 0.0 | &nbsp | 2.7 | 7.0 | 38.7 | 3.0 | 9.4 | 12.4 | 1.1 | 0.6 | 2.8 | 1.2 | 3.4 |

Player Page&nbsp&nbsp| Player Stats | Mock Draft History | Related Articles&nbsp&nbsp| Add to My Draft Express&nbsp
&nbsp
Opportunity Knocks: The [DeAndre] Jordan Rules
July 4, 2015
DeAndre Jordan is "feeling the love" this morning. His signing with the Dallas Mavericks has signaled the start of a whole new level of adulation, expectation, and scrutiny for the big personality, big man; which is fitting. He's Bold. He's Competitive. He's Nonconforming. He's a Maverick at heart, and now, in practice.
---
More From Sports Aptitude
-DeMarre Carroll's Long and Winding Road to Stardom
-The Unbearable Lightness of Patrick Beverley
-Everybody Loves Draymond Green
-Jimmy Butler's Rise to Stardom
-How Situation Impacts Success, Part Two
-How Situation Impacts Success, Part One
-The Thin Line Between Busts and Steals
---
But the path of the Maverick is often marked by the high-stakes gambles they take in order to reach the top. Such was the case of Jordan early on in his career. Despite his status as a physical specimen, standing at 6'11" with a 7'6" wingspan, Jordan's elite measurables were not enough to overcome concerns about his "character". This is a term as ambiguous as "role player," for those of us focused on the situation-specific details of "cause and effect".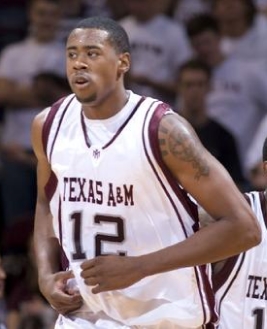 Texas A&M Athletics



After a tumultuous single season at Texas A&M, the once highly recruited big man fell to the second round, where the Los Angeles Clippers took him with the 35th pick in the 2008 NBA Draft. While there is no doubt that Jordan's actionsmay have warranted a level of concern, a more thorough understanding of the cause of those actions could have yielded a "max" level result earlier in the draft.

Social psychology may not be a "magical" solution for unlocking every player's hidden potential. But an understanding of the Fundamental Attribution Error, combined with quality scouting intel, and 1000+ SA player assessment records can certainly help to navigate and separate the "character" risks of Michael Beasley, J.R. Giddens, and DeAndre Jordan more effectively.

INDIVIDUAL STORY & ANTICIPATED ROLE

Jordan was a Top 15 RSCI high school prospect and landed at Texas A&M after being heavily recruited by head coach Billy Gillespie. But before Jordan ever played a game for the Aggies, Gillespie departed for Kentucky and Mark Turgeon took over.

Jordan was eloquently described as "Impressionable" by Kevin Arnovitz this morning in his ESPN piece covering the particulars of what led to his decision to join the Mavs. This down-stated reference belays a deeper significance, however. In the entire Sports Aptitude database, Jordan rates higher than 91% of other NBA players in Warmth. He is the consummate "People Person" whose decisions are strongly led by the tenor of the relationships he forms.

Gillespie's departure likely had a greater impact on Jordan's state of mind than it would have on the average player. The recruiting process is strongly relationship-oriented, an investment in trust that was thrown into uncertainty upon his arrival. For a personality like Jordan, such a change was sure to trigger his Distrustful/Wary instincts before anything else. In the SA database, this indicates the potential for having "negative expectations for unfamiliar situations with a higher susceptibility for emotional reactivity when faced with sudden adversity."

Jordan's role at Texas A&M had a strong chance of backfiring. "Rim protection" wasn't as en vogue as a "sexy" high paying role in the NBA when Jordan was entering the draft in 2008. Top center prospects, such as Brook Lopez and Roy Hibbert, were still being evaluated more for their low-post offensive potential over "rim-rolling" and "rim running", which have received much better press – and pay – in today's game.

Jordan is 40% more Risk-Taking, 27% more Goal-Oriented, and 24% less Analytical than the average NBA player. These traits suggest Jordan has an intense focus on the moment, and is willing to take chances to reach the high standards he sets for himself. It's easy to see how Jordan may have reacted poorly to the perception that his value was being hurt while at A&M.

Immersed in an unfulfilling environment for a prolonged period of time and armed with "rebel" tendencies, Jordan's level of maturity and willingness to self-monitor his behavior at a young age may have been non-existent at the time. His short-sightedness and bold attitude were devoid of a connection to someone who could provide guidance that he was likely to accept. As a top recruit, he may have needed his "ego checked" but this was inevitably going to require nurturing trust to get "buy-in" vs. "breaking" him through consequence and punishment.

Jordan played only 20 total minutes in Texas A&M's two NCAA Tournament games, leading to questions about his attitude and maturity, which were reinforced by reportedly lackadaisical pre-draft workouts.

A prideful, perceptive, but young and inexperienced person at the time, Jordan very well may have entered the pre-draft process with negative expectations based on his recent past experiences. Being in a negative frame of mind and not fearing the repercussions of his actions as much as the average player would, Jordan's Nonconforming mentality and willingness to take risks were unlikely to do him any favors at this point. From here, two situational disasters ensued.

The first was his circumstantial, pairing with Michael Beasley during the pre-draft prep process. Jordan, already frustrated and susceptible to influence, likely naturally gravitated toward the care-free attitude of Beasley. Though extremely competitive, Jordan's more willful qualities were bound to be reinforced by the care-free, blasé demeanor of his workout partner. Being around a probable top-three pick with no sense of urgency would be a toxic mix for Jordan, who shared a similar high school pedigree, but lacked the same industry appeal at the time.

The second issue arose from his pre-draft workout strategy. In an effort to bolster his former status as a top 15 recruit and elite prospect, Jordan only worked out with teams with high draft picks. The NBA had yet to establish the "speed dating" style interview process that is so vital to the value of Chicago's pre-draft combine. As his workouts progressed, Jordan gave off the impression of playing up and down to his level of competition. When going against the Westbrook's and Rose's – his perceived status group – he'd go all out, befitting of his best competitive qualities. But against "lesser" competition, he gave off the impression of coasting.

From the NBA's perspective, these concerns were major red flags, possibly even fatal flaws, and it was enough to plunge his draft stock from the lottery to the second round.

TEAM ENVIRONMENT & OPPORTUNITY GIVEN

Well…so much for that. Hindsight helps us to unravel those early miscalculations as the trial and error period of his burgeoning best qualities. Those qualities were severely hindered by situations both within and beyond his control. The next phase in his development would have its bumps, but would progress at a steadier clip.

Jordan entered into the league with a fresh start and quickly made use of his Bold/Combative qualities on a porous Clippers team, carving out a solid role early on, despite the presence of veterans Marcus Camby, Zach Randolph, and Chris Kaman. Sports Aptitude defines those bold/combative qualities as a player who is "highly assertive, plays with an edge, is tough-minded, stubborn, and seeks out challenges without fear."

But, that competitive edge wouldn't be completely harnessed until he finally established a solid player-coach relationship. Once Doc Rivers entered the picture, he changed the course of Jordan's career. Rivers' coaching style empowered Jordan and helped him channel those Bold/Combative attributes into a laser-focus on dominating in his strongest impact areas.

"Doc just wants me out there," Jordan said to ESPN in 2014. "[Last season] I'd shoot free throws and it'd be like, 'Damn, I have no chance.' Now when I get fouled and I have to go to the line, my teammates say, 'All right, D.J., knock 'em down like you always do.' Day 1, Doc told me I don't care if you air mail them to the 300 section, as long as you go back down and get me a stop on the next possession."



For Jordan, this may have manifested for him in multiple areas of his game, including some of his "reliability stats," such as rebounding, turnover ratio, and fouls. Under Rivers, Jordan began fouling significantly less and rebounding more. He posted career highs in assist-turnover ratio as well.



Jordan's efficiency stats also increased significantly after the hiring of Rivers. Before then, Jordan had a career Box Score Plus Minus of 0.8, but that has skyrocketed to 4.1 over the last two years. His VORP has increased similarly, from 0.8 to 4.3, as has his Player Efficiency Rating, from 15.1 to 19.7.

What's Next

Jordan has yet to develop as a low post scorer, but managed to produce an impressive 545 Value Added score on an insanely low 13.8% Usage Rate – the only player in the past 15 years to produce a 500+ VA score with a USG% under 20. This season he led all qualifying players with a 71.1 eFG% and was in the 96th percentile of points per possession, according to Synergy Sports Technology.



Including Jordan, 13 former NBA draftees share comparably high Goal-Oriented/Nonconforming traits. These players have a very high success rate, but may prefer to accomplish tasks in their own way, not easily dissuaded by some generic notion of "duty" or "obligation".

Jordan's past history is a strong indicator of what it will take for him to have success in his quest to take his game to the next level. The word "trust" is thrown around often in NBA circles, but the relationship dynamic between coach Rick Carlisle and Jordan looks to play a significant part in the story to come.

Though many teams would prefer a player who accepts his role, no questions asked, players with "big personalities" like Jordan might need different types of relationships. His most defining character traits suggest that he needed to be empowered in order to meet expectations..

Players who rank as highly in Risk-Taking are usually extremely Impulsive, but Jordan is 29% more Restrained than these players. This gives him an advantage in being able to withhold his risk-taking tendencies for the betterment of the team, provided he's in a situation where he feels personal loyalty to those close to him.

Having a personal connection with coach and teammates has already shown itself to have a significant influence on Jordan's career path. His relationship with Doc Rivers allowed Jordan to maximize his effort and potential on the defensive side of the court, while Dirk Nowitzki's reported presence at the Mavericks pitch presentation may have been as significant a factor in his decision as was Dallas' vision of his offensive contribution.

Like any strong-minded and assertive individual pursuing new challenges, Jordan's foray into the unknown territory of being a high usage player will surely have its exploratory ups and downs. But, Jordan has shown just how significant a difference that personal connection can make in his ability – and willingness – to handle adversity and stay on target.

The stronger those team bonds grow, the more grounded and restrained his response will be to the inevitable mistakes that come with mastering new things. Having trust that the whole organization is personally behind him, should yield dividends when it comes to his ability to accept professional, constructive criticism along the way.

As the Mavericks begin their gradual transition into the post-Nowitzki era, it will be fascinating to watch Jordan's progression into his prime years with this perspective in mind.

[Read Full Article]

---
Las Vegas Summer League Day Six
July 17, 2008
Jordan had another solid showing today, particularly on the defensive end. With his athleticism and amazing standing reach, Jordan seems to have improved defensively since the start of the summer league. He blocked 5 shots today, and has started reacting more quickly with his help-side rotations. The big still appears to be quite raw on the offensive end of the floor, but has good enough hands to be a target for an easy dish from a penetrating guard. He has been working to develop a hook shot as well, but it will be a while before this shot translates to the NBA. Jordan may never develop into the star that many people pegged him as, but the rookie looks to have a very promising career as a rotation big at the least.

[Read Full Article]

---
Las Vegas Summer League Day Three
July 14, 2008
Jordan had a very good game today, showing some of his considerable upside. He doesn't have a high skill level right now, and faces an uphill battle in developing an effective one, but he showed that he can produce with help from a good point guard on this level. Jordon was the recipient of a handful of nice alley oop passes, and while he didn't show almost anything with his back to the basket, there's something to be said for using him using his size and athleticism to score without getting touches. Though Jordan isn't very physically aggressive on the block, he will collect his fair share of rebounds due to his length. He flew over opponents on a number of occasions on his way to some tremendous putback dunks.

[Read Full Article]

---
Bad News for Those Who Didn't Do Their Homework Early...
March 26, 2008
Texas A&M lost a very close matchup with UCLA, but that didn't have all that much to do with DeAndre Jordan's play. The freshman came off the bench and contributed 6 points, 4 rebounds and 4 turnovers in 15 minutes. He was immediately called for a moving screen violation right after entering the game, but seemed to be off to a good start after making one very fluid pivot move in the lane for a nice looking basket, and then scoring on an athletic offensive rebound put-back dunk. Things mostly went south after that, as he was called for his second offensive foul for hooking Lorenzo Mata-Real while trying to establish position in the paint, and then committed another turnover after being doubled-teamed in the post, not having the strength or reaction time to handle it quickly enough—which has been typical for Jordan this season. He did score another basket on an easy layup after his man left him alone underneath the basket to double-team someone on the perimeter, but was finally benched late in the game after a foolish turnover on a lazy cross-court pass, and two rejections he suffered underneath the rim courtesy of Kevin Love.

Defensively, things weren't any better. He left his defender wide open for at least four wide open jump-shots, not hedging and recovering quickly or aggressively enough on pick and roll plays, and did a poor job denying position inside the paint, which gave Kevin Love a fairly easy jump-hook shot right over him. His lack of awareness was really exposed when he was supposed to switch on a screen and cover Darren Collison, but instead tried to get his teammate to switch back in mid-possession, and ended up giving up an easy 3-pointer.

Jordan did not finish off the season very well at all, scoring in double-digits just four times in all of January, February and March, after he was able to do so nine times in November and December. It's pretty obvious by now that Jordan is a project with a capital P, one that will demand a great deal of nurturing and patience before he's able to contribute much of anything in the NBA. He obviously needs another year in college to help prepare him for the pros, but the danger of not improving enough and damaging his stock badly may be too much to risk, even if it's rumored that he is currently leaning towards staying. That's the sad state of the NBA draft unfortunately. Jordan will have to develop a great work ethic and love for the game if he's going to have any chance of achieving his great potential.

[Read Full Article]

---
NCAA Weekly Performers, 2/21/08-- Part Two
February 22, 2008
Despite suffering through a somewhat underwhelming debut season coming off the bench, averaging 9.2 points in just 21 minutes per game, 19-year old freshman DeAndre Jordan looks like a pretty safe bet to be sitting in the Green Room on June 26th, the night of the NBA draft.

Watching his film, and looking beyond his stats, it's not difficult to tell why. Jordan is about as rare a physical specimen as you'll find, the type that NBA teams have a very difficult time passing up when considering what he might develop into down the road. Jordan is a legit 7-footer with a pterodactyl wingspan, outstanding hands, and unbelievable athleticism—showing terrific quickness, incredible explosiveness getting off his feet, running the floor like a deer, and making highlight reel caliber plays at times that few players in the world are able to execute.

Offensively, Jordan is still extremely raw, displaying unpolished footwork, having a tough time establishing position for himself in the post, and clearly struggling finishing through any type of contact, even against very average competition at times. He has a difficult time holding his spot on the block, lacking a great deal of core strength and balance, and therefore often preferring to fade away from his matchup softly rather than go up strong at the rim. He lacks fundamentals on this end of the floor, not really knowing how to set proper screens, blowing open dunks at times, and not possessing any real counter moves or a left hand to speak of at the moment. The abysmal 40% he shoots from the free throw line tells you all you need to know about his shooting range, while the five turnovers he commits for every one assist makes him the second worst player in our entire database in that category, and speaks volumes about where he is at in terms of his court awareness and overall feel for the game.

With that said, there is a great deal of potential (the operative word here) to speak of. Jordan has excellent hands, and this combined with the phenomenal extension he gets thanks to his terrific wingspan makes things fairly easy for him once he catches the ball close to the basket. He also has very solid touch, which leaves some hope that as he continues to grow into his frame, the rest of his offensive game won't be too far behind. Right now we see some basic post moves—a little drop stop, some simple jump-hooks, and of course some incredibly impressive dunks. His quickness in the post also makes him very effective at drawing fouls.

One area that Jordan shines, as you might expect, is on the glass, where he pulls down 12.2 rebounds per-40 minutes pace adjusted-- which ranks him 22nd in our database, and 5th amongst freshman. His length, quickness, hands and height are all felt here in a major way, and you'll often see him beating other players to the offensive glass with his tremendous second bounce, only to throw the ball in with an emphatic one-handed dunk.

Defensively, Jordan does not make as much as an impact as you might hope at this juncture of his career, especially considering the physical tools he has at his disposal. He gets pushed around due to his lack of strength, giving up too much space in the post waiting for the shot to go up, but does not display the instincts and reactivity you might hope for once it does. Jordan's awareness defensively is clearly average, both in the man to man setting and as far as team defense is concerned. He's only blocking 1.2 shots per game (2.2 per-40 minutes pace adjusted), which is a pretty disappointing number when all's said and done. Jordan clearly lacks some toughness on the defensive end, as his motor is average and he doesn't seem like one who is willing to do the dirty work. He does display impressive quickness hedging screens out on the perimeter, and has to be considered a factor to be reckoned with in the paint just by standing in the lane with his tremendously long arms outstretched.

All things considered, we're talking about possibly the biggest high-risk, high reward prospect in this draft. Jordan is the type of player who is capable of getting a GM fired for taking him too early, but he's also capable of getting a GM fired for deciding to pass on him. What it will probably boil down to at the end of the day is the work ethic and drive Jordan possesses to get better over the next few years. The early returns we're hearing in this area from scouts who have been out to watch him practice and play have not been the most encouraging regarding his maturity-level, mentality and all-around intangibles, though. The lack of improvement he's shown throughout his freshman season has been slightly concerning too, but to his credit, he's a player who needs to have a great point guard next to him to create shots for him, and A&M doesn't have anything close to that on their roster right now. According to numerous sources, Jordan is not getting along that well with his coaching staff, and will almost certainly be entering the draft once the season is over.

[Read Full Article]

---
NCAA Weekly Performers--Freshman Edition, Part Two
November 25, 2007
DeAndre Jordan is a special player. You can tell the second that you see him on the court. He is a legitimate 7'0 and at 240 pounds doesn't have to do as much work physically as many young post projects. His athleticism and quickness are stunning and he possesses athletic ability that recalls Dwight Howard and LaMarcus Aldridge. However, apart from his NBA ready size, he already has some NBA ready skills on the offensive and defensive end.

For one, his timing is impeccable. He is a great a rebounder, grabbing 8.4 in 5 games, and has almost as many offensive rebounds (19) than defensive rebounds (23). The way that he times his jump to grab rebounds is very impressive, especially coming from such a raw prospect. Put up against stellar rebounders in the likes of Jon Brockman, he still produces well (10 rebounds and 5 offensive rebounds in 21 minutes). In addition, because of this nice sense of timing and athleticism, Jordan projects to be a good shot blocker at the next level. Despite his 1.2 blocks/game average, he really shows instincts and timing essential to becoming a good shot blocker. At this point, it seems more like he is trying to stay out of foul trouble and less like he exploited his size and athleticism to get blocks in high school. The book is open about his shot blocking ability, but from what he has shown so far, there is a lot to like.

Offensively, he has shown some flashes of potential, as well. For one, the way that he uses his size and athleticism against some of the lesser competition he has faced in McNeese State is impressive, sailing in for acrobatic dunks over smaller competition. Against a more formidable defender, such as Washington's Jon Brockman, he also showed competency, utilizing some decent footwork to spin and lay the ball in. Overall, Jordan is extremely raw on the offensive end, but these flashes are enough to suggest that he's going to be able to develop some good post moves in the future. The fact that he has post instincts is promising and the ways that he moves. Also of note is how efficient he is in the Texas A&M offense alongside NIT Tip-Off MVP Joseph Jones. He doesn't force anything and though he clearly has the ability to be more of a factor on the offensive end, you can tell he is sacrificing his own stat line for the sake of the team.

Perhaps the real reason we're talking about DeAndre Jordan is the fact that he set the Big 12 record for consecutive baskets made at 17. At this stage, he is probably one of the most efficient scorers in NCAA basketball, averaging over 85% from the field. The only pressing concerns about Jordan involve his horrid free throw percentage, 18% on 22 attempts. Though coach Mark Turgeon attributes it to stage fright, this is definitely something to watch throughout the season.

Jordan is a tremendous talent and has definitely begun to tap into his vast potential at Texas A&M. Already establishing himself as one of the elite athletes and rebounders in the country, Jordan's continued consistent play is essential if the Aggies want a successful season. With good showings in their NIT Season Tip-Off run, Jordan is definitely a freshman to watch.

[Read Full Article]

---
U-19 World Championship Review: Big Men
August 29, 2007
Although he came into the tournament with the credentials of a top-recruit, Jordan left a very underwhelming impression. Yes, he's big, he's strong and he's nicely athletic for an inside man. He enjoys a superb frame, a very good wingspan and in general, an excellent physical profile. But his game screams raw at this point. On a team that was thoughtfully built, he was one of the most unnecessary pieces. Primarily a low-post player, he was unable to produce there, looking very uncomfortable against the well-structured international defenses that rarely allow pure one-on-one match-ups in the low post. So whenever he needed to deliver quick and precise moves, his lack of polished footwork got visibly exposed, showing very mechanical execution and poor touch. In the end, many of his points came from dunking open looks near the rim. It's also interesting to note that he looked like a pure finisher, showing little passing skills and creativity. At this point, he seems mostly to be about potential.

[Read Full Article]

---
Roundball Classic: Game Player Breakdowns
April 5, 2007
At times Jordan looked like he could be a lottery pick this year (if able to enter), while at times he looked like he had a long way ahead of him before he should consider entering his name in the NBA Draft. His physical attributes are comparable to only that of Dwight Howard, as once he gets the ball in the paint and is going towards the basket, you have two choices: Foul him or let him dunk on you. Jordan's size, length, athleticism, and NBA body already have scouts drooling, and have Aggie fans hoping that they will be fortunate enough to have him for more then a single season. He will come in and make his presence felt immediately on the defensive end, due to his mammoth size and leaping ability. That is where the surety's end with him, however.

DeAndre's post moves are still incredibly underdeveloped, as he scores virtually everything when going to his left hand. His shooting range is limited to about 8 feet at the moment, and he struggles mightily when double teamed. It is not uncommon to see him score only on dunks, when he is unable to get in a rhythm throughout the game. The Texas big man has a tendency to go for many shot fakes, allowing Kevin Love to score on him all night long.

[Read Full Article]

---
Roundball Classic Practices: Day Two
April 3, 2007
The seven foot freak put his talents on display in the second day of practice, using his immense physical abilities on both ends of the floor. His athletic ability reminds a bit of Dwight Howard at the same age, as opposing players had no choice but to foul Jordan or let him score, once he got his hands on the ball inside the paint. By no means does Jordan have post moves that are even somewhat reminiscent of Howard, but the potential for sheer physical dominance is certainly there. On the defensive end, the future Aggie made every single offensive player think twice before putting a shot up in the lane. His size, timing, and leaping ability have proven to be enough to change the entire score of a game. While DeAndre is still incredibly raw, the potential is clearly evident for him to be a one and done player once he hits Texas A&M, because he possesses absolutely everything that NBA teams are looking for in a young center prospect and has shown the ability to constantly get better over the years.

[Read Full Article]

---
Roundball Classic Practices: Day One
April 2, 2007


DraftExpress: What was going through your mind when all of the rumors of Coach Gillespie were leaving were circulating?

Jordan: I wasn't really too worried about it. I just tried to focus on school and stuff like that. I can't go to school if I don't graduate high school. I wasn't too worried about that, because if you're going to be successful, you're going to be successful anywhere you go. It doesn't matter what school or what coach you played for. I just kept calm while everyone else was panicking a bit. I just kept calm and waited to see what he was going to do. I just kept calm, that's it.

DraftExpress: If Coach Gillespie would have taken the job at Kentucky, or somewhere else, what would you have done?

Jordan: I can't really tell you right now. That didn't happen, so there's nothing to talk about. If he did leave, I probably would have left and went with him. I would have just looked at all my options.

DraftExpress: When selecting a college, were you looking to go to a school where you would have the opportunity to be one and done?

Jordan: I wanted to go to a school that had a good coach. I didn't care about the location, but I had to like the style of play. I wanted a lot of up and down play, a team that got the ball into the post a lot. A school who focused a lot on defense. I wanted to go to a school where I could not make a name for the school, not one necessarily already has a name for itself and I would be in the line of top recruits. I wanted to go somewhere where I could make a name for myself, and the school.

DraftExpress: What are your thoughts on the NBA's age rule

Jordan: They made the rule, so I guess they think it's the right thing. I just feel that if a player is physically ready to go to the league, they should have the opportunity to do so.

DraftExpress: What areas of your game do you think you need to work on the most before you hit Texas A&M, and then possibly the NBA?

Jordan: My perimeter shot. My 15-17 footer. Then just my perimeter defense. If a team comes out with a guy whose 6'6 and I have to guard a guy who is 6'6...a wing….then I have to work on my perimeter defense.

DraftExpress: What is the pressure like from the three major shoe companies to play in their respective camps and their respective all-star games?

Jordan: There's no pressure. I'm just loyal to the people who have been loyal to me. Whether it's Reebok, Adidas, or Nike, I was just going to be loyal to the people who were loyal to me.

DraftExpress: Did they give you any explanation as to why you didn't make the McDonald's game?

Jordan: No, there was no explanation. I just wasn't selected. Everything happens for a reason. I just have to come here and go hard. I can't come here and think about how I didn't make the McDonald's game. I mean, this isn't the rookie game. Half of these guys played in the McDonald's game, so I have to play this game as if it were any other all star game.

DraftExpress: I mean, you're a top 10 player in the country on every recruiting service. How does a top 10 player not get picked for the McDonald's game?

Jordan: (laughs) I don't know. I have no idea. I'm pretty sure there was a reason, but I don't know what it was off of the top of my head. I can't dwell on that though. I just have to focus on Roundball.

DraftExpress: Ohio State or Florida?

Jordan: Florida

DraftExpress: Why?

Jordan: Florida is mature. They've been in this situation last year. I think maturity is going to get the best. Ohio State is a good team, but I think maturity is going to get the best of them.

[Read Full Article]

---
Las Vegas AAU Summer Tournaments: Thoughts from Day One
July 23, 2006
It's not difficult to see why Jordan is skying up the recruiting rankings lately. Standing 6-11 with a tremendous wingspan and an outstanding frame that will put on as much weight as he needs, Jordan is without a doubt the prototype of what NBA scouts look for in a modern day big man, probably more than any other player we've seen so far. He is an outstanding athlete who runs the floor extremely well and is incredibly quick off his feet to block shots, pull down rebounds and finish with authority. He reacts quickly to things that happen around him, has a fairly soft touch and is not afraid to take the ball strong up at the basket.

The downside is that he is still a very raw prospect, which is what you would expect considering the fact that he is just beginning to become a well known name this past spring and summer. While he has strong legs and calves, the source of much of his explosiveness, he lacks significant bulk in his upper body, which hurts him in terms of fully making his presence felt around the basket. He doesn't know how to use his body yet to carve out space and finish while being contested, and relies too much on his athleticism and length when going after rebounds and blocks. His timing is decent, but still betrays him at times, and occasionally you will see him not even attempting to go out of his area and come up with a rebound. Boxing out, using crafty footwork and other fundamental moves you'll see come intuitively from a big man like Kevin Love for example are just not in his repertoire at the moment. Mentally is where Jordan might be the rawest right now, possessing an average feel for the game, having an inconsistent motor, and getting very frustrated at his teammates (sometimes rightfully so) when they won't pass him the ball.

Despite all these highly correctable weaknesses, Jordan has about as much reachable potential as anyone we saw today besides possibly O.J. Mayo. He's going to have the opportunity to jump to the NBA after one season if he chooses his college correctly, but could very well end up staying 2 or 3 years. Jordan is a very well spoken young man (as you will read in an interview we'll publish in the near future) and mentioned that he is currently looking at Texas, Texas A&M, Florida, LSU and Indiana as his top choices. When pressed, he also added Rick Pitino and Louisville and said that he is planning on committing to his favorite school fairly early in the process.

[Read Full Article]

---