DeMarre Carroll
Recent Tweets
All Tweets
Playing at Portsmouth didn't hurt DeMarre Carroll (1st round pick), Jermaine Taylor or Jon Brockman, so why is Deshawn Sims too good for it?
2010-03-05 12:07:21
Top 25s - Full List
Team: Raptors
Physicals
Positions
Salary
Misc
H: 6' 8"
W: 207 lbs
Bday: 07/27/1986
(29 Years Old)

Current: SF/PF
NBA: SF/PF
Possible: PF

Agent: Mark Bartelstein
Current Salary:$2,442,455

High School: John Carroll
Hometown: Birmingham, AL
Drafted: Pick 27 in 2009 by Grizzlies

Predraft Measurements
| Year | Source | Height w/o Shoes | Height w/shoes | Weight | Wingspan | Standing Reach | Body Fat | No Step Vert | Max Vert |
| --- | --- | --- | --- | --- | --- | --- | --- | --- | --- |
| 2009 | NBA Draft Combine | 6' 6.25" | 6' 7.75" | 207 | 6' 10" | 8' 9" | 6.3 | NA | NA |
| 2009 | Portsmouth | 6' 7.25" | 6' 9" | 210 | 6' 10" | NA | NA | NA | NA |



Basic Per Game Statistics

- Comprehensive Stats - Statistical Top 25s
| Year | League | Name | GP | Min | Pts | FG | FGA | FG% | 2Pt | 2PtA | 2P% | 3Pt | 3PtA | 3P% | FTM | FTA | FT% | Off | Def | TOT | Asts | Stls | Blks | TOs | PFs |
| --- | --- | --- | --- | --- | --- | --- | --- | --- | --- | --- | --- | --- | --- | --- | --- | --- | --- | --- | --- | --- | --- | --- | --- | --- | --- |
| 2015/16 | NBA | DeMarre Carroll | 15 | 35.7 | 13.1 | 4.8 | 12.0 | 40.0 | 2.9 | 6.9 | 41.3 | 1.9 | 5.1 | 38.2 | 1.5 | 2.5 | 62.2 | 1.4 | 3.4 | 4.8 | 1.4 | 1.9 | 0.3 | 1.6 | 2.8 |

Player Page&nbsp&nbsp| Player Stats | Mock Draft History | Related Articles&nbsp&nbsp| Add to My Draft Express&nbsp
&nbsp
Opportunity Knocks: DeMarre Carroll's Long and Winding Road to Stardom
May 26, 2015
By Eric Weiss & Kevin O'Connor

DeMarre Carroll earned the nickname "Junkyard Dog" in college for his gritty style of play, but in the 2015 Playoffs, he's showing the NBA that he can be much more than a scrappy role player. Now 28-years-old, the unrestricted-free agent-to-be is due to cash in this summer, and it's all thanks to hard work, maturity, and of course: the opportunity to showcase his evolving talents.

"The first thing about DeMarre that we all see, before he was here and now that he's here, is just that he's a great competitor," said coach Mike Budenholzer. "He's one of the ultimate competitors in our league. He plays so hard on every possession. That's probably more important than anything, as basic and fundamental as it may seem."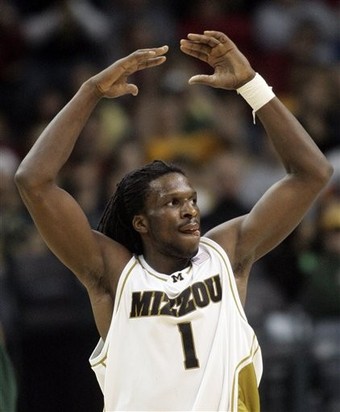 AP



Carroll's on-court demeanor is clear to anyone that has watched him play; he dives for loose balls, crashes the offensive glass, and is one of Atlanta's most vocal team leaders.

However, energy alone is no guarantee for success, and it would take Carroll three years and four teams before he was able to secure the opportunity necessary to harness his potential.



INDIVIDUAL STORY & ANTICIPATED ROLE



Sports Aptitude's behavior balance personality classifications rates Carroll in the 90th percentile within the "Energetic/Uninhibited" Personality Group, which is defined as "players who are generally more creative, impulsive, independent-minded, experimental, and emotionally driven" than the average player. This group accounts for 22% of draft eligible players, but only 15% of actual NBA rosters – which is the largest differential among the five Personality Groups.

"He was an energy guy, flying all over the court," said then-Memphis coach Lionel Hollins, who in an interesting twist now leads the Nets. "But he was young and immature. A lot of guys come into the league with a higher opinion of themselves and expecting a bigger role. It takes time."

This is not particularly surprising considering the characteristics of the most successful players, historically, are classified as "Free Spirit: Warm, Impulsive, Nonconforming, Self-Assured, and Sentimental" by nature. While the least successful players, historically, are classified as "Wild Child: Detached, Self-Reliant, Nonconforming, Undisciplined, and Analytical" by nature.

On either end of this spectrum, you have a player who is led by emotion and whose actions are dictated more by their own free will than an overriding sense of obligation to conform. Many of the most successful players in the Personality Group have had bumpy roads to success, many changing addresses multiple times before finding the ideal fit.

Carroll's Balance is tilted much further toward "Free Spirit" (90th percentile) than it is toward "Wild Child" (12th percentile). But he was also a late first round pick after spending five years in college (he transferred from Vanderbilt to Missouri after his sophomore season), with questions regarding his true position and overall upside, due to physical limitations.

These classic scouting question marks can be a curse for the type of player whose big personality typically requires more time to acclimate to league demands. These players are "on the job trainees" who benefit by building strong relationships with players who set strong examples to follow.

Unfortunately for Carroll, he found himself on a series of teams in transition, with unstable rosters and uncertain direction. This led to a two year period where Carroll played a combined 42 games for five different teams, at a stage where continuity would have paid dividends for his development.

As such, Carroll failed to fully capitalize on a solid opportunity with the Jazz during the 2012/13 season, shooting only 29% from three, which ranked only 32nd among the 53 Small Forwards who played between 10 and 19 minutes per game that season. Carroll also ranked 7th in Defensive Win Shares among this group.

However, in a "3 and D" league, playing only 16 minutes per game and having only half the skills on his resume, surely didn't do Carroll any favors. Perhaps if he had been plugged into one system with a specific focus for his effort and energy, he would have mastered those skills sooner.

Fortunately, the Atlanta Hawks saw enough to give him that chance.



TEAM ENVIRONMENT & OPPORTUNITY GIVEN



Atlanta was light on experience at the wing when they brought Carroll on board for the 2013/14 season. For the first time in his career, in his fourth season, Carroll was in possession of a starting job and a clearly defined role. Each of the other players in the starting lineup were established, and it was up to Carroll to solidify his position with them by performing up to expectation.

The level of clarity this situation provided, surely helped to trigger Carroll's best measurable Personality Factors. His combination of "Warmth" and "Group-Oriented" traits are only shared by 21% of all players in the Sports Aptitude database. Carroll is also 27% less "Restrained" and 20% less "Self-Assured" than this successful group of players.

Collectively, these traits paint a picture of someone defined as being, "outgoing, attentive to others, enthusiastic, and apprehensive" when it comes to building and maintaining relationships.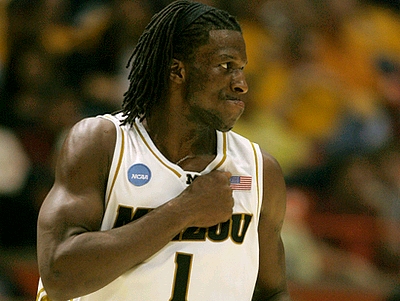 Icon SMI



For Carroll, it's easy to see how the Hawks belief and eventual reliance on him to fulfill the role of a starter on a cohesive five-man unit would play off of these traits. This situation created a level of accountability that might otherwise not exist in another context, where opportunity was less defined.

"It's just me getting better and coaches really paying attention to detail with me, really working with me. I have to give credit to Quin Snyder, he was the first person to really work with me on my footwork and all of those types of things," Carroll told NBA.com earlier this season. "I think player development is big in this league. And if coaches take the time to work with kids on that player development, they can succeed. It's about opportunity and player development. That's what I believe."

This statement is especially telling for Carroll, whose "Internal Motivation" classification is "Undisciplined/Impulsive", which is shared by only 5% of players in the Sports Aptitude database. This is a category that is defined by "a lack of attention to detail and motivation for tasks that don't hold personal interest."

As an "energy guy" Carroll was lauded for his "work ethic" in high school and college, two places where he was featured as a prominent part of the team. But, "working hard" and "working smart" are not always the synonymous. High "Internal Motivation" players tend to obsess over every little detail, regardless of situation, while player's lower on this scale tend to let situation dictate their focus.

Carroll may have been a willing worker, but he needed that engagement to create purpose for embracing new tasks such as "footwork" and other tricks of the trade that go beyond just getting shots up and being a "gym rat".

However, Carroll had some other advantages as well. Most players in the "Undisciplined/Impulsive" group are much less competitive and lack the ability to effectively analyze situations in order to adapt the way Carroll can. Carroll never really got a chance to show what he was capable of until Utah gave him a clearly defined role and the coaching staff engaged his intellectual curiosity and desire to compete.

Once that happened, Carroll was able to harness his relentless motor and apply it to the right tasks. He played almost as many minutes in that quarter season with Utah than he did in the prior three years of his career, and that caught the attention of the Hawks, who signed him to a two-year deal in 2013.

Since joining the Hawks, The Junkyard Dog, who once relied on slashing and picking up scraps, has quickly advanced into one of the best shooters in the league. Carroll was a 29.8 three-point shooter prior to joining Atlanta, but hit at 36.2 percent last year, and shot up to 40 percent in 2014-15.



After the 2013-14 season, Carroll even joked that he wanted to become "the African American Kyle Korver," a sound-bite that, when put into context, exemplifies how much Carroll benefits from being an integral part of a cohesive team with strong examples to follow. He absolutely scorched the playoffs, at 41.8 percent from behind the arc.

It took four years of wandering the earth for DeMarre Carroll to make his mark in the league. He wandered without the pride and accountability that comes with having a sense of purpose and direction as a part of a true "team" until the fates aligned.

That winding road eventually led to the right situation for him to become his best, which makes one wonder about how many other players with the right Personality Factors, but the wrong pedigree are waiting for the right situation to be born again.

"I feel like this is my second year all over again. Last year I was a rookie and now in my second year, I just feel like a better player and a more mature player. And I'm just taking advantage of it, getting back to being the Junk Yard Dog and not straying away from it. I'm not trying to be the Kobes, the LeBrons or the KDs. I'm just being who I am, and that's the Junk Yard Dog and doing the nitty and gritty things."

[Read Full Article]

---
Priority Sports Workout in Chicago
May 28, 2009
Workout Webisode:





Analysis: Carroll is not really the type of guy you want to evaluate in a non-competitive workout, as most of the best things he brings to the table are best seen in five on five games. His ball-handling and perimeter shooting skills looked better than advertised, but still probably aren't up to par with some other forwards in this draft, although in terms of pure toughness and intensity, there aren't many players who can offer more. He was running a bit gingerly coming off a minor ankle sprain he suffered in his last workout in Indiana, but is probably already back at full strength at this point.

[Read Full Article]

---
NCAA Weekly Performers, 3/15/09
March 15, 2009
When we wrote about DeMarre Carroll during the pre-season, he was a power forward transitioning to the wing, a prototypical collegiate tweener with much work to be done. This season, Carroll has made great strides in his game, emerging as one of the NCAA's most versatile players in addition to being the top option on the 14th ranked team in the country. He still has a long way to go and much improvement needs to be made before he can consider himself a small forward in the NBA, but based on his improvements over the course of this year, he is well on his way.

Physically, there is much to like and to question about Carroll. He has optimal size for the NBA wing, standing 6'8 with a good wingspan, but could stand to add more muscle to his slight 225-pound frame. At this time, he lacks the bulk to contend with collegiate post players, let alone NBA big men. While he runs the floor extremely well for a player his size, he is not freakishly athletic. This, particularly his lack of elite leaping ability, will likely hinder his transition to the wing on both sides of the floor at the next level.

Offensively, Carroll has made many improvements, most notably in his ball handling. While he certainly has a lot of work left to do, as he still looks awkward handling the ball in traffic, still favors his left hand over his right hand, and at this point isn't very creative off of the dribble, Carroll's improved handle has opened up a lot of his offense, particularly his mid-range and slashing games. Also much improved is his shooting stroke, which, as seen in his career high TS% and eFG%, has become a reliable part of his offensive game. That being said, he still shows a lot of room for improvement, particularly in his shooting stroke, which would benefit from consistency. His shooting motion is also a bit slow for the next level and sometimes he has the tendency to hang at the top of his jump, and shoot on the way down, which hurts his shooting stroke, particularly with a hand in his face. At this point, he is most comfortable in catch and shoot situations on the perimeter and pulling up inside of the three-point arc. He looks much improved in terms of these perimeter-oriented skills, but he needs to continue to work, proving to scouts that he can knock down perimeter jumpers consistently and practicing so as to become more comfortable with his mid-range game.

In terms of his slashing game, Carroll has made nice strides, as well. His handle has improved tremendously, allowing him to get to the rim faster than in previous years. He shows good touch and finishes well at this level, but lacks the strength and leaping ability for his scoring ability in the paint to translate well to the NBA game. Similarly, while he shows good quickness and decent footwork in the collegiate post, which allows him to have a fairly reliable back to the basket game, he lacks the size and athleticism to be much of a factor in the NBA post.

Carroll might have trouble defensively at the next level, as he may have to defend small forwards at times rather than post players, as he does now. His lateral quickness is only average and despite the fact that he has improved this year, he still does not look capable of staying with the NBA's elite wing players. His awareness doesn't look that improved, either, and he still gives guards and wings open shots far too often. This might be the area in which he will have to impress scouts most, as many of the players in his mold have thrived in the NBA based on their defensive prowess.

Thus, the outlook on Carroll is more positive than the last time we evaluated him, but still leaves a lot room for questions. For one, how much more can he improve his perimeter skills? How much better can he get with his perimeter defense? Carroll has made many improvements since his junior season, but he still has some work to do before he can consider himself a wing at the next level. He should look to the career trajectories of players such as Dominic McGuire and Renaldo Balkman. Carroll is not quite as athletic as either player, but, if he wants to stick in the NBA, then he should take notice of their commitment to improving defensively in addition to brushing up his all around game. A good NCAA or Portsmouth Invitational tournament performance would open scouts' eyes significantly, however. Therefore, Carroll has a lot of work left to do with few opportunities to impress on the big stage.

[Read Full Article]

---
Top NBA Draft Prospects in the Big 12 (Part Three: #11-15)
September 8, 2008
Over the past few seasons, combo-forwards and hybrid forwards have become an increasingly popular addition to NBA rosters. This is both good and bad for Missouri senior forward DeMarre Carroll. His 13.0 ppg on 53.6% FG and 6.7 rpg were all career highs and he achieved those numbers while playing four less minutes per game than in his sophomore campaign. Scouts will be watching to see, however, if he is closer to translating his offensive and defensive abilities to the perimeter because right now, he is very much a tweener.

Standing somewhere between 6-7 and 6-8 with a solid wingspan and a slight frame, Carroll is definitely a tweener by NBA standards. He has solid athleticism, running the floor in transition hard, but not looking freakishly explosive finishing around the basket.

The problem is that, like most undersized collegiate power forwards, Carroll's offensive ability is still very much in transition. The most significant change that has to happen is that he must become a better ball-handler. His handle was erratic last season and while he shows some basic mid-range instincts and slashing abilities, he often looks out of control simply because he cannot dribble that well yet. Similarly, cleaning up his shooting mechanics would help his mid-range and perimeter offense tremendously. Carroll will pull up from mid-range, but his shot is awkward and almost never goes up in the same manner. He has an inconsistent release point and, as evidenced in his 17.6% he shot last year from the perimeter, his shot gets worse the farther out he goes. With young NBA combo-forwards like Renaldo Balkman never developing a consistent long-range jumpshot, it is vital that Carroll shows scouts that his shot has improved from deep.

Like Balkman, though, it is Carroll's scrappy attitude as well as his willingness to draw contact and attack the basket that are his main sources of offense at the moment, rather than his skill-level. He attacks the basket aggressively, and though sometimes it is clear he does not know what he is going to do with the ball in traffic, he is aggressive on the offensive boards if things do not go as planned. Unlike Balkman, though, Carroll does not handle the ball nearly as well and doesn't fill up the stat-sheet quite as effectively as he did at the collegiate level.

Carroll looks similarly between-positions on the defensive end. He is a versatile defender, with above average lateral quickness and size to guard multiple positions at the NCAA level. That being said, he's at his best defensively against perimeter oriented power forwards. He gives guards and wings too much room on the perimeter and frequently fails to close out shooters. It seems at this point to be a problem of awareness rather than a lack of ability, but he must maintain focus and continue to improve his perimeter defense if he wants to have a chance at the next level.

It's very difficult to evaluate players like Carroll because of the fact that he is caught between positions and plays power forward or center most of the time when he's on the floor. It is up to him to continue to work on his perimeter skills and prove to NBA scouts that he has potential to make a full transition at the next level.

[Read Full Article]

---