DeWayne Dedmon
Recent Tweets
All Tweets
DraftExpress: More Undrafted Matthew Dellavedova Phil Pressey B.J. Young Dewayne Dedmon Richard Howell Brandon Davies Michael Snaer Brandon Paul.
2013-06-28 00:17:54
DraftExpress: USC's Dewayne Dedmon will enter the Draft the school says. "It's just my time to chase my dream and go to the NBA." https//t.co/gnxi49gjLs
2013-04-24 15:28:30
Team: Magic
Physicals
Positions
Salary
Misc
H: 6' 11"
W: 239 lbs
Bday: 08/12/1989
(26 Years Old)

Current: C
NBA: C
Possible: C

Agent: Michael Silverman
Current Salary:$816,482

High School: Lancaster HS
Hometown: Lancaster, CA

Predraft Measurements
| Year | Source | Height w/o Shoes | Height w/shoes | Weight | Wingspan | Standing Reach | Body Fat | No Step Vert | Max Vert |
| --- | --- | --- | --- | --- | --- | --- | --- | --- | --- |
| 2013 | NBA Draft Combine | 6' 10" | 6' 11.5" | 239 | 7' 4" | 9' 1" | 8.4 | 28.0 | 32.5 |
| 2013 | Nets Workout | 6' 10" | 6' 11.5" | 239 | 7' 4" | 9' 1" | 8.4 | 28.0 | 32.5 |



Basic Per Game Statistics

- Comprehensive Stats - Statistical Top 25s
| Year | League | Name | GP | Min | Pts | FG | FGA | FG% | 2Pt | 2PtA | 2P% | 3Pt | 3PtA | 3P% | FTM | FTA | FT% | Off | Def | TOT | Asts | Stls | Blks | TOs | PFs |
| --- | --- | --- | --- | --- | --- | --- | --- | --- | --- | --- | --- | --- | --- | --- | --- | --- | --- | --- | --- | --- | --- | --- | --- | --- | --- |
| 2015/16 | NBA | DeWayne Dedmon | 14 | 15.3 | 4.4 | 1.6 | 3.4 | 48.9 | 1.6 | 3.4 | 48.9 | 0.0 | 0.0 | &nbsp | 1.1 | 1.6 | 69.6 | 1.3 | 3.1 | 4.4 | 0.1 | 0.6 | 1.3 | 0.7 | 2.8 |

Player Page&nbsp&nbsp| Player Stats | Mock Draft History | Related Articles&nbsp&nbsp| Add to My Draft Express&nbsp
&nbsp
NBA Combine Interviews: Plumlee, Withey, Muscala, Dedmon
May 23, 2013
[Read Full Article]

---
Trending Prospects: Dewayne Dedmon
March 20, 2013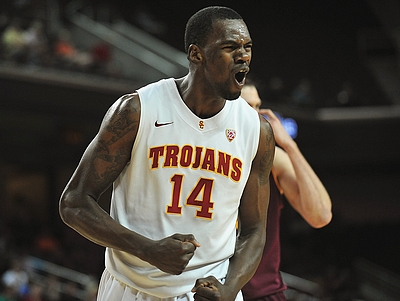 US Presswire



Matt Kamalsky

Suspended for USC's Pac-12 Tournament opener, Dewayne Dedmon watched from the bench as his junior season came to a close against Utah. Touted as a first round pick by former Head Coach Kevin O'Neill before playing a single game for USC, Dedmon's junior season was often a struggle, as he showed little improvement in his skill level offensively and consistently found himself on the bench hampered with foul trouble.

Despite his lack of production on the floor, the crux of O'Neill's sentiments about what makes Dedmon a prospect are accurate. A legit 7-footer with exceptional length, tremendous foot speed for his size, and a frame with plenty of upside, the California native certainly looks the part of a NBA center. At this stage, the 23 year old junior who only started playing basketball five and a half years ago has yet to develop the skills to consistently make the most of his rare physical tools.

On the offensive end, Dedmon's 12 points per-40 minutes pace-adjusted is a representation of his limited consistency as a scorer and the complementary role he plays for the Trojans. The teams' fifth leading scorer, Dedmon didn't see all that many touches this season, and is unlikely to develop into a major offensive focal point later on in his career.

The redshirt junior sees more possessions in the post than in any other situation, but is a largely unrefined scorer with his back to the basket. Lacking polished footwork or a go-to move, and often settling for turnaround jump shots or sweeping, off-balance hooks going away from the rim, Dedmon converts just 40% of his post-up shot attempts according to Synergy Sports Technology. He will make an impressive move on occasion, but will need to develop better footwork and more counter moves to better exploit his size and athleticism closer to the rim if he wants to emerge as a more dynamic one-on-one threat.

Dedmon attempts a surprising number of jump shots for a big man at the college level, with nearly a quarter of his total field goal attempts coming from the midrange. A bit ambitious with his shot selection, Dedmon is still developing the consistency of his mechanics. Despite that, he made 37% of his jump shots this season, and a decent 68% of his free throw attempts, so his reliability from the midrange is worth keeping an eye on as he continues to gain experience and polish.

As is the case with most raw, athletic big men, Dedmon does his best work on the offensive end as a finisher at the rim. Lacking a natural feel for scoring inside, but having little issue elevating to dunk the ball around the basket, Dedmon shoots a solid 56% as a finisher, even if it pales in comparison to the 74% he shot last season.

Where Dedmon has always stood out is as a rebounder. He was not quite as productive crashing the offensive glass as he was last year, but showed significant improvementon the defensive end. Improving his overall per-40 minute rebounding average from 10.2 to 12.1, Dedmon ranked as the 11th more prolific rebounding center amongst BCS-conference players.

Dedmon also showed significant development on the defensive end. Though he is the most foul prone player in our top-100, he showed significantly better awareness as a weakside shot blocker, averaging an above average 3.8 blocks per-40 minutes pace adjusted and doing a better job making crisp rotations to erase the mistakes of his teammates.

Making strides as a shot blocker and rebounder, two aspects of the game he struggled with a year ago, the name of the game for Dedmon moving forward is polish. If he can be a more disciplined individual defender and develop a more efficient offensive repertoire, he could certainly give scouts something to think about in addition to his physical tools and solid motor should he return to school. Possessing many of the tools teams value in a third center, it's not difficult to see Dedmon ending up on a NBA team's roster, even if he may not have progressed as quickly as some may have hoped considering he turns 24 later this year.

[Read Full Article]

---
Top NBA Draft Prospects in the Pac-12, Part Four
October 11, 2012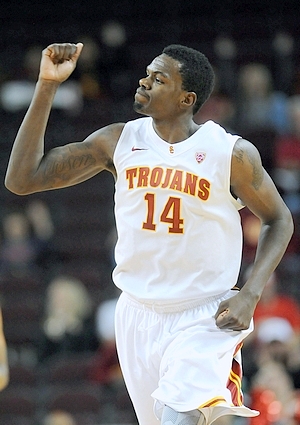 US Presswire



Jonathan Givony

One of the more unique stories in college basketball, Dewayne Dedmon didn't start playing the game until four years ago, a gangly 18 year old Jehovah's Witnesses. He played just one season at Antelope Valley Junior College and then sat the following year in order to preserve three seasons of eligibility at USC. Unfortunately he was only able to play 20 games last year before tearing a ligament in his knee and being forced to sit out the rest of the season.

Dedmon's intrigue as a prospect is readily noticeable on first glance, standing seven feet tall, with an excellent frame and a long wingspan. He's also extremely mobile for a player his size, running the floor exceptionally well, and being quick off his feet, highly agile and very explosive around the rim. Simply put, players with his physical attributes are extremely rare, and typically highly coveted.

Dedmon played for one of the worst teams in college basketball last season, a USC squad that went 1-17 in a very weak Pac-12 conference, and sported the least efficient offense in high major basketball. That surely didn't do him any favors considering it was basically his first real season of playing organized basketball, but that did probably allow him more opportunity to figure things out as the year moved on, which he certainly appeared to do.

Playing 23 minutes per game, he didn't have the skill-level or experience needed to be much of focal point for USC offensively, as he struggles to create shots for himself. While clearly being strong enough to establish position inside the paint, Dedmon possesses a very rudimentary post game, as he shows little in the ways of footwork, counter moves or a left hand. He does have good quickness on his initial moves, but can be defended fairly easily in one on one situations, as he's an extremely poor passer (dishing out just 6 assists in 465 minutes last season) and rarely gets to the free throw line.

Where Dedmon shines is as a finisher around the basket, converting nearly 75% of his looks at the rim last season, one of the highest rates in college basketball. He's nearly automatic when catching the ball in space due to his tremendous physical attributes, something that his team wasn't always able to take advantage with their extremely weak backcourt.

Dedmon is a terrific offensive rebounder, best in the Pac-12 on a per-minute basis, thanks to his terrific agility, leaping ability and wingspan.

As the year moved on, Dedmon's comfort level offensively seemed to grow somewhat, even making a couple of face-up jumpers from 10-12 feet. His shooting mechanics look decent, even if the 54% he shot from the free throw line shows that he still has a long ways to go in this area.

Defensively, Dedmon has everything needed to be a real game changer in time, as his combination of mobility, length and strength at 7-feet tall is extremely rare. He moves his feet very well for a player his size, showing very good potential hedging screens on the perimeter and recovering quickly into the paint, being very difficult to shoot over. He showed potential as a shot-blocker, but wasn't too prolific in this area, only rejecting four shots in just over 7 games in Pac-12 play.

His strong frame makes him tough to post up very effectively inside the paint, even if he clearly doesn't have very much experience guarding other players his size, and is still a bit na´ve biting on pump fakes. Dedmon averaged 5.5 fouls per-40 minutes last season, which made it difficult for him to stay on the court at times. He's also a surprisingly poor defensive rebounder, second worst amongst centers in our top-100, something scouts will undoubtedly want to see him improve on this season.

All in all, Dedmon certainly looks like the part of someone who hasn't been basketball very long, which will make it interesting to see how he progresses this season with a little more experience underneath his belt. If he's able to show the type of learning curve you'd expect from a player with his experience-level, he could certainly draw quite a bit of NBA interest considering his tremendous tools, despite turning 23 a few months ago. 27-year old Bernard James proved last year that NBA teams aren't afraid to roll the dice on older guys with rare physical attributes that are relatively new to the game.

[Read Full Article]

---