Top NBA Draft Prospects in the SEC, Part Two (#11-15)
October 28, 2011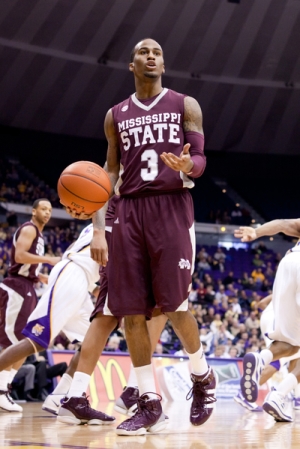 Icon SMI
Derek Bodner
Since declaring for the NBA draft after his sophomore year Mississippi State senior point guard
Dee Bost
has struggled, both on and off the court.
The 6'2" Bost started off his junior year academically ineligible for the first semester, then followed that up with a 9 game suspension from the NCAA, the first victim of the NCAA's new NBA draft deadline which would have required Bost to withdraw from the NBA draft by May 8th.
With Bost's suspensions, along with
Renardo Sidney
's suspension, MIssissippi State never found its rhythm, struggling to a 17-14 record, its worst since 2006.
Individually, Bost's season was up and down. Bost did an excellent job setting up his teammates, and his 7 assists per 40 minutes ranks in the top 10 in the NCAA last year, and he appears to be a lock to end up as Mississippi State's all-time assist leader. He was also in the top 10 in turnovers per 40 minutes and appeared to regress as a shooter, struggling with his consistency, both with his feet set and off the dribble. His shot selection is, and always has been suspect, forcing up too many contested off the dribble jumpers, often early in the shot clock.
He is not an efficient scorer inside (45% 2P) or outside (34% 3P) the arc, which helps explain his team's struggles to win games even with him,
Renardo Sidney
and
Ravern Johnson
in the lineup—on paper clearly a NCAA tournament caliber team.
In the half-court, Bost prefers to operate in pick and roll sets, something that has been true for his entire duration at Mississippi State. Bost shows the ability to make shots off the pick and is able to use his quickness and ball handling to get into the lane in these sets.
Bost has good quickness and is able to change directions with his handle, and does a good job of getting into the lane. He has good body control, but at times struggles to finish through contact. He combats this somewhat with an array of floaters in the lane, but his primary weapon once in the lane is the pass, both to spot-up shooters on the perimeter and cutters around the basket.
Bost operates primarily with the ball in his hands, but in the opportunities he has as a spot-up shooter it appears this is a part of his game that could be of value at the next level when he's not asked to create as much as he currently is. With his feet set and space to operate, Bost's consistency in his jump shot improves considerably. He does a good job of squaring up, gets good elevation and shows a consistent release.
As good as Bost's court vision is, his carelessness with the basketball somewhat offsets this, a problem that has only gotten worse with time. The reasons for his turnovers are varied, from trying to do too much, to lack of focus, to simply bad decisions.
Defensively, Bost is a mixed bag. He has decent length at the point, but will be undersized, both in length and in bulk, if defending off the ball. He moves his feet adequately well defensively, but sometimes gets caught in too upright, and struggles to fight through picks and screens. He has good hands defensively, and does a good job of forcing turnovers.
By all accounts, Bost appears poised to have a big season, and Mississippi State looks to bounce back from a disappointing 2010-2011 campaign. Bost has some tools that could draw interest at the next level, particularly with his quickness and passing ability, but he needs to improve his decision making, and scoring efficiency to make the next jump as a prospect. Missing the first 14 games of the season last year may have hurt Bost's comfort level and timing with his teammates, particularly with talented newcomer
Renardo Sidney
. With better conditions to start the season, Bost's improvement in these areas will be key for his NBA prospects, and for the Bulldogs' success.
[
Read Full Article
]
National Prep Showcase, Day Two
November 18, 2007
A scoring combo guard committed to Mississippi State, Dee Bost showed off his credentials here as a big-time scoring threat. Very athletic, and skilled as both a perimeter shooter and slasher, Bost should develop into a very nice change of pace guard in the SEC over the next few years. He's a good ball-handler with either hand, has an excellent first step, and does a really good job finishing around the basket, sometimes with a dunk if he's open enough.

He's much more comfortable playing on the ball rather than off it, and his production noticeably dropped when he was played at the 2-guard spot next to shoot-first combo guard and Marshall commit Daier Pitts (who put up great numbers this weekend but did not play winning basketball). Once he was allowed to run the show with the ball in his hands, he flourished once again, creating shots first and foremost for himself and in the process also for others. He likes to dance around while pounding the ball, trying to get too flashy and in the process being somewhat turnover prone. Bost is a streak shooter who can really heat up from time to time, although his mechanics are still not consistent at this point in time. He'll need to develop his playmaking skills at the next level if he's going to achieve his full potential in the SEC, but he has the makings of a nice college player.
[
Read Full Article
]