Dejan Musli
Recent Tweets
All Tweets
DraftExpress: A report on the NBA draft prospects at the Copa del Rey: http://t.co/AX8Sa1bq - Tomas Satoransky, Raul Neto, Augusto Cesa Lima, Dejan Musli
2012-02-23 03:55:03
Josep Franch, Linos Chrisikopoulos,Tomas Satoransky, Bogdan Bogdanovic, Jeremy Tyler, Dejan Musli, Hanlin Dong- intriguing teenagers here
2010-06-06 05:10:13
Jeremy Tyler is out of shape, but he played hard and really did a good job competing against big boy Dejan Musli. Helped himself scouts say.
2010-06-06 04:38:01
Some of the standouts so far- Matias Nocedal (five 3s), Edwin Jackson (couple of 3s, some athletic plays), Dejan Musli (very active inside)
2010-06-05 12:12:00
Serbian Dejan Musli & Georgian Giorgi Shermadini will not be entering their names in the 2010 NBA draft, their respective agents inform us.
2010-04-23 18:17:01
Team: Manresa
Physicals
Positions
Salary
Misc
H: 7' 0"
W: 262 lbs
Bday: 01/03/1991
(24 Years Old)

Current: C
NBA: C
Possible: C

Agent: Misko Raznatovic

High School:
Hometown: Prizren, Kosovo

Predraft Measurements
| Year | Source | Height w/o Shoes | Height w/shoes | Weight | Wingspan | Standing Reach | Body Fat | No Step Vert | Max Vert |
| --- | --- | --- | --- | --- | --- | --- | --- | --- | --- |
| 2011 | Eurocamp | 6' 11.07" | 7' 0.25" | 262 | 7' 3.01" | 9' 0.27" | 13.7 | 20.9 | 31.2 |
| 2010 | Eurocamp | 6' 11.07" | 7' 0.65" | 248 | 7' 3.01" | 9' 3.81" | NA | 24.4 | 28.3 |



Basic Per Game Statistics

- Comprehensive Stats - Statistical Top 25s
| Year | League | Name | GP | Min | Pts | FG | FGA | FG% | 2Pt | 2PtA | 2P% | 3Pt | 3PtA | 3P% | FTM | FTA | FT% | Off | Def | TOT | Asts | Stls | Blks | TOs | PFs |
| --- | --- | --- | --- | --- | --- | --- | --- | --- | --- | --- | --- | --- | --- | --- | --- | --- | --- | --- | --- | --- | --- | --- | --- | --- | --- |
| 2015/16 | ACB | Dejan Musli | 8 | 27.9 | 14.6 | 5.8 | 8.5 | 67.6 | 5.8 | 8.5 | 67.6 | 0.0 | 0.0 | &nbsp | 3.1 | 4.5 | 69.4 | 1.8 | 6.6 | 8.4 | 1.4 | 1.1 | 0.8 | 2.5 | 2.4 |

Player Page&nbsp&nbsp| Player Stats | Mock Draft History | Related Articles&nbsp&nbsp| Add to My Draft Express&nbsp
&nbsp
NBA Draft Prospects at the 2012 Copa del Rey
February 23, 2012
Its perhaps not a surprise that Musli didn't see a second of playing time for Caja Laboral at the Copa del Rey, as he's only played about 40 total minutes over the past two seasons. Musli has been loaned to the likes of Montegrenaro and Fuenlabrada to try and earn some playing time, but was quickly sent back to Vitoria due to concerns about his poor work ethic and questionable attitude.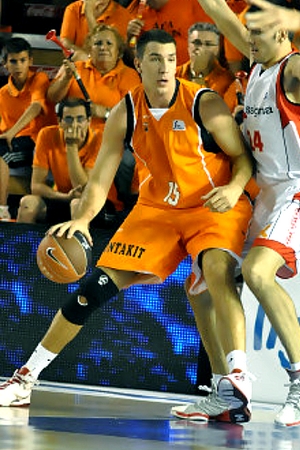 ACB.com



Once considered the top prospect in his 1991 age group, Musli does not appear to have made very much progress since we first evaluated him as a 7-foot man-child dominating the U-16 European Championships nearly six years ago. He was able to score at will inside the paint in the junior categories, but has had a difficult time translating that to competition versus grown men at the senior level. We already had some concerns about Musli's development back in 2009, and he's seemingly regressed even more since then.

Players with Musli's size and strength are rare, but unless he's able to make some serious changes to his approach to the game on and off the court, he will likely have a very difficult time getting a major contract after his five year deal with Caja Laboral expires.

[Read Full Article]

---
Nike Hoop Summit Scouting Reports
April 24, 2010
The tallest player in attendance, Musli had an up and down week, but fared pretty well during the game. A player that weíve covered extensively in the past, heís made a number of notable strides that will surely affect his NBA draft stock Ėthe biggest change being the amount of weight heís lost.

After tipping the scales at 260 the last time we checked in on him, heís dropped another 20 pounds and looks substantially leaner. Almost skinny at this point, Musli still isnít a great athlete, though he moves a bit better than he did in the past. Musliís sheer size and length are clearly assets, but heíll need to show that he can continue to add strength to build on the improvements heís already made to his physique.

Despite his lack of bulk compared to some of his teammates, Musli fought hard for position on the block all week long. Though he had a hard time establishing deep position, he had no trouble getting his hook shot off when he did receive an entry pass. His consistency still isnít ideal yet, but he shows solid touch and the extension he gets on his release makes his hook very difficult to defend. His size allows him to be a fairly effective finisher, and he isnít afraid to initiate contact when he receives the ball at the rim, but isnít always strong enough to create a good opportunity for himself.

When he steps away from the basket, Musli has an extremely mechanical jump shot. His form lacks fluidity and doesnít yield consistent results. His size gives him some upside offensively, but heíll need to learn to exploit it effectively by becoming more consistent.

Defensively, Musli did a solid job contesting shots, but his lack of physical strength hurt him against the likes of Enes Kanter and Jared Sullinger. Heíll fight hard to prevent his man from getting position on the block, but he has a hard time keeping up with quicker and stronger players when they look to take him to the basket. His length helps him compensate for that to a large degree, but his ability to add weight will limit his defensive potential.

With both of FMP Zeleznikís centers (Miroslav Radjulica and Peja Samardziski) likely moving onto bigger clubs this summer, Musli will have an opportunity to see substantial minutes next season in the Adriatic League and possibly in European competition. Still extremely young, Musli has been on the NBA radar for years and will continue to do so until he decides to enter the draft. Not quite as gifted athletically as some of his NCAA counterparts, NBA teams will likely want to see how Musli produces in Serbia first before they make any long-term judgments about his NBA potential.

[Read Full Article]

---
Nike Hoop Summit Practices: Day One
April 8, 2010
Height: 7'0.5
Weight:247
Wingspan: 7'3.5

[Read Full Article]

---
Euroleague Final Four: Nike International Junior Tournament
May 8, 2009
Although he absolutely dominated this tournament from a statistical standpointóbeing nearly unstoppable in the paint when he truly put his mind to it, Dejan Musli generated very little excitement from what we can gather from the NBA scouts we spoke to, as he appears to have changed very little from last year.

Still a mountain of a teenager at just 18 years old, and likely upwards of 260 pounds, Musliís body looks slightly better than it did last time we saw him, and heís also running the floor a little quicker as well. He still tends to play below the rim, though, and relies almost exclusively on the incredible strength advantage he possesses against the extremely underdeveloped kids he faces at this level of competition.

Most of his points therefore come just off brute force, as he bullys his way around the basket. It helps that virtually his teamís entire offense revolves around getting him the ball directly underneath the rim. The fact that he has excellent hands and knows how to use his body to his advantage should not be discounted, but itís still a bit difficult to see this style of play translating to a higher level of competition, which is why Musli will need to diversify his game in the future. He has very nice touch from the free throw line and can step out and hit a mid-range jumper every now and then, although itís clear that he is at his best operating inside the paint.

Beyond that, we miss a little bit of passion or character from Musli at times, as he gives off a very cold impression, as if he doesnít really enjoy playing basketball. His passing skills are average, and he struggles to defend out on the perimeter if forced to step out and hedge the pick and roll. He is an incredibly prolific rebounder, though, as no one can really stand in his way when he decides to go get a ball coming off the rim, particularly on the offensive glass.

Musli isnít likely to convince his NBA detractors that heís capable of translating his production at the junior stage to a higher level of competition until he actually does it, so it will be important for him to start seeing minutes and producing in the Adriatic League with FMP next season.

[Read Full Article]

---
Euroleague Final Four: Nike International Junior Tournament
May 11, 2008
Really not a whole lot has changed with Dejan Musli since the last time we saw him, and despite his extremely tender age of 17, there are question marks regarding whether much will change in the near future as well from what we can tell. Weíre still talking about the same skyscraper of a teenager, with a body reminiscent of a 25-year old. He was able to produce effectively in this tournament in short stretches, before exploding in the final game for a 25 point, 14 rebound, 4 block outing that landed him MVP honors.

Fairly slow, not super fluid, and lacking some aggressiveness, Musli doesnít have much of a problem regardless dominating in a setting like this due to his terrific size, combined with his excellent hands and very solid finishing ability. He was a very reliable presence in the paint for his guards to drop the ball off to on drive and dish plays, and therefore was able to knock down 24 of his 43 shots in four games (56%). He also stepped outside from time to time to attempt a mid-range or long-range jump-shot, and saw mostly mixed results in the process. The fact that he almost took out a ball-boy by air-balling a free throw badly tells you that this part of his game is still being developedóhe only hit 11 of his 24 attempts at the line.

Musli might not be the most active player youíll find (he looks a bit bored or apathetic at times running up and down the court), but he has solid reflexes and surprisingly good passing ability, as he showed from time to time with some Sabonis-esqe bounce passes. He also averaged 12 rebounds per game over four days, looking very solid going after everything in his area, but not being quite as dominant as you might think considering his huge size and strength advantage. Defensively, his extremely heavy feet limit his potential staying in front of quicker players or stepping outside to hedge a screen, and he also lacks the explosiveness to project as a great weak-side shot-blocker down the roadóalso he did his part and then some in this tournament, with nearly 4 blocks per game.

Clearly an outstanding prospect for Europe, Musli will surely play in the NBA if he so desires, but there are some question marks about how high his ceiling is. His physical maturity and ridiculous strength advantage make you wonder about his long-term upside, even if itís clear that at age 17, he still has quite a bit to improve upon.

[Read Full Article]

---
LíHospitalet 2008: Balkan Dominance
January 13, 2008
Our review on Dejan Musli has to be incomplete, as the big center spent the first two days on the bench due to a small injury, and didnít look to be in great shape whenever he hit the court.

Not particularly known for his athleticism, he looked even slower than usual, which limited his effectiveness, particularly on the defensive end, where he had proven to be a dominating force in previous tournaments. But in LíHospitalet he struggled somewhat to stay in front of his opponents, particularly whenever they stepped out of the lane. Again, it was probably a conditioning issue. Offensively, he settled for three basic situations. First, the open static shot: heís still not a reliable player here, but will likely evolve into a solid mid-range shooter, while he even tried from the three-point line. Second, the low post: where he needs to continue developing his footwork and moves, as he basically turns looking for a right-handed jumphook whenever he receives the ball, showing no counter moves and limited options if his match-up anticipates his movement. At least, he seems to be developing a decent touch around the basket. The third option was to pin his opponent down and ask for a lob over his rival, which proved to be a productive situation given his physical superiority.

We can say that Dejan probably disappointed considering his reputation as MVP of the past U-16 European Championships, but it was likely entirely due to his physical condition. Weíll have to wait for a better opportunity to dig into his game.

[Read Full Article]

---
Euroleague Final Four Nike Junior Tournament
May 11, 2007
One of the youngest prospects at this tournament, Dejan Musli has been raising some eyebrows lately with his performances in the youth categories. And while he didnít see a ton of minutes in Athens, he certainly played enough to give us a good idea of where he stands as a prospect at the moment.

Featuring great height and a body that most 21 year old big men (European or not) would love to sport, Musli definitely stands out from the pack on first sight. Heís got nice wide shoulders and excellent lower body strength to boot, meaning that adding strength to his frame will likely never be an issue. Unfortunately, his athleticism does not compliment his NBA ready body, showing fairly slow feet running the floor and not being very explosive getting off the ground to finish around the basket.

Musliís biggest strengths at the moment lie in his ability to change the game defensively with his terrific size and strength. He has excellent timing going after blocks, and knows how to position himself to utilize his physical attributes. On top of that he has very nice hands and an inclination to get after the ball, meaning heís also a very solid rebounder at this level. Even though he was two years younger than most of the players here, you got the feeling at times that Musli was a man amongst boys, being very reliable both on team defense and man to man.

Offensively Musli has a long ways to go at this stage, lacking any real post moves and not knowing how to use his body well enough in the post to capitalize on his strength advantage. He didnít finish very well around the basket, showing average touch, reacting slowly at times, and not being aggressive enough going up strong from close range. He did do a nice job passing out of double teams and igniting the fast break with an outlet.

All in all Musli has a decent package to build off of at such a young age, but canít be considered a phenomenal prospect due to his average athletic ability and lack of scoring ability. Weíll have to track how he continues to progress over the next few years.

[Read Full Article]

---
U-16 European Championship: Rubio Rules
August 19, 2006
Dejan Musli has established himself as the centerpiece of a strong team that is already in the semifinals, while only being a first-year player here. Actually, he's probably the most intriguing player born in 1991 seen here. With a relatively strong 6-11 body, nobody has been able to stop him so far in one-on-one settings. Zone defenses, aggressive defensive helps, anything in order to avoid his dominance in the paint. Needless to say that his sole presence has opened up many opportunities for his teammates on the perimeter.

Actually, it isn't a matter of great skills. Musli does the basics pretty well; beyond that, it's physical domination that has barely found an answer from other teams. He does establish his position in the low post very well, using his body and looking for the ball high. If his defender aggressively tries to cover the passing line, he smartly gains his rival's back to receive an arched pass over him. Once posting up his defender, it's mostly about simple stuff, as basically turning around he already has a good option to score. His footwork is not spectacular, but still pretty solid; he's a coordinated and smart guy. Around the rim he's not the most finesse player. He has sometimes struggled to make his short shots, but it doesn't look anything to worry much about (and he usually takes care of his own offensive rebounds). He can eventually use his left hand near the rim, although he clearly prefers his right. The semi-hook is a possibility, but he needs to polish it, as it is simply to dunk the ball. He feels rather comfortable with his mid-range shots, already nicely reliable, and where he shows solid mechanics, just as he does from the free-throw line.





Despite his offensive prominence, Musli has resulted at least as important in the defensive end. He's basically a wall for most of his opponents. His length and strength are difficult to overcome. He provides regular intimidation and blocking production. Besides, he shows good positioning and some nice lateral quickness. Musli is not really a greatly athletic guy, but he fares pretty well for a center. For example, he runs the court well.

Given the level he's showing here, it's scary to think what he could do next summer at this category as a second-year player.

[Read Full Article]

---