Dennis Schroeder
Recent Tweets
All Tweets
DraftExpress: NBA preseason basketball is always fun. Strong showing from Giannis Antetokounmpo and then Dennis Schroeder with a game-winning basket.
2013-10-08 22:01:00
DraftExpress: With the #17 pick in the NBA Draft the Atlanta Hawks select Dennis Schroeder. (same agent as Adetokunbo so obviously no hard feelings...)
2013-06-27 21:23:25
DraftExpress: Still on the board Sergey Karasev Dennis Schroeder Shane Larkin Mason Plumlee Reggie Bullock Gorgui Dieng Rudy Gobert Tim Hardaway Jr
2013-06-27 21:20:57
DraftExpress: German point guard Dennis Schroeder will unsurprisingly keep his name in the 2013 NBA Draft according to his agent Alex Saratsis.
2013-06-17 17:02:00
DraftExpress: Here's the Mouhammadou Jaiteh video http://t.co/9SzcDDwu9N and here's Dennis Schroeder 's http://t.co/tED1Vzsav7
2013-06-07 09:17:55
Team: Hawks
Physicals
Positions
Salary
Misc
H: 6' 2"
W: 165 lbs
Bday: 09/15/1993
(22 Years Old)

Current: PG
NBA: PG
Possible: PG

Agent: Alex Saratsis
Current Salary:$1,690,680

High School:
Hometown: Braunschweig, Germany
Drafted: Pick 17 in 2013 by Hawks

Predraft Measurements
| Year | Source | Height w/o Shoes | Height w/shoes | Weight | Wingspan | Standing Reach | Body Fat | No Step Vert | Max Vert |
| --- | --- | --- | --- | --- | --- | --- | --- | --- | --- |
| 2013 | NBA Draft Combine | 6' 1" | 6' 2" | 165 | 6' 7.75" | 8' 2" | 4.1 | 30.0 | 34.0 |
| 2013 | Hoop Summit | NA | 6' 2" | 168 | 6' 7.25" | NA | NA | NA | NA |



Basic Per Game Statistics

- Comprehensive Stats - Statistical Top 25s
| Year | League | Name | GP | Min | Pts | FG | FGA | FG% | 2Pt | 2PtA | 2P% | 3Pt | 3PtA | 3P% | FTM | FTA | FT% | Off | Def | TOT | Asts | Stls | Blks | TOs | PFs |
| --- | --- | --- | --- | --- | --- | --- | --- | --- | --- | --- | --- | --- | --- | --- | --- | --- | --- | --- | --- | --- | --- | --- | --- | --- | --- |
| 2015/16 | NBA | Dennis Schroeder | 19 | 22.9 | 10.7 | 4.1 | 10.5 | 39.2 | 3.1 | 6.9 | 43.9 | 1.1 | 3.5 | 29.9 | 1.5 | 1.8 | 82.4 | 0.4 | 2.2 | 2.6 | 4.6 | 1.0 | 0.0 | 1.9 | 1.5 |

Player Page&nbsp&nbsp| Player Stats | Mock Draft History | Related Articles&nbsp&nbsp| Add to My Draft Express&nbsp
&nbsp
Situational Statistics: the 2013 Point Guard Crop
June 18, 2013
-Dennis Schroeder is a fascinating case. Over the past few years, international players have more often than no looked entirely out of place in these studies as the roles they fill and style they are asked to play don't line up well with their NCAA counterparts.

That is not the case with Schroeder, whose significance to Braunschweig on the offensive end places his usage and efficiency only slightly below average relative to the other top point guards in this draft.

His main weaknesses on paper are his efficiency in transition, where he sports the second lowest field goal percentage at 44% and third highest turnover rate at 27.3%, and his pull-up jump shot, which he made a below average 30.6% of the time.

His biggest strength on paper, which lines up with what we saw at the Nike Hoop Summit, is his prolific ability creating for others on the pick and roll, as he ranks second in pass outs resulting in possessions per-game. His catch and shoot jump shot also warrants noting, as he knocked it down at a phenomenal 52.6% clip, albeit on 1.6 attempts per-game.

The apple to the NCAA oranges in this group, the fact that Schroeder ranks well or near the mean in any category bucks the trend of sub-par showings from international prospects in these articles over the years. Playing a key role in the German league at just 19 years of age, it isn't difficult to see why Schroeder is perhaps the highest climbing international prospect in this draft relative to where he stood a year ago.

[Read Full Article]

---
NBA Combine Interviews: Larkin, Schroeder, Kabongo, Canaan
May 27, 2013
[Read Full Article]

---
2013 Nike Hoop Summit Practice Drill Videos
April 24, 2013
[Read Full Article]

---
Nike Hoop Summit Scouting Reports: Guards
April 23, 2013
Jonathan Givony

When we first wrote about Dennis Schroeder six months ago, just as he was beginning to take off as a NBA prospect, few people in his own country even knew his name. Fast forward to today, and Schroeder is one of the hottest prospects in the 2013 draft, fresh off a strong week in Portland where he introduced himself in very impressive fashion to a plethora of NBA scouts and executives who were mostly watching him for the very first time.



Schroeder's work started in the practices, where, as the oldest player on the team, he immediately established himself as the leader of the group. The team's offense was heavily geared towards his strengths, which are very conducive to the setting in which the game was played in.

Featuring terrific ball-handling skills, a lightning quick first step, excellent speed in the open floor, and a penchant for getting teammates involved, Schroeder did an outstanding job in both transition and in the half-court, getting to virtually wherever he wanted on the floor. He executed his team's offense effectively, doing a good job of pushing the ball inside when needed, and finding teammates constantly spotting up on the perimeter or cutting to the rim for a layup after blowing past his man.


Tim Brown/OregonLive



His pick and roll skills looked much improved from the beginning of the season, as he obviously benefited from the increased spacing he enjoyed with so many shooters around him at all times. His patience in the pick and roll has come a long ways from when we first started watching him, as he did an excellent job of reading the floor and knowing when it's time to accelerate or decelerate, sometimes putting his man on his back and making the defense react.



When defenses decided to go under the screen, Schroeder's pull-up jumper was enough of a weapon here for him to punish them, and he generally did a solid job through the week of convincing scouts that the 40% he's shooting from the 3-point line is not a fluke, despite his average mechanics. Schroeder is making a ridiculous 53% of his catch and shoot jumpers on the season in Germany according to Synergy Sports Technology, even if the sample size of 57 shots leaves something to be desired, he was very consistent throughout the week in Portland.



Top Catch and Shoot Jump-Shooters in European Basketball (min. 50 poss.)



Data from Synergy Sports Technology

Combine his jump-shot with his first step, open-court speed and ability to get teammates involved, and you have a pretty complete skill-set for a NBA point guard, even if he still clearly has to work on his ability to finish around the rim, as indicated by the paltry 44% he's currently shooting from 2-point range in Germany. He's a little non-chalant with his finishes, relying too heavily on floaters and struggling somewhat through contact, but this is an area he can improve on in time.

On the other end of the floor, Schroeder did an excellent job as well. He measured a solid 6-2 in shoes with an excellent 6-7 ¼ wingspan, and looked intent on using it every moment he was on the court. Schroeder's lateral quickness might be the best of any point guard in this year's draft class, as he's able to put suffocating pressure on the ball in the full-court, bodying up his matchup and sliding with him every inch he takes up the court. He will need to continue to fill out his slender 168-pound frame, but there is a lot to like here despite his average size.

Schroeder has come a long way in the past year or so, both on and off the court. He appears to have matured with his body language and overall approach to the game, and did an excellent job of leading the World Team by example all week in Portland, which culminated in a big win over the American team on Saturday. He still has a ways to go with his decision making skills, as indicated by the 4.2 turnovers he's averaging per-40 on the season, but he's clearly on the right path now. He has a very good chance of going in the first round now, and could possibly even boost his stock into the top-20 with strong workouts over the next two months.

[Read Full Article]

---
2013 Nike Hoop Summit World Select Team: Practices Three and Four
April 18, 2013
The catalyst for much of that ball movement was German point guard Dennis Schroeder, who took over stretches of the action on Wednesday with his ability to get into the lane and make the right play. Possessing terrific speed and quickness, Schroeder did an excellent job turning the corner on the pick and roll and exploiting mismatches. Consistently able to freeze his defender with a hesitation move before exploding past him to the rim, Schroeder has been a handful for the other guards in attendance. The constant threat of his dribble drive put considerable pressure on the defense, especially in pick and roll settings, and he capitalized in a variety of ways, be it with a scoop or floater when he was given space in the lane, finding a cutter with a drop pass or creating an easy look for one of his big men with a lob when the defense tried to string him out.

Playing pesky, full-court defense, knocking down a number of jump shots, and looking great in the open floor as well, Schroeder is leaving a lasting impression with his play here in Portland. With Marcus Smart returning to school and a notable void after the top tier of point guard prospects in the 2013 draft at the moment, Schroeder could look to fill that gap with a strong performance in the actual game on Saturday. It will be worth watching a potential matchup with Andrew Harrison, who should present a unique challenge for Schroeder with his size.

[Read Full Article]

---
2013 Hoop Summit World Select Team Measurements
April 16, 2013
Dennis Schroeder
Height w/Shoes: 6'2
Weight: 168
Wingspan: 6'7.25

[Read Full Article]

---
European Roundup: Schroeder Shredding German Defenses
October 29, 2012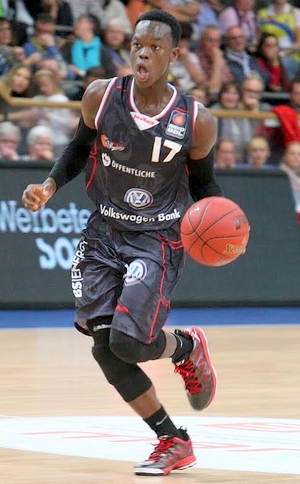 Supporters-bs.de



Scouting report by Jonathan Givony. Video analysis by Mike Schmitz

Six games into the 2012-2013 season, it's safe to say a very intriguing prospect is emerging in the increasingly respected German BBL.

1993-born point guard Dennis Schroeder (or Dennis Schröder) is seeing starting caliber minutes for the New Yorker Phantoms from Braunschweig, and currently ranks among the best per-minute scorers and passers in the league.

The son of a Gambian mother and German father, Schroeder is a bit of a late bloomer, as he wasn't deemed good enough to make the German national team youth teams until last year, not progressing past training camp the two summers prior. He had a strong showing at the U18 European Championship in the summer of 2011, and then again represented his country at the U20 European Championship this past July, where he settled for a backup role.

Schroeder saw some rotational minutes for Braunschweig already last season, but spent most of his time with SU Medien in Pro B, which is the third division in Germany. He's been playing an increasingly large role since the season kicked off in early October, up to 25 minutes the past two games.

Video Analysis:



Scouting report:

Schroeder has average size at around 6-1 (possibly 6-2 in shoes) and a narrow frame, but is one of the better athletes you'll find amongst European guard prospects, and has an extremely long wingspan.

His biggest strengths as a NBA prospect revolve around his quick first step and excellent ball-handling skills, as well as his ability to play at different speeds and utilize shifty hesitation moves to keep defenders off balance.

A force in transition thanks to his blazing speed, Schroeder also shows excellent potential in the half-court with his proficiency running the pick and roll. He's fast enough to beat opponents and force the defense to rotate, but also a creative enough passer to find teammates on the drive and dish, sometimes in spectacular fashion. He's extremely confident and aggressive with the ball in his hands, something that is quite rare considering his age and the level of competition he's playing at, making quick decisions within the flow of the offense.

The area Schroeder has shown the biggest improvement in thus far this season is with his outside shot. Shooting just 62/209 (29.7%) from beyond the arc in the 60 games he played in last year in various competitions, Schroeder has converted on 10 of his 18 (56%) attempts through six games. This is a very small sample size, but is nevertheless an encouraging sign that scouts will continue to monitor moving forward. While he does not possess a particularly quick release, and shoots an incredibly high arcing rainbow jumper, his mechanics are consistent and he's been very reliable with both his feet set and off the dribble.

Where Schroeder must improve on the most is as a scorer inside the arc, where he's converted just 33% of his 2-point attempts this season. He doesn't always go as strong to the rim as his speed suggests he can, preferring at times to pull up in the mid-range when he has a path to the basket, which is a much lower percentage attempt, and which is not a strength of his at this stage. When he does drive all the way into the lane, he often struggles to finish around the rim due to his lack of strength, particularly with his left hand. To reach his potential as a scorer, Schroeder must improve upon his ability to draw fouls inside the paint and earn easy points from the free throw line, as well as polish his in-between game, including his floater.

Having only turned 19 last month, and listed at just 157 pounds by his team, it's clear that he has a ways to go in terms of maturing physically still, which is more noticeable at this level playing against grown men than it might be at the college level versus similarly aged players.

Schroeder can also clearly still improve on the mental side of the game, as is always the case with players this age. His decision making ability still needs work, as he's fairly turnover prone, something that has been an issue throughout his career. He looks a little nonchalant with the ball and will try and force the issue at times, as it's clear that he still lacks much in the ways of experience at this level of competition and is still figuring out what works and what doesn't.

More concerning is the body language he shows on occasion, as he seemingly loses his temper somewhat easily, and can be a bit too demonstrative around his teammates, especially considering his age. He faced harsh criticism for this from his former U18 national team, Kay Blumel: "He's not a bad kid, but sometimes his behavior towards his teammates is not how it should be," the coach told FIBA Europe.com in July of 2011.

"At this time a year ago it was even worse than it is today. He has improved a lot on that and is still improving. I'm telling him that as the point guard you have to be the leader of the team. You need to get your teammates behind you and follow you. And you have to take care of that on and off the court - that everybody likes to play with you."

Schroeder was also suspended for a game last year by (now former) Braunschweig head coach Sebastian Machowski, reportedly for insubordination.

Defensively, Schroeder is somewhat of a mixed bag. His quick feet and extremely long arms are huge assets here, often allowing him to makes plays in the passing lanes or smothering an opponent with his length and forcing them to alter their shots badly. His narrow frame and average fundamentals can get exposed against older and stronger players, though. He seems to lose his focus here at times, not always getting in a low stance, preferring to just swipe at the ball from behind after getting beat. Schroeder shows great potential here at times with his lateral quickness, and certainly has the ability to develop into a capable player on this end of the floor, but he's not there quite yet, particularly from a physical standpoint.

All in all, Schroeder has done a great job establishing himself as a very productive contributor at an extremely young age in a highly respected European league. Add in the fact that he has a very American friendly style of game, and a coveted asset with his combination of speed, ball-handling ability and creativity, and it's easy to get excited about what the future may hold.

At the same time, Schroeder is in a very early stage of his development still, and by no means is a proven commodity just yet. We'll have to see how he progresses and whether he can continue to find the same success moving forward, but NBA scouts will surely be following closely.

[Read Full Article]

---