Trending Prospects (3/11/2011)
March 11, 2011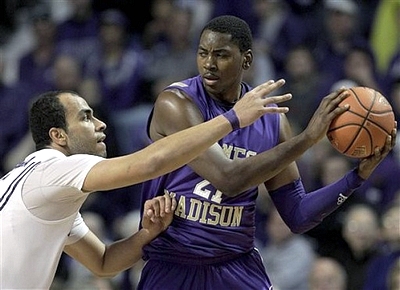 AP
Walker Beeken
Denzel Bowles
made a tremendous impact at James Madison during the 2009-2010 season following a transfer from Texas A&M, averaging over twenty points per game and establishing himself as a force in the paint in the Colonial Athletic Association. And while Bowles has had a similar senior season in 2010-2011 and showed many of the characteristics that make him an intriguing prospect, he hasn't made strides in the key areas where we noted that he struggled last season, most notably with his questionable motor, conditioning level and defensive ability.
As we mentioned before, Bowles has the size and talent to be able to produce at the mid-major level without always having to always give maximum effort. He's able to use his body to establish position in the basket area against smaller, less physically gifted players, and his outstanding hands, footwork, and touch help him finish and contribute to his impressive 58% shooting from the field.
Bowles plays like more of a traditional big man and seems to have a pretty good handle on the fact that he's most productive offensively if he's on the block or getting into the paint. Over 50% of his possessions have come in the post this season, and he's been pretty efficient, scoring .92 points per possession. This could be much better, however, if he didn't always insist on putting the ball on the floor after catching it in the post. We noted before the season that this led to him being very turnover-prone as a junior, and we saw much of the same when evaluating him this season.
He did show a bit more of his shooting ability in his senior season, attempting twice as many jumpers as he did as a junior, and connecting on a solid 48% of those attempts. His range doesn't look to extend past fifteen feet or so, but again, it's nice to see him knowing his limitations here and not trying to be somebody he's not. His ability to step outside of the paint and make a mid-range jumper should help him regardless of where he ends up playing professionally. Generally speaking, he seems to have a higher skill-level than you typically see from players his size, particularly in mid-major conferences.
On the defensive end, Bowles didn't show much this season to inspire much confidence in his potential to guard his position at the NBA level. His size makes him a presence in the paint in the CAA, but his fundamentals are poor, he doesn't move very well laterally, and his motor and toughness on this end are both inconsistent. Focusing more on this end and becoming a beast on the glass would really serve him well going forward, as he isn't talented enough offensively to overlook significant question marks about his defense.
Overall, Bowles senior season didn't show us much more than what we already knew about him. It's rare to find talented big men in his mold at the mid-major level, and he's a player who could still do quite a bit for his draft stock over the next few months as scouts get to see him matched up against stronger competition. He'll likely be at Portsmouth and have opportunities to showcase his game in workouts, and although his talent and skill level may impress some NBA decision-makers, perhaps the biggest thing for Bowles will be getting in shape and playing with consistent energy. Being only 21 years old, teams could hope that its only a matter of maturing and becoming more serious about his craft, something that they'll be able to learn more about during the pre-draft process.
[
Read Full Article
]
Top NBA Draft Prospects in Non-BCS Conferences, Part Four (#21-25)
November 8, 2010
Matthew Kamalsky

After spending his first two seasons of eligibility at Texas A&M, Denzel Bowles made the decision to transfer to James Madison, where he made and immediate impact for the Dukes in the CAA. After attending the Amar'e Stoudemire Skills Academy this summer, Bowles is another player worth keeping an eye on, as he has NBA size, great hands, and solid footwork.

Standing 6'10 with a solid frame that has some potential and a giant wingspan, Bowles has the physical tools to play the center position at the next level. A decent athlete who could stand to get into better shape so he can run the floor a bit harder, Bowles has good mobility for the college game, but would not stand out amongst the crowd in the NBA. He shows some leaping ability at times, but isn't terribly explosive unless he has a moment to gather himself. Considering his excellent size, Bowles is a player who would benefit immensely from adding some muscle to his frame, especially in his lower body.

While he may need to make some adjustments to improve his opportunity to make an impact on the NBA level, Bowles is already a highly efficient and productive small-conference college player. Imposing his size and athleticism on smaller, slower bigs on a nightly basis, Bowles ranked amongst the top-10 players in our database in PER. Shooting nearly 60% from the field and averaging a shade below a double-double, Bowles dominated the Colonial Athletic Association in his first year with the Dukes.

Bowles's success on the offensive end is predicated on his size, willingness to take contact, and solid footwork. Capable of establishing deep position on the block, he gets nearly 50% of his touches in post-up situations according to Synergy Sports Technology. While he flashes an occasional up and under or nice step through move, the senior doesn't show force too many advanced post moves. He is most efficient when he works to the middle of the floor where he can simply elevate over defenders to score, and while he seems to lack much in the way of a turnaround jump shot, his footwork, touch, and ability to use his body make him very prolific on the block. Usually able to just turn, seal, and finish against less athletic defenders, he puts the ball on the floor almost every time he gets it with his back to the basket, making him rather turnover prone. If Bowles can develop a go-to-move this season and add some reverse pivots to his repertoire, he could post tremendous efficiency numbers.

When he isn't working in the post, Bowles ranks amongst the most efficient finishers in the NCAA. While his size certainly plays a role in that, he exploits his length very effectively, often finishing plays on the other side of the rim with reverse layups when he has space and pulling down offensive rebounds at a good rate. Capable of using his dribble to get to the rim with straight line drives against slower opponents from the midrange, Bowles flashes some perimeter shooting touch, but doesn't take very many shots away from the immediate vicinity of the rim.

Defensively, Bowles does not use his physical tools as assertively as he does on the offensive end. His length allows him to block some shots and pull down some rebounds, but he's often a step slow on his rotations and doesn't seem to play with a consistent motor. Though he fares pretty well sitting in the middle of James Madison's zone, his one-on-one ability leaves a bit to be desired. His ability to step up defensively will be a big part to how he's projected moving into next spring.

Bowles's dominance last season was impressive, but if he can improve his conditioning and play harder defensively, he could raise his stock quite a bit heading into next summer. If Bowles can make some strides in those areas and play James Madison to the top of the CAA, he could generate some nice buzz.
[
Read Full Article
]