Deonte Burton
Recent Tweets
All Tweets
DraftExpress: Notable Undrafted 2 Deonte Burton Mike Moser Bryce Cotton Sim Bhullar Sean Kilpatrick Kendall Williams Jordan Bachynski Niels Giffey
2014-06-27 00:11:20
DraftExpress: Can someone have a little chat with Deonte Burton from Marquette for me? We really don't need TWO Deonte Burtons in college do we Dee?
2013-08-26 17:06:08
DraftExpress: Deonte Burton will return to Nevada for his senior year http://t.co/55yhpF9zXG (via @RSJstudent)
2013-04-08 18:44:40
DraftExpress: Deonte Burton's dad thinks he will return to Nevada http://t.co/cHGV5dYqxf
2013-03-26 21:31:27
DraftExpress: Last five DX scouting reports Erick Green Ray McCallum Kentavious Caldwell-Pope Deonte Burton Shabazz Napier http://t.co/ftG40zRrA2
2013-03-13 11:17:15
Team: Bakersfield
Physicals
Positions
Salary
Misc
H: 6' 1"
W: 193 lbs
Bday: 07/26/1991
(24 Years Old)

Current: PG
NBA: PG
Possible: PG

Agent: Bill Duffy

High School: Compton
Hometown: Los Angeles, CA

Predraft Measurements
| Year | Source | Height w/o Shoes | Height w/shoes | Weight | Wingspan | Standing Reach | Body Fat | No Step Vert | Max Vert |
| --- | --- | --- | --- | --- | --- | --- | --- | --- | --- |
| 2014 | NBA Draft Combine | 6' 0" | 6' 1.25" | 193 | 6' 7" | 8' 1.5" | 7.7 | 29.0 | 39.5 |
| 2012 | Deron Williams Camp | NA | 6' 1" | 185 | 6' 6" | NA | NA | NA | NA |



Basic Per Game Statistics

- Comprehensive Stats - Statistical Top 25s
| Year | League | Name | GP | Min | Pts | FG | FGA | FG% | 2Pt | 2PtA | 2P% | 3Pt | 3PtA | 3P% | FTM | FTA | FT% | Off | Def | TOT | Asts | Stls | Blks | TOs | PFs |
| --- | --- | --- | --- | --- | --- | --- | --- | --- | --- | --- | --- | --- | --- | --- | --- | --- | --- | --- | --- | --- | --- | --- | --- | --- | --- |
| 2015/16 | DLEAGUE | Deonte Burton | 7 | 27.1 | 9.7 | 3.7 | 7.3 | 51.0 | 3.6 | 6.6 | 54.3 | 0.1 | 0.7 | 20.0 | 2.1 | 2.9 | 75.0 | 0.9 | 1.3 | 2.1 | 3.3 | 1.6 | 0.7 | 1.7 | 2.7 |

Player Page&nbsp&nbsp| Player Stats | Mock Draft History | Related Articles&nbsp&nbsp| Add to My Draft Express&nbsp
&nbsp
Top NBA Prospects in the Big East, Part 1: Prospects #1-5
October 1, 2014
US Presswire



Matt Kamalsky

One of the most powerfully built athletes in college basketball, from a distance, Deonte Burton looks more like an outside linebacker than a basketball player. Standing 6'4 and weighing in at a stout 230 pounds, Burton averaged 6.9 points and 2.2 rebounds over 12.6 minutes per-game, the majority of which he accrued at the power forward position.

Despite his height, Marquette's lack of size up front and struggles offensively, combined with Burton's athleticism and aggressiveness, allowed him to carve out a unique role as an extremely high-volume inside-outside threat in limited playing time. As SI's Luke Winn points out Burton was among the highest usage players in the country when he was on the floor a year ago, ultimately ranking among the most prolific per-40 minute pace adjust scorers in the freshman class.

Seeing his minutes dip mid-year before playing his best offensive basketball to close the season, Burton's freshman campaign was a bit of an adventure. At times, his assertiveness and the versatility of his role, which had him playing around the paint like a true big man, spotting from a variety of ranges, and freelancing both in transition and the half court, made him Marquette's best offensive player. By the same token, the lefty also struggled with his decision-making, trying to do too much for stretches and looking rushed at times.

Regardless of the ups and downs of Burton's first year with the Golden Eagles, there's no questioning that he was a force at times. Able to put the ball on the floor and use his explosive first step and tremendous overall strength to create angles to get to the rim, create second shot opportunities at a high rate, knock down shots from the midrange, and play above the rim inside, Burton has an intriguing combination of tools as a scorer. Despite his sometimes erratic play, the Milwaukee native finished the year making 43% of his jump shots, 41% of his shots in the post, and 56% in finishing situations according to Synergy Sports Technology. As much as Burton's playing time limits the sample size on those numbers, there's little doubt that his ability to put the ball in the basket can be a major asset for first year Head Coach Steve Wojciechowski this season.

Defensively, Burton was productive, but not always effective. Ranking among the top freshman in the country averaging 3.4 steals per-40 minutes pace adjusted, Burton's aggressiveness and physicality translated into forced turnovers and solid defense in the paint at times, though his willingness to take risks and lack of consistent intensity limited his impact on this end of the floor. His 5.6 fouls per-40 minutes and lack of production as a rebounder relative to his performance offensively were also concerns.

One of the most unique freshmen in the country a year ago, it is difficult to gauge what the future holds for Burton at the moment. There's little doubt he could be highly productive give significant minutes, making his first year under Marquette's new staff worth watching. At 6'4, he's obviously lacks size for either forward position at the NBA level, but given the good things he already does, there's plenty of room for optimism about Burton's long-term prospects if he can improve his perimeter skill set in the coming years.

[Read Full Article]

---
2014 NBA Combine Interviews: Marble, Burton, Ejim
May 22, 2014
[Read Full Article]

---
NBA Draft Prospect of the Week: Deonte Burton
February 18, 2014
Deonte Burton is closing on 2,000 points scored in his college career, which he surprisingly decided to extend with a fourth and final season after an extended debate last year. Burton ranks among the top point guards in this draft class in a variety of categories, but is completely off the national media's radar and looks to be struggling to move the needle on his draft stock playing for a dysfunctional team that sports a mediocre 12-14 record in the Mountain West Conference. Nevertheless, he shows intriguing potential in a number of areas and might end up being a better pro than many thought coming out of college.
---
-NBA Draft Prospect of the Week: Noah Vonleh (Video Scouting Report)
-NBA Draft Prospect of the Week: Nik Stauskas (Video Scouting Report)
-NBA Draft Prospect of the Week: Aaron Gordon (Video Scouting Report)
-NBA Draft Prospect of the Week: Clint Capela (Video Scouting Report)
-NBA Draft Prospect of the Week: Thanasis Antetokounmpo (Video Scouting Report)
-NBA Draft Prospect of the Week: Shabazz Napier (Video Scouting Report)
-NBA Draft Prospect of the Week: Bogdan Bogdanovic (Video Scouting Report)
-NBA Draft Prospect of the Week: Joel Embiid (Video Scouting Report)
-NBA Draft Prospect of the Week: Julius Randle (Video Scouting Report)
-NBA Draft Prospect of the Week: Jabari Parker (Video Scouting Report)
-Revisiting Giannis Antetokounmpo (Video Scouting Report)
-Revisiting Damian Lillard (Video Scouting Report)
-Revisiting Nikola Mirotic (Video Scouting Report)
-Revisiting Alexis Ajinca (Video Scouting Report)
---
Burton has average size at 6-1, but makes up for that and then some with a strong 190 pound frame, a long 6-6 wingspan, and arguably the best athleticism of any point guard in this class, as he sports a lighting quick first step and extremely impressive leaping ability jumping off two feet.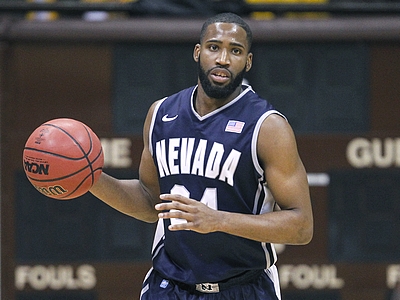 US Presswire



Burton is the fourth best scoring point guard in our top-100 rankings, making an outstanding 55% of his 2-point attempts (second among DX Top-100 PGs), while getting to the free throw line over seven times per-40 (fifth among DX Top-100 PGs), and sporting the lowest turnover rate among any DX Top-100 ranked point guard.

Burton is deadly in the three areas NBA teams like to see point guard prospects excel the most at the collegiate level—being highly efficient in the pick and roll, isolation, and transition situations. His terrific first step, strong frame, and extreme aggressiveness allow him to make a living driving to the basket, finishing around the rim and getting to the free throw line, despite playing in what appears to be a highly dysfunctional team situation in terms of system or structure, with seemingly very little talent alongside him. He makes an outrageous 66% of his field goal attempts around the basket in the half-court, second best among top-100 prospects, and gets there at an impressive rate as well.

On paper, Burton is a very streaky shooter, making just 32% of his 3-point attempts on the season after hitting 30% as a junior. Despite his low percentages and unconventional mechanics, digging deeper, we find that he's actually capable of making shots with the best of them, with both his feet set and off the dribble. His 1.6 made 3-pointers per game ranks fourth among point guards in this class—he simply takes far too many outside looks, which may be partially due to the situation he's in.

Burton never leaves the floor for Nevada, he plays more minutes per game than any player in our top-100 prospects ranking, and is responsible for 28% of his team's scoring, more than any point guard in this class.

With that said, it's difficult to ignore the fact that Burton's team has won less than half their games this season, only Olivier Hanlan's Boston College squad can say the same among Top-100 college prospects, and his poor shot-selection and decision making are no small culprits in that. He doesn't do a great job of reading defenses or getting teammates involved, often dribbling with his head down, and badly overestimates his outside shooting ability, jacking up ill-advised looks early in the shot-clock. Burton is much more of a scorer than he is a natural facilitator, something that isn't the end of the world in today's NBA, but is still something he'll have to work on playing alongside better talent in the future. He's never made the NCAA Tournament and only went to the NIT once (in 2012) in his career, which looks unlikely to change this season. The fact that he turns 23 in July also won't help him when he's stacked up against the other top point guard prospects in this draft, as he's 2-3 years older than most of them.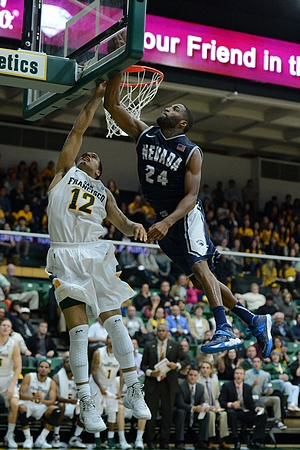 US Presswire



While Nevada ranks just 211th among all college basketball teams in defensive efficiency this season according to KenPom, Burton appears to have good tools on this end of the floor with his solid wingspan, strength and athleticism. His quickness and explosiveness can be easily noted with the way he gets in the passing lanes and the fact that he ranks second among DX Top-100 PGs in blocks, and he should be able to more than hold his own at the pro level once he's not forced to play nearly 40 minutes a game and carry his team offensively.

Matchups against the likes of San Diego State, UCLA, Cal, Missouri, New Mexico, UNLV and others have given us ample opportunity to evaluate Burton's strengths and weaknesses as a prospect, which we've done in the following video scouting report, courtesy of Mike Schmitz.



All of our video scouting reports this season can be found here.

[Read Full Article]

---
Trending Prospects: Deonte Burton
March 4, 2013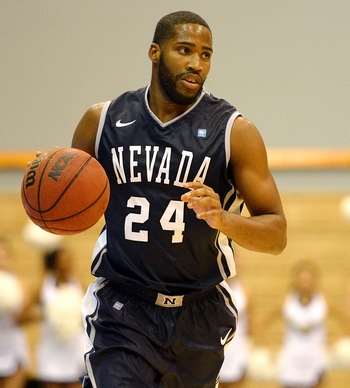 US Presswire



Kyle Nelson

The 2012 WAC Player of the Year, Deonte Burton entered his junior season as one of the best point guard prospects outside of the BCS conferences. Now in the Mountain West Conference, Burton has been tasked with leading the Nevada Wolf Pack through one of the deepest and toughest conferences in college basketball, and without very much help alongside him after the departures of seniors Dario Hunt and Olek Czyz.

In last place at 3-11 in the MWC (12-16 overall), Nevada has struggled mightily this season and Burton has not been the panacea that fans may have hoped given his breakthrough sophomore season. That being said, he has been very good overall, seeing both his scoring and efficiency rise, even though that hasn't contributed to many wins thus far. As it appears he is legitimately considering entering the 2013 NBA Draft, the question on scouts minds' is whether or not he has what it takes to play point guard in the NBA.

Standing 6'1 in shoes with a strong frame and a 6'6 wingspan, Burton has only average size for the point guard position in the NBA. With that said, he is a very good athlete, possessing both excellent quickness in the open floor and impressive explosiveness around the basket. Combined with his tough and relentless style of play, his athleticism and strength allow him to compensate somewhat for his lack of ideal size.

More of a scoring lead guard than a pure point, Burton is responsible for nearly 25% of Nevada's points, averaging 18.8 points per 40 minutes pace adjusted – while posting career high shooting efficiency numbers. A look inside of the statistics reveals that he has a very diverse scoring arsenal, finding 25.7% of his offense in transition, 23.5% in isolation, 18.7% out of the pick-and-roll, and 12.1% while spotting up.

Burton is at his best when he's slashing to the basket, where he can either go strong to the rim or pull up for a floater. His outstanding first step is difficult for opponents to stay in front of, as he's extremely aggressive looking to attack off the dribble, utilizing his strong upper body to create space and initiate contact at the rim, often drawing plenty of fouls in the process. Few college guards are capable of getting all the way to the basket as frequently and effectively as Burton is, which is a highly coveted attribute.

While Burton previously struggled to convert around the rim earlier in his career, he is making a strong 51% of his half-court attempts at the rim as a junior, and a career-high 51% overall from 2-point range. Though right handed, he shows a tendency to drive left, but is adept at finishing with either hand. Furthermore, he gets to the line at an excellent rate, averaging a stellar 8.2 free throw attempts per 40 minutes pace adjusted, ranking as one of the most prolific free throw drawers in our top-100.

While Burton has developed into an excellent driver, he has regressed as a shooter, making less than 30% of his overall jump shots. His mechanics are slightly unorthodox, but his release is both consistent and quick, and he puts a lot of arc on his shot. Burton's low percentages appear to be more a product of poor shot-selection than an issue with his technique, as he regularly shows the ability to make shots with his feet set and off the dribble.

With that said, too often Burton will bring the ball up the floor and pull up for a 3-pointer before any of his teammates have even gotten a touch. He tends to overestimate his perimeter shooting ability, setting for long off the dribble jumpers with a hand in his face a few times every game.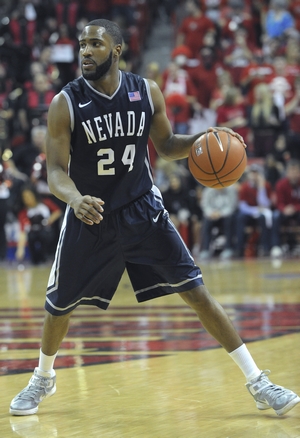 US Presswire



The question is whether Burton can play point guard at the next level. On film, it is clear that Burton does not have the most talented supporting cast, and his career-high 21.7% of Nevada's overall possessions speaks to just how large of a role he is forced to shoulder on the offensive end. Furthermore, his team does not appear to be very disciplined or structured on the offensive end, as they quickly and easily resort to an isolation-heavy style of half-court basketball, with Burton dribbling the air out of the ball and everyone else standing around and watching.

Burton will need to improve his court vision and decision making ability, as he doesn't do a great job of reading defenses at this stage of his career and too often will dribble with his head down and try to just barrel his way into the lane.

Because he is Nevada's top shot creator, scorer, and facilitator, Burton is clearly a shoot-first guard at this stage, but he shows glimpses of his passing ability, particularly in transition, but also in half court sets where he finds his man off of the dribble. Furthermore, he shows proficiency operating out of the pick-and-roll as both a passer and as a scorer. While it is difficult to evaluate his abilities as a point guard in this setting and despite his career low assist numbers, he has made legitimate strides in this area and is averaging a career low 0.15 turnovers per possession.

Not a whole lot has changed on the defensive end for Burton since we wrote about him in the pre-season. He still shows very good lateral quickness, quick hands, and energy, which allows him to stay in front of guards at the collegiate level and the strength to stay with his man through screens. As was the case last year, as well; Nevada's undisciplined defense and his average size make it difficult to evaluate him, but his effort and athleticism should allow him to be an above average one-on-one defender at the next level with better coaching and added experience.

Burton provides an intriguing combination of athleticism and scoring ability for a scoring point guard. Though his average size and decision making skills are legitimate areas of concern when projecting him at the next level, the strengths he shows as a shot-creator will earn him plenty of looks whenever he decides to enter the draft.

[Read Full Article]

---
Top NBA Prospects in the Non-BCS Conferences, Part Five
November 16, 2012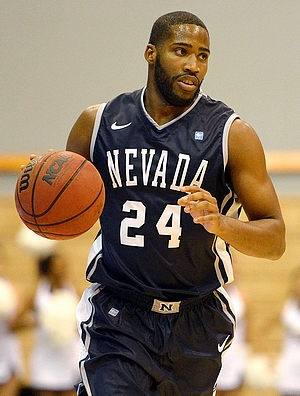 US Presswire



Derek Bodner

Coming off a surprising freshman season, Deonte Burton may not have made a huge statistical leap as a prospect, but he showed enough incremental improvement in his game to build off of his strong freshman campaign.

While Burton has played primarily the point guard position for the Wolf Pack, he is not yet what you would call a true lead guard, not showing great court vision or an overall feel for controlling the tempo of a game. Nevada returned a veteran squad last season, with Olek Czyz and Dario Hunt bringing significant and athleticism to the frontcourt positions, but the team looked disorganized and struggled to win most of their big games, eventually being knocked out in the semifinals of the WAC conference tournament. Now having moved to the Mountain West Conference, Burton will face better competition on a nightly basis but will have to improve even more if he's to help his team reach the NCAA tournament.

Burton's main asset at this point is still his scoring, where he brings a diversified attack from the lead guard position. His most identifiable trait is his ability to shoot off the dribble, which opens up the rest of his game. While Burton has a long release with a lot of extra leg motion, he gets good elevation and does a tremendous job making shots off the dribble and with a hand in his face, with incredible concentration and touch allowing him to make many shots with a high degree of difficulty.

This manifests itself the most off the pick and rolls, where he is able to use the space from the pick to get up a quality look with ease. The attention defenders have to give Burton as a shooter off the pick opens up his dribble drive game. Burton has a good first step, and once he gets into the lane has surprising explosiveness around the rim and a strong upper body. While Burton has only average touch, and doesn't always have the size and strength to finish his drives, he does a very good job of drawing contact in the paint, and his 7.2 free throw attempts per 40 minutes pace adjusted is a top 10 mark in our database for point guard prospects.

Despite being a right handed player, Burton prefers to drive to his left, something which at times appears to catch his defenders by surprise. That being said, he is not yet as comfortable finishing with his left hand as he is with his right, and improving upon this facet of his game could help improve his proficiency in finishing inside and allow him to take advantage of his ability to drive left even more.

Burton has a very prolific in-between game, as he took twice as many pull-up jumpers as spot-ups last season and made 36%of those attempts. With that said, he doesn't always get great balance on his pull-up jumpers and his shot-selection can leave something to be desired at times (to put it mildly perhaps), but he did rank as one of the most efficient isolation threats in college basketball last season, which is very intriguing considering the premium NBA decision makers put on shot-creation ability. As his decision making improves, his shot-making ability in the mid-range area could be honed into a very valuable skill.

As a ball-handler, Burton does a good job of keeping his dribble low and maintains good control of the ball. He has a solid crossover dribble and does a good job of changing speeds, displaying excellent timing and instincts for knowing when to attack his defender when he's at his most unbalanced, and thus doing a very good job of creating space for himself to operate. This helps him get into the lane on a fairly regular basis, and as mentioned allows him to get to the free throw line at a very high rate.

Burton's playmaking skills are still very much a work in progress, as his shot-selection and decision making can be very poor at times and he tends to freeze out his teammates when things aren't going well. Scouts will want to see better leadership from him as a junior.

On the defensive side of the ball, Burton has solid size to defend the point guard position at 6'1" with a very long wingspan at 6'6" and has a strong upper body that looks like it could add a bit more muscle. He gets himself in a fairly good stance and does a fair job of fighting through pick and rolls, but like most of his Nevada team, doesn't show great fundamentals or awareness keeping opponents out of the lane. He tends to lose his focus easily and gets beaten off the dribble by opponents. His size may prevent him from being an impact defender at the next level, but if he works hard at it he should be able to work himself into at least an average defender with better coaching.

With Nevada having lost Olek Czyz and Dario Hunt to graduation, Deonte Burton will see his first major role change at the collegiate level. With Nevada not having Czyz and Hunt to anchor the frontcourt, Nevada will be more reliant on Burton to get good looks for his teammates. While Burton is a solid collegiate scorer, showing development as a point guard would help his draft stock considerably if he is able to take advantage of his new role.

[Read Full Article]

---
Top NBA Draft Prospects in the Non-BCS Conferences, Part 3 (#11-15)
November 5, 2011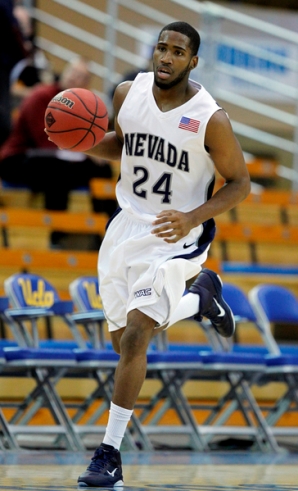 Icon SMI



Matt Kamalsky

A largely unheralded recruit coming out of Centennial HS in Compton, Deonte Burton had a tremendous freshman year at Nevada, garnering WAC Freshman of the Year honors. He did not stand out in any one particular area, but made an immediate impact for the Wolfpack, and will be a key part of the success of what will be one of the more talented teams Nevada has had in some time as a sophomore. Considering what he was able to accomplish as a true freshman, Burton is a prospect worth keeping an eye on as he looks to take a step forward in his sophomore year.

Athletically, Burton fits the profile of a NBA point guard fairly well. He isn't overwhelmingly quick or explosive, but he has a nice first step, a frame that still has potential for growth, and will surprise defenders with his ability to rise up and play above the rim when he jumps off of two feet. Like many freshmen, he could stand to slow down and become a bit more discerning with the way he utilizes his athleticism as he gets a bit out of control at times, especially in traffic.

As a scorer, Burton makes an impact on a number of levels. He can score on the pick and roll thanks to his ability to turn the corner and finish at the rim, will knock down spot-up shots from beyond the arc with consistency, and shows the ability to create separation for pull-up jump shots seamlessly from the midrange in one-on-one situations.

Though his shot selection is less than ideal and he often shoots the ball on the way down when defended, Burton takes and makes a lot of difficult jump shots. He only knocks down 30% of his pull-up jump shots according to Synergy Sports Technology, but his 45% shooting with a hand in his face off the catch is nothing short of impressive. Clearly there's a bit of a gap in his efficiency from the perimeter, and balancing his spot-up and midrange shot selection is a sticking point in Burton's offensive development moving forward.

In some ways, something similar can be said regarding Burton's slashing ability. He does a tremendous job drawing contact and getting to the line, but his propensity to play too fast when attacking the paint leads to some erratic shots around the rim and when pushing the ball in transition. Though he doesn't settle for many floaters, Burton needs to learn to improve his decision-making and play at different speeds to maximize his efficiency in the paint.

As a point guard, Burton does a nice job making the easy plays to set up his teammates when he sees an opportunity, but has plenty of room to grow and the tools to improve. Considering his shot selection, Burton could be deemed a tweener at this point, but he juggled his role as point guard and scorer fairly well for a freshman and if he begins to be a bit less aggressive with his jump shot and plays more under control off the dribble and with pace in transition, his ability to distort defenses and push the tempo could help him emerge as a quality playmaker.

Defensively, Burton plays with good energy. He shows tremendous recovery speed when closing out shooters, but is a bit overaggressive at times, allows slower players to get to the rim in one-on-one situations, and doesn't always fight aggressively over screens. Still, he shows solid intensity and with time and coaching could become a capable defender thanks to his solid lateral quickness.

Deonte Burton may have his shortcomings as a prospect at this time, but there are few players who are able to come into the college game and have an immediate impact akin to the one he had last season. Considering Nevada returns much of its core this season, Burton's role may not radically change this season, but if he makes some incremental improvements, considering the amount of time he has to develop, he could become one of the more intriguing mid-major guard prospects in the west in time.

[Read Full Article]

---