Deshaun Thomas
Recent Tweets
All Tweets
DraftExpress: Kelly Olynyk DeShaun Thomas Ray McCallum Tim Hardaway Reggie Bullock C.J. McCollum Victor Oladipo RT @Mr_TQ Top 2013 draft picks in PER?
2013-07-17 13:37:30
DraftExpress2: RT @JoeWhelanWANE Deshaun Thomas said if the Spurs wanted his cell number they'd have to draft him - time to give up that number
2013-06-28 00:59:19
DraftExpress2: Deshaun Thomas said if the Spurs wanted his cell number they'd have to draft him - time to give up that number
2013-06-28 00:12:01
DraftExpress: Still available DeShaun Thomas Jackie Carmichael Myck Kabongo Trevor Mbakwe Bojan Dubljevic C.J. Leslie James Southerland
2013-06-28 00:05:01
DraftExpress2: RT @GoodmanESPN Early entry guys still on board CJ Leslie Lorenzo Brown Vander Blue Phil Pressey Adonis Thomas Deshaun Thomas BJ Yo\u2026
2013-06-27 23:35:33
Team: Austin
Physicals
Positions
Rankings
Salary
Misc
H: 6' 7"
W: 220 lbs
Bday: 08/29/1991
(24 Years Old)

Current: SF/PF
NBA: SF/PF
Possible: SF/PF

RSCI: 17

Agent: J.R. Hensley

High School: Bishop Luers
Hometown: Fort Wayne, IN
Drafted: Pick 58 in 2013 by Spurs

Predraft Measurements
| Year | Source | Height w/o Shoes | Height w/shoes | Weight | Wingspan | Standing Reach | Body Fat | No Step Vert | Max Vert |
| --- | --- | --- | --- | --- | --- | --- | --- | --- | --- |
| 2013 | NBA Draft Combine | 6' 5" | 6' 7" | 220 | 6' 10" | 8' 8" | 9.1 | 28.5 | 32.0 |
| 2012 | Amare Stoudemire Camp | NA | 6' 7" | 221 | 6' 9" | NA | NA | NA | NA |
| 2009 | Vince Carter Camp | NA | 6' 7" | 221 | 6' 8" | NA | NA | NA | NA |
| 2009 | LeBron James Camp | NA | 6' 7" | 221 | 6' 8" | NA | NA | NA | NA |



Basic Per Game Statistics

- Comprehensive Stats - Statistical Top 25s
| Year | League | Name | GP | Min | Pts | FG | FGA | FG% | 2Pt | 2PtA | 2P% | 3Pt | 3PtA | 3P% | FTM | FTA | FT% | Off | Def | TOT | Asts | Stls | Blks | TOs | PFs |
| --- | --- | --- | --- | --- | --- | --- | --- | --- | --- | --- | --- | --- | --- | --- | --- | --- | --- | --- | --- | --- | --- | --- | --- | --- | --- |
| 2015/16 | DLEAGUE | Deshaun Thomas | 6 | 27.7 | 10.7 | 4.5 | 11.0 | 40.9 | 3.7 | 7.0 | 52.4 | 0.8 | 4.0 | 20.8 | 0.8 | 1.0 | 83.3 | 1.8 | 5.2 | 7.0 | 2.3 | 0.2 | 0.3 | 1.7 | 2.0 |

Player Page&nbsp&nbsp| Player Stats | Mock Draft History | Related Articles&nbsp&nbsp| Add to My Draft Express&nbsp
&nbsp
Situational Statistics: the 2013 Small Forward Crop
June 20, 2013
-Ohio State forward Deshaun Thomas ranks as the highest usage player in this group and scored a top-five ranked 1.02 points per-possession. Thomas turns the ball over on an incredibly low 7.7% of his possessions and scores in a variety of ways, shooting 47% on a sample leading 2.6 possessions per-game in the post, a second ranked 64.2% as a finisher, and a slightly below average 32.8% away from the basket as a jump shooter. Questions remain about Thomas's ability to defend the three at the NBA level, but he was one of the most prolific, efficient volume scorers in the country last seasons.

[Read Full Article]

---
Trending Prospects: Deshaun Thomas
February 24, 2013
US Presswire



Matt Kamalsky

The leading scorer in what's considered the toughest conference in college basketball, DeShaun Thomas has relished the opportunity to carry the offensive load for Ohio State after the departure of Jared Sullinger.

A McDonald's All-American coming out of Bishop Leuer's High School in Indiana, putting points on the board has never been an issue for Thomas. A versatile and dangerous scorer, the 6'7 combo forward saw immediate playing time for Thad Matta's team as a freshman and broke out as a productive, efficient secondary scorer as a sophomore. Possessing good physical strength, but lacking the elite athleticism that would allow him to project as a surefire small forward at the next level, the former Indiana Mr. Basketball scores in bunches despite being the sole focus of opposing defenses every time he's stepped on the floor as a junior, thanks to his terrific combination of instincts, aggressiveness, and touch.

Thomas has done most of his damage with his jump shot this season, but remains a productive finisher and one-on-one threat in the post. Accounting for 25% of Ohio State's total possessions, up from 18% last year, Thomas has fared well in a large roler that has tested his skill set, although his efficiency has dipped and his strengths and weaknesses as a prospect remain largely unchanged.

The biggest change for Thomas this season has been how he's gotten involved in the Buckeye offense as the team's clear-cut first option. The Ohio State coaching staff has input more sets that have Thomas working off of screens to free him up for catch and shoot opportunities, isolate him on the perimeter, and use him as a decoy to open up things for his teammates. As a result, Thomas has spent more time on the perimeter this season, with 57% of his total shot attempts coming from the outside, up from 48% last season, and his 3-point attempts per-40 minutes pace adjust jumping to 6.7, which ranks 4th among forwards in our top-100. He's making 37% of his 3-pointers.

Possessing a smooth release and shooting the ball with good follow-through, Thomas is most effective when he can catch and shoot, regardless of whether he's flashing to the midrange, spotting up beyond the arc, or running off a screen along the baseline. Thomas has continued to do a good job squaring his body to the rim, a notable improvement in his game from his freshman year. Connecting at a 39% rate off the catch, but only making 29% of his pull-up jumpers, Thomas's lack of blow by quickness hurts his ability to create separation in the midrange, which helps explain why his 2-point percentages have dropped off so dramatically from a stellar 60% last season to 50% this year.

Though he may lack great one-on-one shot creating ability away from the rim, Thomas still finds high percentage shots in paint and from the short corners. The lefty is capable of exploiting mismatches spinning over his right shoulder in the post, does an excellent job timing his cuts, is adept playing off his teammates, and proves opportunistic on the glass and with his dribble attacking from the midrange. Shooting 67% in finishing situations around the basket, Thomas may not be the most explosive leaper, but he's tremendously efficient around the basket thanks to his strength, aggressiveness, and touch.

Thomas's increased scoring average has come at the expense of the exceptionally high level of efficiency he attained as a complementary option last year. His true shooting percentage is down to 56% from 60% last year thanks in large part to just how many contested shots he's attempting away from the basket. Though his shot selection can be questionable at times, the onus is often on Thomas to keep Ohio State in games against the teams in the top of the Big Ten, and he doesn't shy away from that pressure.

In projecting Thomas to the next level, it is worth nothing that the complementary role he played as a sophomore is likely a better reflection of what he'll be asked to do at the next level than the one he's played this year. His jump shot will help him spread the floor while his scoring instincts and ability to exploit mismatches on the block give him upside as a diverse offensive roleplayer.

The main question regarding Thomas's NBA potential is what position he can defend effectively. His versatile offensive game affords him some flexibility on that end of the floor, but his lack of footspeed for a three, size and length for a four, and overall consistency on the defensive end are troubling. He alleviated some concerns about his work ethic by coming into the season in the best shape of his career and has played with good intensity on the perimeter for stretches, but his ability on this end of the floor will surely face close scrutiny from NBA decision-makers during the pre-draft process whenever he decides to leave Ohio State.

Another concern revolves around his lackluster rebounding production, particularly on the defensive end, where he ranks dead last at his position amongst top-100 power forwards. Thomas doesn't contribute much on the offensive glass either, so it remains to be seen how much he can help a team on nights when his shot isn't falling.

One of the best scorers in college basketball, Thomas has matured significantly and become a leader this season, thanks in no small-part, reportedly to the birth of his first son. He still has some things to work on, namely his defense and rebounder, but his merits as an elite shot-maker at the NCAA level are unquestionable at this point. After considering putting his name in the 2012 NBA Draft, Thomas will inevitably contemplate making himself eligible for the 2013 draft depending on how Ohio State's season ends.

[Read Full Article]

---
Top NBA Draft Prospects in the Big Ten, Part Two (#2-5)
September 8, 2012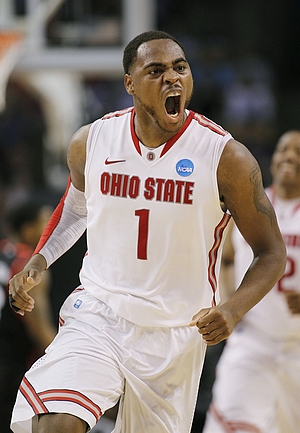 US Presswire



Matt Kamalsky

After a breakout sophomore season at Ohio State, Deshaun Thomas opted against entering his name in the 2012 NBA Draft. Heading back to Columbus along with fellow rising juniors, and returning starters Aaron Craft and Lenzelle Smith Jr., the name of the game for Thomas this season is opportunity. With Jared Sullinger and William Buford moving on to the pro level, the Buckeyes will rely heavily on Thomas's prolific scoring ability to propel them to another deep tournament run, giving him ample opportunity to build his resume and answer some questions about his game in advance of the 2013 NBA draft.

If there is one thing the 6'7 combo forward appears eager to do, it is take on a bigger role offensively. As aggressive a scorer as you'll find at the NCAA level, Thomas is a threat to take and make shots from anywhere on the floor thanks to his outstanding touch and tremendous offensive instincts. Ranking 6th in the Big Ten in points per-40, field goal attempts, and True Shooting Percentage last year, the All-Big Team 2nd Team Selection matched his scoring aggressiveness with tremendous efficiency.

Thomas's efficiency as a sophomore was rooted in his improved perimeter shooting and continued success finding ways to score closer to the rim. Constantly hunting open space on the floor, the sophomore improved his jump shooting conversion accuracy from 28% as a freshman to 38% last year –a significant rise considering nearly half his shots were jumpers according to Synergy Sports Technology.

As well as Thomas shot the ball as sophomore by doing a better job squaring his body to the rim and shooting in rhythm, he still tended to fall in love with his jump shot too quickly and force the issue from the outside. His touch makes him a tremendous midrange-to-short range shooter, even off of a jab or when off balance, but he has room to improve his 35% shooting from 3-point range.

As aggressive as the Indiana native was from the perimeter, he was just as active cutting to the basket and crashing the offensive glass. Shooting an outstanding 64% at the rim last season in Ohio State's disciplined offense, Thomas found ways to make his presence felt around the rim despite his lack of great explosiveness.

Thomas's role last season was characterized by the polarizing presence of Jared Sullinger. Playing off Sullinger on the block, Thomas was not frequently relied upon to create his own shot one-on-one from the perimeter or the post, even though he's consistently shown promise as a back-to-the-basket threat. With Sullinger out of the picture, Thomas's versatility will be an asset to Head Coach Thad Matta as he will look to make the most of Thomas's skills. The onus will be on Thomas to take advantage of those opportunities and respond to the pressures associated with being a first option, as he'll see his usage expand against defenses who are keying in on him every time he steps on the floor.

The biggest question-mark for Thomas heading into this season is whether he will come into his own on the defensive end. Lacking great size for the power forward position and the lateral quickness to deny dribble penetration against quicker wings on the perimeter, Thomas doesn't have great physical tools and was often maligned for the intensity he showed on that end of the floor. He'll need to bring more energy to the defensive end to have any chance of alleviating concerns about his ability to defend either forward spot at the next level.

There's no questioning DeShaun Thomas's talent on the offensive end. Cut from the same mold as Al Harrington, his ability to put the ball in the basket as a face-up power forward is something teams clearly value in today's NBA, even if he's prone to trying to shoot his way out of slumps for better or worse. His lack of size and explosiveness raises some concerns about how his offensive arsenal will translate, and offer few answers to persistent questions about his defensive ability. Regardless, Thomas seems poised to rank among the best scorers in high-major hoops this season and will have ample opportunity to show improvement on both ends of the floor. Having already received some praise for showing up to the adidas Nations event in great shape, the early returns have been positive.

[Read Full Article]

---
Top NBA Draft Prospects in the Big Ten, Part Two (#6-10)
September 8, 2011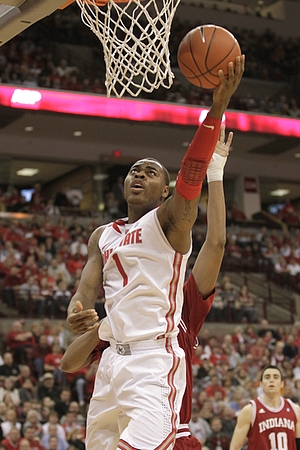 Icon SMI



Walker Beeken

After playing only 14 minutes per game as a freshman at Ohio State in 2010-2011, Deshaun Thomas should see a much larger role this season, following the departures of David Lighty, Jon Diebler, and Dallas Lauderdale. Utilized mainly as a sparkplug off the bench last season who could score points in bunches, the Buckeyes will need Thomas to display more of an all-around game as a sophomore.

Standing 6'7" with a fairly thick frame, Thomas is a classic combo forward at the college level who will likely be labeled as a tweener by many when discussing his NBA position. He's likely better suited long-term as more of a small forward, but he'll need to focus on tightening his body to maximize his explosiveness. He's already a fairly limited athlete by NBA small forward standards, and he looks to have the type of body that could add too much weight if he's not diligent about his diet and workout regimen.

Offensively, it doesn't take long watching Thomas to realize that he's gifted as a scorer. The lefty scored an impressive 21.5 points per forty minutes pace adjusted as a freshman in a complimentary role, doing much of his damage off catch-and-shoot opportunities. He has range well past the college 3-point line, a quick release, and plenty of confidence in his stroke.

He does, however, struggle with shot selection at times and has a tendency to rely too much on his jump shot. He shot only 29% on jumpers shots as a freshman, including 33% from behind the arc. He looks to be a better shooter than though, and should see those numbers improve as he does a better job of understanding what a good shot is.

Thomas' role last season was mainly to be a scorer off the bench, but he'll need to mix up his game a bit more this season to help his team win games and earn praise from NBA scouts. He showed glimpses of being able to utilize his size to post up smaller players and put the ball on the floor to get to the rim, but he'll need to do more of that this season. He'll also need to focus on keeping the ball moving and finding ways to fit in and play within the system on a talented Buckeye team.

Defensively, Coach Thad Matta generally gets his guys to compete hard, which should serve Thomas well. He had the reputation for being somewhat of a careless defender coming into college, so playing under Matta should help him develop the consistent intensity he needs to play with on the defensive end. From what we saw last season, the results were a mixed bag, but he'll see more minutes this season, and we'll get a better idea of where is he defensively.

Down the road, Thomas may lack the lateral quickness to adequately contain many NBA small forwards on dribble penetration. He does a nice job on the glass though, as evidenced by his 10.5 rebounds per forty minutes pace adjusted last season, which should enable him to be able to play some power forward in smaller lineups, where he could use his perimeter shooting to space the floor.

Thomas also did an excellent job on the offensive glass as a freshman, earning himself more touches and buckets in the process. His 5 offensive rebounds per forty minutes pace adjusted ranked second of all small forwards in our database last season, giving his offensive efficiency numbers quite a boost, as he connected on 54% of his 2-pointers, thanks to his putbacks.

Overall, this season should be very telling for Thomas. He has the makings for a potential breakout season, and Ohio State should be one of the top teams in the country, giving him plenty of exposure to showcase himself. If he competes consistently on the defensive end and learns how to fit in offensively, he could be a big name on the college basketball scene in 2011-2012.

[Read Full Article]

---
Initial Scouting Reports, High School Classes of 2010 and 2011
August 1, 2008
A long, skinny, left-handed, athletic combo forward with a nice upside but also a long ways to go, Deshaun Thomas (#8 Scout, #7 Rivals, #3 ESPN) is another excellent early get for Thad Matta and Ohio State. Thomas has a really nice stroke from behind the arc, either in catch and shoot situations or even pulling-up off the dribble while being heavily contested from defenders—elevating nicely off the floor and creating sharp separation from his man. His shooting stroke is the foundation of his game at the moment, but not the only thing he can do.

Thomas is solid in transition and shows somewhat of an inclination to post up at times—he doesn't have any real bulk or moves to be overly successful here, but is quick enough to punish smaller defenders at times. Thomas is an unselfish player who seems very coachable and appears to have a nice demeanor on the floor, looking active defensively and very much willing to compete. He can handle the ball in the open floor, but tends to struggle when forced to go out and create for himself in the half-court, particularly with his weaker right hand. Thomas has a tendency to fall in love with the 3-point shot a little too much, and lacks significant polish on the nuances of the game offensively—which means he isn't always an impact guy at this early stage. Still, he has a great foundation of skills to build upon, and should be able to develop into a solid small forward prospect if he continues to work on his all-around game.

[Read Full Article]

---