Devyn Marble
Recent Tweets
All Tweets
DraftExpress: Top NBA Prospects in the Big Ten, 16-20: http://t.co/M82XO0sT - Derrick Nix, Tim Hardaway Jr, Jared Berggren, Devyn Marble and Aaron White
2012-09-15 02:28:48
Team: Iowa, Senior
Physicals
Positions
Rankings
Misc
H: 6' 6"
W: 194 lbs
Bday: 09/21/1992
(21 Years Old)

Current: SG
NBA: SG
Possible: SG

Pick: 41 in 2014 Mock Draft
Rank 9 in NCAA Seniors
Rank 44 in Top 100 Prospects

High School: Southfield
Hometown: Southfield, MI




Basic Per Game Statistics

- Comprehensive Stats - Statistical Top 25s
| Year | League | Name | GP | Min | Pts | FG | FGA | FG% | 2Pt | 2PtA | 2P% | 3Pt | 3PtA | 3P% | FTM | FTA | FT% | Off | Def | TOT | Asts | Stls | Blks | TOs | PFs |
| --- | --- | --- | --- | --- | --- | --- | --- | --- | --- | --- | --- | --- | --- | --- | --- | --- | --- | --- | --- | --- | --- | --- | --- | --- | --- |
| 2013/14 | NCAA | Devyn Marble | 33 | 30.2 | 17.0 | 5.5 | 13.2 | 42.0 | 4.0 | 8.7 | 45.6 | 1.6 | 4.5 | 34.9 | 4.3 | 6.0 | 71.4 | 0.8 | 2.4 | 3.2 | 3.6 | 1.8 | 0.2 | 1.7 | 1.9 |

Player Page&nbsp&nbsp| Player Stats | Mock Draft History | Related Articles&nbsp&nbsp| Add to My Draft Express&nbsp
&nbsp
Top NBA Draft Prospects in the Big Ten, Part Five (#16-20)
September 15, 2012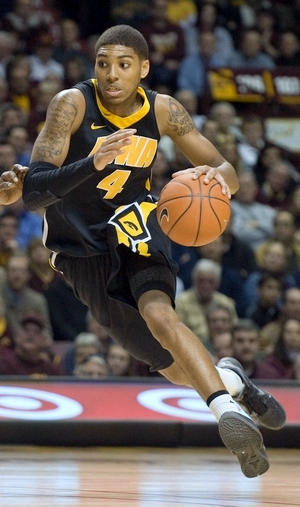 US Presswire



Kyle Nelson

After an unspectacular freshman season, Devyn Marble emerged from his father's equally troubled and legendary shadow as Iowa's second leading scorer during his sophomore season while wearing a variety of positional hats. Furthermore, though he wasn't known as a prolific scorer, he finished the season with a 31 point performance (7/8 3FG) in a loss to Oregon in the second round of the NIT. Following reports of a productive summer, expectations are high that Marble may follow his father footsteps as both a centerpiece of Iowa's offense and as an NBA prospect.

Standing 6'6, Marble possesses solid size for an NBA wing, but must continue to add bulk to his skinny 194-pound frame. Getting stronger is especially important because he's a smooth, rather than explosive athlete, deceptively quick with the ball in his hands, but not one to dominate defenders in transition or around the basket.

His size and decent overall physical profile are especially interesting when taking his offensive skill set into consideration. Marble is not a prolific scorer at this point in his career, as he only averages 11.5 points per game and 15.2 points per 40 minutes pace adjusted, but he improved in nearly every statistical category as a sophomore while embracing a variety of roles from being Iowa's starting point guard to the team's best shot creator. His versatility is exemplified by Synergy's Play Type Breakdown, in which Marble finds 20% of his offensive possessions in transition, 16% while spotting up, 16% in isolation sets, and 13% operating out of the pick-and-roll.

On paper, it would seem as though Marble's best asset is his much-improved perimeter shooting, as he made 39.3% of his attempts last season. A look behind the numbers, however, reveals that Marble finished the season absolutely on fire from beyond the arc, taking and making more shots than ever before in his career. Even during his hot streak he hardly looked the part of a knockdown shooter, though, lacking a consistent and quick release in which his right elbow has a tendency to fly out mid-release. Looking forward, he must continue to shoot as a junior like he did down the stretch last year.

Elsewhere, Marble has proven himself to be a solid scorer, especially from mid-range where he shows a variety of moves off the dribble to create space for open looks. He also does a good job of splitting defenders and getting into the lane, though he is just an average finisher overall. His 44.5% 2-point conversion rate reflects his struggles finishing efficiently around the basket, likely due to his average explosiveness and strength. Getting stronger would certainly improve matters, but so too would continuing to work on his ball-handling ability, particularly developing more advanced moves, and getting more comfortable finishing with both hands.

It's worth pointing out that while Marble is likely not a point guard at this or the next level, he was the second best passing wing in our database last season, averaging 4.8 assists per 40 minutes pace adjusted and his 2.07 assist/turnover ratio stacks up well even amongst point guard prospects. For a wing, he has an excellent basketball IQ, exemplified in his court vision and excellent instincts with the ball in his hands. He makes the right pass without hesitation, makes crisp entry passes, and can even run the pick-and-roll at times. He is a willing passer and an unselfish teammate, which will only make him a more attractive prospect if he improves as a scorer.

For all of his talent offensively, Marble doesn't stand out on defense. He doesn't show the desire to consistently stay in front of his man, but his length allows him to both remain a factor on the perimeter even after he is beaten and to grab 2.0 steals per 40 minutes pace adjusted. While he is not a particularly assertive player in general, his lack of aggressiveness can be particularly glaring on defense, especially when he lets his man finish inside or fails to contest perimeter shots. One is left with the impression that he could partially overcome his lack of strength to be an above average NCAA defender with increased effort and intensity.

Looking forward toward his junior season, Marble has established himself as a player to watch in the Big Ten. Scouts will be watching to see if he can become a more aggressive scorer while continuing to make strides with his jump shooting and defense. While he did a good job of revealing himself to be more than just Roy Marble's son, for better or for worse, he has the opportunity as a junior to distinguish himself further by taking full advantage of his expanding role in Iowa's offense to lead the Hawkeye's back to respectability after a long period of rebuilding.

[Read Full Article]

---