Dez Wells
Recent Tweets
All Tweets
DraftExpress: Players who went undrafted (#3) Dez Wells D.J. Newbill Treveon Graham Terran Petteway Ryan Boatright Keifer Sykes Joshua Smith
2015-06-26 00:23:07
DraftExpress: Top NBA Draft Prospects in the ACC (Prospects #5-9) http://t.co/pn8tNCbZl0 Jerami Grant Olivier Hanlan Dez Wells Rodney Hood Joe Harris
2013-09-10 17:39:09
DraftExpress: Top NBA Draft Prospects in the ACC (#5-9) http://t.co/pn8tNCbZl0 - Jerami Grant Olivier Hanlan Dez Wells Rodney Hood and Joe Harris.
2013-09-10 12:22:36
DraftExpress: That's more his decision than mine. Depends where his priorities are. 18% 3P% doesn't help. RT @RSats34 Is dez wells 2013 14 or 15 draft?
2012-12-19 19:29:54
DraftExpress: Will play Friday vs Kentucky in Brooklyn RT @GoodmanCBS Dez Wells has been cleared to play this season for Maryland source told CBSSports.
2012-11-07 15:32:20
Team: Oklahoma City
Physicals
Positions
Rankings
Salary
Misc
H: 6' 4"
W: 209 lbs
Bday: 04/15/1992
(23 Years Old)

Current: SG
NBA: SG
Possible: SG

RSCI: 63

Agent: Lance Young

High School: Hargrave Military Academy
Hometown: Raleigh, NC

Predraft Measurements
| Year | Source | Height w/o Shoes | Height w/shoes | Weight | Wingspan | Standing Reach | Body Fat | No Step Vert | Max Vert |
| --- | --- | --- | --- | --- | --- | --- | --- | --- | --- |
| 2015 | NBA Draft Combine | 6' 3" | 6' 4" | 209 | 6' 9.5" | 8' 4.5" | 8.1 | 31.5 | 39.0 |
| 2014 | Nike Skills Academy | NA | 6' 4" | 221 | 6' 8.5" | NA | NA | NA | NA |
| 2010 | LeBron James Camp | NA | 6' 4.5" | 217 | 6' 8.5" | NA | NA | NA | NA |
| 2010 | Paul Pierce Camp | NA | 6' 4.5" | 217 | 6' 8.5" | NA | NA | NA | NA |
| 2010 | NBA Top 100 Camp | 6' 4" | NA | 218 | 6' 10" | 8' 4" | NA | NA | NA |



Basic Per Game Statistics

- Comprehensive Stats - Statistical Top 25s
| Year | League | Name | GP | Min | Pts | FG | FGA | FG% | 2Pt | 2PtA | 2P% | 3Pt | 3PtA | 3P% | FTM | FTA | FT% | Off | Def | TOT | Asts | Stls | Blks | TOs | PFs |
| --- | --- | --- | --- | --- | --- | --- | --- | --- | --- | --- | --- | --- | --- | --- | --- | --- | --- | --- | --- | --- | --- | --- | --- | --- | --- |
| 2015/16 | DLEAGUE | Dez Wells | 2 | 26.0 | 15.5 | 6.5 | 11.5 | 56.5 | 5.5 | 9.0 | 61.1 | 1.0 | 2.5 | 40.0 | 1.5 | 3.0 | 50.0 | 1.0 | 2.5 | 3.5 | 1.0 | 0.5 | 0.0 | 1.0 | 3.0 |

Player Page&nbsp&nbsp| Player Stats | Related Articles&nbsp&nbsp| Add to My Draft Express&nbsp
&nbsp
Dez Wells Updated NBA Draft Scouting Report
May 9, 2015
Matt Kamalsky

A player we've written about in our Big Ten preseason coverage each of the last two years, Maryland senior Dez Wells saw his college career come to a close at the hands of West Virginia in the 3rd round of the NCAA Tournament. Turning the ball over 8 times in the game, what was otherwise a terrific season for the 23 year old guard ended on a sour note. Looking at his entire body of work, Wells proved once again that he's one of the top shooting guard prospects in the senior class, earning All-Conference 1st Team honors while leading Maryland to an impressive 28-win debut season in the Big Ten.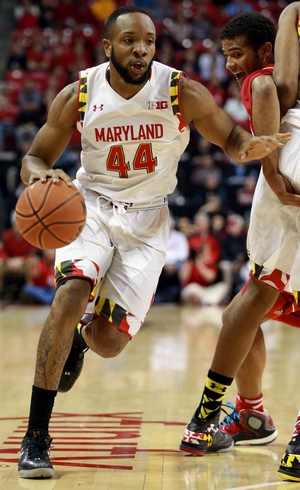 US Presswire



Standing 6'4 with a 6'9 wingspan, Wells has average size for a shooting guard. What sets him apart physically from the average prospect is his tremendous 225-pound frame. A strong athlete with solid burst, the Raleigh native is built like a football player, an attribute he looked to use to his advantage in one-on-one situations and in the open floor on a regular basis this season.

Playing point guard for stretches of his college career out of necessity, Wells played a role more aligned with his natural position as a senior thanks to the emergence of freshman guard Melo Trimble. Around a third of his possessions came in isolation situations on the perimeter and in the post according to Synergy Sports Technology, with another significant percentage coming in transition and spot up situations. Able to focus more heavily on scoring than creating movement within Maryland's offense running the pick and roll as he had been asked to regularly in his first two seasons in College Park, Wells still flashed solid vision at times, but wasn't forced to do it all as he had been at times in the past.

Presenting a matchup problem for many of the smaller, less physically mature guards he ran into through the season, Wells looked to be a bully on the offensive end regularly as a senior. His strength, quickness, and leaping ability made him a threat to overpower his way to the rim off the dribble, shoot over opposing post defenders, draw fouls at an above average rate, and generate decent looks from the midrange at will. Using an array of step through moves, turnaround jump shots, and floaters to score inside, Wells took some pressure off of Trimble and created many quality looks for teammates by collapsing the defense, but also forced the issue at times, shooting only 31% in isolation situations and 36% in the post, while turning the ball over more frequently than any other shooting guard in our top-100 at 4.3 give-aways per-40 minutes pace adjusted. Shooting a more efficient 42% and 53% in those same situations a year ago, it is safe to assume Wells is capable of more, even if he still has plenty of room to tighten up his ball-handling ability and midrange game.

One potential factor in Wells's inconsistency scoring in one-on-one situations relative to last season could be the broken right wright he suffered that caused him to miss most of the month of the December. Despite injuring his shooting hand and its potential negative impact on his one-on-one efficiency, Wells still shot an impressive 81% from the foul line, right on par with the 82% he shot a year ago, and a terrific three-point percentage on limited attempts (1.8 per game).

An average set shooter over the first three years of his college career, Wells's 3-point percentage surged from 30% last season to 51% this season. He attempted only 49 three pointers this season and doesn't always finish his follow through or get consistent elevation, but his progress was nonetheless promising. His ability to grow into a reliable shooter in a spot-up heavy role will be key to his success at the next level, as he won't be able to exploit his physical tools as easily one-on-one and in turn will inevitably spend more time operating off the ball.

Defensively, Wells has the tools to hold his own at the next level. His strength and quickness make him a capable individual defender, and though he could be a bit more aggressive fighting over screens and do a better job not staring down the ball, he was consistently solid on this end of the floor. Though he's a touch undersized, he still managed to rank 2nd among shooting guards in our top-100 pulling down an impressive 7 rebounds per-40 minutes pace adjusted. Maryland's defense wasn't particularly aggressive last season, ranking among the least foul prone and turnover producing teams in the country, and Wells played a bit upright and wasn't quite as disruptive as one might hope on the whole. It will be interesting to see how physical Wells is on this end of the floor as he makes the transition to the next level.

A talented shooting guard who has scored an impressive 1710 points in his collegiate career, Wells doesn't have a true specialty that stands out among his peers, but his physical tools and ability to do a bit of everything will get him plenty of workouts during the draft process. If he can shoot the ball well enough and use his physical tools to make players on both ends of the floor, he's certainly capable of earning a spot in the second round come draft night. Regardless of where Wells ends up, it will be interesting to see what kind of role he's asked to play as a rookie given the unique ones he played throughout his college career.

[Read Full Article]

---
Top NBA Prospects in the Big Ten, Part 6: Prospects #12-15
October 13, 2014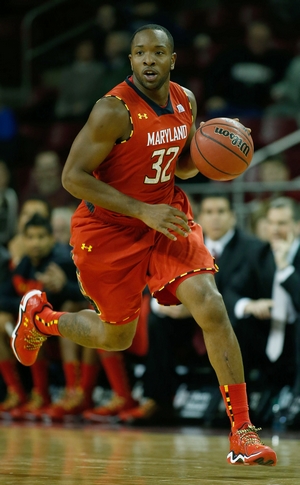 US Presswire



Kyle Nelson

Maryland struggled mightily during the 2013-2014 season, limping to a 17-15 record in its final season in the ACC, while losing much of its perimeter depth in the process. Now looking to make an impact in its first season in the Big Ten, Maryland will look to its leader Dez Wells to conclude his career in College Park on a high note.

Wells earned 2014 All-ACC Third Team honors while emerging as Maryland's best distributor, to go along with his second consecutive season as its top scorer. Surrounded by some key veteran pieces, and supplemented with a highly regarded recruiting class, expectations are high in College Park and a standout season from Wells could mean the difference for Mark Turgeon and his embattled Maryland Terrapins.

At 6'4 with a burly 221-pound frame and a 6'8.5 wingspan, Wells possesses just average height for the shooting guard position, though his strength and length allow him to compensate. So too does his athleticism, as Wells is both quick and explosive, which is particularly impressive given his large frame.

On the offensive end, Wells spent most of his time with the ball in his hands, accounting for 25% of Maryland's overall possessions, while posting a career high 19.2 points per 40 minutes pace adjusted. He made a solid 51.9% of his shots from inside of the arc and just 30.4% from outside versus 57.1% and 33.3%, respectively during his sophomore season. His ability to get to the free throw line at an incredibly prolific rate, while knocking down 82% of his attempts helped him increase his scoring efficiency, though.

One explanation could be his changed role between his sophomore and junior seasons. As Maryland's point guard woes worsened and perimeter scorers became few and far between, Wells became Maryland's top option on the offensive end of the floor. Stated differently, Wells did it all as a junior – scoring in transition, running the pick and roll, shooting from outside, and taking the ball to the basket in isolation – and with few other viable scoring options on the floor.

The biggest question mark about Wells remains his perimeter shooting ability. He's never been a high volume outside shooter, as he attempted under two 3-pointers per game last year, of which he knocked down just 30%. He doesn't show great balance on his jump-shot, often contorting his body somewhat, particularly when rushed. With time and space, though, Wells has decent shooting mechanics, and is certainly not someone opposing defenses will want to leave open with his feet set. That fact that he shot a career high 82% from the free throw line shows that he at least as some potential in this area, perhaps playing a smaller role where he isn't forced to create as much offense as he was last year.

Wells thrives as a scorer off the dribble, where is he is a threat to pull up from mid-range or to use his quick first step and strong frame to bully his way to the basket. Though he must continue to tighten up his ball-handling ability, Wells shows intriguing instincts inside the arc, where he can create space with spin moves, crossovers, and step backs or elevate for a runner in the lane. Likewise, he is not afraid to use his body to his advantage and he does a great job of backing his man down for an easy layup or turnaround jump shot.

Finally, Wells is a good finisher off of the bounce, both in transition and in the half court, due to his excellent first step and explosiveness. He does not look to have the softest touch around the basket, but he does an outstanding job of drawing contact inside the paint, attempting a career high 7.4 free throw attempts per 40 minutes pace adjusted. While he will likely need to improve the consistency of his jump shot to emerge as a viable option at the next level, his improvement as a scorer is intriguing with regards to his NBA potential.

Wells was relied upon as a de facto point guard in Maryland's troubled offense, and the results were decidedly mixed. On the one hand, Wells did a solid job of running the pick-and-roll, particularly in terms of dishing off to rolling big men or looking for his teammates on the perimeter. On the other, he clearly looks for his own offense first, passing on just 12.7% of his isolation possessions and sports a disappointing 0.87 assist/turnover ratio in the wake of his assists per 40 minutes pace adjusted dropping from 4.0 to 2.7. Wells is not a natural distributor, even if his experience in this capacity in college could help him in the long term.

On the defensive end, Wells possesses an ideal combination of strength, length, and quickness, even if he is an inch or two undersized for the wing. When dialed in, he can stay in front of all but the quickest guards and his strength allows him to break through screens when guarding the pick-and-roll. He also has quick hands, which allowed to get in the passing lanes nicely and even come up with his fair share of blocked shots.

Though Wells is undersized, he has emerged as an intriguing player on the offensive end of the floor –and he should receive plenty of looks from NBA scouts during his senior season. After all, Wells looks as though he should have little trouble transitioning into the rugged Big Ten, as his combination of strength and versatility will be even more of an asset than it was in the past. Though he is a year older than most in his class and he will likely have to prove his value as a jump shooter, he has emerged as an intriguing prospect as a shooting guard off of the bench. If he is able to elevate Maryland back into postseason play, then expect Dez Wells's draft stock to rise accordingly.

[Read Full Article]

---
Top NBA Draft Prospects in the ACC, Part Five (#5-9)
September 10, 2013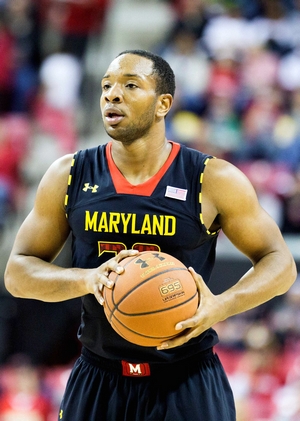 US Presswire



Derek Bodner

After making an immediate impact on a deep Xavier team during his freshman season, Dez Wells' Xavier career came to an abrupt end when he was expelled for an alleged sexual assault. Even though an Ohio Grand Jury later rejected criminal charges against Wells, with the county prosecutor having some strong words for Xavier's lack of due process, Xavier upheld Wells' expulsion. Wells recently filed a lawsuit against the school in seeking to overturn the expulsion and clear his name publicly from the damaging allegations, as well as receive an apology from Xavier's president.

After landing at Maryland, Wells would submit an appeal to the NCAA to regain eligibility without having to sit out the year, an appeal he would eventually win just days before Maryland's home season against Kentucky. Whether it was the off the court turmoil, expectations, an adjustment to fitting in with his new teammates, or a combination of all, Wells would struggle with consistency during the first half of his sophomore season. His play improved considerably towards the end, averaging 17 points per game with excellent efficiency (53.7% field goal percentage, 42.8% three point percentage, 4 free throw attempts per game) over his last 11 games as he became Maryland's top offensive option.

Wells' offensive game is built around his great combination of strength and athleticism, showing a solid first step, excellent elevation and body control as well as the strength and willingness to absorb and finish through contract. With the move off of Xavier's deep offensive team, Wells saw this manifest itself more in dribble drives than during his freshman year, where he slows good potential as a slasher. While his ball handling could use some further refinement, particularly with his off hand, he has a nice, low dribble and does a good job of changing speeds and direction, and is able to get into the lane powerfully off of his own dribble with regularity.

In the open court is where Wells truly shines, as he got out in transition at a very prolific rate last year (around four times per game), and was able to score in a very effective way once there—converting over 70% of his field goal attempts in these situations, one of the top rates in the country.

One area Wells could stand to improve greatly is to become more comfortable finishing with his off hand. According to Synergy Sports Technology, Wells' efficiency driving left in isolation situations (0.55 points per possession) was drastically lower than when he went right (0.783). For the most part, Wells is able to get all the way to the rim when driving in either direction, but he lacks touch and confidence when attempting to finish with his off hand, frequently forcing the action with his dominant hand even when the opportunity may not be there.

Overall, Wells largely regressed as a shooter during his second season, at least from a numbers perspective. His three point percentage fell from 37.7% his freshman season to 33.3% during his sophomore season, while his overall efficiency on jump shots fell from 0.961 points per possession to 0.931. A couple of factors were at play here, from a change in shot distribution – he shot more off the dribble, and less uncontested catch and shoot attempts than he was afforded during his freshman season at Xavier – as well as simply struggling to find his shot earlier in the season.

As the season wore on he appeared to be in a much better rhythm and had much more confidence on his jump shot, particularly off the dribble. His form also looked to be slightly improved than where it was, and when he squares himself up, gets in position before the pass, and is decisive in his decision making, it looks like this could be a larger part of his game going forward.

While not a point guard, Wells began initiating Maryland's offense more down the stretch, to somewhat mixed results. Wells shows a willingness to use his dribble penetration to help others, and does a fairly good job of finding set shooters off his drives into the lane, generating 4.0 assists per 40 minutes pace adjusted, a very good number for a wing prospect. With this increase in ball-handling came a sharp increase in turnovers as well, with his 3.9 turnovers per 40 minutes pace adjusted being the second highest mark among shooting guards in our top 100 prospect rankings. Wells can at times become a little bit out of control on his forays to the hoop, and can also become indecisive at times in his decision making.

On the defensive end, Wells stands a shade under 6'5", and will likely be at a height disadvantage at the next level regardless of what wing position he plays. He has good lateral mobility when he's engaged, but he can become too upright at times and caught both on misdirection moves as well as losing his man off the ball. He does do a goob job of using his size and physicality to his advantage, taking his man out of his comfort zone and forcing him into tough, off balance attempts.

Dez Wells' strength and athleticism presents an intriguing package as a wing slasher, particularly as he becomes more comfortable setting up his own teammates and getting them looks off the attention he receives on his dribble penetration. With the departure of Alex Len to the NBA, Wells will have an even bigger role in creating scoring opportunities for his teammates. Wells bounced back well after an extremely difficult start to his sophomore season, and it will be interesting to watch whether his improvement towards the end of the season is sustainable.

If it is, and if he can continue to improve from the perimeter and improve his decision making, Wells could certainly rise up draft boards. A year older than his class after prepping for a year at Hargrave Military Academy, a strong season could push him towards entering in 2014 rather than waiting to finish his degree at College Park.

[Read Full Article]

---
2010 National Prep Showcase: Elite 2011 Prospects
November 23, 2010
Joseph Treutlein

The prototypical bruising, physical, power player that Xavier builds its program with, Dez Wells (#39 Scout, #66 Rivals, #35 ESPN) should fit right in on his first day on campus. Standing 6'5 with an excellent frame and great upper and lower body strength, Wells is an explosive player with superb body control and a decent skill set to go along with it.

On the offensive end, Wells does most of his damage slashing to the basket both on and off the ball, getting by mostly with rangy moves and the ability to change direction and contort his body around what the defense gives him. He is just a decent ball-handler and doesn't have a blazing first step, but he's very crafty using subtle changes of direction and footwork in combination with his bounciness and raw power, which allows him to create a variety of high percentage shots. Capable of finishing both on power moves at the rim or on under control floaters and pull-up jumpers inside 10 feet, Wells can hurt the defense in multiple ways once he gets into the paint.

Wells is similarly a threat operating off the ball, as he is active cutting to the basket where he can score on catch-and-finishes in the lane or soaring up for powerful alley-oop dunks. His shooting form isn't great, but he's capable of spotting up and knocking down an occasional three-pointer as well, at least enough to make defenses respect his range.

Defensively, Wells is similarly a very aggressive and physical player, showing a very good perimeter stance and making good use of his well-built frame and solid length, getting up into his man and being physical on and off the ball.

Looking forward, Wells has the chance to make a quick impact at the college level with his solidly developed skill set and very mature physical makeup, while he also still has a lot of room for development over the long term with his shooting and ball-handling.

[Read Full Article]

---