Finding a Niche For: Diante Garrett
June 17, 2011
Analysis by Walker Beeken, Video by Sebastian Pruiti

After flying under the radar for the majority of his four year career at Iowa State, Diante Garrett has become a big name in NBA draft circles over the last couple months, and now has a chance to hear his name called in next week's draft.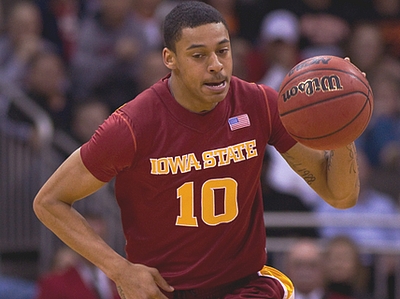 Icon SMI
Garrett put up over 17 points and 6 assists per game this season in one of the toughest leagues in college basketball, but most of the buzz about him didn't start picking up until teams saw more of him at Portsmouth and in workout settings. His stock has elevated to the point that he has a very good chance of being picked in the first half of the second round, which makes him one of the fastest risers in this draft.
The intrigue with Garrett begins with his excellence size and length at the point guard position, as he stands at 6'5" with an almost 6'9" wingspan. He's still very thin and could stand to add quite a bit more strength to his slim 181 pound frame, but that could come in time if he puts the work in.
Diante Garrett Strengths/Weaknesses Video
Watch in full screen mode by clicking button in upper right hand corner of video
---
More DraftExpress Video Breakdowns:
-
Travis Leslie
-
Darius Morris
-
Chris Singleton
-
Tobias Harris
-
Klay Thompson
-
Tyler Honeycutt
-
Justin Holiday
-
Tristan Thompson
-
Brandon Knight
-
Terrence Jones
-
Alec Burks
-
Derrick Williams
-
Jimmer Fredette
-
Kenneth Faried
-
Harrison Barnes
-
Marcus Morris
-
Perry Jones
-
Kawhi Leonard
-
Brandon Knight
-
Tristan Thompson
---
Garrett also has benefit of his father, Dean Garrett, being a former NBA player, and his coach at Iowa State,
Fred Hoiberg
, also being a very well respected former NBA player and front office executive. This has likely helped him with how to prepare and handle himself throughout the pre-draft process, and he's done a nice job taking advantage of that and earning some fans amongst NBA decision-makers. His energy, work ethic and overall approach have been mentioned numerous times as major keys to his rapid ascension as of late.
Offensively, Garrett seems to embrace his role as a playmaker and facilitator at the point guard position. He has good speed, rangy strides, and a quick first step that he utilizes along with his shiftiness with the ball in his hands to get into the paint regularly off the bounce. He also shows a nice handle and a strong command and confidence with the ball. His 1.93 Pure Point Rating (PPR)
ranked 7th
of all players in our top-100 rankings, as he showed the ability to get into the lane off of pick-and-roll or isolation sets and find the open man.
With the losses of
Marquis Gilstrap
and
Craig Brackins
after the 2009-2010 season, Garrett's role on offensive end increased for the Cyclones, as he was asked to create and score and at a higher rate as a senior. That came with mixed results as he increased his scoring output from 11.1 to 17.6 points per forty minutes pace adjusted, but he also attempted 3-pointers at nearly triple the rate of his junior season, while connecting on only 32% of his attempts. This hurt his efficiency on the offensive end, as he's clearly not a good enough shooter from the perimeter at this point to be shooting that many 3's.
He has made some strides as a shooter since he started his career at Iowa State, however, as he converted only 39 3-pointers in his first three seasons combined and made 59 as a senior. He also improved his free throw percentage from around 70% for 3 seasons to over 83% in his senior season. He'll need to continue to improve as a shooter to give himself a better chance at sticking in the NBA.
On the plus side, Garrett shoots better and seems more comfortable shooting off the dribble than off the catch and does a nice job creating space to free himself for open looks in the mid-range area. With his speed, shiftiness, and size, this is something he can continue to utilize at the next level off the dribble on isolation and pick-and-roll opportunities, but he'll need to increase his range to make defenders play him more honestly on the perimeter and not make it so easy for them to just go underneath screens.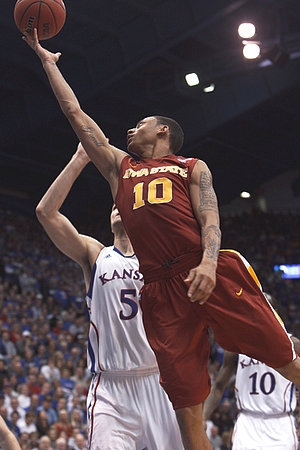 Icon SMI
Additionally, Garrett is not an efficient scorer inside the arc at this point, converting just 46% of his 2-point attempts, which
ranks him
59th amongst the 72 collegiate prospects in our top-100 rankings. The main reason for that has to do with his issues finishing through contact around the basket in traffic, due to his narrow frame.
Garrett got to the free throw line a paltry 2.5 times per-40 minutes pace-adjusted last season (again one of the
worst rates amongst 2011 draft prospects
and made under 50% of his attempts around the rim last season according to Synergy Sports Technology, which is unlikely to change in the NBA, where the help-side defense is that much more imposing.
Garrett's increased role in his senior season also highlighted some of the issues with his decision-making. His team depended on him so heavily to create offensively that he often over-dribbled and over-penetrated, leading to some ill-advised shots and turnovers. With that said, he does look to be a guy who likes to pass the ball and facilitate for his teammates, and if he's on the floor with other good players who can take some of the creating responsibilities away from him, he has a chance to develop into a better floor general and decision-maker down the road.
Earlier on in his career, Garrett was incredibly turnover prone, coughing the ball up on 29%, 26% and then 25% of his possessions in his first three years of college basketball. This season that dropped to just 19%, despite his usage rate nearly doubling, which is a very good sign. That's still
one of the higher rates
of any player projected to get drafted, though, indicating that he still has work to do in this area.
When taking a closer look at where Garrett could fit in at the next level, his role would likely be as a sparkplug at the point off the bench, who can push the tempo and get into the paint off the dribble to setup his teammates. His subpar shooting ability and lack of efficiency as a scorer will limit the amount of teams looking for a player in his mold, however, as he could certainly struggle offensively in the half-court. He has some potential as the handler in pick-and-rolls, but he will have to improve his scoring arsenal if he's to show that he needs to be guarded in these types of sets. Developing a reliable floater and adding strength to help to finish at the rim more consistently would serve him well going forward.
Where he may have a chance to find his niche is on the defensive end. He has the size and length to be a pest on that end, guarding the ball and playing the passing lanes, and even cross-matching on occasion onto some shooting guards, giving some flexibility to lineups. He looks to have solid lateral quickness, quick hands, and shows a good activity level, so if he can continue to add strength to his frame and commit to being a defender, he'll be able to make a positive impact defensively.
Despite the fact that Garrett is a 22 years old, some NBA people believe he still has some upside thanks to his physical tools, energy level, and the improvement he showed late in his college career--ala
Garrett Temple
.
He did play point guard for the team that finished last place in the Big 12 this past season, and he wasn't overly efficient, so he projects as being far from a lock to stick in the NBA, but there is buzz surrounding him as a strong possibility to land in the second round. Finding the right fit and improving on some of his weaknesses will likely be the difference on whether or not he's able to have an NBA career.
[
Read Full Article
]
Top NBA Draft Prospects in the Big 12 (Part Three: #11-15)
September 10, 2009
Joseph Treutlein

The son of former NBA Dean Garrett, Iowa State point guard Diante Garrett had a decent sophomore season for the struggling Cyclones.

Garrett has excellent size for a point guard at 6'4, with good length and pretty good athleticism to go along with it. More quick than explosive, Garrett is a tough cover in isolation situations where he makes good use of change-of-speed dribbles in combination with his extensive repertoire of advanced moves. Possessing a dribble low to the ground that's strong with either hand, and a good command of crossovers and spin moves, Garrett is capable of making many impressive plays with the ball. He doesn't consistently do this, however, as his decision-making is questionable at times, getting him into some awkward situations, where it also becomes apparent that his footwork in the lane could use some improvement, as he's frequently called for traveling.

Garrett's shot selection is another area of concern, though it should be noted that given his team's severe lack of offensive options outside of star Craig Brackins, it was somewhat necessary for Garrett to take a lot of tough shots for the Cyclones. According to Synergy Sports Technology, over 90% of Garrett's jump shots were either off the dribble or contested, as he averaged just 0.3 catch-and-shoot jumpers per game. While he isn't a very good shooter, his numbers definitely suffered from this poor distribution of shot attempts. As a shooter, Garrett has a high and quick release with decent consistency, but his touch and accuracy are both lacking, while he also doesn't always stay on balance when pulling up, taking many tough shot attempts. His range also hurts his overall efficiency, as he takes most of his shots just inside the college three-point line. It's safe to say that Garrett has a long ways to go with his perimeter shooting ability.

In terms of scoring at the basket, Garrett is very creative, being able to finish with both hands while also having a solid right-handed floater in his arsenal, however his touch isn't great and while he shows potential, he's not a great finisher.

As a point guard, Garrett does most of his damage out of pick-and-roll situations or just finding open shooters on the perimeter, showing pretty good vision, however his decision-making is again questionable in this regard, as he tries to force the issue at times with his passes or holds onto the ball too long, leading to tough situations as the shot clock is winding down. He also doesn't do much driving-and-dishing in the lane, usually option for his own shot on his forays to the basket.

Defensively, Garrett shows a decent defensive stance at times, using his length and playing up into his man, however his other fundamentals are lacking, as he doesn't consistently move his feet, which doesn't help the fact that his lateral quickness isn't good for a point guard to begin with, leading to him being beat off the dribble often. His lack of bulk on his small frame also gives him some problems with screens, however he does appear to have room to get stronger.

Looking forward, Garrett has a lot of work to do with his game, and Iowa State's lack of scorers doesn't help matters for him, but he does have potential with his size and pretty good athleticism. Also, in spite of his lack of productivity and efficiency, he does have many very good moments on the court, being capable of hitting tough shots with a hand in his face, but he'll need to find a better balance of mixing in higher efficiency shots to reach his potential. Luckily for him, with Craig Brackins returning to school, things won't be so hard on him this season, where he will hope to show some strides in a few areas.
[
Read Full Article
]