Doug McDermott
Recent Tweets
All Tweets
DraftExpress: Top NBA Prospects in the Big East Part 1 Doug McDermott Video Scouting Report http://t.co/IB1SY4Izyq
2013-10-07 14:24:52
DraftExpress: RT @EyeOnCBB There's some questions about Doug McDermott's NBA potential. But NBA players seem to think he'll translate just fine http://u2026
2013-08-01 11:34:41
DraftExpress: There's some questions about Doug McDermott's NBA potential. But NBA players seem to think he'll translate just fine http://t.co/2iMOP6kr3d
2013-08-01 11:23:46
DraftExpress: RT @chernykh USA lost to Australia 84-93 at University Games despite 22 pts by Doug McDermott (4\/8 threes). Box http://t.co/mxPSucBQDC
2013-07-11 13:04:59
DraftExpress: Doug McDermott enters our 2014 Mock Draft at #34. Here's how he stacks up potentially in next year's draft http://t.co/tX7sy12fN9
2013-04-25 15:38:43
Predraft Measurements
| Height w/o Shoes | Height w/shoes | Weight | Wingspan | Standing Reach | Body Fat | No Step Vert | Max Vert | Bench Press | Lane Agility | 3/4 Court Sprint | Class Rank |
| --- | --- | --- | --- | --- | --- | --- | --- | --- | --- | --- | --- |
| NA | 6' 8" | 223 | 6' 8.5" | NA | NA | NA | NA | NA | NA | NA | NA |



Basic Per Game Statistics

- Comprehensive Stats - Statistical Top 25s
| Year | League | Name | GP | Min | Pts | FG | FGA | FG% | 2Pt | 2PtA | 2P% | 3Pt | 3PtA | 3P% | FTM | FTA | FT% | Off | Def | TOT | Asts | Stls | Blks | TOs | PFs |
| --- | --- | --- | --- | --- | --- | --- | --- | --- | --- | --- | --- | --- | --- | --- | --- | --- | --- | --- | --- | --- | --- | --- | --- | --- | --- |
| 2013/14 | NCAA | Doug McDermott | 30 | 33.3 | 26.5 | 9.2 | 17.6 | 52.2 | 6.5 | 11.7 | 56.0 | 2.7 | 6.0 | 44.7 | 5.4 | 6.3 | 86.7 | 1.6 | 5.6 | 7.2 | 1.6 | 0.2 | 0.1 | 1.9 | 1.8 |

Player Page&nbsp&nbsp| Player Stats | Mock Draft History | Related Articles&nbsp&nbsp| Add to My Draft Express&nbsp
&nbsp
Top NBA Prospects in the Big East, Part 1: Doug McDermott Video
October 7, 2013


Mike Schmitz is the video analyst for DraftExpress. Follow him on twitter and subscribe to the DraftExpress YouTube page. He will be breaking down the NBA draft in digital format all year long for us.

[Read Full Article]

---
Top NBA Prospects in the Non-BCS Conferences, Part Three
November 9, 2012


Mike Schmitz is the video analyst for DraftExpress. Follow him on twitter and subscribe to his YouTube page. He will be breaking down the NBA draft in digital format all year long for us.

[Read Full Article]

---
Trending Prospects (12/9/2011)
December 9, 2011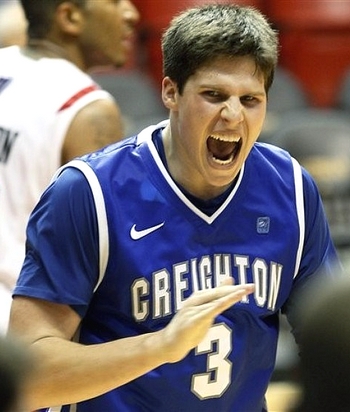 AP



Derek Bodner

After rumors that he would be redshirted his freshman year at Creighton, Doug McDermott exploded. The 6'7" forward averaged an efficient 15 points per game in route to earning the Missouri Valley Conference freshman of the year award, as well as being the first freshman in over 50 years to earn first team All-MVC honors.

Standing 6-7 and weighing a slight 210 pounds, McDermott plays primarily the power forward spot for Creighton. Despite his slender build, McDermott has expanded his post game to become an inside-outside threat. Through the early parts of the season, McDermott has shouldered an increased scoring load, seeing his scoring average increase from 20.5 points per 40 minutes to 33.4, which ranks #1 in our database thus far. He has been doing so at an astounding 71% true shooting percentage, a number that is unsustainable once his team starts playing actual competition, but provides a glimpse of the skill-level he possesses and the matchup problem he has become for defenders.

Operating from the post with more frequency -- his post game now comprises 39% of his half-court offense according to Synergy Sports Technology -- McDermott does a good job of working for position. While not very explosive vertically, he also does a nice job shielding the ball from defenders and going up quickly, catching defenders off guard and allowing him to get the ball up despite his size. He's showing an increasingly diversified set of counter moves with improved footwork, and has been doing a better job of recognizing the increasing amount of double teams he receives.

On the perimeter, McDermott is largely a catch and shoot player, rarely creating either for himself or for others off the dribble, and his ball handling and shot creating ability are clear weaknesses for a player who doesn't have the physical strength or length to play in the post at the next level. He does show excellent form on his jump shots, with a quick and high release that shows remarkable consistency. According to Synergy Sports Technology, he is shooting an incredible 1.826 points per possession on jump shot attempts so far this season, a number that once again will be virtually impossible to sustain, but is extremely impressive nonetheless.

Considering he shot 57% inside the arc and 40.5% from beyond the arc last season, this is obviously not just a fluke, and it appears he's improved even more this summer, making him one of the most potent scorers in the country.

McDermott also excels playing off the ball, giving consistent effort both on cuts to the basket and on offensive rebounds. The quickness he is able to get shots up around the rim once again aids him in scoring in the paint despite his slender build and below the rim game. He is also a weapon in transition, as he gets out early on the break and, while not being an exceptional overall athlete, is fairly quick running the floor.

One of the primary things that stand out, both when watching him play and when looking at stat sheet, is that McDermott does not get to the free throw line very often, as his 4.2 free throw attempts per 40 minutes ranks just average amongst power forward prospects. Part of this is due to style. His quick release and ability to shield the ball from defenders allows him to convert in the paint despite physical limitations, but it also limits his ability to get to the line. As he goes up against longer and more physical competition he'll need to improve his ability to get to draw fouls to maintain his terrific efficiency.

The defensive side of the ball looks to be the primary issue with McDermott when projecting his chances at the next level. His effort level appears to be adequate, but his physical limitations are evident. He doesn't have the size or strength to deny position in the post, and he doesn't have either the length or quickness off the floor to provide much if any weak-side help. On the perimeter, which is where he is more likely to play at the next level, his lateral quickness is a huge concern. He tends to give a large amount of space on the perimeter to combat his mediocre foot speed, both when defending isolation and pick and roll sets, a problem that is sure to become more pronounced the more he is asked to defend away from the basket.

McDermott does a solid job on the glass, as both his 3.8 and 8.8 offensive and defensive rebounds per 40 minutes are very good for a power forward. He once again overcomes his lack of size and explosiveness with good instincts on the glass and a very good effort level.

The son of Creighton head coach Greg McDermott, Doug McDermott plays the role of a coach's son. His excellent feel for the game and consistently high effort level allow him to maximize his physical attributes, qualities that are valuable when projecting a potential change in role from focal point of a team to role player at the next level. His excellent catch and shoot ability forms the basis of a good skill set for a role player, but he'll likely have to improve his defense considerably if he hopes to successfully make the transition to the NBA.

[Read Full Article]

---