Dragan Bender
Recent Tweets
All Tweets
DraftExpress: Dragan Bender Georgios Papagiannis Vasileios Charalampopoulos Chiek Diallo also names with some early buzz. Looks like a talented group.
2013-04-09 13:07:29
Predraft Measurements
| Year | Source | Height w/o Shoes | Height w/shoes | Weight | Wingspan | Standing Reach | Body Fat | No Step Vert | Max Vert |
| --- | --- | --- | --- | --- | --- | --- | --- | --- | --- |
| 2015 | Eurocamp | 6' 11.5" | 7' 0.5" | 216 | 7' 2" | 9' 3" | NA | 23.5 | 27.5 |
| 2014 | Eurocamp | 6' 10" | 6' 11" | 202 | 7' 1" | 9' 3" | NA | 24.5 | 25.5 |



Basic Per Game Statistics

- Comprehensive Stats - Statistical Top 25s

Player Page&nbsp&nbsp| Player Stats | Mock Draft History | Related Articles&nbsp&nbsp| Add to My Draft Express&nbsp
&nbsp
Dragan Bender Interview
October 4, 2015

On the USA Experience:

"It's really great to be with this team here in the US. To be playing in these games with this crowd against these players is really great. And it's helpful for me. It's really exciting to get a lot of experience."

On playing two games in the US:

"It was great. I was here one time before in an All-Star game but this was the first time playing on this court. To play in front of the Maccabi crowd was amazing."

On actually getting minutes:

"It was good to play here and all the minutes and everything are great for me. I'm getting better for sure every day. I'm excited to start the season."

On where he's from:

"I'm from Split. I'm from Croatia but born in Herzegovina."

On Israel:

"Israel has been great. This is my second year over there. It's really great. I love it. I love Tel Aviv and I'm loving life over there."

On advice he's received from teammates with NBA experience:

"[Farmar and Favareni] are great. They give great advice on and off the court. They're telling me what to do and what not to do. They've definitely been helping. It's great to have them."

On whether he was aware of the NBA attention:

"I did know [that GMs and Scouts would be watching] but honestly, when I step on the court I really do not think about it. I'm trying to focus on the game and try to focus on the things we hear in the locker room and translate it to the court."

On his regimen this summer:

"This summer, I was off of the national team so I came home to Split and I tried to do a lot (of work) on the physical part and also on the shooting part because these two things are going to help me get minutes on the court. I tried to improve my defense with all the rotations. On the ball, off the ball. It's good, [the summer] helped me a lot so I'm looking forward to starting a new season."

On players he models his game after:

"When I was a kid I was trying to look like Toni Kukoc, trying to play like him. But now that he's retired and everything, I'm watching the guys in the NBA like Dirk Nowitzki and Nikola Mirotic. Dirk is a famous NBA player and he's playing like a stretch-four like me. Like I want to. Mirotic came last year to the NBA so I try to look at how he adjusted to the league."

On how he felt about his performance in the US:

"I'm happy (with my performance in the US). We did some good jobs preparing for the new season. Of course we have some things we have to improve on both ends of the floor. We're looking forward to starting our season in Europe and these pre-games are preparation. We are on the right road. It is going to be good this season. We have a great team and great players."

On what he's working on specifically:

"I'm trying to be a complete player. To play outside or inside. Whatever the coach needs me to play. But I like to play a little face up from the three point line or from my back to the basket. In Croatia, some coaches see the talent in the player willing to play with the ball from the outside."

On position:

"For (position) doesn't really matter. I'm comfortable with both positions and whatever coach needs me to do in the game and in the time on the court. Right now I feel more comfortable at the four because I'm really tall and defense for me is easier to guard bigger guys than smaller guards. But again for me it's not a big problem to play both positions."

On training regimen:

"I'm trying to build up muscle but also not to lose speed or agility, for sure. I'm going step by step, really. We did a great job this summer. It's really great. Also, the nutrition program is really great. I'm doing everything from the program to build muscle from the legs to the tops, it's been great so far."

On Kristaps Porzingis:

"I played against [Kristaps Porzingis] one time in a Euroleague tournament for juniors in Barcelona. I loved to look at him play. I really didn't look at his games too much. I saw that he was really high in the draft and I think he's going to be good in the NBA, for sure."

On dexterity:

"I'm definitely trying to improve my left hand. I'm trying to improve all of the things to become a complete player. I do all the kind of drills with the chairs and everything. The 101 drills, they've been great."

[Read Full Article]

---
Official: Dragan Bender Will Not Play at the U19 World Championship
June 26, 2015
Editor's Note: June 27th Update

David Hein of FIBA.com confirms that Dragan Bender will not play at the U19 World Championship. From FIBA's story:

"Vladimr Vanjak, Croatia's head of delegation at the tournament in Heraklion (Crete), Greece, confirmed to FIBA.com that Bender will be leaving Greece on Sunday.

He said: "The fact is that Bender denied [refused] to play in the Jordan Brand shoes but our Federation has a contract with Jordan and everybody has to play in Jordan Brand. He denied to do that but he didn't say anything before coming here. That's the problem. I talked with my Secretary General and other people who made the decision because we have a very serious contract with Jordan. If he cannot play in Jordan Brand, he cannot play. That's it."
---
Original Story from June 26

Surprising development in Croatia, as potential Top-5 draft pick in 2016, Dragan Bender, is unlikely to play at the U19 World Championship in Crete, which starts this weekend.

According to Bender's agent, Maurizio Balducci, the Croatian Basketball Federation has told Bender that he will be unable to represent his country if he refuses to wear Jordan Brand sneakers while he is on the court. Bender has signed an exclusive deal with Adidas, which bars him from doing so under the terms of the contract.

"They said to me, if Dragan doesn't use Jordan Brand shoes, he can't play," Bender's agent wrote to us today. "We are very sad. He wanted to defend the colors of his country, but it looks like commercial reasons are above sport reasons. I am so sad for all his teammates his coach. They did a great job during the past three weeks (preparing for the tournament)."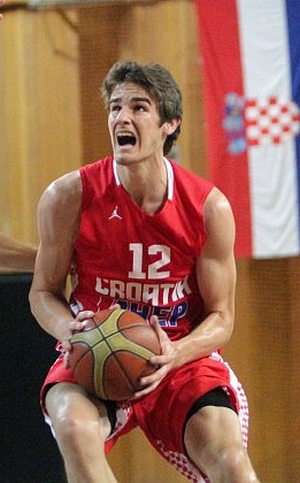 Tonči Vlašić / dubrovacki.hr



Croatia is considered the main contenders to win gold at the U19 Championship, along with the defending champions, USA, who are led by Arizona head coach Sean Miller and a number of highly touted high school players such as Harry Giles, Jayson Tatum and Josh Jackson. Croatia is scheduled to play the US on Sunday in the group stage. Bender had spent most of the month of June training with the U19 team in preparation for the tournament, including playing multiple exhibition games over the past few weeks, where he wore Adidas shoes, which he's trained in exclusively the last few years.

Bender entered into his relationship with Adidas in September of 2013, about a year prior to Nike and Jordan Brand signing an exclusive 11 year deal with the Croatian national team (at every level, including all men and women's teams), as detailed by David Hein at the time.

Zeljko Draksic, the Croatian Basketball Federation HKS secretary general, told Hein at the time that "all our young players…will be under control of the Nike or Jordan brand. All of our coaches who would like to study or be in the United States or learn or something like that, everything will be under control of the Jordan Brand. If they are under our federations, they must be in this way for the Jordan Brand."

Bender is coming off a very strong showing at the Adidas EuroCamp in Treviso earlier this month, which was attended by over a hundred NBA executives, cementing his status as a lottery caliber prospect. The 7-footer has a terrific skill-level for a player his size, with great versatility on both ends of the floor. He will play for Maccabi Tel Aviv's senior team this upcoming season, which will include an exhibition game against Armani Milan at Madison Square Garden in New York City on October 4th.

[Read Full Article]

---
2015 adidas Eurocamp Measurements and Athletic Testing Results
June 8, 2015
Elite 1997 prospect Dragan Bender measured 6'11.5 without shoes with a 7'2 wingspan and a 216-pound frame. His 9'3 standing reach is unparalleled for a player who can operate away from the rim like he can. For reference, Kevin Durant and LaMarcus Aldridge have standing reaches of 9'2 when they were measured as prospects. Bender didn't test particularly well athletically, which was expected, and still needs to get stronger, but he's grown 1.5 inches and gained 14 pounds since he was measured in Treviso exactly one year ago. For a player who won't turn 18 until November, those are both promising signs.

[Read Full Article]

---
adidas Eurocamp Interview: Dragan Bender
June 7, 2015
[Read Full Article]

---
2015 adidas Eurocamp: Day One
June 6, 2015
The most significant development of the first day of this year's Eurocamp was the play of a prospect who couldn't even declare for the NBA Draft this year. Croatian forward Dragan Bender was sensational at times this evening, leaving no doubt as to why he's a potential lottery pick next summer. Signing with Maccabi Tel Aviv last year, Bender spent this season loaned to Ramat Gan in the Israeli 2nd division. Averaging 9.7 points and 7.4 rebounds over 28.4 minutes per game, Bender held his own as a key contributor against low level senior competition, despite being in his first year outside his home country at just 17-years old.



Named MVP of the Basketball Without Borders Global Camp at NBA All-Star Weekend in February, and averaging 23 points and 10.8 rebounds at this year's adidas Next Generation Tournament, Bender is a player NBA scouts are already deeply familiar with. He's been dominant at times at the junior level, but wasn't particularly impressive when he suited up at the Eurocamp as a 16-year old last year, looking very passive for the most part.

That was not the case today, as the 6'11 forward was simply outstanding in the evening session. His body appears to have improved noticeably from February, especially his legs, which is a very promising sign for the slender young talent, and he made a major impact today. Converting a number of floaters with deft touch while flashing improved shooting mechanics from the 3-point line, creating angles to the rim off the dribble, pushing the break himself, handling the ball like a wing, and making some superb passes, Bender's offensive skill set was on full display. Though he finished with only 9 points and 3 assists, his number belie the impact he had and the number of impressive moments he recorded, some of which didn't quite work out but were still very memorable.

He also had some fantastic moments defensively recovering to close out shooters on the perimeter and in one memorable sequence, stayed in front of a much smaller player he was switched onto before swatting away the player's attempt at the rim. His lower body strength appears to be improving, but he still gave up position to Greece's stronger big men as his frame still has a ways to go.

Though this was just one game, Bender's strong play will leave a lasting impression on the scouts in attendance. There simply aren't many 7-footers gifted with the same type of offensive skill and promising defensive ability as Bender. Not turning 18 until November, Bender has gotten an early jump on building his resume for the 2016 NBA Draft where he figures to come off the board sooner rather than later.

[Read Full Article]

---
Dragan Bender at the NBA Basketball Without Borders Global Camp
February 23, 2015
An interview and highlights of 7-foot Croatian PF Dragan Bender from the 2015 Basketball Without Borders Global Camp in New York City during NBA All-Star Weekend.
---
More NBA Basketball Without Borders Coverage
-Rosters, Preview and Camp Analysis
-Jamal Murray Highlights
-Lauri Markkanen Interview and Highlights
---
Bender, who just turned 17 three months ago, was named the MVP of the Basketball Without Borders Global Camp, after a very unselfish performance where he displayed his impressive versatility for a player his size. Bender played all three frontcourt positions over the course of the weekend, showing terrific ball-handling skills, passing ability and an emerging (albeit) streaky jump-shot. His body looks to be progressing under the careful watch of Euroleague defending champions Maccabi Tel Aviv, where he signed a seven year contract (with comfortable NBA out clauses) this past summer.

Bender is playing 28 minutes per game for Maccabi's second team, Ramat Gan, which competes in the Israeli second division. He's averaging 10 points (51% 2P%, 24% 3P%, 69% FT%), 8 rebounds, 3 assists, 3 turnovers per game on the year. He's expected to join Maccabi Tel Aviv's senior team next season and see minutes in both the Israeli first division and the Euroleague.

While his body and outside shot still have a lot of room for improvement, and he's still in the process of finding his role on the basketball court (particularly defensively) due to his uncommon combination of size and skills, he's one of the most unique prospects in the world in his age group.



[Read Full Article]

---
2015 Basketball Without Borders Camp Roster Analysis
February 5, 2015
-The most recognizable name on this year's roster is likely Dragan Bender. After signing with defending Euroleague champions Maccabi Tel Aviv last year, fresh off an impressive performance at the FIBA U18 European Championship, the superbly talented Croatian forward has spent this season playing for Ramat Gan in the Israeli 2nd Division where he's averaging 11.1 points and 8.3 rebounds per-game. An impressively skilled, skinny 6'11 combo forward who can do a bit of everything on both ends of the floor, including handle, pass, shoot and make plays defensively, Bender's long-term position remains a bit of a question-mark, but he's widely considered the top 1997-born prospect in the world. His presence alone makes it worth the trip for NBA decision-makers, as he could certainly factor into the 2016 NBA Draft should he elect to.

[Read Full Article]

---
Nike International Junior Tournament Belgrade 2014 Scouting Reports
March 7, 2014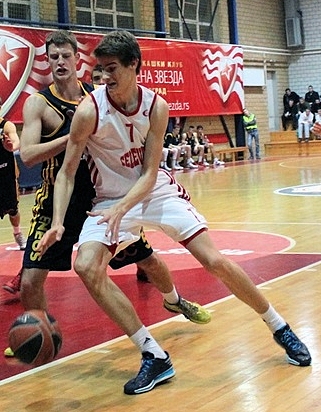 nijt-kkcrvenazvezda.com



Jonathan Givony

Strengths:
-Very interesting physical profile. Around 6-11, with long arms and a frame that should fill out nicely in time
-Smooth, fluid player. Long strides. Very mobile
-Excellent feel for the game. Makes highly intelligent passes. 4.9 assists per-40
-Uses length to make plays defensively. Averaged 2 steals and 2.3 blocks per-40 (and 10 rebounds) in Belgrade.
-Ridiculously young. Won't turn 17 until November

Weaknesses:
-Passive player with questionable mental and physical toughness
-Very deferential on the court even against clearly inferior competition. Looks to be a little too nice at times
-Not much of a scorer, somewhat by choice, but also due to an average skill-level
-Streaky outside shooter
-Doesn't have the strength or footwork to use his size to score inside the paint over smaller opponents
-Struggles to play through contact around the basket
-No real position or role right now. Is he a big small forward or a lanky face-up power forward?
-Can make plays defensively with length and feel, but will have to work hard to continue to improve in this area
-Struggles to get low to the ground and thus gets blown by very easily. Gets backed down inside when guarding stronger big men

Outlook: Tremendously unique and talented young prospect who has a long ways to go to realize his terrific potential. Fairly well known in Europe already, despite his age. Was invited to Croatia's U16 National team already at the age of 14. Started to see some minutes in the Croatian league as a professional at age 15. Played in the Jordan Brand Classic international game in 2013. May join Croatian legend Nikola Vujcic at Maccabi Tel Aviv next season. Could go many ways with his development long term, as he's so incredibly young still.

[Read Full Article]

---
2013 adidas EuroCamp: Day Two
June 9, 2013
Croatian forward Dragan Bender has an impressive frame and showed the ability to handle the ball. Able to play inside, outside, and use his length defensively, he is an interesting talent worth tracking.

[Read Full Article]

---