By Eric Weiss and Kevin O'Connor
There are numerous psychological factors at play when it comes to finding the right "fit" and making it in the NBA. These become even more important for players who don't have the nine lives of their lottery land brethren. These factors are detailed – at length – in "
Opportunity Knocks: How Situation Impacts Success
."
In 2012,
Draymond Green
slipped all the way to #35, despite plenty of pre-draft "buzz" that had him looking like a potential first round pick. Green was, unsurprisingly, impressive during his pre-draft interviews and his on-court growth and overall performance were well-regarded by media and scouts alike.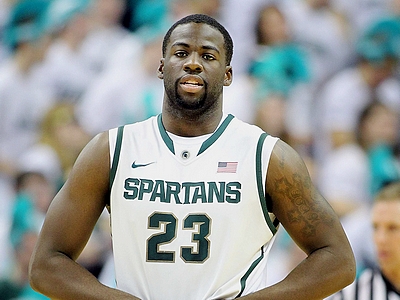 Despite this acclaim, Green fell victim to the standard talk-yourself-out-of-him evaluation that often happens to "low upside" upperclassmen, including here on DraftExpress:
"Isn't quick or athletic … Too small to play power forward ... Too slow to defend small forwards."
There is always someone younger and more explosive to be had in the draft and while these players have theoretically superior "upside," the bottom line is that you typically end up with a fringe rotation player at best, particularly outside of the lottery.
With production being a crapshoot in this range, why not bank on the "upside" of a player with off-the-charts intangibles?
The Warriors did just that; and three years later, Green is the leader of the best team in the NBA and will almost undoubtedly land a contract offer close to or possibly at the "max" this summer in restricted free agency.
"You're the voice of this team," league MVP Stephen Curry said during his award speech to Green, "Your voice and your spirit every single day, whether it's going well, whether you're making shots or missing shots, it doesn't matter, you're the same person and we can count on that every single night. That's what makes you who you are as a part of your story and your journey."
Situation Factors: Individual Story & Anticipated Role
Green's story began as a top 100-RSCI high school recruit and two-time state champion from Saginaw, Michigan.
After a rollercoaster recruiting ride
, Green ultimately landed at Michigan State, where everything worked out perfectly; he would become one of the greatest Spartans in the school's history, according to head coach Tom Izzo, who called him the "perfect Spartan".
"Day-Day would exchange all of his points, rebounds and assists for wins," Izzo told ESPN in 2012,
well before Green would become an NBA star.
"A lot of people say that publicly, but they don't really feel that way. He feels it. There's not a question in my mind that Day-Day is all about winning."
This is not surprising, considering that Green's greatest measurable traits are both his
"Dominance"
, (88th percentile) and
"Team Identity"
, (91st percentile) ratings. These categories are defined as
"being attentive to others, unpretentious, assertive, uninhibited, and group-oriented."
Out of over 900 players in the SA database, Green ranks fifth for being a
"Rainmaker"
, a quality of many overachievers who have the natural ability to connect with others, gain their trust, and align their goals with those of the team.
"Rainmakers"
are also defined by their
"Internal Motivation"
, (91st percentile) but Green didn't enter college with that mindset.
"Early in his freshman year he wasn't practicing real hard,"
Spartans assistant coach DJ Stephens told the Detroit Free Press.
"So I had one of the managers go get a red practice jersey and bring it to (Green). I told him he was gonna wear it because we were going to redshirt him. I don't know if I ever saw him that angry."
Motivated, Green started working harder and smarter during the summer of his sophomore season to eventually become the Big Ten Player of the Year as a senior.
No other player in the Sports Aptitude database rates out higher, collectively, in those three key categories
. There are a number of highly successful players in the league who were labeled as having "questionable work ethic" initially, but measured out well in "Internal Motivation."
As is often the case, the situations these players were placed in had a negative impact on their understanding of what "hard work" truly required. Often times they've had high-level success and reached their competitive goals doing things their way.
The key for Green and all the others was being placed in a situation where they were faced with their own limitations and forced to adapt in order to live up to the expectations placed on them – "Rainmakers" thrive in such situations.

After four collegiate seasons, Green's progression was undeniable. Per
Synergy Sports Technology
, after relying on pick-and-roll and cuts to score a bulk of his points as an underclassman, Green eventually flipped the script and saw his usage and production rise down on the block and behind the
arc. Green
's dramatic points per possession increase on isolation plays are unheard of for his position.
Green came to school as a pudgy, undersized center and left as a ball handling, passing wizard and a 38% three-point shooter. As Jonathan Givony wrote in a 2011 scouting report,
"there is not a more skilled and versatile power forward in the country, as Green can score, rebound, and pass the ball at an elite level on any given night."
Still, Green's lack of a true position, uninspiring athleticism, and average lateral quickness was a problem, which is why it was
"tough to project him as an adequate NBA defender."
This helps describe why he wasn't a lottery pick, but it doesn't explain why he was only projected as a late-first or early-second round selection.
Situation Factors: Team Environment & Opportunity Given
Despite all the hours poured into the exhaustive pre-draft process, Green's tantalizing psychological profile gave way to a litany of players who had safer positional projections, athleticism, and youth. No one could've expected him to become the star that he is today, but in college he maximized his production by dramatically improving on all his weaknesses to become one of the NCAA's best all-around players, and his progression in the pros has virtually mirrored that story.
"I hate to say this, but the intangibles he brings to your team can't be measured," Warriors assistant head coach Alvin Gentry said to the Free Press. "The guy really is a coach's dream. You can't place a value on that. Use every cliché you can. His teams always win. The squad you put him on in a scrimmage, his team is going to win."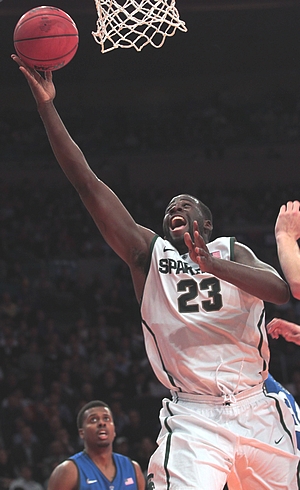 Contrary to the above sentiment, Green rated as
the #1 profile of his draft class, in terms of his measurable personality traits
. There is no replacement for physical ability, but the best players from pick #20 and on almost all slot according to their measurable "intangibles" when doing a re-draft.
Green entered the NBA knowing he'd have to fight for a role, and he did just that by taking advantage of his most exceptional qualities. Like many second round picks, Green's greatest opportunity to gain a foothold on his team would be by building relationships and gaining "champions" for his cause among the more established players.
This is second nature for a player who is 42% more
"Direct"
, 36%
"Warmer"
, and 25% more
"Group-Oriented"
than the average NBA player. Simply put, Green puts tremendous stock in how he is perceived by those around him.
However, this by itself isn't enough, as there are many players who focus too much on the social side of the NBA lifestyle and forget about the work that needs to be done. Green was fortunate that the Warriors had a solid organizational direction that would provide continuity and the opportunity to make a mark.
When
Brandon Rush
and
Richard Jefferson
got injured during his rookie year, he stepped in and filled the void without looking back. And for a team looking for more defensive tenacity,
David Lee
's injury opened the door for Green to carve out a feature role on the NBA's best team.
This is where Green's "killer instinct" helped him take advantage of opportunity when it presented itself, while garnering the support necessary to grow beyond the bounds of that initial role.
Green is labeled as a
"Bold/Combative"
competitor in the SA classification system. This category is filled with some of the best and brightest in the NBA. Green ranks in the 94th percentile in this category, 26% higher than the average player. These types of ratings can lead to issues for players lacking the charisma and empathy for others that Green possesses. The combination of the two, however, is a recipe for success.
Despite being such a young player, Green quickly became the vocal leader of the Warriors after his former head coach
Marc Jackson encouraged him to pursue the role
. But Green may not have needed the push, because he is who he is: the tone-setter of his locker room, both on and off the court, the player who establishes the culture.
Green is the opposite of a
"mixer,"
he is the one who speaks his mind and holds others accountable, while doing it in a fair, political way. The Warriors, a team filled with more lead-by-example types, needed this socially bold, dominant personality to lead them, and he has.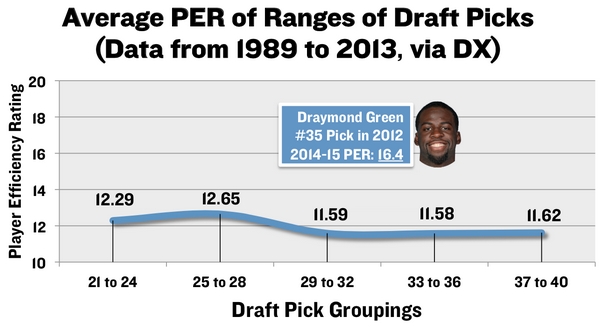 The average Player Efficiency Rating for picks #21 to #40 is 11.9
, with only a slight drop in average PER as the draft slips into he second round. That level of production is hardly worth "swinging for the fences" when you have a player with Green's otherworldly observable and measurable personality characteristics sitting in your lap. A culture-setting personality and a plan of action is never a bad starting point when you are looking for the true "high upside" gems in the land of the 20% hit rate.
Historically, players with Green's range of personality attributes almost always find success, though not always with the team's they start off with. Like most highly competitive players, Green needed a situation that would place a level of expectation on him and provide a path to opportunity.
Green also benefited by building relationships with players who had the "right stuff" to become "winners" in an organization that was heading in the right direction. If he had gone to a team with a turnstile roster and little clarity on where they were going, Green's best qualities could have laid dormant for years. Fortunately for both
Draymond Green
and the Golden State Warriors, that wasn't the case.