Jonathan Givony
Formerly known more for his work on the mound as a pitcher in high school, Drew Eubanks didn't start playing basketball seriously until the age of 14, which partially helps explain his late blooming status in the recruiting world.
Improving significantly throughout high school, and considered a borderline top-100 recruit (except by Scout.com who had him at #64) by the time he enrolled in college, Eubanks had a productive, but predictably inconsistent freshman season for NCAA Tournament bound Oregon State, starting nearly every game.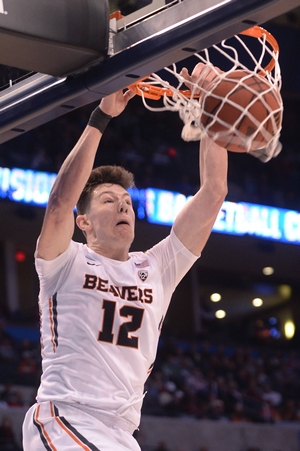 Eubanks' numbers as a freshman don't jump off the page at 14 points, 8.4 rebounds, and 2.3 blocks per-40 minutes, in 21 minutes per game, but he showed some intriguing glimpses of potential that hint at things to come.
Eubanks doesn't have great height or length for the center position he mostly plays, at around 6'10, with just a decent wingspan, but has a terrific frame, big hands and excellent athleticism that helps him play slightly bigger than his size. Fast getting up and down the floor, and highly explosive (and extremely quick) off one or two feet, Eubanks is an outstanding athlete who covers ground quickly and with smooth body control, giving him strong potential in some key areas on both ends of the court.
That starts with his prowess as a finisher, where Eubanks made a significant impact with his ability to convert off cuts, offensive rebounds, running the floor in transition, and as a pick and roller. Eubanks finished 72% of his field goal attempts around the basket that didn't come off post-ups in the half-court according to Synergy Sports Technology, one of the best rates in college basketball.
Nimble and agile, Eubanks rolls with great purpose after setting a screen and diving to the basket, making him an excellent target for his guards to get the ball to. He has soft hands to help him corral most passes thrown his way, and is quick off his feet to elevate and convert plays around the rim, sometimes in highlight reel fashion. He wants to dunk everything, but shows some ability to finish with either hand using touch shots on occasion when he can't simply make a play above the rim.
Everything outside of being a finisher is mostly a work in progress for Eubanks at this stage. He saw a decent amount of post-ups last season, around three per game, but wasn't overly effective there at just .707 points per possession, a very poor rate. Eubanks' lack of experience, polish, strength and average feel for the game really showed there at times, as he looked very mechanical with his back to the basket, particularly when forced to pass out of a double team. He also doesn't show much in the ways of ball-handling skills or a jump-shot.
Generally speaking, Eubanks doesn't have a great feel for the game, which makes sense considering his late-blooming status. He posted a paltry 3.7% assist percentage last year, compared with a 17.8% turnover percentage, as the game seems to move a little too fast for him at times. Once in a while you'll see him unleash a one-handed bullet outlet pass, reminding of his background as a pitcher (and his reported 96 mile an hour fastball), so it will be interesting to see how his versatility evolves over the next season or two in college.
Defensively, Eubanks is somewhat of a mixed bag. His physical tools allow him to do some impressive things at times, as besides sporting a strong frame, he also covers ground extremely well and is quick off his feet to challenge shots at the rim, giving him nice potential to build off. He may even be able to step out and guard smaller players in time on the perimeter considering how quick his feet are, but it will take some time and experience to develop this part of his game.
At the moment Eubanks lacks much in the way of consistent focus, technique and awareness, as he's often a split-second late with his rotations trying to protect the rim, getting caught in no-man's land while exposing the offensive glass. He allows himself to get screened too easily, bites on fakes too frequently, and will need do a better job of bending his knees and getting in a low, defensive stance on the perimeter. While he has a nice frame, he wasn't always physical enough with his approach last year, getting pushed around by older and stronger players and backed down in the post.
Eubanks' work on the glass is something scouts will want to monitor closely, as he posted a dismal 8.4 rebounds per-40 minutes last season, not excelling on either end of the floor. His instincts here look very questionable at times, letting rebounds sail right over his head and not always putting up the kind of fight you might hope trying to box out opponents.
While it's a little early to get too clear of a read on his long-term outlook, Drew Eubanks clearly did a great job putting himself on the radar with a strong freshman season in the Pac-12. It will be interesting to see what kind of progress he makes as a sophomore, as he has some coveted tools to build off that are difficult to come by with his size and athleticism.