Drew Gordon
Recent Tweets
All Tweets
DraftExpress: Undrafted: Kevin Jones, Drew Gordon, JaMychal Green, J'Covan Brown, Tu Holloway, William Buford, Nihad Djedovic, Casper Ware, Henry Sims
2012-06-28 11:03:29
DraftExpress: Top-5 talents available: Kevin Jones, Drew Gordon, Jamychal Green, J'Covan Brown, Tu Holloway. Alas, only one (at most) will get picked.
2012-06-28 10:58:03
DraftExpress: Solid group of big men here. Drew Gordon's mid-range jumper looking good. Renardo Sidney working the inhaler on the sidelines. #NetsCombine
2012-05-19 11:49:25
DraftExpress: 2nd session: Zack Rosen, Ashton Gibbs, Kyle Fogg, Darius Johnson-Odom, Kevin Murphy, Drew Gordon, Mitchell Watt, Renardo Sidney #NetsCombine
2012-05-19 11:22:47
DraftExpress: Strong performance from Drew Gordon today. Good pick & roll defense on Casper Ware. Moved feet well. Made presence felt on glass as always.
2012-03-15 09:16:18
Team: Chalons-en-Champagne
Physicals
Positions
Rankings
Salary
Misc
H: 6' 9"
W: 239 lbs
Bday: 07/12/1990
(25 Years Old)

Current: PF
NBA: PF
Possible: PF

RSCI: 31

Agent: Calvin Andrews

High School: Archbishop Mitty
Hometown: San Jose, CA
Best Case: Kris Humphries
Worst Case: James Singleton

Predraft Measurements
| Year | Source | Height w/o Shoes | Height w/shoes | Weight | Wingspan | Standing Reach | Body Fat | No Step Vert | Max Vert |
| --- | --- | --- | --- | --- | --- | --- | --- | --- | --- |
| 2012 | NBA Draft Combine | 6' 8" | 6' 8.75" | 239 | 6' 11.5" | 8' 7.5" | 9.1 | 29.0 | 34.0 |
| 2012 | Nets Workout | 6' 7.5" | 6' 8.5" | 241 | 6' 11.75" | 8' 10" | 10.2 | 27.5 | 34.5 |



Basic Per Game Statistics

- Comprehensive Stats - Statistical Top 25s
| Year | League | Name | GP | Min | Pts | FG | FGA | FG% | 2Pt | 2PtA | 2P% | 3Pt | 3PtA | 3P% | FTM | FTA | FT% | Off | Def | TOT | Asts | Stls | Blks | TOs | PFs |
| --- | --- | --- | --- | --- | --- | --- | --- | --- | --- | --- | --- | --- | --- | --- | --- | --- | --- | --- | --- | --- | --- | --- | --- | --- | --- |
| 2015/16 | French | Drew Gordon | 10 | 31.3 | 14.2 | 5.7 | 10.2 | 55.9 | 5.4 | 8.7 | 62.1 | 0.3 | 1.5 | 20.0 | 2.5 | 3.2 | 78.1 | 3.3 | 7.3 | 10.6 | 0.8 | 1.1 | 0.5 | 2.5 | 2.2 |

Player Page&nbsp&nbsp| Player Stats | Mock Draft History | Related Articles&nbsp&nbsp| Add to My Draft Express&nbsp
&nbsp
NBA Combine Interviews: Robinson, Leonard, Gordon
June 20, 2012
[Read Full Article]

---
Trending Prospects (3/14/2012)
March 14, 2012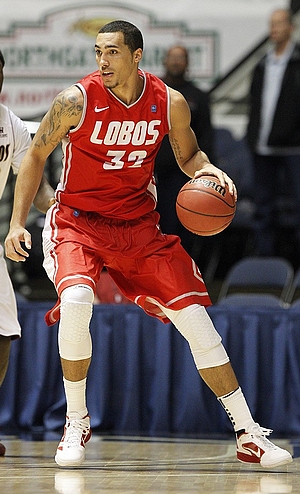 Icon SMI



Matt Kamalsky

Finishing his senior year with a MWC Tournament Championship and emphatic NCAA Tournament berth, Drew Gordon was terrific down the stretch for one of the top mid-major programs in the country, New Mexico. The UCLA transfer still hasn't developed into a dynamic offensive threat, and has some things to work on moving forward, but followed up a solid showing as a junior with another productive season, showing promising potential as a role-player in the process.

The 6'9 power forward remains the same impressive physical specimen that caught the attention of recruiting analysts during his high school days at Archbishop Mitty (CA). Sporting a long-240 pound frame that still has some room for growth, Gordon has the size and athleticism to play the power forward position at the NBA level, even if he would not stand out in either area at that level.

What allowed Gordon to stand out at the college level, and what is easily his best asset as a pro prospect, is his ability to make the most of his physical tools on the glass. Ranking 3rd among prospects in our database in rebounds per-40 minutes pace adjusted, Gordon (14.3) rates only a fraction of a rebound behind likely top-5 selection Thomas Robinson (14.6) in that category. Using his strength and toughness to box out and rebound his area on the defensive glass, Gordon is just as good at outworking his man for position and diving to the rim aggressively from the high-post to collect caroms on the offensive end.

Gordon has only converted 54% of his put-back attempts this season according to Synergy Sports Technology, but nonetheless, is at his best when he can simply catch, gather himself, and explode to the rim. Shooting 65% around the basket in non-post-up situations, Gordon does not finish every play with a dunk, but can play above the rim when he has a bit of space to work with and shows solid touch within a few-feet of the rim in traffic.

Gordon's finishing ability translated to quite a bit of success in post-up situations as a senior due to the quality of looks he was able to produce with his back to the basket at the mid-major level. Able to establish great possession for most of his post touches, Gordon often looked to make aggressive drop-steps to the basket over both shoulders, using a right-handed baby hook as his go to move. With 35% of his offense coming in the post, Gordon scored 51.3% of his field goals on the block according to Synergy. Gordon would likely have a much harder time scoring in the same fashion against NBA caliber defenders, making his finishing and rebounding ability that much more significant.

Away from the rim, Gordon shows some potential, but doesn't see much in the way of results. He isn't dynamic from the midrange due to his lack of ball-handling ability, but he isn't shy about pulling the trigger from 15-feet, shots that would significantly diversify the roles he could play offensively if he could hit them consistently. Knocking down just 27% of his jumpers according to Synergy, Gordon looks fairly comfortable operating in the midrange, shoots his jump shots with solid rhythm for a big man, and is not lacking confidence, but simply does not have a consistent release point. Shooting 75% from the line, if he's willing to put in the work in the offseason, Gordon seems to have a framework to work with to broaden his horizons offensively.

Defensively, Gordon plays with intensity and offers some versatility thanks to his solid size and athleticism. Using his body better than he did last season to defend the post thanks to improved fundamentals, the California native is able to keep up with face-up fours in the midrange as well. Gordon is a physical defender who contests shots, gets a bit overaggressive at times and could stand to maximize his frame to help him fight his man for position on the block on the next level. His lateral quickness is good, but not great out on the perimeter, and he blocked shots at a respectable rate thanks to his length and motor. Gordon may not be a playmaker defensively, but his ability to hold his own at and away from the rim is a plus.

Heading towards a NCAA Tournament date with Long Beach State, making it out of the first weekend and possibly beyond certainly wouldn't hurt Gordon's stock considering that not every GM may have been out to see him playing in the Mountain West Conference. A strong showing at the Portsmouth Invitational Tournament would be a positive as well. Gordon's rebounding ability gives him a skill he can hang his hat on in the NBA, and if he improves his shooting ability before going on the workout circuit, he'll have the opportunity to improve his standing before the 2012 NBA Draft, where he's got a solid chance to hear his name called in the second round.

[Read Full Article]

---
Top NBA Draft Prospects in the Non-BCS Conferences, Part 3 (#11-15)
November 5, 2011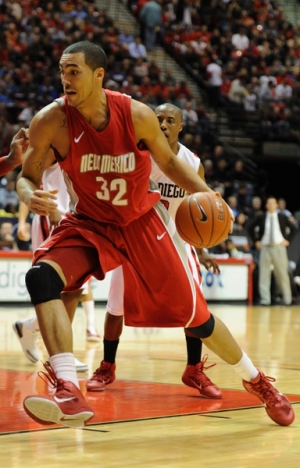 Icon SMI



Joey Whelan

After a tumultuous year and a half at UCLA where alleged "conduct detrimental to the team," led to a "mutual parting," former McDonald's All-American Drew Gordon seems to have finally found his niche at New Mexico after becoming eligible last fall.

In his first season with the Lobos, the power forward was named Mountain West Conference Newcomer of the Year after posting a terrific line of 18.3 points and 14.8 rebounds per-40 minutes adjusted on 52.7% shooting. The pundits are expecting even bigger things from the senior as he has been tabbed MWC Preseason Player of the Year, with New Mexico the favorite to finish on top of the standings.

Gordon certainly passes the eye test for a power forward in the NBA. At 6-foot-9, 245 pounds, he has the bulk and strength to handle the rigors of life in the paint, but also the length and intensity to make his presence felt around the rim. Not terribly explosive vertically, Gordon's timing, aggressiveness, soft hands and nose for the ball are what make him the second best returning rebounder per-40 minutes pace adjusted in our database.

The offensive book on Gordon is a pretty simple one: 89.5% of his shot attempts last season were attempted in the paint according to Synergy Sports Technology. He has a solid base, does an excellent job of establishing position, seals well and displays good touch, all traits scouts like to see from post players.

While clearly a load for opposing MWC teams to handle inside the paint, Gordon isn't terribly efficient as a post-up scorer (.859 points per possession on 41% shooting), which is largely due to his lack of explosiveness.

Despite his soft hands, nimble footwork and good touch, Gordon doesn't do a good job of adapting to the defense. On many possessions it seems as though he determines what he'll do before the basketball is ever delivered, and then follows through regardless of what his defender does or what the angle is. This isn't rare amongst players who were forced to sit out an entire year as Gordon was after transferring from UCLA, so it will be interesting to see how he looks in a full season of action.

As things stand, his back-to-the-basket arsenal includes a nicely developing baby hook along with a solid drop step—but if unable to simply bully his way to the rim, he just isn't always able to elevate over defenders and finish plays.

While his back to the basket game is unlikely to translate to the highest levels of competition, he's able to score in other ways—through his work on the offensive glass, moving without the ball and as a pick and roll finisher.

Outside of the paint, Gordon's game is a work in progress—he converted 8 of 25 jumpers according to Synergy Sports Tech. The good news is he doesn't seem to be that far off from being a consistent threat as a mid-range option, something that would definitely give his NBA prospects a boost.

Of the handful of jumpers he did take last season, the bulk came from foul line extended when he rotated behind an attack guard as a safety valve. His shooting form is relatively smooth, just inconsistent in that he tends to not fully extend on his release, leaving the shot short. His free throw shooting marks have improved each year as well (last year: 68%), which is a positive sign.

Gordon rarely will attack off the dribble from the high post, but when he does, things tend to go array if it's anything beyond a one dribble move to the rim.

Improving his shooting and ball-handling skills will be important as he makes the transition from collegiate center to the power forward position, something that will be necessary considering his height.

Defensively, Gordon is mostly a mixed bag at this point, showing both strengths and weaknesses.

He isn't terribly effective defending opposing big men inside the paint, as he gives up post position very easily and shows average toughness and awareness.

Away from the basket, though, Gordon does well defending face-up forwards, showing solid lateral quickness and relying on an above average wingspan to recover effectively and challenge shots inside the paint.

Gordon is an interesting prospect who still needs to show quite a bit in his final season in order to secure a spot in the NBA. What was once a very promising career has obviously taken some unique turns, but he seems to finally be reaching a point he seemed destined to following high school. There's no denying his rebounding prowess and his scoring instincts, but he needs to become a more consistent shooter and low-post defender in order to improve his pro prospects.

The book is still very much out on Gordon, but another season in which he averages a double-double while leading his team to the NCAA tournament would go a long way in helping his cause.

[Read Full Article]

---
Top NBA Draft Prospects in the Pac-10 (Part Two: #6-10)
September 16, 2009
Scott Nadler

Playing for a team going for their 4th straight Final Four appearance last season, Drew Gordon was expected to step in and help get the Bruins back for another tournament run. Upon his arrival however, Gordon figured out quickly that life under Ben Howland was not going to be easy, playing less than 11 minutes a game in a season filled with plenty of ups and downs.

Gordon averaged only 3.6 points and 3.4 rebounds after piling up double doubles on a nightly basis at Archbishop Mitty (CA) a season earlier. With the departures of seniors Josh Shipp and Alfred Aboya, Gordon will be called upon to help fill their void and should be given a chance to show why he was once a highly touted high school player.

On the two occasions DraftExpress planned on evaluating Drew Gordon, once at the Hoop Hall Classic (Springfield, MA) in early 2008 and this past summer at the U-19 USA Team Trials in Colorado, he was injured and barred us the opportunity to assess his talent level. Even though Gordon's injury, a partially torn right patellar tendon, was less severe than initially reported, his durability is something to keep an eye on during the upcoming season.

With all of that said, it's difficult to be a top-25 ranked player (according to ESPN) in the class of 2008 and a Jordan All-American without having a world of talent and potential. At 6-9, 240 pounds, Gordon is a good athlete with a long wingspan. He runs well for a big man and possesses a great second jump which will pay dividends for him on the boards and in the shot blocking category.

Analyzing his production from last season, Gordon's production and efficiency proved to be greater than his basic numbers could ever show. On a per-40 minute pace adjusted basis, Gordon averaged 13.4 points and 12.7 rebounds a game last season. Those are solid numbers and it will be interesting to see if he can keep up that production with a bigger role and added minutes this season.

On the few post up opportunities that Gordon had last season, he showed a limited amount of moves, resorting to a mini jump hook over his left shoulder on almost every occasion. He would also get pushed away from the basket too easily, which was due in large part to his high center of gravity and lack of lower body strength. He must learn how to establish and hold a base, which will make for easier post entries from his guards. He has a decent looking shot and had 17 foot range in high school, thus developing a face up game, which was nonexistent last season, would serve him well. Additionally, gaining more confidence with the outside shot will open up options for Howland to use Gordon in pick and pop situations.

While going through the freshman struggles of limited playing time and adjusting to a new system are past him, Gordon will endure new challenges this season as he will surely be given a larger role and be expected to contribute from the onset. If he can rebound the ball and block shots like many people think he's capable of, while showing an improved offensive game, look for UCLA to be in the hunt for yet another Pac-10 championship.

[Read Full Article]

---
Nike Hoop Summit Recap: Team USA
April 16, 2008
Gordon was probably the most impressive big man during the game for the US Team, especially since he did the majority of his damage without the ball in his hands. Early in the game, he used his anticipation along with good timing and hands to score on a couple of put-backs in the paint. One of these came on an aggressive tip-dunk which he timed perfectly. Six of Gordon's seven rebounds throughout the game came on the offensive end of the floor, where he fully exploited the lack of boxing out from the international team on the glass.

Though he didn't really get a chance to show it off during the game, Gordon also has some nice skills to work with on the offensive end of the floor. He can handle the ball comfortably on the perimeter and shoots it effectively out to 18 feet. He needs to work on further expanding his repertoire in the post at UCLA, but he shoots a nice turnaround down low.

For the present, Gordon lacks the build and athleticism to be considered an elite one and done prospect. He runs the court quite effectively, but shows average explosiveness and lateral quickness. Gordon must continue to work on his offensive game, and become tougher as a man to man post defender. He seems like a very smart player on and off the court, and has the potential to play big minutes at UCLA his freshman season.

[Read Full Article]

---