Dusan Ristic
Recent Tweets
All Tweets
DraftExpress: NIJT Istanbul Scouting Reports - Dusan Ristic, James Birsen, Augustinas Jankaitis, Gao Shang, Dominik Mavra, more: http://t.co/Z1WjnNSr
2012-05-18 10:41:25
DraftExpress: NIJT Istanbul Scouting Reports - Dusan Ristic, James Birsen, Augustinas Jankaitis, Gao Shang, Dominik Mavra and more: http://t.co/Z1WjnNSr
2012-05-17 06:13:01
DraftExpress: Jordan Brand Classic International Game: Top Prospects (Andrew Wiggins, Mario Mario Hezonja, Dusan Ristic, etc) http://bit.ly/hqcw1Z
2011-04-20 11:27:42
DraftExpress: Andrew Wiggins' team wins 70-63. Wiggins had 20. Dusan Ristic led the Black team w/21. Pretty good game. #JBClassic
2011-04-16 05:02:10
DraftExpress: Serbian Dusan Ristic (6-11, 1995) has stood out w/his length, fundamentals and feel for the game. Very mature kid for his age. #jbclassic
2011-04-14 04:29:44
Team: Arizona, Sophomore
Physicals
Positions
Rankings
Misc
H: 7' 0"
W: 255 lbs
Bday: 11/27/1995
(20 Years Old)

Current: C
NBA: C
Possible: C

Pick: 43 in 2017 Mock Draft
Rank 18 in NCAA Sophomores
RSCI: 115

High School: Sunrise Christian Academy
Hometown: Novi Sad, Serbia




Basic Per Game Statistics

- Comprehensive Stats - Statistical Top 25s
| Year | League | Name | GP | Min | Pts | FG | FGA | FG% | 2Pt | 2PtA | 2P% | 3Pt | 3PtA | 3P% | FTM | FTA | FT% | Off | Def | TOT | Asts | Stls | Blks | TOs | PFs |
| --- | --- | --- | --- | --- | --- | --- | --- | --- | --- | --- | --- | --- | --- | --- | --- | --- | --- | --- | --- | --- | --- | --- | --- | --- | --- |
| 2015/16 | NCAA | Dusan Ristic | 7 | 15.0 | 5.7 | 2.3 | 5.0 | 45.7 | 2.3 | 4.9 | 47.1 | 0.0 | 0.1 | 0.0 | 1.1 | 2.0 | 57.1 | 2.0 | 4.6 | 6.6 | 0.7 | 0.1 | 0.1 | 1.3 | 1.6 |

Player Page&nbsp&nbsp| Player Stats | Mock Draft History | Related Articles&nbsp&nbsp| Add to My Draft Express&nbsp
&nbsp
Top NBA Prospects in the Pac-12, Part Five: Prospects #5-10
September 7, 2015
Josh Riddell

Stuck behind more experienced big men in Brandon Ashley and Kaleb Tarczewski, Dusan Ristic didn't see a great deal of playing time in the front court rotation for the Arizona Wildcats in his debut season. With an added year of strength and experience, Ristic should find more playing time in 2015-16 for the Wildcats, which will give us a better idea of where he stands as a NBA draft prospect.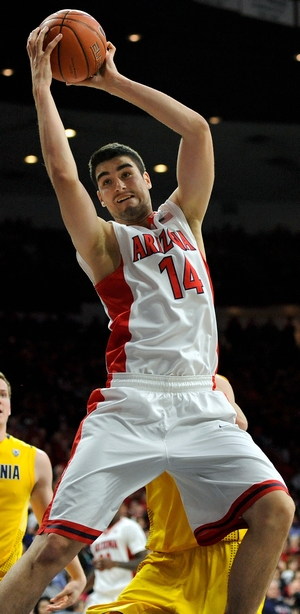 US Presswire



On our radar since he was 15, the Serbian averaged just 8.8 minutes per game last season, although he did make the most of his time, putting in 15.3 points on 61.6% shooting along with 9.5 rebounds per 40 minutes pace adjusted. It will be interesting to watch him develop in a larger role this season and see how his per minute point production translates with more playing time.

Ristic has a nice foundation of physical tools, measured at 7'0" with a solid frame for his age at 245 pounds. While he has added some strength over the past few seasons, he still has some room to fill out and become stronger if he hopes to compete against NBA level big men. He has a long wingspan to complement his height and his measurements will help overcome his average athleticism by NBA standards. Ristic is a fluid and mobile big man, but is not particularly explosive around the basket on either end of the floor.

In his limited minutes, Ristic wasn't shy on the offensive end, actively calling for the ball on the block and looking confident around the rim. His post game is still a work in progress as his footwork and patience in the post is still developing, with Ristic mainly relying on his height and length to shoot over his defender due to his inability to back down opponents. As he continues to get stronger, he should have an easier time using his strong fundamentals and ability to score with either hand on the block to his advantage. His limited playing time may have made him overeager looking for his own offense at times, as he only generated two assists in 300+ minutes last season.

Ristic moves well around the paint, cutting into open spaces and putting himself in passing lanes to get the ball in areas where he can score thanks to his terrific hands and touch. He is assertive around the rim, going up strong and finishing with either hand, to the tune of 60.5% according to Synergy Sports Technology. He is primarily a below the rim player, so he will need to continue to work on his explosiveness and ability to finish through contact to be an effective option off cuts and pick and rolls as the competition stiffens.

Ristic didn't take many jump shots last season but he also showed he wasn't afraid to let it fly when open and he could emerge as a stretch option for the Wildcats in the upcoming season. He doesn't get much lift on his shot but his height allows him to get his shot off against defenders. On one hand, he made four of five three point attempts last season, but he's also converted just 57% of his free throws throughout his career (in the competitions we have data for) thus far. Ristic should have a bigger offensive role this season and whether he can step out to the perimeter will be a key to how he is viewed as a NBA prospect, as well as his ability to see playing time alongside Kaleb Tarczewski.

Defensively, Ristic looks capable guarding the post, having the strength to make it difficult to back him down and the length to challenge shots close to the basket. When asked to step away from the basket, he is taken out of his comfort zone and he doesn't want to step out to his man to pressure the ball or move his feet against dribble penetration, making him an easy target to exploit with the right matchup. This lack of versatility may hurt his ability to stay on the floor so he will need to make a more concerted effort on the perimeter to make it difficult for his opponent, even if his physical tools prevent him from being a defensive stopper.

Despite his long reach, he isn't a great shot-blocker, averaging just 1.1 per 40 minutes pace adjusted. He can force the opposition into tough shots but he doesn't quite have his timing down yet to block shots on his primary man or the agility to help block shots as a secondary defender.

Ristic appears to be a capable rebounder on both ends of the floor, but was inconsistent in this area as a freshman, and Arizona will need him to contribute in this area quickly after their offseason losses. He averaged 2.7 offensive rebounds and 6.8 defensive rebounds per 40 minutes pace adjusted in his freshman season, which are both average rates for a player his size. On the offensive boards, he runs hard right to the front of the rim and is able to grab nearly everything that lands within his grasp, as he has good hands to secure the loose ball. He won't be chasing down balls outside his immediate area but he will be able to corral any that drop around him. NBA scouts will want to see Ristic display more of a degree of nastiness in this area, as his intensity level tends to waver here at times.

After losing their top four offensive players, Arizona is a team in a state of flux after making the Elite Eight in back to back years. Ristic has the potential to step into a larger offensive role and display his skill set. He's a player to monitor throughout the course of the season and by continuing to add strength as he matures and showing he is well-rounded offensive player over a larger sample, Ristic could have a breakout season for the Wildcats and put himself on the map as an NBA prospect, as it's difficult to find 7-footers with the type of scoring instincts that he displays.

[Read Full Article]

---
Nike International Junior Tournament London Scouting Reports
May 15, 2013
Dusan Ristic, 6-11, Center, Red Star Belgrade, Serbia, 1995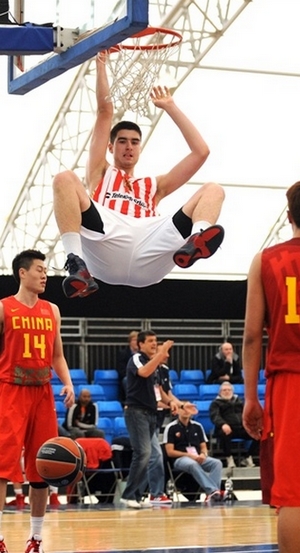 Euroleague.net



Jonathan Givony

Strengths:
-Has very good size at 6-11, possibly 7-0, with extremely long arms
-Improved frame
-High basketball IQ and excellent skill-level for a big man
-Can score with his back to the basket. Decent footwork and nice range on jump-hook
-Finishes with both hands around the rim
-Can make a mid-range jumper
-Good passer
-Presence inside the paint defensively thanks to long wingspan
-Terrific rebounder at this level of competition (14.1 per-40 at NIJT)

Weaknesses:
-Below average athlete. Lacks quickness and explosiveness in a serious way
-Poor open floor speed
-Struggles to finish around the rim in traffic due to limited leaping ability. Rarely dunks the ball
-Effort level can be questionable at times. Not a fiery or intense personality. Lets smaller players take loose balls right out of his hands at times
-Lacks toughness inside the paint. Doesn't seem to love contact
-57% FT% at NIJT. 42% in Serbian league
-Doesn't always show up in the big games

Outlook: One of the best prospects in his age group in Europe. Big man with superb length and a very high skill-level. Has done a good job adding weight to his once-skinny frame. A relatively poor athlete who may struggle to translate his dominance at the junior level versus men. Disappeared once again when his team needed him most in a crucial game (last year versus Rytas, this year versus Joventut). Still early in his development, but will likely need to improve toughness to overcome his average athleticism and become a legitimate NBA big man.

[Read Full Article]

---
Nike International Junior Tournament Istanbul Scouting Reports
May 17, 2012
Jonathan Givony

Strengths:

-Terrific size
-Fairly mobile big man
-Incredibly long wingspan
-Body looks substantially improved since last time we saw him
-Excellent hands
-Very good offensive rebounder thanks to length, hands, instincts
-Good scoring instincts
-Solid skill-level in post. Hook shots. Very nice touch
-Can hit a mid-range jumper
-Makes 74% of his free throws
-Only 16 years old

Weaknesses:

-Not a very physical player. Needs to get tougher
-Gives up deep position in post. Doesn't like fighting with stronger big men
-Can't always establish good position offensively. Needs to continue to get stronger
-Average defensive rebounder
-Missing some character?
-Doesn't always look like he's giving 100%?

Outlook:

Has significant upside with his size, length, mobility and skill-level. Needs to get tougher both physically and mentally. Still at a very early stage of his development. A prospect to follow closely to see how he develops.

[Read Full Article]

---
Jordan Brand Classic International Game: Top Prospects
April 20, 2011
Jonathan Givony

Dusan Ristic was one of the few players we were already familiar with coming into this event. He did nothing to change our opinion that he has a very bright future ahead of him, winning co-MVP honors and putting up an impressive 22 points and 12 rebounds.

Ristic stood out immediately at the first practice with his high skill-level, excellent basketball IQ and strong fundamentals. He picked up everything that was thrown at him and played with a smooth, under control demeanor. He scored in a variety of ways in the game: hook shots with either hand, soft mid-range jumpers and spin moves in the paint.

Ristic is only 15 years old. His body still has a lot of development to undergo, but his frame and his length leave plenty of room for optimism. In practice, he struggled at times with contact and needed to be reminded to box out and play with more of a mean streak, but in the game he had no problem asserting himself offensively.

[Read Full Article]

---
NIJT Belgrade Scouting Reports: Top Prospects
February 25, 2011
One of the youngest players at this tournament at just 15 years old, Dusan Ristic was nonetheless one of the most promising prospects we saw in Belgrade, and one we'll surely be talking more about down the road.

Standing 6-10 or possibly even 6-11 with outstanding length and a fantastic frame for a player his age, Ristic is a mobile big man who shows all the physical tools you look for at this stage. He has good hands, runs the floor well, and shows competitiveness and instincts that should serve him well as he progresses in his basketball career.

Mostly relegated to scoring off simple catch and finishes and offensive rebounds, Ristic is an unpolished player as you can probably imagine at this stage. He didn't always have the strength to operate effectively against big men as many as two years older than him, but put up a solid fight nonetheless, and showed a good feel for the game operating within his team's half-court offense.

It's still far too early to draw too many long-term conclusions about Ristic's future, but the early returns look promising. If he can continue to progress on and off the court over the next few years, FMP could have yet another very interesting player on their hands.

[Read Full Article]

---