Elias Harris
Recent Tweets
All Tweets
DraftExpress: More Undrafted Jack Cooley Zeke Marshall Anthony Marshall Christian Watford Amath M'Baye Travis Releford Elias Harris C.J. Aiken
2013-06-28 00:20:47
DraftExpress: DX James Southerland and Elias Harris Pre-Draft Workouts and Interviews http://t.co/hgDarU3VAo (via @312media)
2013-06-06 09:17:38
DraftExpress: Mason Plumlee Tim Hardaway Jr Isaiah Canaan & Jackie Carmichael signed w\/ Mark Bartelstein of @PrioritySports. Brad Ames signed Elias Harris
2013-04-30 17:17:15
DraftExpress: Was not invited. But if he wanted to attend I'm sure they'd bring him. RT @BJ_Crossover Any idea why Elias Harris won't participate in PIT?
2013-04-07 15:00:15
DraftExpress: DX Trending Prospects (1\/7) - Scouting reports on Kelly Olynyk Laurence Bowers Elias Harris and Juvonte Reddic http://t.co/JA5RzVyw
2013-01-07 15:03:05
Team: Bamberg
Physicals
Positions
Salary
Misc
H: 6' 7"
W: 220 lbs
Bday: 07/06/1989
(26 Years Old)

Current: PF
NBA: PF
Possible: PF

Agent: Ademola Okulaja

High School: Friedrich Magnus Schwerd Gymnasium
Hometown: Speyer, Germany
Best Case: Super Athletic Version Of Matt Barnes
Worst Case: DeMarre Carroll

Predraft Measurements
| Year | Source | Height w/o Shoes | Height w/shoes | Weight | Wingspan | Standing Reach | Body Fat | No Step Vert | Max Vert |
| --- | --- | --- | --- | --- | --- | --- | --- | --- | --- |
| 2013 | Nets Workout | 6' 7.5" | 6' 8.5" | 238 | 6' 10" | 8' 8" | 12.0 | 32.0 | 38.0 |
| 2012 | LeBron James Camp | NA | 6' 8" | 247 | 6' 9" | NA | NA | NA | NA |
| 2012 | Kevin Durant Camp | NA | 6' 8" | 247 | 6' 9" | NA | NA | NA | NA |



Basic Per Game Statistics

- Comprehensive Stats - Statistical Top 25s
| Year | League | Name | GP | Min | Pts | FG | FGA | FG% | 2Pt | 2PtA | 2P% | 3Pt | 3PtA | 3P% | FTM | FTA | FT% | Off | Def | TOT | Asts | Stls | Blks | TOs | PFs |
| --- | --- | --- | --- | --- | --- | --- | --- | --- | --- | --- | --- | --- | --- | --- | --- | --- | --- | --- | --- | --- | --- | --- | --- | --- | --- |
| 2015/16 | EURO | Elias Harris | 7 | 8.7 | 4.4 | 1.9 | 3.6 | 52.0 | 1.9 | 3.6 | 52.0 | 0.0 | 0.0 | &nbsp | 0.7 | 1.0 | 71.4 | 1.0 | 1.3 | 2.3 | 0.1 | 0.3 | 0.0 | 0.7 | 2.3 |

Player Page&nbsp&nbsp| Player Stats | Mock Draft History | Related Articles&nbsp&nbsp| Add to My Draft Express&nbsp
&nbsp
James Southerland and Elias Harris Pre-Draft Workouts and Interviews
June 6, 2013


Video film and production courtesy of Tad Hathaway of 312 Media

[Read Full Article]

---
Trending Prospects (1/7/2012)
January 6, 2013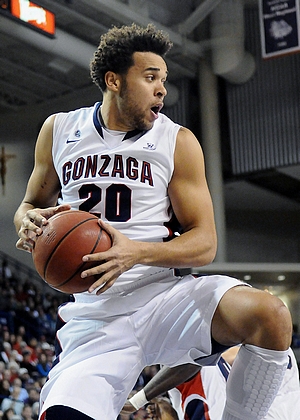 US Presswire



Derek Bodner

Heading into his senior season at Gonzaga, Elias Harris is a player who we have profiled extensively in the past. After a pair of underwhelming seasons that cooled the interest he earned after a surprising freshman season, seeing his numbers fall off in many key categories, Harris has rebounded to post a very good start to his senior season, both from a team and individual perspective.

Harris is producing at an all-time high, seeing his scoring rate jump from 18.0 points per 40 minutes pace adjusted to 22.4, while his Gonzaga Bulldogs have had a strong start to the season, sitting with a record of 15-1 to this point with strong wins over Kansas State, Baylor, and Oklahoma State recently.

From a skills perspective, however, Harris is largely the same player we've been profiling for quite some time. He's most comfortable creating for himself in the post, which with the departure of Robert Sacre, he's found some extra room to operate with. At 23 years old, Harris does a good job of using his physical maturity, strength, and reasonably long arms to score with regularity on the blocks at the collegiate level. He combines that with his soft hands, excellent ability to move without the ball, and deceptive quickness in the open court to create an effective option for the Gonzaga offense and provide a good impact at the collegiate level. He's also getting to the line at a much better rate so far this year, over 9 times per-40, which is by far the best of his 4 year career.

Many of the question marks about his ability to translate that to the next level, however, remain.

While it looked like Harris was beginning to make progress on his jump shot last year, he's regressed quite a bit this year, albeit on limited sample size. According to Synergy Sports Technology, Harris has only made 7 of his 28 (25%) jumpers so far this year, taking a huge step back by connecting on just 16% of his three point attempts (down from 41% last year on just 2 attempts per game), and still showing a lack of any sort of comfort in the midrange game.

From a mechanical perspective, Harris' release doesn't appear to be entirely broken, although it is a little bit deliberate and with a bit of extra movement, which could explain some of the inconsistency in the results. He's looked hesitant to take open jumpers that have been created for him in Gonzaga's free-flowing offense, which are shots he'll likely need to be comfortable taking and making at the pro level.

The bigger concern for Harris on the perimeter is his shot-creating ability, as it's still an adventure any time he has to put the ball on the floor and meets resistance. While capable of facing up and attacking opposing big men in a straight line from 17 feet, Harris is not someone who can be expected to do much ball-handling in the half-court outside of these short forays. He shows a high and loose dribble, and struggles to change directions with it if he encounters a defender, which makes him relatively ineffective when he tries to do anything too fancy off the bounce.

On the defensive side of the court Harris has many questions on which forward position he will be able to adequately defend. While Harris' body is developed and physically mature, he is somewhat undersized to play the power forward position at the next level. He also struggles to move his feet on the perimeter even for a power forward, regularly over-extending himself on the perimeter and getting caught defending with his hands because of that. While he seems to have lost some of the weight that plagued him earlier in his college career, his awareness and focus level haven't improved much at all, which makes him a regular target for opposing coaches to pick at in pick and roll situations.

On the positive side, Harris has become a solid defensive rebounder at the power forward position, pulling down 7.3 per 40 minutes this season and 8.7 last year. Harris shows good natural instincts, ability to track the ball, soft hands and a willingness to battle for position, even if his rebounding production on the offensive end is nothing to write home about.

Elias Harris is having the most productive season of his college career thus far, and depending on how the Bulldogs perform the rest of the year, will likely get his fair share of NBA looks. His effort level also appears to be more consistent, something which should help ease some of the concerns expressed over the last few years.

That being said, the main reasons for Harris' increased productivity has been an improvement on his already existing skill sets, ones that are somewhat dubious whether they will translate to the next level. Other areas that were crucial to alleviating the fears of decision makers still remain, which makes it tough to project a definitive role for Harris at the next level, a major concern for somebody who will be just a few days shy of 24 years old on draft night. With that said, it's not out of the question that someone decides to take a flyer on him in the second round or in training camp, as he's a player who seemingly knows his role and would not look out of place as the second or third power forward on a team's roster.

[Read Full Article]

---
Trending Prospects (1/12/2012)
January 12, 2012


Kyle Nelson

Elias Harris has had one of the stranger college careers in recent memories. Arriving at Gonzaga without much hype from Germany, Harris was one of the top freshman in the country, emerging as a legitimate first round candidate. He surprisingly decided to return to school, but came back for his sophomore season out of shape and regressed badly both athletically and in terms of productivity.

Now a junior, it's become abundantly clear that he is unlikely to live up to the lofty expectations he created with his early play, although good showings against Illinois and Arizona have at least put him back on the radar.

Harris is still stuck between the post and the perimeter, a classic tweener due to his lack of ideal size for a power forward and average skill-level for a small forward. Though he once appeared to be an incredibly explosive athlete with a superb motor, a combination of added weight and the effects of his foot injury seem to have diminished that, which obviously muddies his NBA status quite a bit.

Offensively, Harris' scoring production and efficiency has declined for the second straight season, particularly inside the arc, where he's shooting a career low 47% from 2-point range. Most of his possessions come in post-up situations, where he's struggled this season, and he has not been able to produce as effectively in transition or cutting off the ball.

Though Harris continues to see majority of his possessions with his back to the basket, he has become a more prolific and efficient perimeter shooter. Just 22% of his field goal attempts come from beyond the arc, but he's been able to convert them at a 49% clip. While the sample size of 33 attempts is very limited, Harris' mechanics are solid, a tad deliberate, but nonetheless effective spotting up with his feet set.

Harris's limitations as a shot creator are still significant as he has developed virtually nothing resembling a mid-range game and still lacks the ball handling abilities to accomplish anything outside of straight drives to the basket. Furthermore, though he gets to the line at a decent rate, his FT% has dropped drastically and he makes just 57.9% of his attempts.

While he is a solid scorer in the post, it is becoming increasingly clear that his game will be significantly less effective against bigger, stronger, and more athletic players. Already shooting a pedestrian 47% inside the arc, Harris's post game lacks much in the way of countermoves, relying on his quickness, toughness, and strength to get through and over defenders with a standard array of hook shots and spin moves.

Harris is a solid defender at this stage, but it remains to be seen how he will adjust to guarding quicker players on the perimeter. Possessing just average lateral quickness, Harris struggles to stay in front of wing players and gives up significant size and strength to post players. Though has clearly lost a step, he does not look as active, either, most visible in his inconsistency in closing out on perimeter shooters. He has become a fairly prolific rebounder, however, grabbing a career high 11.2 rebounds per 40 minutes pace adjusted, which ranks him 7th amongst small forward prospects in our database.

Turning 23 later this year, Harris is significantly older than most of the juniors in his class. Consistency and energy are two factors that scouts will be watching for as the season progresses, however, because if Harris wants to play at the next level, then he'll have to show the combination of intangibles and scrappiness that have allowed undersized forwards without elite athleticism and a defined position to carve out a niche in the NBA.

[Read Full Article]

---
Trending Prospects (2/17/2011)
February 17, 2011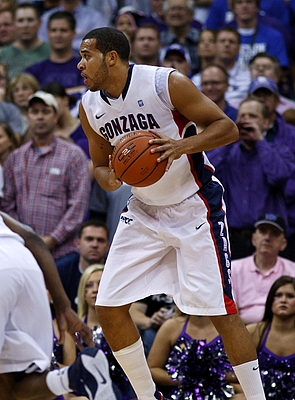 Icon SMI



Derek Bodner

Elias Harris finished up his freshman campaign with an impressive 24 point performance against Syracuse in the NCAA tournament, capping off an extraordinary -- albeit somewhat inconsistent -- freshman season that seemingly put him in line to be a potential first round pick. Since surprisingly deciding to return to school last year, Harris has had one setback after another, creating a significant amount of uncertainty about his NBA prospects heading forward.

Harris' struggles began during the offseason, as he struggled to find playing time with the German national team. He then suffered a series of injuries early in the year that limited him early on and caused him to gain a significant amount of weight -- a shoulder injury before the season began and an achilles injury 5 games into the season. The injuries appeared to affect his athleticism, conditioning and energy-level, all of which were amongst his main selling points last season.

Furthermore, the loss of senior Matt Bouldin has created a void in the Bulldogs offense. The loss of Bouldin's playmaking abilities hasn't been fully replaced, and combined with inconsistent point guard play -- Demetri Goodson has never played the role of a major shot creator, junior college transfer transfer Marquise Carter hasn't had the type of impact the Bulldogs had hoped, and David Stockton is a redshirt freshman -- has resulted in fewer open looks for Harris.

Harris still has the physical profile that made him such an intriguing prospect, with good size, length, and a frame that looks like it should fill out fine for an NBA small forward. When healthy, he's an above average athlete with good coordination and an excellent second jump, which along with his length makes him a good finisher inside. Still, he's struggling to regain the same explosiveness that made him such a force around the basket last season, and his intensity level doesn't seem to be the same.

Harris still displays a good collegiate post game, ranking in the 84th percentile in efficiency according to Synergy Sports technology. He's shown some improvement in his post moves, flashing an occasional quick spin move over and drop step to go along with his right handed hook shot, and does a good job of playing to, and through, contact.

That being said, Harris is undersized to be primarily a post scorer in the NBA, and improving his perimeter game was imperative to making the transition successfully. Harris' jump shot has not made much progress this year. Part of that can be explained by a change in the quality of looks he's getting, as he's attempting more contested jump shots and jump shots off the dribble than last year, areas of his game that aren't yet fully developed.

Still, Harris has struggled to reproduce last year's success from the perimeter even when getting quality looks. According to Synergy Sports Technology, Harris has dropped from 1.68 points per shot on uncontested catch and shoot jump shots down to 0.882 this year, a drastic drop off.

After shooting 45.1% on three pointers last year (albeit on limited attempts), that number has fallen down to 34.1% this year. While never possessing picture perfect form on his jumper, the loss of effectiveness is disconcerting for a player who needed to prove his ability from the perimeter. Harris struggles through bouts of inconsistency with getting his feet set and with his follow through, and it has shown thus far in the results.

Further hampering his productivity from the perimeter is his ball-handling, an area Harris still needs considerable improvement if he's going to make the transition to the small forward position in the NBA. Outside of using his left hand to setup his spin move back to the right, Harris doesn't do much driving to his left. At this stage in his career, Harris is neither proficient at creating for himself or for others, and has lost a degree of quickness on top of that.

Another reason for his drop-off in productivity has been his inability to get to the free throw line at the same rate he did last year. Harris did a great job of drawing fouls last year, averaging 7.1 free throw attempts per 40 minutes, pace adjusted. While his free throw percentage has gone up fro 67.6% to 75% this year -- a good sign, for sure -- that number has fallen down to 4.8 free throw attempts per 40 minutes, pace adjusted. This is an area where his injuries, and the slow start and weight issues that may have contributed towards, may be showing up.

Harris uses his size well on the on the defensive glass, showing a high motor and doing a good job of tracking balls and using his good hands to secure rebounds. His technique could stand to improve some, as he at times gets caught failing to put his body on a man and boxing out as effectively as he could. This is an area that he should be able to improve upon, and he should be an average rebounder for a small forward at the next level.

Defensively is another area that's not so cut and dry when projecting Harris to the next level. His combination of size, length, and athleticism makes him an intriguing defender from a tools perspective, and his work ethic should lend itself well in this regard. That being said, his technique is sometimes in question, as he can get caught over rotating and biting on pump fakes, and he must prove he can move his feet well enough laterally to defend NBA level wing players, which is currently an area of concern. He must continue to play with the same chip on his shoulder that we saw last year, something that he's not really doing right now, likely partially due to his injury struggles.

For a player who was likely a first round draft pick had he entered the draft last season, many will question Harris' decision (along with those who advised him) to return, and rightfully so. Not much has gone right for the German prospect since last season ended. While there are a combination of factors -- mostly legitimate -- that have combined to explain his drop in productivity, for a player who last year had a ways to go to prove he could play on the perimeter in the NBA, this season has raised more questions than answers for him as a prospect.

Especially concerning for him is the fact that he's the same age as many NCAA seniors in this year's draft class, something that will surely affect the way NBA teams view him. While it's not impossible Harris returns to his previous lofty draft status -- one only has to go back to Wesley Johnson last year to look at a substantially older player (for his class) who improved his draft stock dramatically in a short amount of time-- Harris has a great deal of work ahead of him. May will point to him as the classic case of knowing when to strike while the iron was hot, and now it's up to him to prove them wrong.

[Read Full Article]

---
NCAA Weekly Performers, 3/24/10
March 24, 2010
Scott Nadler

Despite being dismantled in the 2nd round of the NCAA tournament by Syracuse, the lone bright spot for Gonzaga was freshmen forward Elias Harris. For those who have watched him periodically this season, his 24 point (8-13 FT), 8 rebound performance shouldn't come as a big surprise. Even more impressive however was the fact that he was able to do it against NBA caliber athletes and length, displaying his full array of skills on a national stage. Although his game is still a bit raw, this 20 year old German has certainly turned heads this season, showing immense potential as an NBA prospect.

When watching Harris play, it's hard to ignore the passion and energy he brings on each possession. He has a terrific motor and great stamina – never appearing tired or unable to give his all. Couple those characteristics with his superb athleticism (filling lanes in transition, showing great leaping ability and a quick second jump) and his physical attributes (strong frame and long wingspan), it's easy to see why he's garnered so much attention in his first season.

This amalgamation of finesse and power is consistent with his offensive game. He has a way of being rugged and bullish on some occasions, lowering his shoulder and aggressively jump stopping to power up, and wiry in others, using his long strides to knife through a defense. He does the majority of his damage 15 feet and in, either by way of post ups, isolations or cuts, but he's also shown a willingness to step outside every now and then.

Harris has been effective from the perimeter, despite possessing a somewhat limited offensive arsenal. He can drop step in the post and will sparingly use a shoulder/head fake to get his defender up, but his go to move is to drive left, mainly across the lane from the right block or down the baseline on the left side, and spin back to his right. In fact, Harris drives left 83% of the time according to Synergy Sports Technology, and almost never finishes with his left hand, further illustrating his comfort with this move.

Harris clearly has a tendency to force the action and barrel his way to the basket, as he does not possess much in the way of advanced ball-handling skills at this juncture. This can result in either a forced shot or a drawn foul, as he manages to get to the free throw line 7.1 times per-40 pace adjusted, an excellent rate. Once he can develop his face up game and use rip through moves, shot fakes and other shot-creating skills to fully utilize his physical gifts, he'll become that much more dangerous.

The area where he uses his physical gifts to fullest is on the boards, where he collects 9.8 rebounds per 40 pace adjusted. He can rebound in traffic and can grab the ball at its peak, often seeming determined to get his hands on the ball.

As previously hinted, his guard skills are less than desirable. He sports a negative assist to turnover ratio at 0.67, failing to show any signs that he can create for others. His ball handling skills are below average as well, as he's unable to change his speeds/direction to beat his man in perimeter isolation situations. At 6'7, Harris will need to improve this area of his game and become more at ease away from the basket.

The only area of his perimeter game which is encouraging right now is that of his shot. He doesn't display picture perfect mechanics, but by no means would his shot be labeled broken. He brings the ball over the center of his head and doesn't always fully extend his follow through, two areas which are certainly correctable.

Out of the 66 jump shots we were able to watch, 43 of them came from 3 point range – knocking them down at an impressive 45.3% clip. Even though it's not a very large sample size, this type of efficiency cannot be overlooked. Power forwards and especially small forwards are shooting more and more 3's in today's NBA, and as his confidence rises in his shooting ability, so will his draft stock.

On the defensive end, Harris is average at best—like his entire team--despite possessing all the physical tools and the work ethic to be a good defender. He's undisciplined and overzealous, often jumping on ball fakes or over helping – leaving himself out of position to recover and close out. His awareness is just average on top of that, as he loses his focus and completely exposes his team's defense at times. His lateral quickness is an area he will need to improve upon too, as he currently has trouble keeping perimeter players in front of him. He also struggles in the post, playing at times as if he's afraid to foul, which takes away from his physicality.

Despite being a likely first round pick, and quite a bit older than your typical NCAA freshman, all indications point to Harris returning for his sophomore year, as he seems to have said as much in both the local media and in his home country of Germany. Gonzaga is returning 4 starters and Harris could be the focal point in their offense next season. He has all the makings to be a solid role player in the NBA down the road, and will surely draw a good deal of interest in the 2011 draft, as long as he's able to show improvement next year.

[Read Full Article]

---
NCAA Weekly Performers, 12/3/09
December 3, 2009
Joseph Treutlein

Very few freshman in the country have had as significant an impact for their teams as Elias Harris has for Gonzaga thus far this season, which isn't surprising given the 20-year-old freshman's profile. With high-level international experience under his belt, the 6'7 combo forward with a very well-built body has come in and started all 6 of his team's games, playing 29 minutes on average, pretty much exclusively at the power forward position.

From a physical standpoint, Harris certainly looks the part of an NBA small forward or combo forward, having great size and good length with a very strong frame, and possessing very good athleticism to go along with it. He's an explosive player with very good quickness, exceptional coordination and very strong mobility, while also having very good upper body strength. Harris has spent pretty much all of his time playing as a big man for the Bulldogs, but with each passing game, he shows a little more of his perimeter game.

Harris spent the first two games of the season doing a lot of work with his back to the basket, showing a decent arsenal of hook shots and runners going across the lane, doing a good job of drawing contact and getting to the line, but struggling with his touch at times shooting over bigger opponents in the paint. His post game is certainly effective against college 4's, but it's hard to envision Harris having consistent success as a back-to-the-basket power forward in the NBA, as doesn't have the size or brute power to really make much of a living doing that.

Harris provides more intrigue with his face-up game, something that was on display in all three games in Maui, where he showed dribble drive moves from all areas of the court, showing off his impressive coordination and footwork. Harris incorporates a lot of advanced moves into his forays to the rim, namely spin moves and hop steps, which he might rely on a bit too heavily at this point. Harris' left hand appears pretty weak, and pretty much every time he goes left, he only does so to set up a very effective left-to-right spin move, something opposing teams will pick up on over time if he doesn't make them respect his left hand. Harris' athletic abilities are on full display when he's attacking the basket off the dribble, making very rangy plays with the ball and finishing well in the lane with various finesse and power moves.

Harris' jump shot is still a work in progress, though he has the foundation of good shooting form in place, and he's had flashes of success in his few games thus far. One thing that stands out with Harris' shot is how few jumpers he takes in rhythm, as he rarely readies himself for the catch-and-shoot when the ball is coming to him. He often hesitates with the ball for a good second or so before putting the ball up, and he often looks a bit mechanical in his motions. Other than that, he shows occasional problems with not getting full extension on all his releases. That said, he does have a high release point and the rest of his motion is pretty consistent, so this is an area he should improve on if he puts in the work, and will surely be a very important factor in whether or not he's able to make the conversion to playing on the wing full time.

Another strong point of Harris' game is his high motor and basketball IQ, as he makes a lot of hustles plays in the game and usually doesn't settle for many low-percentage shots. Harris makes a big impact attacking the glass on both ends of the court and diving for loose balls. He's a competitive guy with great toughness who doesn't back down from anyone, something that has given Gonzaga (a team typically deemed to be a bit on the soft side) a huge boost this season.

Defensively, Harris has great physical tools with his size, length, and good lateral quickness, while also having a pretty good fundamental base in place for perimeter defense, where he shows a good stance and moves his feet well. He doesn't get to match up against opposing threes at this level, but he appears as if he has the tools to defend that position. He's done so in the past, notably this past summer in the European championships playing for the German National Team, where he garnered invaluable experience. In the post, he also shows good fundamentals, and holds his position pretty well with his base strength, but his lack of size poses concerns if you're projecting him to play the power forward in the NBA, and it's caused some troubles here already.

Projecting Harris to the next level is not a seamless task at this point, as he's still getting his feet underneath him in the college game, and some uncertainty about what direction he'll take his game in. His hustle play and strong foundation of skills definitely bode well for his future, but there are still a lot of question marks about what position he's best suited to play, and whether or not he'll be given the opportunity to develop his perimeter game on a team that currently asks him to play the power forward position full time. Either way, Harris' future looks extremely bright, and in the worst case scenario, he could always take his German passport and cash in on a very lucrative contract in Europe down the road.

[Read Full Article]

---
2009 U-20 European Championship Review: Wings
September 30, 2009
Strongly built with a developed upper body, Harris is quite an explosive athlete considering his frame, Elias Harris was the second most important player for the German Mannschaft, after Benzing. Even with his good effort and intensity, he'll suffer defending on the perimeter at times trying and stay in front of his match-up without fouling. Harris isn't a very good passer and he would need to work on his ball-handling skills too.

As far as his shooting is concerned, his stroke itself looks decent, but he needs plenty of improvement in this aspect, as his terrible 41% free throw percentage would indicate. He does seem to be aware of his limitations regarding as a 3-point shooter, though, and thus hesitates to attempt perimeter jumpers. Slashing to the basket however he's very hard to stop, being able to go right or left. He doesn't have the greatest touch right now, but his strength, explosiveness and good balance compensate to be a reliable inside finisher nonetheless, helping him rank first in overall field goal percentage at 60%. Even being undersized, he can do quite a bit of damage in the low post too, using his body well and even showing off some spin moves.

As a rebounder he's not a fierce pursuer of offensive boards, but is very strong going after defensive rebounds. And if he would do a better job boxing out, it can only get better. He contributes in other aspects such as stealing and shotblocking too, collecting one of each per game here on the Greek Island. On the other hand the 3.2 turnovers were the clear negative part of his performance. In 25 minutes this is really too high.

Generally still a quite raw player with an interesting progress margin, Harris will be interesting to keep track of at Gonzaga.

[Read Full Article]

---
U-18 European Championship: The Wings
August 31, 2007
Elias Harris showed up for this championship considerably stronger than we had seen him last year, still athletic and explosive, pretty reactive also, but probably less fluid in his moves. He played full time as an inside player, although he also showed his increased shooting range, netting some three-pointers with apparent easiness. Still he shows very little stuff off the dribble and not a particularly great feel for the game. At around 6-7, he's undersized to play inside at a top level. We were certainly expecting a more skilled player at this point.

[Read Full Article]

---
U-18 European Championship Prospects: The Wings
September 13, 2006
Elias Harris is especially worthy of taking a look. He's a 6-7 German wing still in his first junior year. It's hard not to notice his excellent physical profile, showing a very good frame and terrific athleticism. He enjoys remarkable legs that he successfully uses on defense and rebounding.





He's not a very skilled guy, but he already shows a reliable jumper from the mid-area, although his range is clearly limited. A decent ball-handler, he still needs to improve in order to beat his matchups consistently. All in all, he seems to understand the game and shows very nice potential.

[Read Full Article]

---