Erick Green
Recent Tweets
All Tweets
DraftExpress: RT @WojYahooNBA Denver's Erick Green the ACC player of the year agrees to a one-year deal with Siena of Italy. http://t.co/hmQXNgv8uT
2013-07-30 12:58:30
DraftExpress: RT @nuggetsnews Nuggets picking Erick Green w 46
2013-06-27 23:35:16
DraftExpress2: @SuckMyKnick Erick Green is fraction of a point per-possession behind those 4 so very high.
2013-06-07 13:17:55
DraftExpress: Scary moment earlier with Erick Green banging knees with Kabongo. Looked bad for a moment but thankfully he's OK. Just a bruise. #nbacombine
2013-05-17 14:07:28
DraftExpress: Last five DX scouting reports Erick Green Ray McCallum Kentavious Caldwell-Pope Deonte Burton Shabazz Napier http://t.co/ftG40zRrA2
2013-03-13 11:17:15
Team: Reno
Physicals
Positions
Salary
Misc
H: 6' 3"
W: 178 lbs
Bday: 05/09/1991
(24 Years Old)

Current: PG/SG
NBA: PG/SG
Possible: PG/SG

Agent: Alex Saratsis
Current Salary:$507,336

High School: Paul VI Catholic
Hometown: Winchester, VA
Drafted: Pick 46 in 2013 by Nuggets

Predraft Measurements
| Year | Source | Height w/o Shoes | Height w/shoes | Weight | Wingspan | Standing Reach | Body Fat | No Step Vert | Max Vert |
| --- | --- | --- | --- | --- | --- | --- | --- | --- | --- |
| 2013 | NBA Draft Combine | 6' 1.5" | 6' 3" | 178 | 6' 5.75" | 8' 2" | 4.4 | NA | NA |
| 2012 | Deron Williams Camp | NA | 6' 2.5" | 180 | 6' 6.5" | NA | NA | NA | NA |



Basic Per Game Statistics

- Comprehensive Stats - Statistical Top 25s
| Year | League | Name | GP | Min | Pts | FG | FGA | FG% | 2Pt | 2PtA | 2P% | 3Pt | 3PtA | 3P% | FTM | FTA | FT% | Off | Def | TOT | Asts | Stls | Blks | TOs | PFs |
| --- | --- | --- | --- | --- | --- | --- | --- | --- | --- | --- | --- | --- | --- | --- | --- | --- | --- | --- | --- | --- | --- | --- | --- | --- | --- |
| 2015/16 | NBA | Erick Green | 3 | 2.3 | 0.0 | 0.0 | 0.3 | 0.0 | 0.0 | 0.0 | &nbsp | 0.0 | 0.3 | 0.0 | 0.0 | 0.0 | &nbsp | 0.0 | 0.3 | 0.3 | 0.3 | 0.0 | 0.0 | 0.0 | 0.0 |
| 2015/16 | DLEAGUE | Erick Green | 4 | 38.5 | 31.8 | 9.8 | 17.5 | 55.7 | 6.8 | 10.0 | 67.5 | 3.0 | 7.5 | 40.0 | 9.3 | 10.8 | 86.0 | 1.0 | 4.0 | 5.0 | 3.8 | 1.0 | 0.0 | 2.5 | 1.8 |

Player Page&nbsp&nbsp| Player Stats | Mock Draft History | Related Articles&nbsp&nbsp| Add to My Draft Express&nbsp
&nbsp
Situational Statistics: the 2013 Point Guard Crop
June 18, 2013
-Erick Green stacks up exceptionally well against the top prospects in this class on paper, further reinforcing why he won ACC Player of the Year honors after carrying Virginia Tech's offense on his own for long stretches last year. Leading this group in usage at 22.8 possessions per-game, Green still managed to rank second in overall efficiency at 1.068 PPP, thanks in large part to his incredible low 9.2% turnover rate, which ranks as the lowest in this group by an impressive margin.

Green's low-mistake style of play and third-ranked overall free throw rate of 19.2% are conducive to success in this study, as his scoring efficiency ranks third in one-on-one, fourth in pick and roll, and fourth in transition. An above average jump shooter and finisher, who spent plenty of time creating for his teammates on the pick and roll despite his team's reliance on his jump shot, Green stands out here in a major way relative to his draft stock.

[Read Full Article]

---
NBA Combine Interviews: Snell, Young, Green, Blue
May 24, 2013
[Read Full Article]

---
Erick Green Video Scouting Report
March 11, 2013





More Video Scouting Reports:


-Giannis Adetokunbo
-Nerlens Noel
-Victor Oladipo
-Kelly Olynyk
-Russ Smith
-C.J. McCollum
-Mam Jaiteh
-Ben McLemore
-Leo Westermann
-Sergey Karasev

Mike Schmitz is the video analyst for DraftExpress. Follow him on twitter and subscribe to his YouTube channel. He will be breaking down the NBA draft in digital format all year long for us.

[Read Full Article]

---
Trending Prospects: Erick Green
February 28, 2013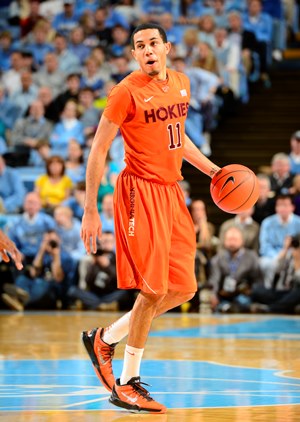 US Presswire



Matt Kamalsky

Last time we checked in our Erick Green a little under a year ago, he was coming off a strong junior season that saw him pick up where Malcolm Delaney left off as Virginia Tech's leading scorer. Despite the departure of Head Coach Seth Greenberg and the Hokies' struggles in ACC play (3-12 thus far, last place), Green has been among the most improved players in the country and ranks as the nation's top scorer by a significant margin.

Standing 6'3 with a thin, wiry frame and near 6'7 wingspan, Green is a natural scorer who can put points on the board in bunches with his pull-up jump shot and ability to get to the free throw line, but has also shown improvement as a distributor this season, particularly in the pick and roll. Fitting the mold of a modern, up-tempo, scoring point guard, the senior's skills have been tested on a nightly basis this season as his team's first option, primary ball-handler, and end-all, be-all solution on the offensive end.

Green's offensive game is predicated on his ability to make shots from the perimeter. Some 73% of his shots in the half court are jumpers, the large majority of which come off the dribble. Shooting the ball with a quick, high release that is difficult to block because of how high he elevates and how far back he cocks the ball, Green has a knack for creating separation for his shot with his quick first step, sharp crossovers, and hesitation moves. Connecting on 41% of his pull ups, Green is capable of creating his own shot when the shot-clock is running down and hitting difficult, off-balance leaners from the midrange. According to Synergy Sports Technology, as of the time of this report, no prospect in college basketball had hit more off the dribble jumpers (65) than Green has in 27 games thus far.



He also proves to be an effective spot-up and off screen threat. Having knocked down 40% of his catch and shoot jump shots this season according to Synergy Sports Technology, the Virginia native doesn't get many opportunities to shoot with his feet set due to the amount of defensive attention he receives in the ACC every night, but he's improved his range and consistency dramatically since arriving in Blacksburg. He takes 2 ½ times more pull-ups than spot-ups, though, which makes his relatively strong shooting percentages all the more impressive. It's easier to see his ability to run off screens effectively (42.4% FG%, 1.24 PPP) become more of a weapon on a team with more scoring options for example.

Green is not as effective when he's creating his own shot slashing to the rim. He is a good ball-handler and is very adept at using ball-screens, but doesn't have the elite explosiveness or strength to regularly generate high percentage shots in one-on-one situations around the basket, or finish through contact in traffic. Shooting an unimpressive 48% around the rim, Green compensates with feathery touch on his floater and by getting to the line more than any other guard in our database per-40 minutes pace-adjusted. There are legitimate questions about whether he'd be able to translate that to the pro level, though, which is something teams will want to take a closer look at in private workout settings.

As a floor general, Green is at his best as a distributor in transition or on the pick and roll, where his speed, high basketball IQ, elite pull-up jump-shot and aggressive mentality allow him to put constant pressure on the defense. Though he is more comfortable looking for his own shot, and isn't a dynamic playmaker off the bounce, he is quite unselfish and shows good vision and a high basketball IQ running the pick and roll or handling the constant swarm of defenders usually thrown at him. Facing defenses geared towards slowing him every single night, Green's scoring efficiency, and near 2/1 assist-to-turnover ratio are very impressive.

A capable defender at the college level, Green plays with good intensity and fundamentals, but his lack of size and strength raise some concerns about his ability to defend opposing guards at the next level. He'll likely need to be matched up with opposing point guards to be most effective in the NBA, but may be more comfortable with an additional ball-handler alongside of him offensively, at least early on in his career. This could make his defensive integration into a playoff-bound team slightly more complicated, but considering he'll likely be asked to come off the bench, probably isn't a deal-breaker for him. Nevertheless, there's no question he'll have to add strength and show he can at least hold his own in the NBA defensively if he's to carve out a niche long-term.

Having one of the best individual seasons of any guard in college basketball, Green will be one of the better senior prospects available in the 2013 draft. He has some limitations as a finisher around the rim and defender, but his productivity as a shooter/scorer and efficiency as a passer will no doubt pique the interest of NBA teams. It's difficult to find too many guards these days who have size, speed, perimeter shooting ability and can operate effectively on the pick and roll, so Green's elite scoring instincts certainly deserve a close look.

[Read Full Article]

---
Top NBA Draft Prospects in the ACC, Part Seven
September 25, 2012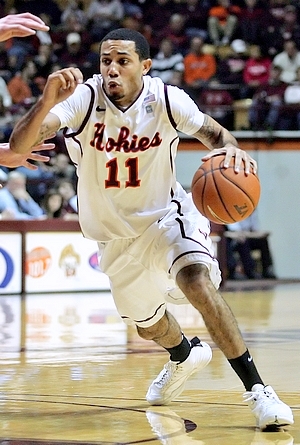 US Presswire



Derek Bodner

After the loss of Malcolm Delaney and Jeff Allen to graduation, Virginia Tech needed Erick Green to step into a much larger role. Virginia Tech struggled as a team down the stretch, posting their first losing season since 2005-2006. Despite the struggles from the team, the 6'3" junior guard posted some impressive numbers in his first season as the go-to guy, as he increased his scoring from 11.6 points per game to 15.6, while increasing his true shooting percentage from 50% to 54%.

The improvement in his efficiency can largely be traced to his increased proficiency as a jump shooter. Green has always relied largely on his jump shot, and he increased his efficiency from 0.789 points per possession his sophomore year to 0.909 points per possession last year, according to Synergy Sports Technology. His three point percentage and free throw percentage also saw sizable improvements, going from 24.8% to 37.5% on 3s and from 77.7% to 82.8% from the line.

Green is extremely comfortable as a shooter both off the dribble and in standstill catch and shoot opportunities. He gets very good elevation, and shows a consistent release point, albeit one with a little bit of extra motion. His most effective source of offense in the half-court is from pick and roll sets, where he's a good shooter coming off of screens, particularly when going to his left. The combination of his extremely quick second gear and the threat of him shooting coming off the pick makes him an extremely tough cover in these situations.

Green is very good in transition, which is where his athleticism truly shines. Very quick with the ball in his hands, he can push the ball down the court with the best of them. He has a very good pull-up jumper, which makes him increasingly difficult to defend when he is pushing the ball in transition and opens up lanes to finish at the hoop. He also is a good catch and shoot player, which allows him to be a good trailer on the break when he doesn't have the ball in his hands.

One area where Green does struggle, including not only from pick and roll sets but also in isolation situations, is as a finisher in traffic. Despite being an overall very athletic player in terms of quickness, speed, and ability to change direction, Green does not have tremendous explosion around the rim.

The combination of a lack of great explosion, struggles finishing through contact and not being great at drawing contact and getting to the line creates a relatively poor finisher around the hoop, especially considering he's only 180 pounds. Green has the speed, quickness, and ball handling to get into the paint with regularity, but that is somewhat wasted by his struggles finishing at the rim, where he converted just 42.9% of his attempts according to Synergy, which is in the bottom fifth of the NCAA. He does have an assortment of floaters in the lane, and does possess good touch and body control, which somewhat helps counteract this.

His ability to get into the lane is further diminished by a lack of great court vision and inability to get his teammates involved based on the defensive attention he draws. Despite playing five more minutes per game with a much more significant offensive role, Green's assists barely went up, from 2.7 per game his sophomore year to 2.8 per game last year. He does a good job of not turning the ball over for somebody who handles it as much as he does, but his inability to creating scoring opportunities for teammates is a detriment for somebody who will likely have trouble defending shooting guards at the next level.

Defensively, Green stands just under 6'3" with a good wingspan. He moves his feet fairly well and does a pretty good job of fighting through screens, and also does a good job of using his length to cut off driving lanes. His biggest detriment will be his physical limitations. Green has solid size for a point guard, but would be quite a bit undersized if asked to defend the shooting guard spot, and will be at a strength mismatch at either position with his 180 pound frame.

Erick Green made a substantial improvement in his jump shot his junior year, which bodes well for him going forward. While he struggles with his overall point guard instincts, he has the body type where it would be much easier to project a role for him at the next level if he were able to spend some time as a backup point guard. If Green can show some increased awareness as a playmaker, he has the overall offensive arsenal to potentially find a roster spot at the next level.

[Read Full Article]

---