Erik Murphy
Recent Tweets
All Tweets
DraftExpress: Erik Murphy really shot the ball extremely well. Made five or six 3-pointers in a row. Had a really nice step-back. Looked great offensively
2013-05-31 14:48:03
DraftExpress: Just saw Erik Murphy Peyton Siva and Deshaun Thomas playing 3 on 3 vs Elijah Thomas Elston Turner and Devin Booker. Tons of teams here.
2013-05-31 14:46:55
DraftExpress: DX Trending Prospects Erik Murphy http://t.co/isQHaXNeIB
2013-04-08 10:56:36
DraftExpress: Top NBA Prospects in the SEC #11-#15 Erik Murphy Johnny O'Bryant Trevor Releford Jeronne Maymon Will Yeguete - http://t.co/wO9oUmpY
2012-10-31 18:00:10
DraftExpress: Top NBA Draft Prospects in the SEC, Part 3: http://bit.ly/90wF8M - Marshawn Powell, Erik Murphy, Darius Miller, Vernon Macklin, Sam Muldrow
2010-10-03 09:20:30
Team: Besiktas
Physicals
Positions
Rankings
Salary
Misc
H: 6' 10"
W: 240 lbs
Bday: 10/26/1990
(25 Years Old)

Current: PF
NBA: PF
Possible: PF

RSCI: 42

Agent: Andy Miller

High School: St. Mark
Hometown: Southborough, MA
Drafted: Pick 49 in 2013 by Bulls

Predraft Measurements
| Year | Source | Height w/o Shoes | Height w/shoes | Weight | Wingspan | Standing Reach | Body Fat | No Step Vert | Max Vert |
| --- | --- | --- | --- | --- | --- | --- | --- | --- | --- |
| 2013 | NBA Draft Combine | 6' 8.75" | 6' 9.5" | 240 | 6' 10.5" | 9' 0" | 8.0 | 24.5 | 29.5 |



Basic Per Game Statistics

- Comprehensive Stats - Statistical Top 25s
| Year | League | Name | GP | Min | Pts | FG | FGA | FG% | 2Pt | 2PtA | 2P% | 3Pt | 3PtA | 3P% | FTM | FTA | FT% | Off | Def | TOT | Asts | Stls | Blks | TOs | PFs |
| --- | --- | --- | --- | --- | --- | --- | --- | --- | --- | --- | --- | --- | --- | --- | --- | --- | --- | --- | --- | --- | --- | --- | --- | --- | --- |
| 2015/16 | Eurocup | Erik Murphy | 6 | 23.8 | 7.8 | 3.0 | 8.2 | 36.7 | 2.0 | 3.7 | 54.5 | 1.0 | 4.5 | 22.2 | 0.8 | 1.0 | 83.3 | 0.5 | 3.5 | 4.0 | 1.0 | 0.5 | 1.0 | 1.2 | 3.3 |

Player Page&nbsp&nbsp| Player Stats | Mock Draft History | Related Articles&nbsp&nbsp| Add to My Draft Express&nbsp
&nbsp
NBA Combine Interviews: Len, Mitchell, Kadji, Murphy
May 29, 2013
[Read Full Article]

---
Trending Prospects: Erik Murphy
April 8, 2013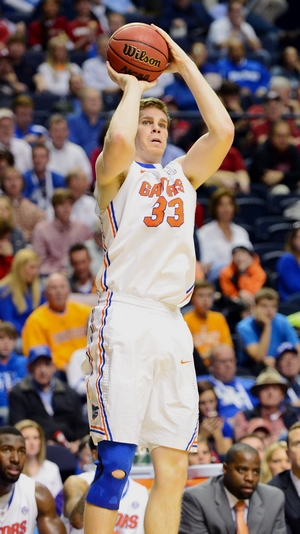 US Presswire



Joe Treutlein

After making significant strides in his junior season, Erik Murphy once again took another step as a senior, making strong improvements in his per 40 minutes pace-adjusted scoring (16.3 to 19.4) and rebounding (7.0 to 8.8), while also seeing both his two-point (48.5% to 51.6%) and three-point (41.2 to 45.3%) percentages tick upwards.

From a physical standpoint, Murphy has undergone one of the more noteworthy transformations you'll see from college players, adding a significant amount of upper and lower body mass to his frame, and looking like a radically different player from the one who set foot on campus in Gainesville four years ago.

Murphy's added size and strength has helped him do a better job establishing post position and battling with the opposition inside on both ends of the floor, though it hasn't been without negative side effects. While Murphy remains a relatively agile player for a big man, he definitely seems to have lost some of his fluidity over the years, not being able to change directions as well, looking a little more awkward in his movements, and often finding himself falling to the floor following lay-up attempts on offense or closeouts on defense. Given how sizeable a transformation he's made in such a short time period, he probably hasn't yet found the ideal combination of size and speed for his body, but he's clearly shown the work ethic and drive to maximize his physical abilities, and likely will continue to do so going forward.

On the offensive end, Murphy's undergone a similar transformation over the years with his role in Florida's offense, evolving from a garbage-man type inside player in his first two seasons to much more of an outside shooting specialist the past two years. Exactly half of his 8.8 field-goal attempts per game come from behind the three-point arc, and he shot a very impressive 45.3% on threes as a senior, a number that's increased each of the past three seasons. He does a good job playing within his team's offense to get open for spot-up shots and pick-and-pop attempts, and his combination of size, length, and shooting form give him a release point that makes it easy to get off shots.



Top Jump-Shooting Big Men Prospects in NCAA (min. 100 poss.)




The rest of Murphy's offensive game has diminished over his time at Florida, though he still has a competent post game that worked well against the competition he faced in the NCAA. As his body has changed, he's been able to do a much better job establishing early position and backing his man down, where he often relies on simple hook shots with either hand to finish, as he boasts good touch around the rim. While he finishes efficiently in this regard at the NCAA level, he often gets very little separation even against this competition, and it's tough to see this aspect of his game translating successfully to the NBA in its current form. While it's not something to count out if he can continue developing into a better overall athlete, it's hard to see it being a skill any NBA team would rely on from him.

Murphy's physical changes have also had notable effects on his defense, where he's actually developed into a very solid post defender over the years, showing good fundamentals, effort level, and a solid strength base to keep his man from backing him down. He uses his size and length well to contest shots, and in this area he possesses more than enough agility and lateral quickness to stay in front of his man. On the other hand, his defensively ability on the perimeter and stepping out on pick-and-rolls isn't quite what it was earlier in his career, as he often looks like a fish out of water on isolation mismatches and struggles to maintain his balance on pick-and-rolls when hedging screens.

The most concerning aspect for Murphy on the defensive end, however, is his poor rebounding numbers, as the 6.2 defensive boards per 40 pace adjusted he posted as a senior (the highest mark of his career) is well below average for a big man. Murphy ranks 15 out of the 18 collegiate power forwards in our top-100 rankings in defensive rebounding, which is certainly something he could do a better job with and likely will need to at the next level.

Looking forward, Murphy's potential as a shooting specialist stretch four should give him ample opportunities to hear his name called on draft night and/or find a home in the NBA, but given there isn't anything else he does at an above average level from an NBA perspective, he will likely need a little luck to find that niche.

His steady improvement in college, the work he put in developing his body off the court, and his solid basketball IQ are all things that should help him, but maximizing his abilities as a defender and rebounder would definitely improve his chances at having a long career. Even without those improvements, it's not hard to draw a comparison between Murphy and fellow Florida alum Matt Bonner, who's managed to have a long and successful NBA career with a very similar skill set and physical profile, but finding that success is easier said than done for one-dimensional players, so adding another way to distinguish his game would be very helpful in shoring up his chances.

[Read Full Article]

---
Top NBA Draft Prospects in the SEC, Part Four (#11-15)
October 31, 2012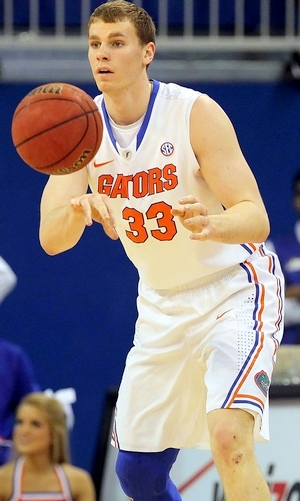 US Presswire



Kyle Nelson

A top-50 high school recruit, power forward Erik Murphy saw limited opportunities his first two seasons in a deep, veteran Florida frontcourt before finally breaking out as a junior. While his numbers still do not jump off of the page entirely, he was nonetheless a key contributor all season long for a team that made the NCAA Tournament Elite Eight and will be expected to assume a larger offensive role as a senior.

Standing 6'10 with a long 238-pound frame, Murphy has excellent size for the power forward position, even if he still could stand to get stronger. He remains, as we've written in past evaluations, more fluid, mobile, and agile than explosive, and will be considered just an average athlete at the next level. That being said, he runs the floor hard and really has worked to improve his conditioning, adding nearly 40 pounds of muscle to his once skinny frame.

Murphy's physical profile is particularly intriguing given his skill set. While he struggled initially to find a role in Florida's offense, he emerged as a quintessential face-up power forward as a junior, to the tune of 16.3 points per 40 minutes pace adjusted.

Arguably the most attractive element of Murphy's game is his ability to knock down shots with his feet set, which accounts for nearly 60% of his overall half-court attempts, and where he ranks among the most prolific and efficient shooters among post prospects in our database. Most impressive is his 3-point shooting, where he makes 42.1% of his 6.4 attempts per 40 minutes pace adjusted. Additionally his shooting mechanics are excellent, fluid and consistent and with a quick, release. What makes Murphy's shooting ability particularly tantalizing is his emergence as a legitimate pick-and-pop threat. Given the NBA's relative dearth of sweet shooting big men and the league's general affinity for running the pick-and-roll, Murphy already has a clear, NBA-caliber skill.

Murphy also shot an efficient 55.4% from inside of the arc, but his 5.9 2-point attempts per 40 minutes pace adjusted situates him as one of the least prolific inside scoring big men in our database. He shows signs of a decent post arsenal, which includes a reliable hook shot and supplemented by solid footwork, agility and instincts, but didn't get too many opportunities to display that last season. He has above-average ball-handling skills for his size as well, and though doesn't possess a quick first step, he nevertheless showed flashes of being able to attack slower opponents off the dribble. Furthermore, he is capable of scoring around the basket out of the pick-and-roll, and he rolls hard to the basket while showing a soft touch around the basket.

Murphy's career has been marked by a gradual move away from the basket. His increased productivity from beyond the arc has accompanied downward trends in two key areas. His offensive rebounding has declined significantly, while he attempted just 2.0 free throws per 40 minutes pace adjusted, ranking near the bottom of all prospects in our database. The question is whether his senior season will reveal him to be more than a shooting specialist at this level, as the flashes of potential he displays at times suggests is possible.

Another area of concern is his defense. On one hand he is relatively mobile, possesses solid fundamentals, and overall did a respectable job of guarding post and perimeter-oriented big men at the collegiate level. His lateral quickness, strength, and ability to step out and guard jump shooters, however, leave some things to be desired with an eye toward the NBA. Finally, he is a very poor defensive rebounder, pulling down just 5.1 defensive boards per 40 minutes pace adjusted, one of the worst rates amongst power forward prospects.

After a breakthrough junior season, scouts will be watching closely to see if Erik Murphy can take the next step, not only becoming more productive, but also utilizing his diverse skill set to his advantage. Getting stronger and proving that he can guard NBA power forwards will likely help his case, as well. His senior season is particularly important because Murphy already is an NBA caliber shooter, which given his size, mobility, and ability to operate out of the pick-and-roll makes him a prospect to keep an eye on. For this reason and despite his inconsistent career, his stock could rise significantly with a standout senior season. Regardless, however, he should have plenty of opportunities, from high profile matchups in the SEC to the Portsmouth Invitational Tournament, to prove to scouts that he has what it takes to play in the NBA.

[Read Full Article]

---
Top NBA Draft Prospects in the SEC, Part Three (#11-15)
October 3, 2010
Joseph Treutlein

Boasting very modest numbers in his freshman season due to his inability to earn a major role in Florida's rotation, Erik Murphy is still awhile away from being ready for the NBA, but the flashes of skill he does show are certainly intriguing. Unfortunately for him, with Florida's five leading scorers returning and a strong recruiting class incoming (highlighted by McDonald's All-American Center Patric Young), Murphy will have another uphill struggle battling for minutes this year.

Not a much different player from the one we profiled in high school nearly two years ago, Murphy is a highly fluid and mobile power forward with very good length and a budding skill level on the offensive end, namely in the painted area. He isn't the most explosive athlete in the world, being very much a below the rim player in the halfcourt, but he does a good job using his agility in combination with strong footwork to make a lot of rangy moves around the basket to gain separation.

Murphy currently plays primarily a garbage-type role when he gets into the game, doing the vast majority of his damage operating off cuts to the basket, rolling off high screens, or attacking the offensive glass. He shows very little elevation on all of his shots, but a high basketball IQ and motor combined with great touch allow him to frequently create high-percentage shot opportunities, which he can finish with either his left or right hand.

When he is featured with his back-to-the-basket, Murphy looks very comfortable inside, showing an accurate and rangy right-handed hook shot along with nice flashes of up-and-under moves and a tendency to create a lot of reverse lay-ups going under the rim. Most of his positioning is created by off-ball movement and securing good angles, as he still lacks great lower body strength, not being very capable of backing his man down. To his credit, he's played tougher in college than what we saw in high school, not shying from contact often and playing aggressively, but he will still need to fill out his frame to maximize the effectiveness of that style of play.

Projecting to the NBA, Murphy's finesse and power games both have some question marks, as he doesn't have a great deal of explosiveness to operate powering to the basket, while his finesse game lacks a lot of variety, and he'll definitely need to develop a better fade-away jump-shot to compensate for his lack of elevation.

Murphy also makes very strong contributions on the offensive glass, where he shows an excellent nose for the ball and a high motor, pulling down rebounds both in traffic in the lane and roaming out to the perimeter for long caroms. He also shows flashes of contributions operating out of pick-and-rolls and running the floor in transition, where his mobility and coordination allow him to finish well, but this isn't something that is featured often.

Featured even less is his jump shot, taking only 10 attempts on the year according to Synergy Sports Technology, and not shooting especially well from the free-throw line. His form is solid and this is something he utilized in high school, so it wouldn't be surprising to see him make this a more consistent staple of his game as he establishes a larger role in Florida's rotation.

Murphy's athletic tools lend themselves better to the defensive than offensive end for him, as his high level of mobility helps him greatly defending the perimeter and pick-and-rolls. He shows good fundamentals and awareness in both area to go along with solid lateral quickness, while he also utilizes his length well. In the post, Murphy likewise shows strong fundamentals, but he is very prone to being over-matched by more physical opponents, having problems holding position and not being able to alter shots much with upper body contact, frequently being forced to foul. He isn't much of a threat blocking shots from the weak-side, though to his credit he does do a good job making rotations.

Looking forward, Murphy is still very early in his development and could very well be a completely different player three years down the road, as he does show flashes of potential with both his face-up and perimeter shooting game. Continuing to get stronger physically and establishing a more critical role in Florida's rotation are the most important things for him, but the latter may need to wait another year or two the way things are looking.

[Read Full Article]

---
National Prep Showcase--Elite Prospects
November 24, 2008
The second half of the best post player tandem seen at this tournament, Erik Murphy (#39 Scout, #104 Rivals, #24 ESPN) did a nice job acquainting himself with those who may not have been familiar with him in his lone appearance.

6-10, with an underdeveloped frame, but all kinds of agility and fluidity for a big man prospect, Murphy is a fairly athletic player with a good skill level and nice upside to continue to improve in the future. He made some quick moves in the post, pivoting to his left hand and displaying excellent on his jump-hook shot.

Murphy faced up and showed a smooth shooting stroke from beyond the arc too, as well as the ability to take his man off the dribble with either hand a nice first step, which is a big plus from a player projected to play power forward at the collegiate level. He is a very coordinated big man, as he displayed on one particularly impressive play catching a difficult cross-court pass from Nate Lubick in stride and laying it in beautifully, a move that 95% of all high school big men would have surely committed a traveling violation on. He is also a good passer, and seems to generally have a high basketball IQ, showing nice chemistry alongside fellow big man Lubick.

On the downside, Murphy struggled to establish position inside the paint, as he lacks strength and a significant amount of toughness, to the point that many would even call him a soft player due to the way he appears to shy away from contact inside. He struggles with physical play, and isnít much of a rebounder, which will be a serious issue for him early on in the very tough and athletic SEC, something he must work on seriously. He got pushed around a bit and seemed to lack some intensity on the defensive end, not always hustling quite as hard as you might hope, and displaying average fundamentals. He has a reputation for being somewhat of an underachiever, and its here that that seems to show up the most.

All in all, Murphy is a nice long-term prospect for Florida to develop, as he has a great framework of skills to build off, and has decent physical tools as well. It will be interesting to see how he looks after a few years in college.

[Read Full Article]

---