Gavin Edwards
Recent Tweets
All Tweets
Ekpe Udoh working out for 2nd time tomorrow in Indiana, along with Greg Monroe, Gavin Edwards, Magnum Rolle, Jerome Randle and Tory Jackson.
2010-06-17 17:07:06
Pros and cons to both. Depends how much of an itch he has to make money? RT @TSpagnola: Gavin Edwards D-league to make way up? or Europe?
2010-04-05 13:26:10
Gavin Edwards really exposed on defensive end here. Not focused, hustling at all. Dyson playing by himself way too much. Robinson tremendous
2010-01-22 14:46:33
Top 25s - Full List
Team: NON-NBA College Team: Aisin Sea Horses
Physicals
Positions
Salary
Misc
H: 6' 9"
W: 236 lbs
Bday: 01/15/1988
(27 Years Old)

Current: PF/C
NBA: PF
Possible: PF

Agent: Chris Emens

High School: Mesquite
Hometown: Gilbert, AZ

Predraft Measurements
| Year | Source | Height w/o Shoes | Height w/shoes | Weight | Wingspan | Standing Reach | Body Fat | No Step Vert | Max Vert |
| --- | --- | --- | --- | --- | --- | --- | --- | --- | --- |
| 2010 | Portsmouth | 6' 8.5" | NA | 236 | 7' 1.75" | 9' 0.5" | NA | NA | NA |



Basic Per Game Statistics

- Comprehensive Stats - Statistical Top 25s

Player Page&nbsp&nbsp| Player Stats | Mock Draft History | Related Articles&nbsp&nbsp| Add to My Draft Express&nbsp
&nbsp
Portsmouth Invitational Tournament Recap, All-Third Team
April 16, 2010
Joseph Treutlein

Gavin Edwards struggled during his three games here, looking physically overmatched in the post on both offense and defense, while coasting through the game at times, not showing to be the most active or tough-minded player around. He did show some promise with his mid-range jump shot, not a surprise given his solid 78% FT% on the season, but he struggled putting the ball in the basket in other ones, be it posting up or just finishing around the rim.

Edwards probably needed a good showing here to push him into draft discussions in this incredibly deep class, and his underwhelming performance here combined with his underwhelming physical attributes (particularly his underdeveloped frame) will be a tough hurdle to overcome. Teams probably wanted to see more hustle and fire out of Edwards than he was able to display, as he seemed to lose his focus frequently and wasn't always mentally in the games. He should get chances in summer league and the D-League should he choose to go that route, but his skill set seems may be more suited for Europe at this stage.

[Read Full Article]

---
From Nowhere to Somewhere in the Span of 4 Years: Gavin Edwards' Story
January 30, 2010
13:31: Edwards races down floor to beat defense, receives pass from Donnell Beverly, two handed dunk makes it a 52-51 game for Texas

With a little more than 13 minutes remaining in the second half of Connecticut's upset of then number one ranked Texas last Saturday, Gavin Edwards saw an opportunity.

The Huskies power forward took off sprinting down the court after his team has corralled a defensive rebound. As he bounded past several Longhorn defenders, he looked over his shoulder and made eye contact with guard Donnell Beverly, who promptly lofted a pass in Edward's direction.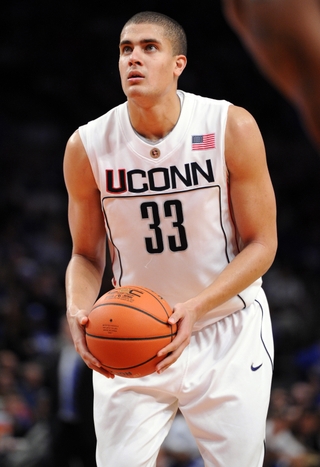 Icon SMI



The senior grabbed the pass on the fly and came to a sudden halt two feet in front of the basket, just long enough for Texas guard Avery Bradley to go flying by on a block attempt, before sending home a powerful two handed slam.

The play, which was part of a 24-10 UConn run to open the second half, took just five seconds to complete from start to finish, but is the exact show of ability that might land the former unheralded Husky recruit in the NBA this June.

The fact that Edwards is even suiting up for the perennial Big East power today is in itself a small miracle. As a high school senior in Arizona, he received the majority of his interest from smaller local programs, including San Diego State, UNLV and Nevada.

Jim Calhoun and his coaching staff however were intrigued by the 6-9 youngster who could run the floor with surprising speed for a player his size and aggressively block shots on the defensive end.

"He could really run the floor well and any time you can get a big guy who can do that, we love it," Connecticut assistant coach Pat Sellers said. "He wasn't a big name or a high level guy, and it was late in the signing period, so we took a chance on him."

The Husky coaching staff may have liked Edwards enough to offer him a scholarship, but even that matter wasn't as simple as it might have seemed.

Up until late in the process it looked as though Connecticut was going to stash Edwards away at a prep school and let him season for another year before attempting to assimilate him into an already crowded frontcourt. Those plans did an about face shortly before the 2006 NBA Draft.

"When I first started getting recruited by UConn they were telling me I would benefit from playing a year at prep school," Edwards recounts. "But as soon as Josh Boone left they wanted me to come right away just in case I could help them, or if not, there was the possibility to redshirt."

Boone's decision to bolt for the NBA after his junior season was the small window of opportunity that Edwards needed to take his game to the next level, and he was able to capitalize on it by biding his time with the other schools that were actively recruiting him.

This practice of demonstrated patience has served the senior well during his four years in Storrs, and with his sudden rise to prominence as a senior, Edwards has drawn comparisons to another Husky late bloomer.

"We used Hilton Armstrong as an example," Sellers said of the preseason discussions the coaching staff had with Edwards.

"He played behind Emeka Okafor, Charlie Villanueva and Josh Boone for most of his career, so he always had spot minutes. His senior year he starts every game, averages 11 points, six rebounds and is the Defensive Player of the Year in the Big East. He didn't just emerge though, he was going against those guys every day in practice, he was just stuck behind them. Gavin has been behind Jeff Adrien and Hasheem Thabeet for so long, we said, 'hey you're in the same situation.'"

"They have the same personality too. For Hilton, it didn't matter if he got five minutes, he was always the first in the weight room, always came in after practice for extra work and Gavin has been the same way his entire career. All of that work has paid off for him in his senior year. We told him if he stuck with it he would be fine, and to his credit he's done that."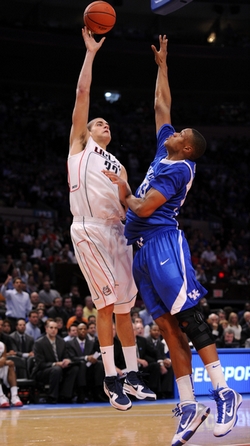 Icon SMI



Of course, Edwards has a distinct advantage over most athletes who try to stay motivated to work hard when they don't see their efforts rewarded with more minutes. His father Earl spent 11 seasons in the NFL and has been a great source of knowledge and guidance for Edwards.

"It definitely helps because a lot of people don't really have anyone to mentor them and tell them what they need to be doing," Edwards said.

"He's been through all the different little events and dealt with all the nuances that the sports world has. Having someone there who has experienced all of those things has been a big help to me."

And Edwards has been a big help to the Huskies fortunes on the court this season.

Of all the questions that surrounded the program entering the year, perhaps none loomed bigger than the status of the frontcourt. Loaded with perimeter talent, but having seen the departures of Jeff Adrien and Hasheem Thabeet, the Huskies, a team known for their wealth of talented big men, were left with a sense of uncertainty.

The senior has responded to the challenge. Seeing his playing time nearly triple from a year ago, Edwards is currently fourth on the team in scoring and ranks third in rebounding, all while shooting a scintillating 65 percent from the floor and leading the team in free throw shooting, connecting on just under 80 percent of his attempts.

While nothing about Edwards' game early on in his career screamed pro prospect, the Connecticut coaching staff is quick to point out his surprising open floor speed, body control and shooting ability for a forward as factors that will attract pro scouts. He probably won't ever be mistaken with a classic low post scorer, but Sellers says that teams need to make note of his scoring efficiency.

"We worked at getting him to slow down, read the defense and make a decision in the post, and he really started to come on in that regard at the end of last season," said Sellers.

"If he has a guy his size or smaller defending him, he can take him inside and make things happen, that's going to be attractive to teams. He does need to get stronger to handle the bigger NBA guys and quicker to handle those perimeter fours off the dribble."

Edwards knows there are questions centering on his toughness and his ability to withstand the physical nature of life as a frontcourt player in the NBA. But for a player who has spent nearly his entire career looking for his chance to shine, he can't do anything right now other than be happy with his present situation.

"I've learned from this whole experience at UConn to keep working hard and take advantage of your opportunities."

There are few who would argue Edwards' attitude towards taking advantage of those chances. Just ask Donnell Beverly, he got the assist.

[Read Full Article]

---
NCAA Weekly Performers, 1/14/10
January 14, 2010
Joseph Treutlein

A completely unheralded recruit coming out of high school four years ago, Gavin Edwards bided his time for three seasons and is now playing a significant role for UConn as a senior, earning a growing amount of draft buzz in the process. Standing 6'9 with good length and very good mobility and coordination, Edwards has an adequate physical profile for the power forward position in the NBA, even if his game may be more reminiscent of a center at this point in time.

Edwards does most of his damage on the offensive end around the basket, which is a big reason why he ranks first in our entire database in True Shooting Percentage, a testament to the excellent efficiency in which he operates.

In the post, despite having a limited arsenal of moves (relying mainly on hook shots with either hand), Edwards gets the job done with very good footwork and awareness in combination with a great sense of where to be without the ball, leading to a lot of open looks around the rim and good positioning when he catches entry passes. He shows good touch on his hook shots when he is able to create separation with his man, though he struggles with accuracy, sometimes significantly, when his shot is contested, something that is concerning in projecting to the next level.

While Edwards relies mainly on finesse for his post game, he does show flashes of a nice baseline drop-step, and can power up for dunks in space, but explosiveness is not among his strengths, and he isn't a very reactive athlete. He makes up for it by doing a good job drawing contact around the rim, getting to the free-throw line at a very solid rate, where he hits for an impressive 82%.

Edwards' lack of explosiveness shows up on off-ball cuts as well, where he at times has trouble finishing over weakside defenders in the lane. On the other hand, Edwards is an outstanding finisher in transition, due primarily to his very high level of coordination and body control, as he often catches the ball on the move and still makes the adjustment around the rim.

Edwards has also been mixing a spot-up jumper from 15-18 feet into his offensive arsenal, and while his results haven't been great in terms of efficiency (0.55 points per possession on 11 possessions, according to Synergy Sports Technology), his form is solid and his 82% free-throw shooting leads you to believe this is an area of his game he'll improve upon with repetition and experience.

On the defensive end, Edwards is a good defender at the college level, but there are some concerns about projecting to the NBA. In the post, Edwards does a very good job off the ball, manning up and denying strong position to his man, but he struggles a bit once his man gets the ball, prone to being beat on quick spin moves, not really having the foot speed and instincts to keep up.

On the perimeter, he's likewise prone to being beat by a quick first step, but he does a very good job of riding his man's hip to the basket, where he uses his length to contest and block a lot of shots. His effort level and awareness on this end of the court are both pretty good, but there are questions about if he's quick enough to guard PF's in the pros or big and tough enough to guard C's. On the plus side, Edwards is a very good shot-blocker thanks to his length, timing and smarts, ranking in the top-20 in that category amongst all prospects in our database.

In terms of rebounding, while Edwards does a pretty good job on the offensive end, he doesn't get involved nearly enough on defense, as he pulls in a very poor 5.0 defensive rebounds per 40 minutes pace adjusted, third worst of all centers in our database. This appears to be more a matter of trying than anything else, as he certainly has the physical tools to do much better than this. For a big man who projects as a role player at the next level, this apparent lack of toughness and hustle is a fairly big concern.

Looking forward, Edwards should be firmly in second round discussions for the draft this year, and could do himself well to attend the Portsmouth Invitational Tournament, where he should be able to perform well. Teams will likely be attracted to his solid physical tools, his smart and efficient post game, his developing mid-range jumper, and his ability to finish around the rim, but concerns about position and how some of his game will translate against bigger, stronger opponents could scare some away. At the end of the day, though, the quality of big men available to teams in the latter part of the draft is often fairly poor, which could make Edwards an attractive option.

[Read Full Article]

---