Rookie Retrospective: Greg Oden
February 15, 2009
Rookie Retrospective: Greg Oden
Center, 7í0 285, 1988, Portland Trailblazers
22.8 Minutes, 9.0 Points, 7.2 Rebounds, 1.2 Blocks, 56.8% FG. 63.4% FT, 1.6 Turnovers, 3.9 Fouls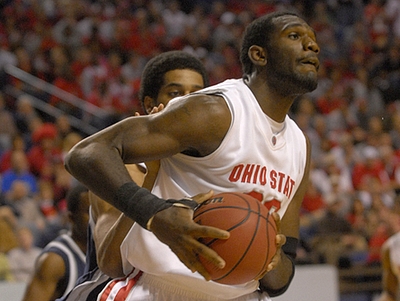 Icon SMI





Part One: Offensive Play (The Good)



Then:
Oden was downright dominant from the tip, gaining incredible post position down on the low blocks that allowed him to simply turn and dunk the ball. His ability to gain such position in the paint is unmatched at the college level, and is comparable to that of maybe only Shaquille OíNeal and Yao Ming in the NBA. He used his abnormal lower body strength to muscle helpless defenders under the rim, resulting in a plethora of easy finishes.
- NCAA Tournament: NBA Draft Stock Watch (Elite Eight, Saturday games) Ė 3/24/07

Now
Before delving into his weaknesses, letís take a look at what Greg Oden has going for him on the offensive end. Since his days at Lawrence North, heís had an NBA frame, and the weight heís added has placed him amongst the most well built centers in the game. Unfortunately, his knee injury has limited the quickness and leaping ability that had ranked amongst the elite at his position at any level, but heís still one of the more mobile players for his size that the League has to offer. At this point, Oden is still a work in progress offensively, and while there are many skills that he needs to develop on the offensive end, he is still capable of having big games based on his imposing athletic gifts alone.

His offense is predicated on his physical tools and his ability to impose his will on lesser opponents Ėsomething that has manifested itself on a number of occasions this season. Essentially all of Odenís top scoring performances have come against teams with inexperienced, non-traditional, or unintimidating defensive centers. Heís tallied a 22 point outing against an Andrew Bogut-less Bucks team, an 18 point effort against Andray Blatche of the Wizards, and yet another 22 point game coming off the bench against a Warriors team that had to shift Andris Biedrins between Oden and LaMarcus Aldridge.

Clearly, the ability Oden showed at Ohio State to dominate less physically gifted players has translated to the NBA, since there are still many centers that donít match up well with him even though heís still not at 100% yet. In each of the matchups mentioned above, Oden consistently caught the ball with at least one foot in the paint, and sometimes two Ėa sign that he isnít having any trouble establishing position on the block. Once there, he displays the same mentality he did as a Buckeye Ėeither heís going to get any easy dunk going right into his defender, or heís going to look to go to his hook shot, which has a lot of potential, but isnít a major tool for him just yet due to a lack of consistency in his release.

This aggressiveness at the rim has always served him well, and he continues to go to the line at a very high rate due to his knack for initiating contact Ėhe currently ranks 8th in the NBA in free throw attempts per possession. In the same regard, his ability to eat space around the basket allows him to pull down offensive rebounds at an extremely high rate. If Oden finds a way to spend more time on the floor, he could be the type of player that quickly changes the pace of the game by getting his team extra possessions and putting the other team in the penalty. If he wants to become the type of player who warrants more touches on the block on such a stacked team, though, he will have to significantly improve his skill-level and ability to create his own shot.



Part Two: Offensive Play (The Bad)



Then
Whatís been most concerning so far is the almost complete lack of fluidity that Oden is displaying on the offensive end. Heís very mechanical in the post, being highly predictable with his moves and not looking flexible enough to react to what defenses are throwing at him and counter with any kind of polish. Looking at the way he is scoring his points, itís hard to get any kind of feeling that what heís doing at the college level will fly in the NBA in the least bit, as his entire game is based off overpowering shorter, weaker and less athletic opponents and scoring almost exclusively within 5 feet of the hoop. At age 18, he still has plenty of room to grow as a player, meaning heíll likely learn how to use his body better in the post, get better at taking the ball up strong to the basket, and improve his footwork-- but there are certain traits in an athlete that are just innate, and we arenít seeing them at all from him so far.
- Durant Eclipses Oden on DraftExpress Mock Draft Ė 2/3/07

Offensively, while he showed some great flashes, there are still too many long stretches in which he is almost completely silent, not calling for the ball despite his obvious natural advantages over the weak frontcourts the Big Ten has to offer, and struggling to create offense for himself on a consistent basis when he does get the ball. He had quite a few awkward and mechanical moves with his back to the basket where he just bulldozed his smaller and weaker man over using his brute strength to somehow throw the ball in the rim or get to the free throw line, but itís hard to see these types of moves translating over effectively to the NBA. He still needs to work on his counters to expand his arsenal of tricks with which he can finish with, but at age 18, heís not doing poorly for himself at this point.
-NBA Draft Stock Watch: Conference Tournament Week (Part Two) -3/13/07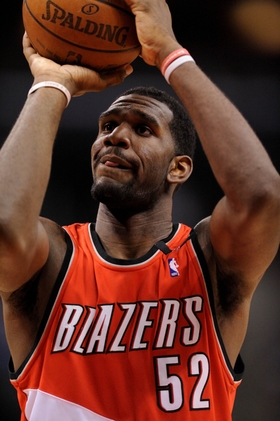 Icon SMI



Now
Despite Odenís ability to dominate some lesser players with his sheer size and athleticism, his scoring ability is raw at best. While heís shooting a respectable 57% from the field, there is a huge gap between his ability to score when posting up and his ability to score off opportunities created by teammates, such as cuts and offensive rebounds. On the year, more than half of Odenís touches are coming off of post ups, but he is only finishing 47% of them according to Synergy. That pales in comparison to the nearly 70% he shoots on all other shots around the rim. Clearly Oden is much better operating off the ball than on it.

Odenís troubles from the post arenít entirely uncharacteristic for a rookie, but it is obvious that he has a ton of room for growth. As of now, heís taking the vast majority of his shots turning over his left shoulder Ėinto his hook shot. Though heís capable of making hook shots from as far out as seven feet, he doesnít always get full extension on his release and still shows the awkward and mechanical moves that he did two years ago. When he turns over his left shoulder, which heís more than capable of doing, he uses a nice drop-step followed by an up-fake to create space for himself to elevate to dunk the ball.

Despite his ability to get position, Oden will often get a little too aggressive with his footwork or put himself a little out of position, leading to misses and turnovers. While 47% from the post isnít a bad percentage, it is the one area where Oden stands to improve the most over time. He lacks the fluidity, counter-moves and improvisation skills that can make him great, but heís still able to do some of the things that he did in the NCAA for stretches Ėalbeit only against certain defenders. After spending virtually all of last offseason rehabbing, it will be interesting to see if Oden takes this summer to develop a go-to-move.

In addition to some tough shooting nights from the post, Oden still disappears for stretches on offense, more so because heís on the bench in foul trouble than because he isnít asserting himself down low. Odenís has done a better job regularly establishing position down low, and while he may never be the double-team-warranting center that Portland runs the ball through on every possession, his teammates in Portland are much more adept at finding him in the flow of his offense than the group that he played with at OSU. However, Oden still goes possessions without moving all that much, and heíll need to be more active setting screens and moving around the post as his mobility returns to where it once was. Part of that will come as he improves his confidence and develops some type of on-type swaggeróright now he looks all too comfortable fitting in, while off the court he has reportedly been uncomfortable with the attention that goes along with being the #1 overall pick.

The fact of the matter is that Oden may only be averaging 9 points per game, but his 1.47 points per possession ranks him 9th amongst qualified players in our database. Thatís pretty impressive for a player with as many weaknesses as Oden has. On top of that effectiveness, we havenít even discussed the possibility of Oden developing some type of touch on his jumper, which would allow him to take advantage of the numerous trips to the line that he isnít taking advantage of now Ėheís only shooting 63% from the charity stripe on the year.



Part Three: Rebounding



Then
Oden is extremely quick off his feet and possesses a phenomenal second bounce after his initial vertical explosion. This helped him pull down 16 offensive rebounds in the three game stretch, many of which were converted directly into made baskets through tip-ins or ferocious put-back dunks. Mid-way through the first half in the second game, Oden was stuck on the left side of the rim as an errant shot ricocheted off the right side of the glass. Without hesitating, Oden reached over from damn near the other side of the paint and used his amazing wingspan to tip the ball up and into the basket, almost effortlessly. Itís these kinds of plays that automatically put Oden into an exclusive class of talent as far as his combination of physical attributes and instincts go.
- NBA Draft Stock Watch: Conference Tournament Week (Part Two) - 3/13/07

Defensively, the freshman dominated the game, just has he has every single time he has taken the floor this season. He did an excellent job boxing out and controlling the glass, often allowing teammates to corral his missed rebounds by boxing out two opposing offensive rebounders.
- Weekly NCAA Performers, 1/17/07, Part One Ė 1/17/07

Now
If there is one skill that Oden has had absolutely no trouble translating to the NBA game, it has been his rebounding. Odenís rebounding rate per-40 minutes on the offensive end is actually slightly higher than it was in college while his defensive rebounding is slightly lower. Regardless, his adjusted rebounding rate per 40-minutes of 13.5 at Ohio State is only slightly higher than the 13.1 he is posted in the NBA Ėa staggering number. The jump in competition doesnít appear to have affected his rebounding in the least.

Though heís still raw in many aspects of the game, Oden has all the qualities of an elite rebounder. His lower-body strength and added weights allows him to keep virtually any player on his back when boxing out, and his 7-4 wingspan (and 9-4 standing reach) lets him pull down missed shots well outside of his area. Oden can rebound such a large area that it is tough to gauge his ability to anticipate the course of the ball off the rim. Even if heís not always reading the shot, he doesnít have many problems cleaning the glass.

On the offensive end, Oden pulls down as many rebounds as almost any player in the NBA. Many of these rebounds result in easy put backs or trips to the line. According to Synergy Sports Technologyís Quantified Player Reports, Oden gets 21.5% of his scoring chances from offensive rebounds; something that will help the Trailblazers immensely as their team and Odenís offensive abilities begin to mature. Considering the fact that he is putting up these numbers with limited mobility and leaping ability, it is tough to envision Oden not leading the League in rebounding at some point in the near future.



Part Four: Defense



Then
His terrific leaping ability, combined with his timing, also helped him block 12 total shots, although you never got the sense that he was risking his position on defense of for rebounds by rotating over aimlessly. Numerous times throughout the weekend you could see strange things happening around Odenís territory in the paint that you normally donít expect from opposing players. Three or four consecutive pump fakes, traveling calls, awkward misses off the top of the glass in transition, and plenty of frustrated 3-point heaves as teams just abandoned the notion of slashing towards the paint altogether. These are things that donít show up in the box-score, but are a direct result of his presence as a tremendous intimidating force inside.

In terms of weaknesses, Oden could certainly have done a better job in man to man (as opposed to team) defense going up against the 6-7 Carl Landry. The crafty senior post man took him out to the perimeter on a couple of occasions and capitalized on Odenís reluctance to come out and guard him by draining a number of long mid-range jumpers. He still struggles when pulled out to defend the pick and roll, not sliding his feet well enough to hedge the screen and get back in a timely fashion. Landry also wasnít shy about establishing deep position inside and scoring on him with his terrific base and excellent touch, finishing with 24 points on 9-16 shooting. Oden relies excessively on his shot-blocking tools in this area, giving up too much space in letting smaller post players get right where they want to, which for a player of Landryís caliber (let alone a real NBA big man), is just not going to work.
- NBA Draft Stock Watch: Conference Tournament Week -3/13/07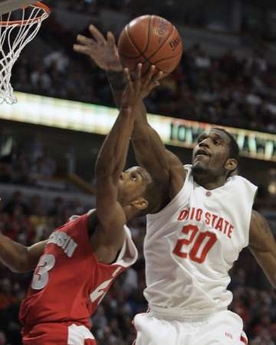 Reuters



Now
Outside of his ability to rebound, Oden has always been known for his ability to change the game with his defensive presence. He was often compared to Bill Russell based on the way he changed the game defensively during his single college season, and while heís still quite a shot blocker, his numbers this season have been significantly dampened by three factors: his knee, the increased level of competition from college, and his inability to stay out of foul trouble.

After changing shots on what seemed like every possession when he was manning the middle on the NCAA-level, Oden has struggled to find the same success in the NBA. In college, he was so explosive off the floor that he had no problem rotating late from the weak-side and still coming up with rejections, but with his knee obviously slowing him, he doesnít enjoy that luxury in the NBA. Heís still a presence, but heís had to develop better recognition and anticipation, two things that Nate McMillan continues to help him improve. It has been a tough adjustment, as heís blocking only 1.2 shots per game, and adjusting far less than he has in the past.

Oden has had a hard time recovering his lateral quickness, and it shows when heís making his rotations. The weight heís added doesnít help in this regard, and it will be interesting to see how his defense improves as his knee gets closer to full strength. Now that heís not able to jump into position at will, Oden has proven to be one of the most foul prone players in the NBA. He suffered from the same troubles at Ohio State at times, but his fouling rate has skyrocketed, landing him at the top of the League in fouls per 40-minutes at 6.6 Ėa number that is an obvious indicator of how hard it has been for Oden to stay on the floor.

Odenís fouls are coming from a number of areas, first heís having a tough time sliding his feet to keep up with some of the more physically imposing centers heís matched up with, often having to lunge at their shots when they create a path to the rim. Heís a little too physically aggressive and often too eager to attempt to block shots when defending the ball one-on-one. As his lateral quickness improves, it is likely that Oden will foul at a slightly slower rate, but he desperately needs to not let opponents take him out of the game with the ease they do. Odenís perfectionist nature often hurts him in this regard, since heís going to make a lot of mistakes and spend a lot of time on the bench, two things that he really hasnít had to worry about until now.



Outlook



Looking forward, there are lot of things that Oden does well that will help him continue to make an impact, especially his offensive rebounding and finishing ability, but his inability to stay on the floor, the health of his knee, and the development of his offensive game will ultimately dictate what kind of player he becomes down the road. Portland is a franchise that certainly can stand to wait for him to develop, since their roster wonít be peaking this season. Odenís improvements as a player will be an integral part of the teamís maturation, as heíll be the anchor of their frontcourt for years.

Oden was unable to participate in Saturday's Rookie All-Star Game due to soreness in his knee, another reminder of what could well be the limiting factor in his seemingly incredibly bright future.

[Read Full Article]

---
Oden, Cook, Landry at Champions Academy
May 27, 2007
While many might scoff at any discussion of Greg Odenís ball-handling skills, it was quite impressive to watch the 7-footer keep up with the guards in the 2-ball drills. Odenís hands improved dramatically throughout the course of the season, and we would have to say that this has continued throughout the spring. He also looked surprisingly fluid when dribbling on the move Ė it is hard to believe this is the same player who was lumbering so heavily upon his December return to the court. The skill-specific training Oden has been receiving appears to be working as well. While it is impossible to tell how well the improved touch on his uncontested post moves will translate over into the competitive setting, the ball was hitting the rim much more softly than we saw during the season. We were just starting to see the true impact of a fully healthy Greg Oden on the offensive end in the national championship game, and while far from a finished product, we believe the big man has a lot more to show as a scorer than what he was able to in his injury-plagued freshman season.

At the risk of sounding redundant, evaluating Oden up close and in person is quite the special experience. His size and physique leaves one a bit awestruck, and that is before he shakes your hand. Looking at the way a player like Dwight Howard has improved his physique in the last two years, Odenís potential impact on the game due to his physical and athletic gifts alone is out of this world.

[Read Full Article]

---
NCAA Tournament: NBA Draft Stock Watch (Nat'l Championship Game)
April 3, 2007
If you were in the camp that was waiting for Greg Oden to put in dominant performance on both ends of the floor for an entire game before anointing him as the next great center prospect, wait no longer. Oden's season has been full of ups and downs, but it turns out that he truly would save his best for last. In the ultimate twist, his breakout performance came against Florida, the same team he truly struggled with back in December.

Of course, Greg Oden isn't the same player he was back in December. He is back to shooting with his right hand, and this obviously made a difference tonight. He converted several moves on the low block that can only be described as professional caliber, while the ease with which he brushed formidable post defender Al Horford aside bordered on scary. If he wasn't able to simply bull his way to the basket for a layup or dunk, he used deft footwork and a touch looking softer by the shot to dominate the game offensively. Back in December, Oden struggled gaining position, lacked assertiveness, and didn't know how to deal with a double-team. Tonight he took command of the Ohio State offense, decisively and actively attacking the Florida frontcourt. It didn't take long before Billy Donovan's entire front line, certainly not lacking in depth, was in foul trouble.

And then there was the defensive end. Oden was a game-changing shot blocker the moment he stepped on the court in mid-December, but has now evolved into a dominant individual defender as well. The officials finally gave the heralded big man a break, letting a bit of the incidental contact go. Oden pounded Horford with his thick frame, altering or blocking nearly everything the junior attempted on the low block. Early in the second half, his presence was clearly hindering Florida's ability to get easy baskets near the rim. If not for the hot hands of Lee Humphrey and Taurean Green, this game could have turned out a lot differently.

As the game wore on, Oden certainly tired (as a certain Mr. Packer felt obligated to point out on regular intervals), and this made his offensive presence manageable for the Gator defense. He will need to improve his conditioning before he is ready to emerge as a superstar at the next level, and there are still ways to bother Oden when he is forced to roam out on the perimeter to defend. But in terms of awareness, activity level, comfort level and skill, Greg Oden is now improving by leaps and bounds on a game-by-game basis.

While the Buckeyes wouldn't end up cutting down the nets, this type of performance was certainly a personal victory for Greg Oden. The timid, raw, step-slow freshman is gone. In his place is a truly dominant force, absolutely everything that was advertised when he first broke onto the scene. Greg Oden has made his case for the #1 pick in the draft. Will Kevin Durant be able to answer the call?

[Read Full Article]

---
NCAA Tournament: NBA Draft Stock Watch (Final Four)-Stock Down/Neutral
April 1, 2007
Had Greg Oden managed to stay on the floor for more than 20 minutes, itís very likely that he would have ended up landing himself a spot in the Ďstock upí portion of this column. Once again, though, he couldnít, partially due to his own lack of experience and partially due to the trigger happy NCAA referees who seemingly have to blow their whistle any time any type of contact whatsoever is made in the low post. Oden committed two foulsóa moving screen and a chargeóin the first 2 Ĺ minutes of the game, forcing him to sit for the next 17 Ĺ minutes until the second half kicked off. As they have all tournament long, though, his teammates did just fine without him on the floor, actually increasing their lead and not looking like they had lost anything without his services.

When the 2nd half finally kicked off and his exile period was completed, Oden took a while to get back in the rhythm of the game. He looked very tentative to start off and just not in sync at all with the rest of his team, particularly with the work he did within the team defensive concept. He blew some rotations, did an average job on the glass, and was caught out of position a number of times to give Georgetown two easy points.

He got himself together pretty quickly, though, partially thanks to the terrific job his point guards Mike Conley Jr. and Jamar Butler did feeding him in the post. Oden established deep position inside on Roy Hibbert on a number of occasions, and did a good job using his strength and athleticism to finish strong around the basket. He grabbed some good offensive rebounds to help collect easy points, and as the game progressed began to show the more advanced side of his offense as well.

It started by spinning into a difficult 10-foot jump-hook shot with his right hand, and then continued with a super quick and aggressive drop-step move he converted off the glass. He was called for his 3rd foul of the game with about 12 minutes to go in the gameóa very questionable foul on Roy Hibbertóbut continued to play extremely well regardless. With Hibbert in foul trouble himself, Oden was able to establish deep position inside the paint, and showed excellent patience and poise making a basket from a tough angle.

The most impressive move he had tonight actually came on a miss, taking off from not that far from the free throw line and nearly converting an extremely long dunk attempt thanks to his incredible length and explosiveness.

On the other end, Hibbert was playing extremely well himself, making this a matchup of skilled future NBA lottery pick 7-footers that we rarely if ever get to take in at the collegiate level. Hibbert established great position of his own on the offensive end, and then really bothered Oden at times with his length and absolutely terrific timing in his man to man defense. Oden was forced to commit his 4th foul of the game with three minutes to go when he was unable to rotate laterally quick enough on a seemingly simple play, a problem weíve seen him struggle with repeatedly this season.

He finished off the game strong, though, hitting a 10-foot jump-shot, grabbing a strong rebound out of his area, and then coming out of nowhere to erase a shot by a Georgetown guard and help ice the game.

All in all this was a solid outing by Oden, despite the foul trouble, and most importantly, his team won. He showed the good and the bad parts of his game on numerous occasions, and is still the same phenomenal long-term prospect heís always been.

[Read Full Article]

---
NCAA Tournament: NBA Draft Stock Watch (Elite Eight, Saturday games)
March 24, 2007
Greg Oden played a critical role in Ohio Stateís Elite Eight victory over Memphis, showing off his signature prowess on the boards and with interior defense, but also looking a bit more formidable in the post on the offensive end than weíre used to seeing, showing off a nice touch and a decent array of moves.

Oden got off to a good start on the game, as Ohio State went to him in the post on their very first possession, where he caught the ball on the right block with his back to the basket. Oden spun into the lane and put up a nice left-handed lay-up, which he finished with a soft touch on the rim. Oden didnít get much else going in the first half, aside from one power jam on a dropstep where he established excellent position down low in the post. Oden got two fouls pretty early in the game, so Thad Matta rested him for about 10 minutes in the first half, to ensure that he had a chance to make a greater impact in the second half, which he did.

Oden scored 12 points in the second half, showing off a few low-post moves, including a drop-step once again, and a pretty right-handed hook shot from about five feet out. He did a good job establishing position low, where he finished with powerful jams, spinning lay-ups, and he also drew a couple of fouls. While Oden still has a long ways to go in further refining his back-to-the-basket arsenal, this was a very strong performance for a player who usually relies on his brute strength and size, while often looking mechanical and even uncomfortable with finesse moves in the post.

Defensively, Oden did a good job anchoring Ohio Stateís defense, contesting and cutters or drivers that tried to come in the lane, though he only netted one official block on the game. The only area where Oden showed some problems on defense was when he had to step out on the perimeter, which has been an ongoing concern with his defense. While itís not something that will really hold him back from becoming an excellent player, one area that Oden lacks in as a shot-blocker is the ability to step up on the perimeter and go step for step with ball-handlers as they drive towards the hoop. He simply doesnít have the quickness to consistently defend guards going to the hoop, though with his length he is still able to occasionally contest shots from behind in this manner.

Oden was very impressive on the boards as well, though thatís kind of expected given his huge advantage in size over the opposition. Still, Joey Dorsey is a very strong player, but Oden had no problem establishing position around the hoop and tracking down rebounds on both ends of the court. He frequently asserted his size and strength in a crowd to come up with rebounds when there were multiple Memphis players around him.

While not a game that will lock him in as the #1 pick in next yearís draft, this was an impressive outing for Oden, and given the stage and importance of the game, one of his better games as a collegiate. Oden would do his draft stock well to have complete performances like this in the remaining games of the tournament, specifically by consistently showing versatility, touch, and assertiveness in the post on the offensive end.

[Read Full Article]

---
NCAA Tournament: Stock Watch (round of 32, Saturday)--Down/Neutral
March 18, 2007
Xavier head coach Sean Miller did a great job exposing Greg Odenís biggest weakness at the college levelóhis perimeter defenseósomething weíve spoken of at length over the course of this season, but at the end of the day, itís not really clear how much of an impact that should have on NBA scouts trying to assess his pro potential. Oden was matched up with the 6-6 Justin Cage and surrendered 23 points (7-7 FG) to him, being unable and unwilling to go out and defend him out on the perimeter.

In the first half, Oden struggled on the offensive end as well, bricking a number of easy shots around the basket and looking extremely mechanical trying to create shots for himself in the post. He could not create a fluid move for himself, and turned the ball over a number of times after being stripped or called for an offensive foul after lowering his shoulder into the defender. Oden is a lot more comfortable going to his left shoulder in the post, and Xavier was very much aware of that and did their best to force him to his right. He started the game 0/4 and only got his first points with 9:30 to go, scoring on a simple jump-hook with his right hand. His highlight on this end of the floor came in the 2nd half where he received the ball on a cut to the basket in the mid-post and did a tremendous job finishing the play backwards thanks to his strength while being fouled simultaneously.

When allowed to do what he does best, which is man the anchor of Ohio Stateís defense from the post, he did a fine job, altering numerous shots despite only blocking 2 officially. Foul trouble got the best of him eventually, though, and he fouled out after decking Justin Cage to the ground with a hockey check to send him to the free throw line with 11 seconds to go. Luckily for him, Ron Lewis was able to tie the game on a deep three and Mike Conley took over in overtime to secure the win, because this surely wasnít the way Oden wanted to end his college career.

[Read Full Article]

---
NCAA Tournament: Stock Watch (round of 64, Thursday)--Down/Neutral
March 15, 2007
Greg Oden and his Ohio State teammates had little trouble disposing of Central Connecticut State in the Buckeyeís first round game. For the future lottery pick it was business as usual down low in the post, recording a double-double, and scaring away many potential would be drivers.

In typical fashion, Oden scored with an array of thunderous dunks, powerful moves to the basket, and following his shots for second chance points. As has been the case so many times this season though, the big manís scoring was subtle (if anything Oden does can be called subtle), overshadowed by the fantastic outside shooting of his teammates. He picked up a bulk of his points just by being smart; following his shots and drawing fouls on the second chance shots. With the use of his right hand now available to him, Oden had a good day at the line.

Odenís defensive numbers may not look very impressive in the box score, just one block, but as always his mere presence affected the play of his opponents. Half of the shots taken by the Blue Devils were from beyond the arc, and only 8 of their 53 field goal attempts came from inside the paint, giving Oden very few chances to alter shots.

This performance will have no affect on where Oden will be drafted in the future. Whenever he does decide to turn pro he will be the number 1 or 2 pick, depending on Kevin Durant. This was a game that he was supposed to put up solid numbers in, and he did just that. With a second round match up coming up Saturday against either Xavier or BYU, two teams with a little more size, Oden will have a chance to show off his stuff against some bigger bodies.

[Read Full Article]

---
NBA Draft Stock Watch: Conference Tournament Week (Part Two)
March 13, 2007
Helping his team to a Big Ten tournament championship in a mostly extremely impressive three day stretch, Greg Oden showed all of his strengths and weaknesses as an NBA draft prospect. And while he didnít dominate in the last game against Wisconsin, it was easy to notice the progress heís been making over the past few months.

At the collegiate level, Oden is a man amongst boys, plain and simple. He has an NBA body, outstanding length, and the type of athletic ability that most 7-footers can only dream of. This was felt throughout the tournament in the work he did defensively in the paint and on the glass, where he dominated in certain stretches and really changed the game for his team.

Oden is extremely quick off his feet and possesses a phenomenal second bounce after his initial vertical explosion. This helped him pull down 16 offensive rebounds in the three game stretch, many of which were converted directly into made baskets through tip-ins or ferocious put-back dunks. He has outstanding touch on his put-back attempts, just being able to stick his hand in gracefully in a perfectly timed maneuver to tap in a loose ball into the basket, sometimes using the glass. Although ESPN and other highlight reel compilers got plenty of mileage out of the thunderous put-back he had coming out of absolute nowhere against Purdue late in the 2nd half, one particular play he made stood out even more above the rest in this tournament. Mid-way through the first half in the second game, Oden was stuck on the left side of the rim as an errant shot ricocheted off the right side of the glass. Without hesitating, Oden reached over from damn near the other side of the paint and used his amazing wingspan to tip the ball up and into the basket, almost effortlessly. Itís these kinds of plays that automatically put Oden into an exclusive class of talent as far as his combination of physical attributes and instincts go.

His terrific leaping ability, combined with his timing, also helped him block 12 total shots, although you never got the sense that he was risking his position on defense of for rebounds by rotating over aimlessly. Numerous times throughout the weekend you could see strange things happening around Odenís territory in the paint that you normally donít expect from opposing players. Three or four consecutive pump fakes, traveling calls, awkward misses off the top of the glass in transition, and plenty of frustrated 3-point heaves as teams just abandoned the notion of slashing towards the paint altogether. These are things that donít show up in the box-score, but are a direct result of his presence as a tremendous intimidating force inside. As a defensive rebounder, he looked very active as well, going over the top of his man and often out his area to corral rebounds constantly with his big and very soft hands.

Offensively, Oden showed some nice things, particularly in the quarterfinals against Michigan, where he scored 22 points. He converted his jump-hooks at a very good rate, often throwing them high off the glass with his right hand using a very nice touch, sometimes from as far as 6-8 feet out. He also showed a devastating drop-step move, which put him point blank right at the rim in a situation that he will always convert at 100%. On another occasion, against Purdue, again setting up from the right baseline, he faked a move to his left shoulder and then spun quickly to his right towards the middle of the paint into a left-handed jump-hook from very close range, which he converted. The whole sequence couldnít have taken more than a second at most to execute. These are exactly the kind of advanced moves that get you incredibly excited about his upside on this end of the floor.

In terms of weaknesses, Oden could certainly have done a better job in man to man (as opposed to team) defense going up against the 6-7 Carl Landry. The crafty senior post man took him out to the perimeter on a couple of occasions and capitalized on Odenís reluctance to come out and guard him by draining a number of long mid-range jumpers. He still struggles when pulled out to defend the pick and roll, not sliding his feet well enough to hedge the screen and get back in a timely fashion. Landry also wasnít shy about establishing deep position inside and scoring on him with his terrific base and excellent touch, finishing with 24 points on 9-16 shooting. Oden relies excessively on his shot-blocking tools in this area, giving up too much space in letting smaller post players get right where they want to, which for a player of Landryís caliber (let alone a real NBA big man), is just not going to work. In the Wisconsin game, he was almost completely neutralized in the first half, going scoreless after being saddled with foul problems before recovering nicely in the decisive second half.

Offensively, while he showed some great flashes, there are still too many long stretches in which he is almost completely silent, not calling for the ball despite his obvious natural advantages over the weak frontcourts the Big Ten has to offer, and struggling to create offense for himself on a consistent basis when he does get the ball. He had quite a few awkward and mechanical moves with his back to the basket where he just bulldozed his smaller and weaker man over using his brute strength to somehow throw the ball in the rim or get to the free throw line, but itís hard to see these types of moves translating over effectively to the NBA. He still needs to work on his counters to expand his arsenal of tricks with which he can finish with, but at age 18, heís not doing poorly for himself at this point.

All in all, Oden is proving that the tremendous amount of hype he had coming out of high school was not unfounded, although heís not the devastating offensive force that fellow #1 pick candidate Kevin Durant is at this point in his career. Itís fairly clear though that with his amazing physical attributes and outstanding intangibles, he will develop into a fantastic NBA player down the road, although just how good is still up for discussion.

[Read Full Article]

---
DX Individual Awards: The Big Ten
February 26, 2007


Defensive Player of the Year:

Greg Oden, 7-1, Center, Ohio State

Could it be anybody else?

[Read Full Article]

---
Durant Eclipses Oden on DraftExpress Mock Draft
February 3, 2007
Oden has been solid, but unspectacular so far at Ohio State. Earlier on it was reasonable to cut him some slack based on the fact that he had surgery over eight months ago, but lately it appears that his wrist is very close to 100%. Heís still shooting free throws with his left hand, but that appears to be by choice because of the success heís had doing so. With his right hand, Oden has looked fine taking the ball strong to the basket and shooting jump-hook shots, leading us to believe that heís healthy or at least very close to it. Many of the weaknesses weíre discovering in him at the high-major collegiate level donít have anything to do with his wrist problems anyway.

Whatís been most concerning so far is the almost complete lack of fluidity that Oden is displaying on the offensive end. Heís very mechanical in the post, being highly predictable with his moves and not looking flexible enough to react to what defenses are throwing at him and counter with any kind of polish. Looking at the way he is scoring his points, itís hard to get any kind of feeling that what heís doing at the college level will fly in the NBA in the least bit, as his entire game is based off overpowering shorter, weaker and less athletic opponents and scoring almost exclusively within 5 feet of the hoop. At age 18, he still has plenty of room to grow as a player, meaning heíll likely learn how to use his body better in the post, get better at taking the ball up strong to the basket, and improve his footwork-- but there are certain traits in an athlete that are just innate, and we arenít seeing them at all from him so far. Players who are somewhat stiff in their movements, like a David Robinson or a Dwight Howard for example, donít become more fluid as they get older. And while Oden is certainly an excellent athlete, he's not as freakishly explosive as Howard to naturally overcome his shortcomings there. Does that mean that Oden is not going to end up becoming a phenomenal NBA player? Absolutely not. That just means that itís not ridiculous to suggest that his overall upside might be less than that of Kevin Durant.

[Read Full Article]

---
Weekly NCAA Performers, 1/17/07, Part One
January 17, 2007
Greg Oden wrote yet another chapter in what will surely go down as a memorable freshman season, putting on an absolutely marvelous performance in the Buckeyesí narrow win over Tennessee this past Saturday. His performance gave draft fans and scouts alike plenty to get excited about, as the gentle giant was finally able to gain some use of his right hand on the offensive end, which not coincidentally resulted in his career high in points.

Against the Volunteers, Oden was downright dominant from the tip, gaining incredible post position down on the low blocks that allowed him to simply turn and dunk the ball. His ability to gain such position in the paint is unmatched at the college level, and is comparable to that of maybe only Shaquille OíNeal and Yao Ming in the NBA. He used his abnormal lower body strength to muscle helpless defenders under the rim, resulting in a plethora of easy finishes. When forced farther out on the blocks, Greg showed off a quick jump hook with his right hand for the first time this season, which prior to this game had been non-existent due to his still recovering wrist not being up to par. He attempted unsuccessfully to make a few moves going towards his left hand, but it was pleasing to see a player with such brute force at least attempt to use his opposite hand. The Indianapolis native was still relegated to shooting free throws with his left however, as his right wrist has not gained enough strength at the moment to handle the follow through motion on free throws.

Also noteworthy was the passing ability that Oden showed out of the post. He routinely had no problem finding cutters out of the post, resulting in his 4 assists for the game. More importantly however was the big manís ability to identify a double team coming, and make the proper pass before being trapped. NBA teams surely must have salivated when he constantly made the proper skip passes to his wide open Buckeye teammates on the perimeter, as it showed how he will react to the double teams that he will face regularly in the not-so-distant future.

Defensively, the freshman dominated the game, just has he has every single time he has taken the floor this season. He did an excellent job boxing out and controlling the glass, often allowing teammates to corral his missed rebounds by boxing out two opposing offensive rebounders. Oden did a great job not giving up position down low, and as usual, completely changed the game with his shot blocking prowess. While only blocking 3 shots, he altered dozens more and more impressively was able to remain out of foul trouble throughout.

While Odenís upside is certainly something to marvel at, he is still far from a finished product. His post moves surely could use some refinement, as he is getting by almost solely on power and athleticism at the moment. Greg also disappeared a bit on the offensive end against Tennessee as the game went on, going scoreless for the gameís final 9 minutes, although that was partially due to his lack of touches on the offensive end.

The glimpses of dominance that we saw on Saturday are a small fraction of how incredible Oden has the potential to become. As the season goes on and his right wrist continues to heal, performances like this will be a norm, erasing doubts of Kevin Durant possibly overthrowing him for the top pick in the draft. Gregís combination of size, skill, character, and strength have made him the obvious pick for top pick in the draft for years now, and his memorable performance vs. the Vols did nothing but solidify that even more.

[Read Full Article]

---
NCAA Weekly Performers -- 1/10/2007, Part Two
January 11, 2007
For people who actually watched him play in high school, rather than blindly thinking heís already an offensive superstar due to the tremendous amount of hype he received coming in to college, it isnít actually a huge surprise to see Oden struggling offensively the way he has as of late.

Beyond his injured wrist, which has further hampered his already lackluster offensive ability, Oden just isnít a very polished player at this point in his career. He looks very mechanical going to work with his back to the basket, and doesnít really know how to use his massive frame to carve out space and get his shot off effectively. Being able to go up stronger to finish at the hoop using his strength and vertical explosiveness will help him in the short-term once he gets his right hand back, but itís probably going to be 2-3 years until Oden starts to truly round out a capable offensive repertoire. At this point in his development, the game still moves a little too fast for him and heís struggled thus far to establish a real role for himself within Ohio Stateís perimeter oriented offense. Things like a mid-range jumper or any kind of real ball-handling skills are just too much to ask for at this point.

For the record, none of this should be considered substantial criticism regarding the type of prospect Oden is, but rather towards the unrealistic expectations that were and still are being placed on him. He was billed as a player who would step out on the college floor and dominate from day one, and even if healthy, that was never going to be the case on the offensive end. At age 18, heís still a long ways away from being a capable first or second option on a good NCAA team, but that doesnít mean that thatís not going to come and in a big way as he continues to develop over the next few seasons, which is why heís still holding firmly onto the #1 spot in our 2007 mock draft.

On the other end of the floor, Oden has looked terrific thus far and can only be expected to get better as his chemistry with his teammates improves. Heís a massive presence in the post for Ohio State, and his outstanding bulk and quickness makes him a game-changing type defender and shot-blocker for the Buckeyes. His lateral movement looks excellent and he has an uncanny knack for picking the right angles and elevating off the floor with perfect timing to block plenty of shots and alter countless others. Unlike many young, athletic shot-blockers, Oden is extremely patient and will rarely hack wildly at a defender entering the paint. On top of that, heís showing phenomenal potential as a rebounder, going out of his area on a regular basis and showing great intelligence and hustle in boxing out and coming down with rebounds. Itís truly a joy to watch a player like Oden find his way in college basketball, and itís going to be even more fun to track his progress over the next three months or so.

[Read Full Article]

---
Weekly Top Performers: Holiday Edition
December 20, 2006
Greg Oden has all of the tools you look for in an NBA big man. He had the reputation of being a raw offensive player entering college, but he has started to dispelled that notion early on in his college career. His footwork in the post is very polished for an 18 year old, and he doesnít try to force his way through defenders. Oden also possesses the ability to hit the hook shot from the low block. Until he starts shooting his free throws right handed, we wonít know how far along he is on the offensive end, but he made a lot of progress with his shooting stroke his senior year in high school.

One thing many people who saw Oden play in high school questioned if he had the mentality of a role player, or the killer instinct of a star. He played with a lot of talent throughout his high school career, and sometimes seemed satisfied deferring to his teammates. In college, it appears he is developing the killer instinct necessary to be a star. He finishes inside with authority, and plays with a nice combination of fire and emotion.

For the rest of the season, it will be more of the same for Oden until he is selected with one of the top 2 picks in the NBA draft. If he can avoid injury and get his right wrist back to 100%, he will give Ohio State a great chance of taking the national championship.

[Read Full Article]

---
What If? 2006 High School Class Boasts Several One and Done Candidates
June 21, 2006
There isnít much that left to be said about Greg Oden. He would have been the number one pick in this yearís draft, and maybe even the year before that as a junior, had he been allowed to enter. His sheer size and power around the basket is sure to evoke memories of days when players like David Robinson, Hakeem Olajuwon, and Patrick Ewing were around to challenge Shaquille OíNealís dominance in the paint. Where most big men are weak and awkward at this stage, Oden is graceful and overpowering. Known at this time as a demoralizing shot blocker, Oden has worked to add other facets of his game over the past year. He is progressing offensively, and has developed a bit of a mean streak. Rivals.com recruiting analyst Jerry Meyer likes the way Odenís on-court demeanor is progressing ďHe is starting to play with more emotion and fire. A lot of players play to show how good they are. Oden plays to win the game.Ē Oden was recently sidelined for what looks like a lengthy period of time due to a wrist injury, and that will be the only thing capable of slowing him down over the coming year. Next June, he will go number one in the draft.

[Read Full Article]

---
High School Allstar Games Recap: Player Interviews
April 25, 2006
DraftExpress: Youíve had a magical high school career, and this is presumably your final game. Are you glad that things are finally over?

Oden: This is not going to be my last game. We have Indiana all-stars and then we have another all star game, so this is not my last.

DraftExpress: What are you looking to improve upon most by the time youíre at Ohio State?

Oden: Iím just looking to get stronger mostly. I want to improve my footwork and improve my game and my shot.

DraftExpress: Now do you have a target weight youíd like to reach?

Oden: No, but I would like to be bigger. I know that. I donít really have a target one though.

DraftExpress: With the NBA putting its age limit in, that obviously took a ton of pressure off of you in terms of what decision youíd have to make for next year. Are you happy that the NBA put the age limit in, considering that you donít really have to think about the NBA for now and answer countless questions about it?

Oden: Not really. The questions werenít about it. I didnít really get them as much as people think. The ruleÖitís there. Thereís nothing I can really do about it. It wasnít really about it. I knew I always wanted to go to college, so there really wasnít anything to it.

DraftExpress: What do feel that the ďThad FiveĒ will be able to accomplish next year at Ohio State?

Oden: I donít know. Weíve gotta get there first. I know me, Mike, and DaequanÖwe click on the court. And David, playing with him these past two days, we click with him. Next year, weíve just gotta click with all of the other players, because those are the guys who weíre going to be following and playing after.

DraftExpress: Can you tell me a little bit about your wrist injury? I know itís been nagging you for a few weeks now. How severe is it?

Oden: Itís just a sprained wrist. I sprained it the first game of sectionals and never really had a chance to let it rest.

DraftExpress: Ok Greg, thanks a lot. Best of luck in the game.

Oden: Thank you very much.

[Read Full Article]

---
Roundball Classic: Game Recap
April 12, 2006
Oden picked up where he left off in the practice sessions with his outstanding play, garnering himself Co-MVP honors along with Daequan Cook. He took over the game on both ends of the floor, and left little doubt in anyoneís mind that he would have been the number one pick had he been allowed to enter the draft this year.

Offensively, Greg brought out virtually every post move he has. He seemingly has been looking to show off his improved left hand, going to his hook shot many times when receiving the ball down low. Oden did a great job of establishing position down low, as well as passing the ball out of the post and re-establishing position on the blocks. What was surprising was that Greg actually had a shot blocked by Alex Stephenson, but he got his own rebound and responded with a reverse dunk that he drew a foul on.

On the defensive side, he was able to alter everything that came in the paint, and easily had more then the 2 blocks he was credited with. Oden plays so strong, not giving up post position at all and keeping his man firmly boxed out when rebounding the ball. He used his great wingspan and timing to stay out of foul trouble, while totally changing the game defensively. It was just another example of how much of a truly special defensive force Oden has the potential to become.

Draft fans obviously have been hearing Greg Odenís name for years now, and will all be watching him next year at Ohio State. He is the sure fire number one pick of the 2007 Draft right now, and would really have to disappoint at Ohio State in order not to be picked that high. With the work ethic that Greg has however, itís very hard to see that happening, and many feel that weíll all be shocked when we see the type of impact that the Indianapolis native has on the Buckeyes next season.

[Read Full Article]

---
Roundball Classic: Practice Reports
April 11, 2006
Oden made it clear that he was going to make up for his mediocre performance at the McDonaldís game, coming out seemingly with a chip off his shoulder and looking to destroy any opposing player that he went up against. He was totally dominant on both ends of the floor, blocking or altering every shot taken in the lane on the defensive end, while showing an improved offensive game on the other end of the floor. Oden brought out his full array of post moves Friday, including a remarkably quick spin move to the baseline and even a left handed hook shot out of the post. He established himself in the first day of practices as a man amongst boys, a trend that would continue throughout the entire weekend.

[Read Full Article]

---
2006 McDonald's All-American Game, individual player breakdown
March 30, 2006
Though an injured wrist limited his play, Oden displayed the type of flashes of dominance that make him the clear cut number 1 prospect of the class of 2006 right now. Right away he put his shot blocking ability to work, sending back a 10 foot shot from Spencer Hawes that seemed to be on the way to the bottom of the net. One thing that separates Greg Oden from most players his age is his understanding of the game, often using his high basketball IQ to recognize open teammates and showing flashes of his superior passing ability. On the offensive end, Oden didnít go to his patented drop step in the post, but he did show the ability to make his free throws when put on the line. This will be very important for him as his basketball career progresses and the style of play becomes more physical. Oden also decided to show off his outstanding athleticism while going up for a dunk. He rose above his teammate Gerald Henderson (whoĎs also a great leaper) and caught an alley-oop pass, guiding it into the hoop as the entire crowd in San Deigo watched in awe.

As an NBA prospect, Greg Oden offers everything that you can ask for. His combination of athleticism and size/strength combined with his great understanding of the game make Oden the type of player that immediately draws comparisons to NBA greats. If there was no age limit, there would be no question that Greg would be the first player selected in the 2006 draft. Instead, Oden will have monster expectations to try and live up to at Ohio State, and the lucky winner of the 2007 draft lottery will have a once in a generation center to build their team around.

[Read Full Article]

---
Greg Oden: Backing up the Hype
August 29, 2005
Quiet but loud. Humble but confident. Relaxed but aggressive. These are all things that come to mind when talking about the top recruit in the land, Lawrence North's Greg Oden. Quite possibly the most prized Ohio State basketball recruit in the school's history, Oden is a player who lets his game do all of the talking for him and is quite possibly the poised 17 year old that I have ever been around in my life.

ďDo you mind if I please change my shirt before we do our interview sir?Ē Oden asks when I, like countless other reporters, put in my interview request with him at The Spiece Pump N Run in early May. Since that time, the future Buckeye has won virtually every AAU tournament his team entered, dominated the Youth Development Festival in San Diego, and had a very impressive performance at the ABCD camp in Teaneck, New Jersey.

Now that youíve heard a bit about this kidís character, itís time we tell you a little about his game. His combination of size (legit 7í0), strength (solid 240 lbs.) and athleticism (impressive leaping ability and lateral quickness) are unmatched by any 7 footer not wearing an NBA jersey. Greg exhibits excellent quickness and timing in his attempts to block shots, combined with long arms which allow him to alter shot of virtually every opposing player that comes into the paint. His strength enables him to get low post position almost every time on the blocks at the high school level, often resulting in a slam dunk, lay-up, or free throw attempt. The Indianapolis native has a frame which could easily add another 30 or so pounds, boasting a well proportioned body and broad shoulders. Itís safe to say that the Ohio State strength and conditioning coaches will have fun with their star recruit.

As soon as he puts on an Ohio State jersey, Oden will become an immediate defensive force. His aforementioned long arms, athleticism, and great timing have allowed him to become arguably the top shot blocker on the prep level. Another impressive feat about Greg is that he actually boxes out, unlike many top big men who just use their athleticism to rebound the basketball. Because of this, itís not hard to imagine pulling down a consistent 8-10 rebounds or so per game as a freshman. He uses his strength very well, forcing opposing players to get post position well outside of the paint. All said, there is not a whole lot more you can ask for of a player on the defensive end going into his senior year of high school.

While his offensive game is nowhere near as advanced as his defensive game, Greg has really shown some flashes of being a dominant offensive force. He has a consistent jump hook with his right hand, and even shows off a hook with his left from time to time. Oden uses the strength and athleticism that we keep mentioning to overpower opponents. If he gets the ball within the key, you can count on a power dribble and a dunk attempt, which usually results in an earth rattling slam or two free throw attempts. His most impressive move, which he normally uses only once or so each game is a ridiculously quick baseline spin move which he converts into an emphatic dunk each and every time. He displays breath taking quickness and athleticism on this move, and always draws plenty of ďoohsĒ and ďahhsĒ every time he brings it out. I remain confident that with the excellent coaching he will receive at Ohio State, he will develop into a force to be reckoned with the on the offensive end by the time itís all said and done.

While Oden may have countless strengths, he does have a few weaknesses. First of all, many ask ďHow can this guy be the best player in the country and only score 15 or so points per game?Ē Well, the answer to that is very simple: He is too unselfish. I once remember reading an article where his high school coach threatened to bench him this past season unless he took at least 15 shots per game. Iíve noticed this as well, as sometimes he is just way too passive and doesnít seem to realize that he has the ability to dominate the game on both ends of the floor. When Oden decides that he wants to score, he absolutely dominates. Itís just a matter of forcing it into his head that he cannot be stopped. Although Greg has good lateral quickness for guarding opposing centers, I often question his ability to guard a smaller, face the basket player. Iím not sure if that problem will ever arise, but it is just something that I have often wondered while watching him play.

The main weakness that everyone loves to talk about with Greg is his offensive game. Iím not so sold on this necessarily being a weakness; heís just not as developed of a scorer as his game on the other end of the floor. He shows all of the moves, but doesnít seem to use them on a consistent enough basis. The one thing that I do feel is true a weakness of Oden is his shooting. His form on his free throws really needs some work and in the 15 or so games that I have seen him play, he has probably taken just 5 or so face-up jumpers. Personally, I donít feel that you really need your center to shoot face-up jumpers from 16 feet away, but it would definitely take his game to another level if he was able to develop his shooting skills.

In Las Vegas, Oden was an absolute force to be dealt with. He seemed to have a fire in him that I had never seen before. The top player in the land was leaving it all on the floor in what would be the last out of state AAU tournament of his high school career. Greg led his Spiece Indy Heat team to a 10-0 record and the Reebok Big Time championship. His statistics might be a bit deceiving, but you must keep in mind that Spiece blew out the majority of their opponents by at least 20 points and Oden played limited minutes. Combine that with the fact that Spiece boasts a starting five of all high-major recruits (Ohio State recruits Oden, Mike Conley Jr., and Daequan Cook along with class of 2007 studs Eric Gordon and Aaron Pogue), and one can understand that there are limited shots to go around.

Here is a game by game statistical breakdown of Odenís performance in Vegas:



Spiece Indy Heat 69, D-1 Greyhounds 67


Oden- 10 points, 4/7 FG, 2/4 FT, 12 rebounds, 1 assist, 2 turnovers, 2 blocks in 24 minutes

In a matchup vs O.J. Mayo, Bill Walker, and co., Greg showed why he can be referred to as the top player in the country while only scoring 10 points in a game. He skied for rebounds, was unstoppable when he had the ball in his hands, and most importantly, was an amazing presence on the defensive end. Oden blocked a few shots, and altered countless attempts by Mayo and Walker. He let his physical presence be known on a hard, but not dirty foul on a Bill Walker dunk attempt that sent Walker crashing to the floor and resulted in Oden picking up an intentional foul. Mayo then got in Odenís face, with Oden keeping his cool and just backing away. Overall, a very solid performance, especially on the defensive end.



Spiece Indy Heat 77, New York Panthers 63


Oden- 8 points, 3/5 FG, 2/4 FT, 2 rebounds, 1 assist, 2 blocked shots, 1 steal, in 18 minutes

In a matchup with fellow top big man Derrick Caracter, Oden struggled a bit and Spiece didnít really seem to look for him too much in the post. Spiece had a considerable lead for a large part of the game and didnít involve their gentle giant in their offensive game plan too much. Defensively, he did an average job on Caracter and Lance Thomas, but didnít really stand out in any facet of the game on this morning.



Spiece Indy Heat 81, Southern California All-Stars 57


Oden- 12 points, 6/10 FG, 6 rebounds, 3 assists, 3 blocks, 1 steal in 21 minutes

In yet another big time matchup, Oden went up against consensus top 5 class of 2007 member Kevin Love. Fellow Ohio State recruits Mike Conley and Daequan Cook looked to get Oden the ball a bit more, and he did a great job of forcing the So-Cal defense to collapse on him once he received it. Statistically, his numbers may not stand out to you but he did absolutely all you can ask for the number of touches he was given.



Spiece Indy Heat 87, Eastern Washington Elite Red 59


Oden- 8 points, 4/6 FG, 4 rebounds, 2 assists, 2 blocks, 1 steal in 11 minutes



Spiece Indy Heat 69, Philadelphia Crusaders 56


Oden- 19 points, 7/10 FG, 5/6 FT, 9 rebounds, 4 blocked shots, 1 steal in 20 minutes

While playing limited minutes in yet another game, Oden was absolutely dominant for the time he was out there. Not only was his force felt on the defensive end, but he showed off a really nice jump hook with both left and right hands and displayed his usual explosiveness under the basket with thunderous rim rattling dunks that sent the crowd into hysterics. The team from Philly kept the game relatively close, led by Washington State recruit Chris Matthewsí 9 three pointers, but Oden and Eric Gordon proved to be too much for the prep team to handle.



Spiece Indy Heat 63, Spiece Gym Rats Central 53


Oden- 9 points, 2/7 FG, 5/6 FT, 7 rebounds, 1 assist, 1 TO, 2 blocks, 1 steal in 14 minutes



Spiece Indy Heat 71, Texas Bluechips 41


Oden- 14 points, 6/6 FG, 2/3 FT, 3 rebounds, 1 TO, 2 blocked shots, in 15 minutes



Spiece Indy Heat 85, Michigan Hurricanes 46


Oden- 19 points, 8/9 FG, 3/4 FT, 9 rebounds, 3 assists, 1 turnover, 2 blocks in 20 minutes

Matched up against 7í0 Tom Herzog (offers from Michigan, Michigan State, Illinois, and Notre Dame), Oden responded to the challenge by taking control of the game on both ends of the floor yet again. He out muscled the frail Herzog to the tune of 4 power dunks by my count, and showed off the quick spin move that I mentioned earlier in this piece. Even though he played limited minutes, he enabled his team to go on a gigantic run through collapsing the defense and moving the ball very well. Although Herzog did make a couple of nice hooks on Greg, the Indiana native was still able to change the game defensively through his altering of shots and great rebounding against the athletic Hurricane team.

Averages through Final Four
Oden- 12.4 points per game, 6.5 rebounds per game, 2 assists per game, 2.3 blocks per game, in 18.1 minutes per game, while attempting 7.4 shots per game, shooting 67.8% FG, and 70.4 % FT.

Fans must keep in mind that Oden produces this much while playing less then half of every game because of his teams blowouts. While his scoring average is low, one must realize that he is only taking 7 shots a game. It will be scary when Mr. Oden decides he wants to take over.



Semi-final game- Spiece Indy Heat 71, Southern California All-Stars 47


Oden- 18 points, 10 rebounds, 5 blocks in 18 minutes

With star post Kevin Love on the sidelines with a knee injury, Oden was able to take control of this game from the get go. He really showed a lot on the offensive end, including a left handed jump hook, the quick spin move yet again, and 5 explosive dunks. It was the same effort as always from Greg on the defensive end, as his presence totally changed the game. He has improved more and more each game as the tournament went on and did not stop in the finals.



Finals- Spiece Indy Heat 73, D-1 Greyhounds 67


Oden- 18 points, 13 rebounds, 8 blocks in 24 minutes

In yet his most impressive performance of the tournament, Oden completely dominated the final game. He played the game with a fire that I had never seen in him before, emphatically yelling after monster dunks and using his strength to outmuscle every single player on the floor. Looking back at my notes, I have ďtoo big and strongĒ written down about five times, which should really tell you how much he controlled the game. Greg got into it yet again with Bill Walker, resulting in a technical foul for both players. He showed off the great spin move, as well as the left hook today. On the other end, he blocked just about every shot that came through there and made the D-1 players think twice about coming into the lane when he was in the game. Needless to say, I walked away from Las Vegas a believer in why many said that Greg Oden would have definitely been the top pick in the 2006 NBA draft had the age minimum not been put in.


---




Interview from Las Vegas



On the final game vs D-1 Greyhounds

ďItís crazy. You see how these people came just to see us out there on the floor. You just go out there and play your hardest. Thatís the best thing you can do. The crowd is going to get excited and excitement is going to happen just with these guys playingĒ.

DraftExpress: How does it feel to go undefeated over the summer against O.J., Bill, and the rest of the D-1 Greyhounds?

Oden: I mean, itís just a game. You take it game by game and you donít worry about what happened last game. You just worry about what happens this game.

DraftExpress: Now I have seen you play at least 10 times and I have NEVER seen you play with the fire and intensity that you did this tournament. Did the Big Time carry a bit more importance then other AAU tournaments?

Oden: Itís our last out of state tournament. You want to win it and you just want to come out here and you just want to play good for your team.

DraftExpress: So you guys have the ďFab FourĒ already at Ohio State (Oden, Mike Conley, David Lighty, Daequan Cook), who would you like to see get that fifth scholarship? Thaddeus Young? Vernon Macklin?

Oden: UmmÖyou canít ask me that. They have to do their recruiting and they have to do whatís best for them. Itís not up to me.

DraftExpress: How is your high school team (Lawrence North) going to be this year?

Oden: UmmÖwell we donít have any new people coming in, but we have people coming up who didnít play a lot who just improved a heck of a lot. Weíve got my brother, Brandon McDonaldÖwhoís just great at our school. Then youíve got Damian Wendall whoís just really great now.

DraftExpress: Iíve heard your brother (Anthony) has gotten a lot bigger. How big is he now?

Oden: Heís 6í9, 263 lbs. He weighs more then me.

DraftExpress: What type of training regimen does Ohio State have you on to prepare you for your freshman season?

Oden: I donít know yet. I still have a year of high school left.

DraftExpress: They didnít tell you anything that theyíd like for you to improve upon or give you any drills to do?

Oden: My high school coaches talk to theirs and got some drills, but thatís really it. Nothing yet. After the high school season weíll do that stuff.

DraftExpress: For the record, whyíd you pick Ohio State?

Oden: Itís where I feel most comfortable at. Itís a great school and itís only three hours away. I have Mike and Daequan with me. Itís just a great situation for me.

[Read Full Article]

---