Harrison Barnes
Recent Tweets
All Tweets
DraftExpress: Cody Zeller wants to know if anyone remembers the abysmal Tournament game Harrison Barnes had vs Kansas that made everyone jump off a bridge
2013-04-24 01:07:12
DraftExpress: Harrison Barnes Blake Griffin Perry Jones. List goes on and on. RT @The_NGUYENNER @AdamZagoria Joakim was projected #1 when he went back
2013-04-17 00:36:24
DraftExpress: Added video of Harrison Barnes from NBA Draft media session. Interesting stuff http://t.co/RJberv6X (also MKG, Beal, Rivers, Drummond, more)
2012-06-28 12:18:32
DraftExpress: RT @WojYahooNBA: Golden State will select North Carolina's Harrison Barnes with the 7th pick in the NBA Draft, league source tells Y!
2012-06-28 07:07:26
DraftExpress: Start your day off right with our Harrison Barnes video scouting report http://t.co/rvzBExTF - It will knock your socks off.
2012-06-14 10:08:24
Team: Warriors
Physicals
Positions
Rankings
Salary
Misc
H: 6' 8"
W: 228 lbs
Bday: 05/30/1992
(23 Years Old)

Current: SF
NBA: SF
Possible: SF

RSCI: 1

Agent: Jeff Schwartz
Current Salary:$3,049,920

High School: Ames
Hometown: Ames, IA
Drafted: Pick 7 in 2012 by Warriors
Best Case: Luol Deng
Worst Case: 6-8 Arron Afflalo

Predraft Measurements
| Year | Source | Height w/o Shoes | Height w/shoes | Weight | Wingspan | Standing Reach | Body Fat | No Step Vert | Max Vert |
| --- | --- | --- | --- | --- | --- | --- | --- | --- | --- |
| 2012 | NBA Draft Combine | 6' 7" | 6' 8" | 228 | 6' 11.25" | 8' 5.5" | 9.6 | 38.0 | 39.5 |
| 2011 | Kevin Durant Camp | NA | 6' 9" | 223 | 6' 11" | NA | NA | NA | NA |
| 2010 | Kevin Durant Camp | NA | 6' 8" | 215 | 6' 11" | NA | NA | NA | NA |
| 2009 | LeBron James Camp | NA | 6' 8" | 209 | 7' 0.5" | NA | NA | NA | NA |
| 2009 | Paul Pierce Camp | NA | 6' 8" | 209 | 7' 0.5" | NA | NA | NA | NA |



Basic Per Game Statistics

- Comprehensive Stats - Statistical Top 25s
| Year | League | Name | GP | Min | Pts | FG | FGA | FG% | 2Pt | 2PtA | 2P% | 3Pt | 3PtA | 3P% | FTM | FTA | FT% | Off | Def | TOT | Asts | Stls | Blks | TOs | PFs |
| --- | --- | --- | --- | --- | --- | --- | --- | --- | --- | --- | --- | --- | --- | --- | --- | --- | --- | --- | --- | --- | --- | --- | --- | --- | --- |
| 2015/16 | NBA | Harrison Barnes | 17 | 30.1 | 13.4 | 4.9 | 9.9 | 50.0 | 3.7 | 6.7 | 55.3 | 1.2 | 3.2 | 38.9 | 2.3 | 2.8 | 83.0 | 1.2 | 3.8 | 5.0 | 1.9 | 0.9 | 0.2 | 1.1 | 1.8 |

Player Page&nbsp&nbsp| Player Stats | Mock Draft History | Related Articles&nbsp&nbsp| Add to My Draft Express&nbsp
&nbsp
2012 NBA Draft Media Day Interviews Part Two
June 28, 2012
[Read Full Article]

---
Situational Statistics: the 2012 Wing Crop
June 26, 2012
Harrison Barnes is the second ranked wing on our board, and looks similarly underwhelming when just looking at overall scoring efficiency. Barnes' 0.941 PPP ranks just behind Michael Kidd-Gilchrist, good for 13th of 18 overall. He is doing it on a much higher number of possessions, however, as his 17.5 possessions per game ranks fourth highest in the group.

Barnes ranks pretty average in scoring efficiency in almost all areas, unfortunately, most notably standing out for his very poor finishing around the basket, as his 1.049 PPS there ranks second to last overall. On the other hand, his 14.0% free throw rate ranks fifth highest of all players, so he makes up for his poor finishing somewhat by getting to the line so frequently.

It will be interesting to see if Barnes' game benefits from the better spaced, more isolation-oriented NBA, where he could see more room and less attention to create his own shot and get open, which could be a boost for his efficiency in some areas.

[Read Full Article]

---
NBA Combine Interviews: Barnes, Miller, Hummel
June 16, 2012
[Read Full Article]

---
Harrison Barnes Video Scouting Report
June 14, 2012
Mike Schmitz takes a look at the strengths and weaknesses of Harrison Barnes with the help of North Carolina game film, Head Coach Roy Williams, Duke assistant Chris Collins, and commentary from Barnes himself.






---




More DraftExpress Video Breakdowns:


-Perry Jones Video Scouting Report
-Thomas Robinson Video Scouting Report
-Andre Drummond Video Scouting Report
-Quincy Miller Video Scouting Report
-Tony Wroten Video Scouting Report
-Terrence Ross Video Scouting Report
-Tyshawn Taylor Video Scouting Report
-Damian Lillard Video Scouting Report
-Jeremy Lamb Video Scouting Report
-Bradley Beal Video Scouting Report
-Dion Waiters Video Scouting Report
-Kendall Marshall Video Scouting Report
-Moe Harkless Video Scouting Report
-Meyers Leonard Video Scouting Reports
-Michael Kidd-Gilchrist Video Scouting Reports


---


Mike Schmitz is a writer for ValleyoftheSuns, a member of the TrueHoop Network. Follow him on twitter and subscribe to his YouTube page.

[Read Full Article]

---
Finding a Niche For: Harrison Barnes
April 21, 2012
Walker Beeken

Harrison Barnes bypassed the 2011 NBA Draft, and the opportunity to be a likely top five pick, to return to North Carolina for his sophomore season, giving the Tar Heels a roster loaded with NBA talent, and the consensus preseason number one ranking in most NCAA polls.

Barnes ended up leading his team in scoring as a sophomore and earning First Team All-ACC honors, but his season finished on a low note, shooting an atrocious 20 for 61 (33%) in the NCAA tournament, and leaving NBA scouts with a poor final impression as North Carolina lost to Kansas in the Elite Eight.

This marked the end of a highly scrutinized two-year college career for Barnes, who never quite lived up to the huge expectations bestowed upon him as the top overall recruit in the nation coming out of high school in 2010.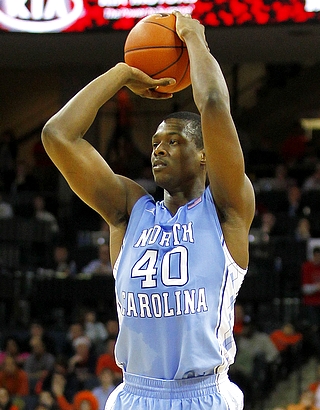 US Presswire



While Barnes' disappointing finish to the season highlighted some of the concerns NBA teams may have regarding how his game will translate to the NBA level, he's still likely to be a very high pick in this summer's NBA Draft, as he brings a quite a bit to the table, starting with his ideal physical profile for an NBA small forward prospect.

He has great size at 6-8 to go along with a long wingspan, and a very strong, mature frame for a 19 year old (he'll turn 20 next month). He doesn't possess elite explosiveness, but he's very smooth and fluid athletically, and should have an easier time than most rookies adjusting to the NBA from a physical standpoint.

As we discussed last year, Barnes' biggest strengths revolve around his excellent scoring instincts and offensive polish, effectively utilizing shot-fakes and displaying advanced footwork when catching the ball on the perimeter and in the mid-range area, which he uses along with his great size and frame, to create space to free himself for jumpers.

His 23.3 points per forty minutes ranked him amongst the top per-minute scorers of all wing prospects in this draft class, but he still struggled to score efficiently as a sophomore, showing many of the same issues that we highlighted last season.

His lack of an explosive first step prevented him from getting to the rim and creating easy baskets, and while he did get to the free throw line at a higher rate this season, he still seemed far too content settling for contested jumpers off the dribble, as he connected on an unimpressive 47% of his field goals inside the arc.

From 3-point range, Barnes shot a respectable 36% and shouldn't have much trouble adapting to the NBA line, but he's not yet a prolific deep shooter. He has a tendency to be a bit streaky and miss shots badly on occasion, some of which he should be able to improve on with repetition and better shot selection.

Another area where Barnes hasn't shown much growth is with his ability as a passer and creator for others. His comfort level as a ball-handler looks to decrease dramatically after a few dribbles, and he doesn't have the creativity or vision to find his teammates for easy baskets, as evidenced by his extremely paltry assist numbers (his 1.5 assists per-40 ranks him towards the bottom of all small forward prospects in our Top100), particularly for a player who has the ball in his hands as much as he does with the freedom to make plays.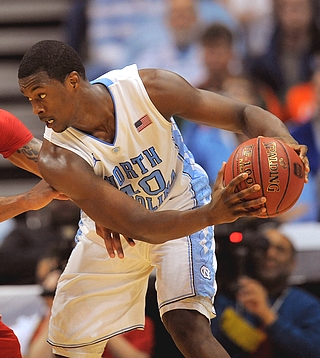 US Presswire



On the defensive end, Barnes still shows the same promise that we noted last year, thanks to his solid physical tools and fundamentals. His size, length, and strength should serve him well defending small forwards at the NBA level, and he does a nice job moving laterally, understanding positioning, and challenging shots.
When looking forward to Barnes' role at the NBA level, his mature frame, scoring tools, and defensive ability give him a nice base to build on and should allow to him to contribute to an NBA team right away.

His inability to make plays for others, get to the rim consistently, and score efficiently likely limits his upside when compared to the high expectations he had coming out of high school when he was thought of as a potential overall number one overall pick, but he still has plenty of time to shore up his weaknesses and has considerable upside to grow into as he develops his feel for the game.

Barnes is an outstanding shot-maker, and should benefit from the greater spacing he'll see in the NBA, giving him more room to operate and create space for himself off the dribble. He should end up being a versatile scoring option who can catch the ball in different areas of the floor, whether it's posting up smaller players, catching the ball in the mid-range, running off screens, or being used in isolations and pick-and-rolls on the perimeter as he improves his ball-handling.

If he's forced to be a go-to option too early in his career, Barnes may struggle to adjust, but if he lands on a team playing for a coach who understands his strengths and limitations, and with a point guard who can get him the ball in the right spots, he has a chance for early success.

By all accounts, Barnes is a high character individual with a strong work ethic who plays the game with a very competitive mentality, all of which should bode well for him in the pre-draft process. While his poor play in the tournament wasn't the ideal final impression to leave on NBA scouts, he'll have plenty of time over the next couple months to win back fans amongst NBA decision-makers as he conducts interviews and workouts, giving himself a chance to hear his name called somewhere in the top ten and possibly the top five on draft night.

[Read Full Article]

---
Podcast: Talking NBA Prospects at the NCAA Tournament with SI
March 17, 2011
Can Harrison Barnes' inconsistency this season be forgotten with a great NCAA tournament?

[Read Full Article]

---
NBA Draft Prospect of the Week: Harrison Barnes
March 16, 2011
Harrison Barnes' season came full circle in the ACC tournament, with a record breaking 40-point outing in an overtime win over Clemson.

Most people had left him for dead after starting the season shooting 70/189 (37%) from the field through North Carolina first 17 games, labeling him as just another overhyped freshman.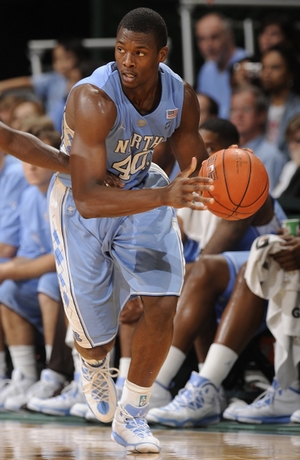 Icon SMI



Barnes handled the criticism with remarkable maturity.

"It doesn't bother me at all because up until this part of my career, I've never had any adversity in basketball," Barnes said in an interview with The Associated Press. "My career has just been straight up. I always played, I always got better. ... So it's just been a good test for me to grow as a basketball player and grow as a person. And I feel like had I not had this adversity, I probably wouldn't become later the player I will."

"There's obviously a lot of basketball left in my career regardless of this year," he said. "Regardless of how this season happens, the world is not going to end. The sun will come out and life will go on. So it's one of those things you just have to look at and not just ask 'Woe is me' or wish this wasn't happening, but to understand why it's happening, to learn from it and get better as a player."

Since North Carolina head coach Roy Williams decided to anoint fellow freshman Kendall Marshall as the team's starting point guard, following a 20-point loss to Georgia Tech, Barnes' (and UNC's) season moved in a different direction.

He's hit a number of clutch shots (see video below) and has helped his team win 14 of their last 16 games leading up to the NCAA tournament. Over that span, Barnes has made 108 of his 223 field goal attempts, good for 46%, with the biggest change coming in his percentages beyond the arc (20/65 [31%] pre-Marshall starting, and 36/97 [37%] since).

It's easy to see what made Harrison Barnes such a highly touted player coming into college, standing 6-8, with a perfect frame, an exceptional skill-level and an outstanding feel for the game.

What Barnes lacks in elite-level athleticism he makes up for with offensive polish, savvy and scoring instincts, as you can see in the following video we compiled illustrating both his strengths and weaknesses:



Harrison Barnes Strengths/Weaknesses Video

Watch in full screen mode by clicking button in upper right hand corner of video




---
More Scouting Report Videos:
Marcus Morris
Perry Jones
---


With his excellent footwork, array of step-back moves, and ability to just throw the ball in the basket, Barnes is capable of making some incredibly difficult shots. Unfortunately he relies on this part of his game too heavily, placing him just 74th of the 83 NCAA prospects in our Top 100 rankings in True Shooting Percentage.

Barnes ranks as one of the 35 best off the dribble shooters in the NCAA (min. 75 possessions) according to Synergy Sports Technology, converting 39 of 99 (39%) attempts this season. He elevates impressively with picture perfect mechanics and a beautiful follow through, showing deep range and outstanding touch.

Oddly enough, though, Barnes' accuracy falls off quite a bit in catch and shoot situations (35/115 [30%]), particularly when closely guarded. As you can see in the video above, he tends to dip the ball fairly dramatically before releasing it, which gives the defense time to recover and more effectively contest his shot. With that said, considering the way Barnes has been shooting the ball over the past month or so, most of these concerns have likely been alleviated.

While Barnes' inability to consistently make shots with his feet set has hampered his shooting percentages this season, the more concerning aspect of his play has been his struggles scoring efficiently inside the arc.

Barnes is converting a lackluster 47% of his 2-point attempts, while getting to the free throw line just 4.3 times per-40 minute pace adjusted. By historic standards, both of these figures do not measure up particularly well compared with collegiate wing players in the past.

Barnes does not possess a great first step, nor is he a very creative ball-handler or passer at this stage. He's not particularly effective in transition or isolation situations, as he doesn't show the ability to change speeds or use advanced moves to get by his man.

Barnes has such great confidence in his ability to make shots off the dribble that he tends to settle too quickly for his pull-up jumper, a shot that classifies as a low-percentage possession even for the best scorers. He can make these at a solid 40% clip, and probably will continue to do so in the NBA, but he will not be a particularly efficient offensive player until he diversifies his slashing game and learns how to get inside the paint and draw fouls at a higher rate.

The fact that he's been unable to do so at the collegiate level is somewhat concerning, and is something NBA teams will need to study in order to evaluate how much he can improve in this area down the road.

His play on the defensive end has been nothing short of stellar, though.

Barnes possesses ideal physical tools on this end of the floor, with his excellent size, frame and wingspan. He plays with great intensity but is also very fundamentally sound, getting low in his stance and moving his feet extremely well, usually leaving himself just enough cushion to contest his opponent's shot while still being ready to slide in any direction. Although he doesn't collect a great deal of blocks, steals, or rebounds, he's an extremely effective defender who likely be capable of guarding either wing position at the NBA level, which gives the team that picks him nice versatility to work with.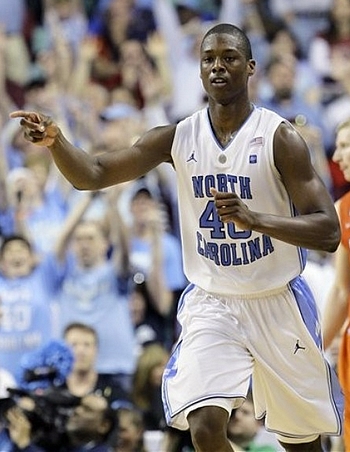 AP



Something that constantly needs to be mentioned when evaluating Barnes' potential at the NBA level are the intangibles he brings. Despite being just 18 years old, Barnes already plays with a tremendous amount of savvy, something that leaves great optimism regarding his future. He's a team player who displays an ideal temperament out on the floor, never getting too high or low in any given moment, and always playing with great self-confidence.

Anyone that has been around him states emphatically that his character is of the highest standard, and whoever drafts him can be fairly certain that he will represent them extremely well on and off the court. Despite the shortcomings mentioned, there is very little doubt that he will continue to work diligently on improving the weaker points of his game once he reaches the NBA. Considering his age, it's not a stretch to say that he still has plenty of room to grow as a player.

The biggest question mark teams might have about Barnes is whether he has the upside to be the best player on a NBA playoff team, or if he would be better suited playing a more complimentary role. His play in the NCAA tournament starting this weekend could go a long ways in shedding light on this topic, and will likely play a role in how high he ends up being picked—if he decides to enter the draft.

[Read Full Article]

---
2010 McDonald's All American Game: Duke vs. UNC Smackdown Part Two
April 1, 2010
[Read Full Article]

---
2010 McDonald's All American Game: Duke vs. UNC Smackdown
March 30, 2010
[Read Full Article]

---
Boost Mobile Elite 24 Player Scouting Reports
August 29, 2009
Although we just wrote about Barnes (#1 Scout, #2 Rivals, #1 ESPN) a few weeks back, it should be noted that he did nothing in New York to dispel the notion that he's the #1 player in the 2010 high school class. For starters, he appears to be far more athletic than most analysts (including us) give him credit for, as he seems to be the type of player that doesn't feel compelled to show off his explosiveness at all times, but still has all kinds of natural tools he can go to when needed. Barnes did a little bit of everything in the scrimmage we saw, playing very unselfishly, making shots from the perimeter, attacking the rim, weaving in and out of traffic, crashing the offensive glass, and making some excellent passes. Some of his finishes around the basket were extremely impressive, and he always looked calm and under control, refusing to get caught up in the playground type atmosphere that usually typifies these all-star events. His perimeter shot was a bit streaky, but this seems to be a part of his game that will develop into a great weapon for him in time. Barnes' counterparts will be breathing down his neck all season long, but he seems to have the goods and then some to hold onto his status as the consensus top recruit in the country.

[Read Full Article]

---
LeBron James Skills Academy Player Profiles
July 13, 2009
Harrison Barnes, 6-8, 209 pounds, 7-0 ½ wingspan, Class of 2010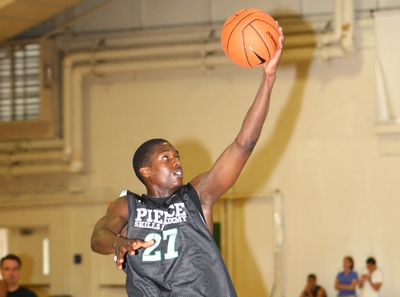 Kelly Kline/Nike



Considering his status as the number one recruit in the country according to both Scout.com and ESPN (#2 on Rivals after Brandon Knight), Barnes is long overdue for a write-up on this site, despite the fact that he's two years away from being draft eligible.

Showing prototypical physical tools for an NBA wing player, including excellent size, length and a frame that will fill out nicely in time, Barnes passes the look test and then some on first glance. Maybe not as freakish an athlete as some former #1 overall recruits, Barnes is still no slouch in that category, showing excellent fluidity and overall mobility, to compliment his excellent scoring tools.

Still an improving ball-handler, Barnes is already able to get to where he needs to on the floor thanks to the shiftiness he shows with the ball, combined with his long strides and ability to change directions quickly. He did a good job creating shots for himself in the mid-range area, and was able to convert some extremely difficult shots thanks to his excellent touch. From the perimeter he has a nice stroke and clearly possesses 3-point range, but he seemed to get a bit streaky from time to time.

Not afraid of contact in the least bit, Barnes showed no qualms about utilizing his size inside the paint by posting up the very highly touted Dashaun Thomas time after time. He was incredibly active on the offensive glass as well, making an absolute living by being the first player going after loose balls, showing an impressive work ethic in the process.

His demeanor on the floor is excellent at this point in time, which probably makes high school talent evaluators all the more comfortable in his lofty projection, as he's all the more likely to continue to work on his weaknesses. He displayed a very nice mix between being aggressive in looking for his own shot and not forcing the issue, which is not an easy thing to do at a camp like this.

Obviously we'll be talking plenty about Barnes over the next few years. According to Scout.com, his lengthy recruiting list includes the likes of Duke, Kansas, Florida, Iowa State, Kentucky, Minnesota, North Carolina and Oklahoma. The scuttlebutt seems to indicate that Kansas is in the lead at this point.

[Read Full Article]

---