Herb Pope
Recent Tweets
All Tweets
DraftExpress: More undrafted: Maalik Wayns, Herb Pope, Terrell Stoglin, Tony Mitchell, Dee Bost, Scott Machado, Paul Lacombe, Garrett Stutz, Zack Rosen
2012-06-29 12:05:37
DraftExpress: DX Trending Prospects 1/6: Updated Scouting Reports on Herb Pope, Eric Griffin, Otto Porter & Quincy Acy http://t.co/ZwvlgOYa
2012-01-06 05:51:49
DraftExpress: If you're a basketball junkie, you know who Herb Pope is. If this is just a hobby for you, you might not. Which side does Drummond fall on?
2012-01-03 09:30:32
DraftExpress: The Andre Drummond "I don't know who Herb Pope is" comments are a good example highlighting some of the concerns NBA scouts have about him.
2012-01-03 09:29:06
DraftExpress: RT @jeffborzello: Andre Drummond: "Who is Herb Pope? I don't know who that is. I am not trying to be disrespectful." http://t.co/BvuSSlRc
2012-01-02 03:49:02
Top 25s - Full List
Team: Seton Hall
Physicals
Positions
Rankings
Salary
Misc
H: 6' 8"
W: 261 lbs
Bday: 01/04/1989
(26 Years Old)

Current: PF/C
NBA: PF/C
Possible: PF/C

RSCI: 33

Agent: Bill McCandless

High School: Aliquippa
Hometown: Aliquippa, PA

Predraft Measurements
| Year | Source | Height w/o Shoes | Height w/shoes | Weight | Wingspan | Standing Reach | Body Fat | No Step Vert | Max Vert |
| --- | --- | --- | --- | --- | --- | --- | --- | --- | --- |
| 2012 | Portsmouth | 6' 7" | NA | 261 | 7' 0" | NA | NA | 28.3 | NA |



Basic Per Game Statistics

- Comprehensive Stats - Statistical Top 25s

Player Page&nbsp&nbsp| Player Stats | Mock Draft History | Related Articles&nbsp&nbsp| Add to My Draft Express&nbsp
&nbsp
Trending Prospects (1/6/2012)
January 6, 2012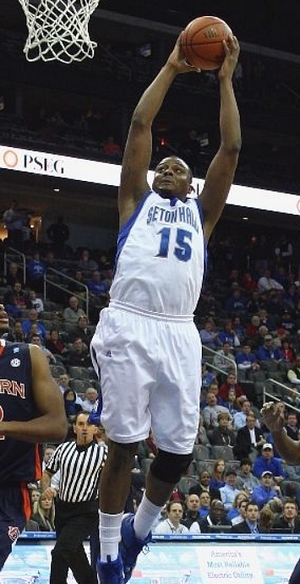 AP



Derek Bodner

After a disappointing junior season, both individually and as a team, senior big man Herb Pope is looking for a bounce back season with the Pirates, and so far the early returns have been positive. Pope's scoring, rebounding, and efficiency all took severe drops as a junior on a 13-18 Seton Hall team which struggled under first year coach Kevin Willard.

Pope, who had declared for the 2010 NBA draft after his sophomore season but did not hire an agent, collapsed during a workout, having to be rushed to the hospital, where he would stay for three weeks. As more and more details about the collapse, the severity of his heart condition, and the physical and mental hurdles it placed upon Pope have become public, it became evident how much of an impact the incident had on his struggles last year. In fact, Pope appears lucky to be alive right now, let alone a contender for Big East player of the year.

The setback now appears to be in Pope's rear-view mirror. The senior forward has led Seton Hall to a 13-2 record, including recent impressive wins over West Virginia and 8th ranked Connecticut. Individually, Pope is having by far the best season of his collegiate career, scoring 23.9 points per 40 minutes pace adjusted (5th amongst the top 100 prospects in our database), grabbing 14.0 rebounds per 40 pace adjusted (6th), while doing so at a very efficient 57% true shooting percentage.

Rebounding is still Pope's strongest asset, a statement that has been true his entire career. His 14 rebounds per-40 minutes pace adjusted rank in the top 10 amongst prospects in our database, being an effective rebounder on both the offensive and defensive sides of the ball. Pope shows a good nose for the ball off the glass, which combined with a very high energy level, excellent hands, willingness to fight for position, and good technique, forms the basis of his value at the next level, and one that has a good probability of translating as well.

From there, Pope has a diverse range of skills at the collegiate level, although which of those skills will translate, and to what extent, is still somewhat of a question. His post game has shown marked improvement from a year ago, both in his comfort level and footwork. Pope has more advanced moves in his repertoire now than in years past, with a variety of spins, drop steps, and the ability to make hook shots over either shoulder. His average explosiveness and difficulties scoring over length make it questionable exactly to what extent this will translate to the next level, but he does appear to have good instincts as a scorer.

Pope is tenacious on the offensive glass, using his lower body strength and high effort level to grab an impressive 4.6 offensive rebounds per-40 minutes, pace adjusted. He gathers himself quickly and does a good job of not bringing the ball down, getting his shot off before defenders have a chance to gather themselves and before guards have had a chance to strip the ball.
He also does a good job of moving without the ball, making strong cuts and has excellent hands. He has good touch around the hoop and the ability to finish with either hand, although this is another area where his lack of vertical explosion dampens his effectiveness somewhat.

The key in his development is likely his ability as a jump shooter. Pope struggled last year, shooting only 22.2% on a limited amount of jump shots, and his 0.537 points per possession ranked in the bottom 11%, according to Synergy Sports Technology.

So far this year that part of his game has been much improved. He is shooting a much more respectable 42.4% on jump shots this year, yielding 1.03 points per possession. His consistency still appears to be an issue, and his shot tends to be somewhat flat, especially as he gets further from the hoop, which may play a part in this inconsistency. However, if he can continue to show that his improved jump shot will hold up throughout the year and is a weapon going forward, projecting an offensive role for him at the next level becomes a much easier proposition.

A consistent jump shot would also help him establish himself as a face-up threat. While not an explosive athlete, Pope is fairly fluid for a player of his size, has greatly improved his off hand, and has an effective right-to-left spin move that helps him gain separation on drives.

On the defensive side of the ball, Pope's bulk -- and willingness to use it -- help make him a solid defender in the post. He shows decent technique on the perimeter, both in defending isolation plays and on the pick and roll, but his average lateral foot speed could become an issue at the next level guarding quicker power forwards.

Perhaps the biggest improvement in his game on the defensive end has been his ability to stay on the court. Pope spent his summer working with John Lucas, and looks to be in significantly better shape, having overcome much of the physical side effects from his collapse. Pope still carries a little bit of extra weight but looks much improved from his junior season, where conditioning was clearly an issue. This has helped him stay out of foul trouble, dropping from 5.2 fouls per-40 minutes to a much more manageable 3.3.

Herb Pope still has some question marks and red flags surrounding his background, but his play, and perhaps more importantly his improved conditioning, are good signs going forward. He appears to have dedicated himself in the offseason, and the results have followed. Pope, despite being somewhat undersized, has an NBA caliber body, a skill in rebounding that should translate, and a level of mobility and overall skill level that provides some intrigue. If Pope can prove his improvement as a jump shooter is legitimate, it would not be a surprise to see him stick at the next level.

[Read Full Article]

---
Top NBA Draft Prospects in the Big East: Part Five (#21-25)
October 21, 2011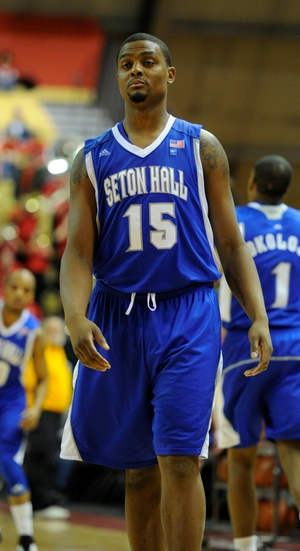 Icon SMI



Joseph Treutlein

Heading into the senior season of a very complicated and at times troubling college career, Herb Pope still retains most of the same strengths and weaknesses he had four years ago, with this being his last chance to break out and make a stronger impression on scouts.

After establishing himself as one of the better rebounders in the country in his debut sophomore season at Seton Hall, Herb Pope took a slight step back as a junior, seeing his rebounding and scoring numbers both drop slightly while not making noticeable improvements in any other areas.

On the offensive end, Pope remains a raw player overall, showing flashes in the areas of mid-range shooting, back-the-basket scoring, and even some face-up ability, but he doesn't perform consistently well in any one area. Pope does a lot of his scoring operating on cuts, pick-and-rolls, and by grabbing offensive rebounds, showing good coordination and creativity finishing around the basket, but his noticeable lack of elevation really holds back his ability to score at an efficient rate.

With his post-up game, Pope relies mostly on turnaround jumpers while occasionally mixing in some hook shots, but his footwork isn't great and he doesn't have the greatest instincts, while his lack of great size and athleticism don't help either. Pope actually looks more comfortable on his occasional straight-line face-up drives, as despite his lack of quickness and explosiveness he is quite mobile and coordinated, something that shows up here. Still, his lack of ability to get separation and below-the-rim style don't allow him to finish well.

Pope's jump shot may be the least used aspect of his offensive game, as despite showing respectable form, he doesn't have great touch and is very inconsistent, scoring an very bad 0.54 points per-shot on jumpers according to Synergy Sports Technology. Given his size and athleticism limitations, improving in this area will likely be critical for his chances in the NBA, and is definitely something he should continue working on.

While Pope on the whole shows a decent groundwork of skills in a variety of areas offensively, he hasn't been able to convert it into a consistently effective offensive game thus far, as evidenced by his abysmal 46% TS% as a junior, which ranked dead last of every power forward and center who in our database who played more than 20 minutes per game. Projecting to the next level against bigger and more athletic competition, this doesn't bode very well.

On the positive side is Pope's prowess rebounding, something that regressed some as a junior, but still remains a noteworthy strength for him. Despite not being anywhere near optimal physical condition, as Pope lacks much in definition and carries a good deal of excess weight, Pope shows a very good motor and pursuit ability going after rebounds, fighting hard to get around his man on both ends of the floor. With improvements in conditioning and overall athleticism, this area of his game still could be much stronger than it already is.

On the defensive end, Pope does a decent job in the post by playing an active style and using his length to contest shots, but he shows little in terms of fundamentals or leverage and is very prone to fouling. He actually looks decently comfortable on the perimeter where he does a good job getting low and moving his feet, but he's not the most gifted played from a lateral quickness perspective and has limited upside there.

Looking forward, Pope has one very good skill at the collegiate level in his rebounding, but he still shows room for growth there and will likely need it for the next level. Developing at least one reliable, efficient offensive skill to complement his rebounding would be very helpful, as would maximizing his athleticism and conditioning. Pope reportedly spent all summer working out with the demanding John Lucas, so it will be interesting to see if it shows up on the court. Pope's troubled history with intangibles both on and off the court along with the lack of learning curve he's shown in his time in college will definitely weigh heavy on his pro prospects, but he still has one more season to impress NBA decision makers.

[Read Full Article]

---
NCAA Weekly Performers, 4/6/10
April 6, 2010
Matthew Kamalsky

Announcing his intention to declare for the 2010 NBA Draft on March 29th, Herb Pope became one of the first in what should prove to be a long list of underclassmen testing the draft waters. After making national news for punching Texas Techís Darko Cohadarevic below the belt not once, but twice in a matter of minutes, Pope didnít take long at all to announce that heís leaving Seton Hall.

A double-double machine in the Big East with a limited feel on the offensive end, Popeís high-energy style of play is certainly attractive on some levels, but his overall skill level and numerous red flags raise major concerns about his NBA future.

Standing just 6-8, Pope lacks great size for the power forward at the NBA level and is severely undersized for the center spot Ėthe position his skill set caters to at the moment. In addition to his lack of great height, Pope is only an adequate athlete. He displays decent mobility and runs the floor adequately, but has heavy feet and isnít exceptionally springy off the floor. Possessing a solid wingspan and some bulk, Pope has some well-defined strengths and weaknesses physically. He may need to improve his physique to augment his style of play at the next level depending on where he lands next season.

Popeís best assets from an NBA perspective are his high energy level and rebounding ability. Constantly battling for position and willing to get low when boxing out, the Pennsylvania native does a great job cleaning the glass on both ends. Utilizing his length effectively on the offensive glass and showing a nose for the ball defensively, Pope proved to be an excellent rebounder in one of the best conferences in college basketball. He ranked 10th amongst all prospects in our database in that category, doing a notable job on the offensive glass in particular.

While his physical and aggressive style of play makes him an effective rebounder, it doesnít compensate for his lack of offensive tools. His hustle does afford him some easy opportunities around the basket in the form of put-backs, easy layups off of drive and dumps, and easy looks in transition, but he shows a limited post game and lack of touch in the paint when he canít get all the way to the rim. He does have some tools to work on for the future, but should a team bring Pope into the fold next season, it certainly wonít be for his merits or potential as a scorer.

Possessing an extremely basic back to the basket game, Pope shot 37.5% from the field in post up situations according to Synergy Sports Technology. Looking uncomfortable unless he can seal his man and create a seam to the rim, Popeís touch from in close is questionable at best. Even when he can get to the rim, he doesnít show the explosiveness to exploit his hard work when defenders collapse around him.

Despite struggling at times around the basket, Pope actually showed some degree of face-up potential. Able to put the ball on the floor for one or two straight line dribbles, he can take what the defense gives him from the midrange, but lacks fluidity in his midrange jumper. The inconsistency he shows off the dribble, especially going left, has a lot to do with his lack of ideal shooting mechanics. He doesnít elevate well, nor does he have much touch, but he still proves relatively capable with his feet set, flashing range all the way out to just inside the college three-point arc. His jumper isnít a terribly reliable tool for him at this point, and his inconsistency manifests itself in his sub-50% shooting from the line, but it is something that could help him diversify his game down the road.

Something he must work on is his shot-selection and decision making, though, as he doesnít seem to know what his limitations are in the least bit, and seemed to be forcing the issue excessively from the perimeter late in the season, likely in a misguided attempt to impress NBA scouts. Interestingly enough, Pope is actually a pretty good passer when he puts his mind to it, but seemed to get too caught up at times with the undisciplined and often wild style of play that plagued Seton Hall this season.

Defensively, Popeís high energy level is both a blessing and a curse to him. Eager to step in and take charges, willing to fight for every inch on the block, and never afraid to use his body to deny penetration, Pope shows excellent toughness defensively. The problem when projecting him to the pros is that he seems to lack the lateral quickness to guard power forwards off the dribble and the size to defend centers in the post, making him somewhat of a tweener. His length contesting shots and all-around tenacity will serve him well in the future, but playing for one of the worst defensive teams in the Big East surely didnít do him any favors.

More concerning are the numerous red flags that have plagued Pope throughout his career, which raise significant question marks regarding whether heís the type of character an NBA team would want to have on their roster. He grew up in a very tough area, as documented in the following article, sports various gun wounds, and bounced around repeatedly, starting off college at New Mexico State before transferring to Seton Hall following an arrest for DUI. NBA background reports could very well turn up quite a bit more that is not in the public domain.

Though Pope has some tools to work with, his average physical tools could limit his impact at the next level in both areas. Considering his in-game discretions and off-court history, Pope is a player that will need to fare extremely well in private workouts and during the interview process to alleviate the significant concerns will have about his intangibles. Far from a lock to be drafted at this point, Pope is just one of what could prove to a bevy of underclassmen who will be worth watching as they fight for a chance to hear their name called on draft night.

[Read Full Article]

---
Roundball Classic Practices: Day One
April 2, 2007
From the media accounts, Alquippa HS star Herb Pope was shot three times Saturday night at a party. His injuries do not appear to be life threatening, although this is just the latest incident in what has been a troubled career for Pope. He has changed high schools five different times in four years, and now was out at a party three hours before he was scheduled to fly to the Roundball game. He was driven to the hospital by an unidentified person, and told police that he did not know who shot him, nor why they shot him. DraftExpress wishes Pope the best in recovery, and hopes that this young man is able to get his head on his shoulders and stop putting himself in such compromising situations.

[Read Full Article]

---