Isaac Bonga, 6'10, PG/SF, Frankfurt, Germany, 1999
Jonathan Givony
Strengths:
-Measured 6'8 ½ without shoes with a 7'0 wingspan. Has the size of a power forward but the skill-set of a guard
-Frame continues to fill out. Legs on skinny side but should get stronger in time
-Jumper looks good in drills, mechanics certainly not broken. Will throw in an occasional 3-pointer that leaves room for optimism
-Legitimately plays PG at 6'10. Has a tremendous feel for seeing over the top of the defense and finding open man.
-Operates at a unique pace, with fancy footwork and change of speeds and directions. Intelligent about drawing fouls
-Loves making overhead skip passes. Sees both sides of the floor and uses the weakside intuitively. Makes skip passes right into teammates' shooting pocket
-Picks up plays quickly. Very intelligent and absorbent. Directs teammates and likes to run the show
-Plays with an impressive motor defensively. Flies all over the place and shows multi-positional potential
-Playmaker who gets in the passing lanes, blocks shots and has great instincts getting on the glass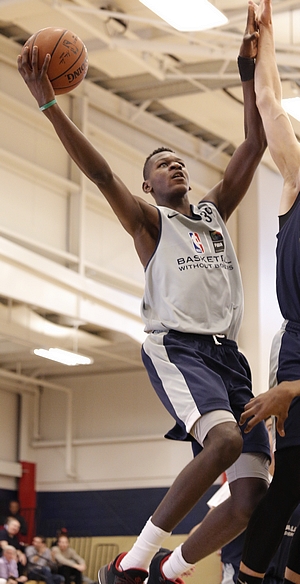 Weaknesses:
-Really struggles to make shots in games. Splays his legs apart on the catch. Has a slow release. Demonstrates questionable touch
-Career 14/58 for 3 (24%) and 68% FT% in 50 DX database games. Will struggle to reach his full potential without a consistent jumper
-Just an average athlete in a traditional run/jump. Not overly quick or explosive. Ranked poorly in many of the athletic testing measures conducted at the Camp.
-Had trouble at times at this camp when being matched up with longer and more athletic players who can stay in front of him and take advantage of his high dribble
-Not always able to finish in traffic over length
-Fairly turnover prone in almost every setting he's played in. Career 30% turnover percentage in DX database games.
-Tries to thread the needle with impossible passes. Drives looking strictly for assists
Outlook:
An extremely unique prospect, Bonga has a very rare combination of size, creativity, instincts, feel for the game and defensive intensity. Similar to what
Kyle Anderson
has encountered in the NBA, there are question marks about his quickness, shooting and position, and how his game will translate to the highest levels of competition. He certainly is not the type of guy who will work for every coach and roster, but has such a high basketball IQ it's difficult not to be enamored with his versatility at this age group.
Interview: