2015 Kentucky Combine Measurements and Analysis
October 11, 2015
Isaiah Briscoe was measured with just 8.5% body fat, which is extremely impressive considering how much of a concern this was for much of his high school career. Having lost 14 pounds over the last 6 months since he was measured at the Nike Hoop Summit, Briscoe tipped the scales at an impressive 200 pounds. Measuring 6'2.5 in shoes, Briscoe is about an inch off his typical height measurements, but nonetheless has nice size for a point guard, especially when you factor in his 6'8 wingspan, which should allow him to see time defending shooting guards and even small forwards at the college level. Briscoe's 37 inch maximum vertical jump and 2015 UK Pro Day-best 10.25 second lane agility time are both better than expected. Like Murray, he has always been known more for his skill-level and aggressiveness than for his athletic ability. It will be fascinating to see how Briscoe's trimmed down frame translates to the floor this season. His numbers compare favorably to those of Deron Williams who measured 6'2.74 in shoes with a 202-pound frame and a 6'6.25 wingspan to go along with a 35 inch maximum vertical leap

[Read Full Article]

---
Top NBA Prospects in the SEC, Part Six: Isaiah Briscoe Scouting Video
September 29, 2015
Mike Schmitz continues our coverage of the top NBA prospects in the SEC with a video scouting report of the #6 prospect in the conference, Kentucky's Isaiah Briscoe.
---
More DX Conference Preseason Previews:
-The Top 20 NBA Draft Prospects in the Pac-12
-The Top 20 NBA Draft Prospects in the Big East
-The Top 15 NBA Draft Prospects in the Big 12
---
Top NBA Draft Prospects in the SEC


(#1) Skal Labissiere (Scouting Video)
(#2) Ben Simmons (Scouting Video)
(#3) Jamal Murray (Scouting Video)
(#4) Malik Newman (Scouting Video)
(#5) Damian Jones (Scouting Video)



#6, Isaiah Briscoe, Freshman, PG/SG, Kentucky



Strengths:



Weaknesses:



Mike Schmitz is the video analyst for DraftExpress. Follow him on twitter and check out his archive. He will be breaking down the NBA draft in digital format all year long for us.

[Read Full Article]

---
2015 USA Basketball U19 Measurements Released
June 15, 2015
-Kentucky signee Isaiah Briscoe measured 6'2.25 barefoot with a 6'9.5 wingspan at 216 pounds. He's trimmed four pounds of weight from his last USA Basketball measurement in 2014, which is a major point of emphasis for him with his somewhat stocky frame. He has outstanding size for a point guard, as the only other notable point guards in our database with wingspans over 6'9 and standing reaches over 100-inches include Dante Exum Shaun Livingston, Tony Wroten, Tyreke Evans, and John Wall. Briscoe is considered somewhat of a combo, but has spent quite a bit of time with the ball in his hands at the high school and AAU level, and will need to play a major playmaking role for this squad which lacks much in the way of elite guards.

[Read Full Article]

---
2015 Nike Hoop Summit Video Interview: Isaiah Briscoe
April 15, 2015
An interview with elite guard prospect Isaiah Briscoe of the USA Junior National Select Team at the 2015 Nike Hoop Summit.




---
More DX Nike Hoop Summit Coverage
-Final Game Recap
-Nike Hoop Summit Shooting Drills: George Lucas
-Nike Hoop Summit Shooting Drills: Zhou Qi
-Chase Jeter Interview
-Brandon Ingram Interview
-Jamal Murray Interview
-Luke Kennard Interview
-Malik Newman Interview
-Caleb Swanigan Interview
-USA Scrimmage Two
-World Team Practice Day Five
-World Team Practice Day Four
-Ivan Rabb Interview
-Nike Hoop Summit Shooting Drills: Skal Labissiere
-Nike Hoop Summit Shooting Drills: Tai Wynyard
-Team USA Scrimmage One Recap
-Cheick Diallo Interview
-Tai Wynyard Interview
-One on One Drills: Skal Labissiere vs Thon Maker
-Federico Mussini Interview
-International Practice: Day Three
-USA Practice Day One
-Skal Labissiere Interview
-Ben Simmons Interview
-International Practice Recap Days One and Two
-World Select Team Measurements and Analysis
-USA Junior National Select Team Measurements and Analysis
-International Roster Breakdown
---
[Read Full Article]

---
2015 Nike Hoop Summit Final Recap
April 11, 2015
Isaiah Briscoe – 9 PTS, 9 AST, 3 STL, 2 TOs, 3-for-7 FGS in 19 min

Briscoe did a handful of nice things for the US Team, forcing turnovers in the back court, slashing through the World Team's zone defense and finishing shooters or cutters, and initiating contact in the paint and earning trips to the line. Briscoe has excellent court vision and feel and is a load as a penetrator. Some of Briscoe's flaws also showed on Saturday. He committed several low IQ fouls, airballed a very important free throw late in the game, missed a pull up jumper badly and almost airballed a floater in the lane. Briscoe is an ox at the PG spot and has great feel, but needs to improve as a shooter to make up for his lack of explosiveness.

[Read Full Article]

---
2015 Nike Hoop Summit: USA Junior National Select Team Measurements
April 10, 2015
Isaiah Briscoe
Height (w/ shoes): 6-3.5
Height (w/o shoes): 6-2.5
Weight: 217.8
Wingspan: 6-8
Standing Reach: 8-4.5

Briscoe's measurements are consistent with those taken at multiple venues over the last 3 years, although he may have grown half an inch to an inch and could easily be listed at 6-4 next year by Kentucky. Though he isn't the same caliber of athlete as Marcus Smart, he stacks up fairly well with the rookie in terms of sheer size. Smart measured 6-2 without shoes with a 6-9.25 wingspan and a 227-pound frame last spring during the draft process. Briscoe ranks among the heavier lead guards in our database, even among college players, but he's done a good job as of late shedding baby fat and adding muscle.

[Read Full Article]

---
2015 Nike Hoop Summit: Team USA Practice: Day Two
April 10, 2015
Briscoe carved up the Ex-Legends' half court defense with his 220-pound frame, slick ball handling, change of speeds and ability to drive both ways and pass with both hands. The New Jersey-native found spot up shooters on the move, delivered smooth pocket passes to the bigs and finished in the paint and at the rim with both hands while also knocking down a mid range jumper.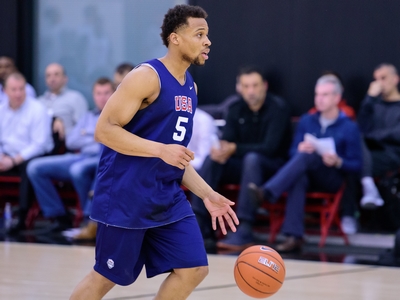 Ken Waz/USA Basketball



Briscoe isn't an elite athlete, however, and struggled staying in front of Prichard, whose shot wasn't falling from deep but played with toughness on both ends and showed aggressiveness attacking the rim and distributing in the half court.

Briscoe may be better suited defending shooting guards at the college level as he's strong and long enough (6' 9" wingspan) to hold his own but lacks elite lateral quickness needed to stay in front of speedy point guards. Despite his average quickness on the defensive end, Briscoe's physical tools and tremendous feel for the game certainly stood out to NBA scouts and executives.

[Read Full Article]

---
New Batch of USA Basketball Measurements Released on DraftExpress
October 3, 2014
Isaiah Briscoe may only be 6-3 in shoes, but his 6-9 wingspan gives him able height to defend shooting guards.

[Read Full Article]

---
2014 Elite 24 Interviews: Isaiah Briscoe
September 3, 2014
[Read Full Article]

---
2014 FIBA U18 Americas Championship: US Scouting Reports
June 25, 2014
Jonathan Givony

Strengths
-6-4 in shoes with a 6-9 wingspan and a very strong frame
-Skilled and creative ball-handler and passer
-Excellent court vision
-Makes simple passes with tremendous ease
-Finishes with both hands around the basket, often through contact
-Gets to the free throw line at a high rate
-Great instincts and anticipation skills, allows him to rebound very well from guard position

Weaknesses
-Smooth athlete, but not overly explosive
-Plays with a very lackadaisical approach
-Poor defender due to average lateral quickness and low intensity level
-Average perimeter shooter (32% 3P% in EYBL this season, 34% last season, on limited number of attempts)
-Low 2P%. Settles for some tough mid-range jumpers. Can have a difficult time gaining separation at times due to average first step

Outlook Intelligent player with an excellent feel for the game. Body, athleticism, conditioning looks much improved over past year. Combo guard who appears to be a good enough ball-handler and passer to spend some minutes at point guard in college. Needs to continue to work on outside shooting and defensive prowess.

[Read Full Article]

---