Jonathan Givony
A consensus top-20 recruit in the 2013 high school class, Isaiah Hicks had very little impact in his first two seasons at North Carolina, playing just 11 minutes per game on average. Hicks was able to break out as a junior, winning ACC Sixth Man of the Year honors, after posting a solid 20 points and 10 rebounds per-40 minutes in his 18 minutes per game, on a highly efficient 66% true shooting percentage. Carolina lost in heartbreaking fashion in the NCAA Tournament Championship game, but is still expected to contend for the Final Four this season, with Hicks likely finally becoming a full-time starter in his last year of eligibility.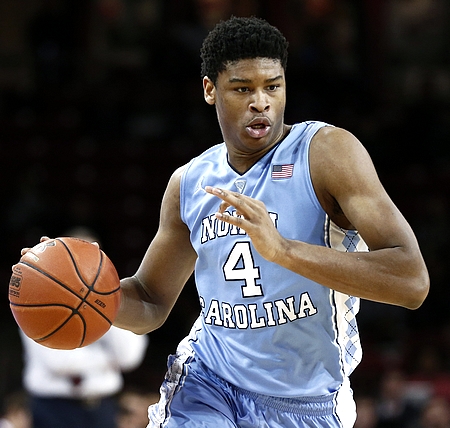 Hicks' physical tools are largely the reason he was considered such a highly regard recruit coming out of JF Webb high school, and remain a significant part of his intrigue as a NBA prospect. He has solid size for a power forward at 6'9, with a chiseled 242 pound frame that he's really maximized since arriving in Chapel Hill, and a 7'0 wingspan. He's a very good athlete on top of that, covering ground well, being quick off his feet, a rangy jumper and capable of explosive finishes off two feet from a stand-still.
Hicks has a compact offensive game, mostly revolving around running the floor, crashing the offensive glass, cutting off the ball, with the occasional post-up mixed in.
He was extremely effective with his back to the basket last season, showing a high-level of aggressiveness using his strong frame to carve out space and back down opponents. He has soft touch around the rim to help him finish plays if he can't bully opponents and then jump over them, showing good footwork and body control on his spin-moves.
Hicks' overall skill-level isn't especially high, as he noticeably avoids his left hand and will struggle if forced to spin to his right shoulder. He was able to take advantage of having the weaker big man matchup playing alongside two offensive post-up powerhouses in Brice Johnson and Kennedy Meeks last season, something most college teams simply aren't equipped to handle.
Hicks is also very effective as a straight-line driver from the mid to high post, using his quick first step and strong frame to bounce off opponents and create space to finish with his soft touch. Decisive, physical and aggressive with his moves, Hicks gets to the free throw line at a very nice rate in turn.
Hicks' overall versatility offensively is still a work in progress, as he's not much of a threat to score outside of 15 feet, which is something most NBA teams want their power forward to be able to do these days. He almost never looked at the basket even when left wide open on the perimeter last season, only taking one jumper outside of 17 feet according to Synergy Sports Technology. His shooting stroke doesn't look convincing at all, with a long and mechanical release, which helps explain his reluctance to fire away even when teams are purposefully not guarding him. With that said, he did improve his free throw percentage from 62 to 76% between his sophomore and junior seasons, and demonstrates fairly soft touch overall, so it's possible that this might be something he can continue to develop outside of college.
Generally speaking, Hicks doesn't appear to be someone you want making a ton of decisions with the ball in his hands, as he can get a little bit out of control when asked to go outside his comfort level. He generates almost nothing for teammates (career 5% assist percentage) and coughs the ball up a little more frequently than you might hope considering his role-player status (career 15.8% turnover percentage).
Hicks' calling card as a NBA prospect revolves around his energy-level and overall versatility he offers on defense. He can switch onto any position on the floor and stay in front of players much smaller than him thanks to his quick feet. His ability to get in a low stance, cover ground and contest shots on the perimeter at 6'9, 240 pounds is very intriguing in today's NBA. On top of that, he's strong enough to hold his ground against most big men, as well as rotate over from the weakside, block shots or take charges. He racked up rebounds, steals and blocks at a nice rate. His toughness and intensity was a difference maker on a UNC team that had quite a few mouths to feed offensively, and not enough role-players at times.
Hicks has the physical tools and motor to be an excellent defender at the next level as well, but is still working on his discipline, technique, consistency and experience to truly become elite in the college game. He loses his focus off the ball, takes poor angles in pick and roll coverages, and is susceptible to biting on fakes, being extremely foul prone at times last year.
Unlike many seniors, NBA scouts might still feel like they have a lot to learn about Isaiah Hicks going into his last season of college basketball, as he hasn't gotten a huge amount of playing time throughout his career, and seems to be on an upwards trajectory still. There is very much a place in today's NBA for versatile big men who can guard all over the floor and be difference makers with their energy level, and it will be interesting to see what kind of progress Hicks is able to make in his last year while finally playing a more featured role.