JaJuan Johnson
Recent Tweets
All Tweets
DraftExpress: Video interviews from the NBA Combine in Chicago w/ Trey Thompkins, Justin Harper, JaJuan Johnson and Jon Leuer http://bit.ly/luVN6j
2011-05-24 06:52:54
DraftExpress: 3rd group scheduled for Minnesota workout: Jacob Pullen, Andrew Albicy, Tyler Honeycutt, Chandler Parsons, Malcolm Thomas, JaJuan Johnson
2011-05-23 11:33:24
DraftExpress: Minnesota Group Workout, Bigs: Keith Benson, Michael Dunigan, Jordan Williams, Markieff Morris, JaJuan Johnson, Jamie Skeen, Nikola Vucevic
2011-05-17 11:21:47
DraftExpress: Best names confirmed so far at the Minnesota group workout: Travis Leslie, JaJuan Johnson, Reggie Jackson, Jereme Richmond, Keith Benson
2011-05-16 11:17:02
DraftExpress: Are you serious? That's a joke. He's very soft. RT @greggdoyelcbs: JaJuan Johnson is Big Ten Defensive Player of the Year!
2011-03-20 10:45:54
Team: Marquette, Junior
Physicals
Positions
Rankings
Misc
H: 6' 4"
W: 176 lbs
Bday: 03/18/1994
(21 Years Old)

Current: SG
NBA: SG
Possible: SG

Rank 49 in NCAA Juniors
RSCI: 35

High School: Southwind
Hometown: Memphis, TN

Predraft Measurements
| Year | Source | Height w/o Shoes | Height w/shoes | Weight | Wingspan | Standing Reach | Body Fat | No Step Vert | Max Vert |
| --- | --- | --- | --- | --- | --- | --- | --- | --- | --- |
| 2012 | LeBron James Camp | NA | 6' 4" | 176 | 6' 9" | NA | NA | NA | NA |



Basic Per Game Statistics

- Comprehensive Stats - Statistical Top 25s
| Year | League | Name | GP | Min | Pts | FG | FGA | FG% | 2Pt | 2PtA | 2P% | 3Pt | 3PtA | 3P% | FTM | FTA | FT% | Off | Def | TOT | Asts | Stls | Blks | TOs | PFs |
| --- | --- | --- | --- | --- | --- | --- | --- | --- | --- | --- | --- | --- | --- | --- | --- | --- | --- | --- | --- | --- | --- | --- | --- | --- | --- |
| 2014/15 | NCAA | JaJuan Johnson | 31 | 21.7 | 7.3 | 2.7 | 7.3 | 37.3 | 2.2 | 4.9 | 44.7 | 0.5 | 2.4 | 21.9 | 1.3 | 1.8 | 74.5 | 0.5 | 2.1 | 2.6 | 1.8 | 1.1 | 0.4 | 1.6 | 1.1 |

Player Page&nbsp&nbsp| Player Stats | Related Articles&nbsp&nbsp| Add to My Draft Express&nbsp
&nbsp
Situational Statistics: the 2011 Big Men Crop
June 21, 2011
Purdue big man JaJuan Johnson ranks as the highest usage player in this sample at 18.7 possessions per-game and scored a marginally above average 1.052 PPP overall. Johnson's perimeter orientation limits his rankings a bit, but he gets a boost from the fact that he turned the ball over a sample low 8% of the time.

From a situational perspective, no player in our rankings saw as many spot-up possessions per-game as Johnson (3 P/G). Converting 46.4% of those looks, Johnson's ability to shoot the ball drew him away from the rim, and subsequently the offensive glass. Johnson pulled down a sample low 7.4% of his possessions on the offensive boards.

Despite spending quite a bit of time out on the perimeter, Johnson saw a sample best 7.7 possessions per-game in the post, turning those touches into an above average at 1.019 PPP. On the whole, Johnson is one of the more well-rounded players amongst big men in this class on the offensive end.

[Read Full Article]

---
NBA Combine Interviews: Trey Thompkins, J. Harper, J. Johnson, Leuer
May 24, 2011
[Read Full Article]

---
Trending Prospects (1/27/2011)
January 27, 2011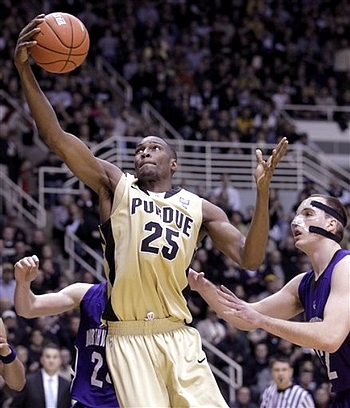 AP



Derek Bodner

With Robbie Hummel missing the year after re-injuring his ACL in practice before the start of the season, senior JaJuan Johnson -- along with fellow senior guard E'Twaun Moore -- has had to pick up much of the scoring load for Purdue. Johnson has responded by leading the Big Ten in scoring while showing the incremental improvement we have come to expect from the lanky big man.

Sporting an improved frame, adding a good 10-15 pounds of much needed bulk, Johnson has slowly but surely expanded his offensive game each season he's been at Purdue, developing a very dependable right handed hook shot and turnaround fade away jumper over either shoulder in the post. The improvement has continued this year, as his 1.054 points per possession on post up situations is the highest of his four year career, a testament to the strength he's added. He has a very high release point on both shots, showing the ability to get the shot off over long defenders and the touch to make contested shots.

Johnson could stand to diversify his post-game, as he doesn't show much ability to use his left hand in these situations, nor much in the way of counter moves, although he has started showing signs of an up and under move he didn't have in years past. Despite solid touch and the ability to get his shot off against longer defenders, Johnson still lacks great lower body strength, which could hamper his ability to get good enough post position to consistently get quality shots at the next level. He also tends to struggle playing through contact at times and can be easily dislodged from the post.

Furthermore, there are question marks regarding whether a NBA team will be willing to run their entire half-court offense through him the way Purdue has elected to this season, as he'll likely have to transition into being much more a complimentary scorer than a go-to guy in the NBA.

Another area that has shown considerable improvement has been his perimeter jump shot. Johnson's range was primarily 15 feet and in during his freshman and sophomore seasons at Purdue, but he has extended that out to the collegiate three point line this year. Showing a high, consistent release point, this is an area of Johnson's game that could translate well to the pick and pop landscape of the NBA.

The extension of his range has manifested itself in a considerably more efficient jump shooter than last year, going from 0.804 points per shot last year on jump shots to 1.011 points per shot this year, according to Synergy Sports Technology. Besides extending his range, he's also making his jump shots at a considerably better clip, up to 46.8% this year, up nearly 7 points from last year's clip. His high release point allows him to convert on contested jump shots at a good rate, not showing the kind of drop off in efficiency many big men suffer from.

The fact that he's now a legitimate threat from beyond the college 3-point line and is converting nearly 80% of his free throws is perhaps the most notable improvement he's made this season as far as his NBA potential is concerned, as it will make his transition to the League that much smoother.

Johnson's improved range affords him increased driving lanes, and he's shown an improved ability to use one or two dribbles to setup a pull-up jump shot. However, Johnson could stand to continue improve his ball-handling, as he very little ability to utilize his left hand, and doesn't show the ability to create for himself and get to the rim, either off spot-up situations where the defender closes out too quickly or off isolations. As a whole, Johnson does very little off isolation situations outside of the post, which is something that NBA teams might be concerned about considering his lanky frame.

Defensively, Johnson is long and quick off his feet, allowing him to excel as a weak-side help defender at the college level. He does a fair job defending the pick and roll as well for a collegiate center, although at times he can be caught flat footed and slow to recover to his man.

His main issue defensively is defending the post. He does a good job of using his length to contest shots, but his lack of lower body strength really manifests itself in this aspect of his game, as he struggles to deny post position, and is easily backed down, allowing high percentage shots. Furthermore, he seems to lack a degree of toughness and aggressiveness here, as its not rare to see players pushing him around, and he doesn't always respond the way you would hope.

Johnson also struggles on the glass, averaging only 6.6 defensive rebounds per 40 minutes, pace adjusted, which places him well into the bottom half of our database. His lack of strength, toughness and inability to hold position is a clear problem here, and one that it's hard to envision him overcoming with great success.

Overall, Johnson's improving perimeter game and high release point on his finesse post moves should allow him to have a reasonable amount of success offensively at the next level playing for the right team, as long as they are willing to live with his deficiencies as a rebounder and post-defender.

His lack of strength and physical toughness looks to be his Achilles heel on both ends of the court, preventing him from being a legitimate post presence offensively and making him a liability as a defender and rebounder. These will likely be the main question marks he'll need to address moving forward, and could be the difference in whether he sticks in the NBA or not.

Despite being a college senior about to turn 22 years old, Johnson's continual, gradual improvement suggests he may continue to make incremental improvements in his game, especially if his frame continues to fill out.

[Read Full Article]

---
Top NBA Draft Prospects in the Big Ten, Part One (#1-5)
September 1, 2010
Joseph Treutlein

After steadily improving his production in each of the first three seasons of his collegiate career, JaJuan Johnson has put himself firmly on the NBA draft radar as a senior, though many questions about his game still loom. How Johnson improves some of the weaker areas of his game will be critical in determining his draft stock come June, and he will have plenty of eyes on him playing on a talented veteran squad that returns its top three scorers.

From a skill standpoint, Johnson is still mostly the same player he was a year ago, making subtle improvements in a few areas, but not making big leaps in any particular category. He's developed into a very reliable back-to-the-basket player at the college level over his three years, relying heavily on a finesse game highlighted by turnaround jumpers and right-handed hook shots, both of which have extremely high release points and great touch. He finishes both of these moves with high consistency at this level, showing range out to 10 feet even, often putting in high difficulty shots with a hand in his face.

While Johnson is very effective in the post at this level, some concerns arise when projecting to the NBA, and these are all areas he hasn't shown much progress with in his college career. With his lack of bulk, Johnson does not respond well to physicality on the block, and despite being able to shoot over virtually everyone he faces, he tends to struggle whenever someone gets into his body while shooting. Johnson also lacks anything resembling a left hand, and doesn't show the greatest command of counter moves either, often not needing to rely on them given his extremely high release point and ability to hit tough shots fading away from the basket. Projecting to the next level, both of these areas are concerning, and it would be beneficial to his stock if he comes back to school stronger and with more of a mean streak, as he's shy to go up for power moves even when directly under the basket.

From the perimeter, Johnson shows pretty good form and touch on his jump shot, which has range out to just inside the college three-point line, but his efficiency on jumpers isn't great (0.8 points per shot according to Synergy Sports Technology), primarily because he takes so many of his shots from just inside the arc. While Johnson's form boasts a high release, consistent mechanics, and very good balance, he does tend to jump into his shots at times, and also could quicken his release a bit by not bringing the ball down to his waist as often, fixing both of which could lead to more clean looks without a hand in his face.

From a face-up position, Johnson continues to show flashes of taking his man off the dribble, looking surprisingly comfortable with the ball going left and right, but despite his long strides, he doesn't do a great job separating from his man and finishing at the basket on these forays, lacking the power to go through his man. This may be the most intriguing area of Johnson's game in the long term, however, and is something scouts will certainly be paying attention to this season.

With his excellent length and high level of coordination, Johnson shows good ability finishing on cuts, pick-and-rolls, and in transition, all of which would probably be more integral to his game at the next level, given the concerns about how his post game projects to translate. Still, even this area could benefit from more lower and upper body strength, as despite his extremely high levels of coordination and fluidity, Johnson doesn't seem to be at his potential explosively as an athlete.

Defensively, Johnson is an active defender who uses his length well in weakside situations, blocking a good number of shots on rotations in the lane. He tends to stick with his man well off the ball and shows good awareness of what's happening on the floor as well. In the post, he does a good job using his length to contest shots, keeping his hands up most of the time, however he shows major problems getting leverage with his lack of strength and high center of gravity, and he is often easily overpowered and outmaneuvered here, struggling heavily with physical players.

On the perimeter, he doesn't have the greatest lateral quickness due to his high center of gravity, but with his long strides and excellent length, he does a great job staying on his defenders hip on drives while contesting the ball from behind, doing so at a very effective level. His pick-and-roll defense is solid, as he shows good awareness and activity level, but this is one area where he doesn't use his length as effectively as he could, often keeping his arms at his sides when he could be smothering a trap or shutting down passing lanes. With his physical attributes, Johnson has good potential defending the pick-and-roll, and this is something he should be highly focused on improving as a senior, especially given the extreme importance of the pick-and-roll in the NBA.

Perhaps the biggest issue in projecting Johnson to the NBA continues to be his poor rebounding production. Despite playing center on an undersized Purdue squad, Johnson posted an unimpressive 9.1 rebounds per-40 minutes pace adjusted, further highlighting his strength limitations and lack of toughness. Considering the fact that he's not quite skilled enough to be viewed as a real go-to option in the NBA, he must be able to carve out a niche for himself in areas such as this. Right now he ranks amongst the worst rebounding big men in college basketball amid likely draft prospects.

Overall, Johnson has quite a few things he does very well, and he's certainly improved well in his three years in college, however many question marks still remain, and his struggles with physicality on both ends of the floor are major concerns projecting to the next level, as those are issues that can be exploited easily. As of now, Johnson likely projects as a second round pick, but he could certainly move up if he shows improvements in some of his problem areas while continuing to make good use of the things he already does very well.

[Read Full Article]

---
NCAA Tournament Performers, 3/26/09-- Part Two
March 26, 2009
When we first wrote about JaJuan Johnson following his freshman season, in which he averaged just 5.4 points on 42% shooting in 16.6 minutes, many may have wondered how he even qualified as an NBA draft prospect. Fast forward to the end of his sophomore season, and it's a lot easier to see why, as he's playing 10 more minutes per game, has more than doubled his scoring average, is shooting 12% better from the field, and has seen his blocks, rebounds, free throw attempt and assist rates rise—even on a per-40 minute basis—while his foul rate has dropped. Just to make sure that the rest of the country caught on, Johnson exceeded all expectations by dropping 22 points on the Washington Huskies (to go along with 4 blocks) this past weekend in a very tough second round NCAA tournament victory, and now is headed to the Sweet 16 to take on Hasheem Thabeet and UConn.

Johnson's offensive role expanded significantly this past season—going from shouldering a paltry 8% of Purdue's possessions to a much more normal 17% this season. Lately he's become even more important for them. While he's still at his best cutting off the ball, running the floor in transition, crashing the offensive glass, and finishing pick and roll plays—thanks to his excellent length and athleticism--he's become much more of a threat creating offense with his back to the basket in the post this season. His frame is still painfully underdeveloped, but he's become much more adept at making quick, confident moves in the paint, to get off his turnaround jumper or jump-hook shots—which he shows terrific touch on. His very high release point (shooting the ball from way above his head) allows him to get his shot off even while being bodied up intensely, and he seems to have a great knack for just throwing the ball in the basket in difficult situations, which may hint at exciting things to come in the future.

Where Johnson may have improved the most is in his ability to face the basket. He shows comfortable range out to 16-18 feet, and does not hesitate at all to attempt jumpers when left open on the perimeter. He still needs to improve his ball-handling skills, but you can see that there is some potential here as well. It's important that Johnson continues to improve on his perimeter skills, since he likely won't be much of a factor on the interior in the NBA with his lack of strength—you can already see how he struggles to establish position inside and has a hard time finishing through contact around the rim.

Defensively, Johnson has the length and athleticism to be a real factor as a shot-blocker at the collegiate level, and he currently ranks in the top-20 in this category per-40 minutes pace-adjusted. Because of how nimble his feet are, he's also able to step out and hedge screens fairly effectively, showing solid lateral quickness in the process. His lack of strength is a real problem against relatively productive big men, though, as he has a hard not giving up deep position in the paint, and can be backed down fairly easily in post-up situations. This would make him a pretty big liability at the higher levels of basketball, particularly the NBA.

On top of that, Johnson is an extremely poor rebounder, ranking amongst the worst players in college basketball at his position in the NCAA. His poor frame is obviously an issue here, but he also doesn't show a great deal of hustle or toughness going outside of his area and cleaning the glass.

As talented a prospect as Johnson is, he still is very much a raw player who needs time to gain experience and continue to develop his all-around game. His lack of strength is a serious hindrance on both ends of the floor, and would make it nearly impossible for him to see minutes in the NBA until he addresses that problem in a major way. With that said, Johnson could be on the verge of a breakout season at the collegiate level next year, and will be a very interesting prospect to keep an eye on as a junior.

[Read Full Article]

---
Top NBA Draft Prospects in the Big 10 (Part Two: #6-10)
September 13, 2008
5.4 points in 16.6 minutes per game usually doesn't scream NBA prospect to most people, but when you're a 6-10 super long and athletic big man with some budding skills, the predictions tend to be a bit more optimistic.

JaJuan Johnson played a fairly small role for Purdue as a freshman, garnering just under 8% of his team's possessions. He did not do a great deal to show that he deserved a whole lot more with the 42% he shot from the field, but digging a bit deeper definitely preaches patience considering the basic tools he brings to the table.

Johnson is a very quick player both vertically and horizontally, looking especially impressive getting up and finishing around the basket. He has nice hands and the length and explosiveness to finish pretty much everything underneath the hoop if strength isn't too much of a concern, and he draws fouls at a high rate to boot, showing decent touch from the free throw line in the process.

Most of his offense at the moment consists of running the floor in transition, grabbing offensive rebounds, making cuts to the rim, and playing pick and roll with his guards. At times he'll throw in a little jump-hook or turnaround jumper, but nothing to get too excited about just yet. He has no left hand, extremely limited footwork inside the paint, and is about 20-25 pounds away from being capable of holding his spot on the block, which renders him fairly useless with his back to the basket.

From mid-range, Johnson will knock down a jump-shot from time to time (he even hit a 3-pointer in the NCAA tournament), but his footwork looks sloppy and he doesn't show the polish to be very consistent at this point. His decision making skills just aren't there yet, not a shock considering how early in the maturation process he appears to be both physically and experience wise, so we're almost certainly looking at a 3-4 year player despite his extremely high upside.

Defensively, Johnson has great tools thanks to his length, size and athleticism, but he has no idea how to use them right now, getting backed down with ease in the post, and being abused from the outside as well due to his poor fundamentals and awareness. Johnson is too upright in his stance and thus struggles to move laterally on the perimeter, which usually makes him look more like he's chasing his defender than he is containing him. He wasn't much of a rebounder to compensate, grabbing just 7.5 boards per-40 minutes. Adding strength and doing a better job boxing out will probably help him in this area.

All in all, Johnson is an intriguing prospect who needs plenty of time and hard work before he can be considered anything more than a long-term project. He showed enough raw tools in his freshman year to be worthy of keeping an eye on, though.

[Read Full Article]

---