JaVale McGee
STRENGTHS:
- Excellent skill-level
- Ability to face the basket
- Excellent hands
- Shot-blocking skills
- Shot-blocking tools
- Huge upside
- Late bloomer
- Work ethic
- Ability to run the floor
- Athleticism
- Excellent wingspan
- Fluidity
- Physical specimen
- Size for position
- Solid frame
- 3-point range
WEAKNESSES:
- Decision making
- Shot-selection
- Footwork/Post-moves
- Left hand
- Atrocious defender
- Gets backed down in post
- Avoids contact
- Basketball IQ
- Experience
- Fundamentals
- High bust potential?
- Mental/Physical toughness?
- Not ready to contribute immediately
- Ability to finish through contact
- Strength
- Free throw shooting
Recent Tweets
All Tweets
DraftExpress: 2010 Top Vegas Summer League PERs Ty Lawson Demar Derozan Marcus Landry Russell Robinson John Wall Bobby Brown Sam Young Javale Mcgee
2013-07-17 13:24:59
DraftExpress: 2009 Top Vegas Summer League PERs Anthony Randolph David Monds Chase Budinger Quincy Douby Sean Singletary Clay Tucker JaVale McGee
2013-07-17 13:23:47
DraftExpress: RT @Deadspin: This Is Why JaVale McGee Is The Best Thing In The NBA http://t.co/q9GLACbG
2012-02-07 10:45:01
JaVale McGee is an absolute freak of nature. Body looks amazing. So talented. He's going to have a monster year if he stays focused.
2010-08-26 21:28:37
Lineups: Javale McGee, Amir Johnson, Nick Young, Marcus Coleman vs Julian Wright, Shaun Livingston, Brandon Jennings, Pooh Jeter,Bobby Brown
2010-08-26 20:35:25
Top 25s - Full List
Team: Mavericks
Physicals
Positions
Salary
Misc
H: 7' 0"
W: 241 lbs
Bday: 01/19/1988
(27 Years Old)

Current: C
NBA: C
Possible: C

Agent: B.J. Armstrong
Current Salary:$11,250,000

High School: Hales Fransiscan
Hometown: Flint, MI
Drafted: Pick 18 in 2008 by Wizards
Best Case: Channing Frye
Worst Case: Patrick O'Bryant

Predraft Measurements
| Year | Source | Height w/o Shoes | Height w/shoes | Weight | Wingspan | Standing Reach | Body Fat | No Step Vert | Max Vert |
| --- | --- | --- | --- | --- | --- | --- | --- | --- | --- |
| 2008 | NBA Pre-Draft Camp | 6' 11" | 7' 0" | 241 | 7' 6" | 9' 6.5" | 5.3 | 27.0 | 32.5 |



Basic Per Game Statistics

- Comprehensive Stats - Statistical Top 25s
| Year | League | Name | GP | Min | Pts | FG | FGA | FG% | 2Pt | 2PtA | 2P% | 3Pt | 3PtA | 3P% | FTM | FTA | FT% | Off | Def | TOT | Asts | Stls | Blks | TOs | PFs |
| --- | --- | --- | --- | --- | --- | --- | --- | --- | --- | --- | --- | --- | --- | --- | --- | --- | --- | --- | --- | --- | --- | --- | --- | --- | --- |
| 2015/16 | NBA | JaVale McGee | 3 | 10.7 | 6.7 | 3.0 | 5.0 | 60.0 | 3.0 | 5.0 | 60.0 | 0.0 | 0.0 | &nbsp | 0.7 | 2.0 | 33.3 | 2.0 | 3.3 | 5.3 | 0.0 | 0.0 | 0.0 | 1.0 | 1.0 |

Player Page&nbsp&nbsp| Player Stats | Mock Draft History | Related Articles&nbsp&nbsp| Add to My Draft Express&nbsp
&nbsp
NBA Summer League Review 2010: Las Vegas Profiles Part One
August 19, 2010
After seeing sporadic playing time for the majority of last season, McGee posted solid numbers in extensive minutes after the Wizards opened up a spot in the starting lineup by sending Brendan Haywood to Dallas. A standout performer in last year's Summer League, McGee was even better this year, showing excellent chemistry with Jon Wall and dominating his matchup offensively with his tremendous length and mobility for a player his height. Still far from a finished product in many areas, McGee continues to be a player to watch as he begins to see extensive minutes playing next to a true point guard.

As was the case last year, more often than not, JaVale McGee's frame is simply too much for many defenders to handle at this level. He's able to release shots around the rim with ease, use his huge strides to beat his defender to the rim, and offers a giant target for his teammates to pass to when they are looking to create. Over the course of the four games he played in Las Vegas, McGee shot nearly 70% from the field. When he was able to catch the ball with his defender recovering or within a few feet of the rim, his length and leaping ability did the rest, resulting in a handful of highlight plays and his exceptional shooting percentage.

McGee's ability to convert his finishing attempts has seldom been taken to task, he proved capable last season as a spot player and starter, but his post scoring continues to be a concern. He likes to use his length to his advantage using a nearly unblockable hook over his left shoulder, and shows soft touch on his turnaround jumper, but he doesn't always appear too fluid when making moves and lacks the refined body control that would take his post game to the next level. His touch can compensate for that to some degree, but it would be nice to see him add some polish to one or more of his post moves to become more comfortable in one-on-one situations.

Away from the rim, McGee knocked down a handful of midrange jumpers off of one dribble, but struggled in catch and shoot situations. Considering his height and athletic tools, anything McGee brings to the table outside of the paint is icing on the cake. In contrast, Flip Saunders would love to see McGee's physical profile turn him into a game-changer on the defensive end. McGee is already amongst the better shot blockers in the NBA, but he keeps himself off the floor with his tendency to commit fouls and doesn't always make his presence felt consistently. He didn't play with much urgency on the defensive end in Las Vegas save a few impressive blocks, though his length allowed him to challenge a lot of shots that the average NBA center wouldn't be able to. McGee still has a lot to prove in terms of man-to-man defense, but we can't draw many concrete conclusions about his defensive fundamentals from the Summer League.

With a youth-movement of sorts taking place in Washington, McGee was one of the more intriguing young bigmen in the game. John Wall will make McGee's life much easier than it has been in the past, and his physical tools will no doubt afford him some success next season, but he still has a world of untapped potential and will have every opportunity to achieve it over the next few seasons.

[Read Full Article]

---
JaVale McGee Workout: The Big Secret
May 19, 2008
DraftExpress was given exclusive access to observe a private workout of Nevada early entrant JaVale McGee at an undisclosed location. McGee has been training away from his collegiate settings for the past six weeks in preparation for the draft, shunning the services of big-name trainers to hone his talents with his agent Roosevelt Barnes.

Some eyebrows were raised after McGee made his decision to choose Barnes to represent him, given that his primary area of expertise is representing NFL players. However, many do not know that Barnes himself was a point guard on Purdue's final four team of the 1980's and was a former CBA player (in addition to playing linebacker for the Detroit Lions) before his work as a sports agent. With the assistance of a former CBA coach, Barnes put McGee through a grueling on-court workout that he feels is unparalleled to that any other potential draftees will encounter.

While JaVale McGee's name has been on the NBA radar all season long, many teams are not quite as familiar with this him as they are other top center prospects from high-major conferences. While Nevada had a large number of games on national television in the 06-07 season due to the presence of All-American Nick Fazekas, they were on national television only a handful of times this past season and die-hards were forced to scour through regional channels to catch a glimpse of McGee. As an unknown compared to his draft counterparts, Barnes said that McGee has earned himself the nickname: "The Big Secret".

The workout began with McGee (along with two other 6'10 plus players) going through a series of stretching drills to get loose. The stretching session and warm-up lasted for around 20 minutes with a series of footwork drills through ladders to follow. Like the usual ladder drills, Barnes instructed the players to put "two feet in, one foot out" to start off, showing off the foot speed of the three big men. It was clear that McGee was head and shoulders above the competition in these drills, which should be expected since one of the players has been training for a week and another only one day. A number of different footwork drills followed with variation and pace differentiated in an attempt to achieve optimal coordination.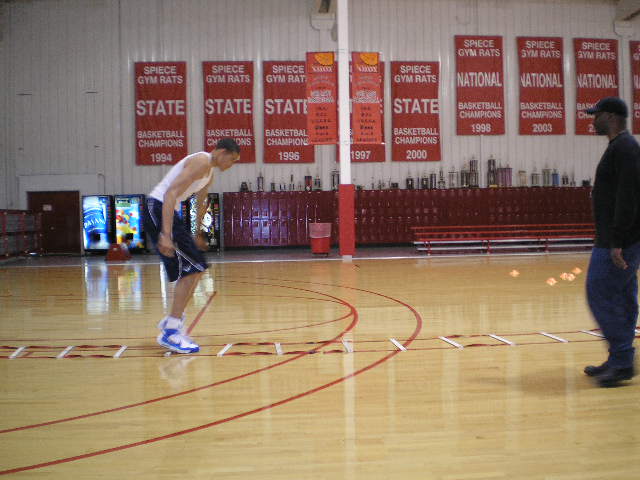 Rodger Bohn/DraftExpress.com



From the footwork, the players moved to full court ball-handling drills. Switching between oversized basketballs the same weight as normal ones and regular NBA game balls, the players went through a number of drills. JaVale excelled yet again in this area, showing off very impressive ball-handling and coordination skills for a 7-footer, while smoothly wrapping the ball around his back and swiftly crossing it over.

Barnes and his assistant then set up a number of small discs on the floor, which the players were to weave within while handling the ball. The Nevada sophomore showed off an outstanding handle for a player playing the center position. Fluidly handling the ball with both his left and right hands, he utilized his long arms to keep the ball very low to the ground. It was definitely an impressive showing for the big man as far as handling the rock was concerned.

The training staff started the one on one series by having the players simulate a pick and pop situation, then playing one on one with three dribbles once they had the ball in their hands. McGee looked especially comfortable in this drill, showing off his first step and ability to attack the basket, especially when going right.

Shifting from the half court game, the players that began doing a series of full court one on one games, dribbling at about 50% to half court and then passing the ball to one of the trainers, only to have it fired back and be forced to play the game with only three dribbles. This drill showed how much a player could create in a short period of time, and McGee excelled. Using his long strides to the rim, he was able to get around opposing defenders in situations that his path appeared to be cut off. The long limbs that McGee possesses enabled him to create shots at very awkward angles that the majority of players are unable to, therefore allowing him to score on possessions thought to be dead. As one can imagine, there were some jaw dropping dunks by the sophomore once he made his way to the bucket in these drills.

When the full court one on one concluded, the players moved to shooting drills. Shooting NBA and collegiate three pointers from seven different spots on the floor, the players were charted shooting 70 shots from beyond the arc at each distance. McGee worked on his fundamentals by stepping into his shot equally with both his left and right feet, and had average results shooting the ball from the perimeter. A 33.3% shooter from the land of three in real-game college settings, he shot 38.5% (27/70) from the NBA three point line and 42.8% (30/70) from the collegiate line in the workout drills.

Switching from skills to explosiveness, the trainees then began doing a series of drop steps for dunks with an 8 pound medicine ball. McGee was clearly the best of the three in this drill, displaying outstanding lower body strength and easily slamming ball after ball. The players went towards both the middle of the court and towards the baseline, with McGee pacing the group with 26 and 25 slams in each direction respectively.


Nevada Athletics



With conditioning seeming to be the focus of the workout, the group moved to full court post one on one next. The three would alternate going up and down the floor, taking a one possession break in between going through the drills offensively and defensively. This was our lone chance to observe JaVale in the low post, and he was able to score on the duo primarily through a series of turnaround jumpers off the glass. Aside from those turnaround bank shots, he still looked a bit raw with his back to the basket and will need to continue to improve on this area of his game if he hopes to play with his back to the basket in the NBA.

The grueling three plus hour workout came to a conclusion with the players jogging from NBA three point line to NBA three point line and shooting three pointers, before moving in to the collegiate three point line and 17 foot area. By this time the players were physically drained, yet were forced to make 20 or so jumpers from each spot before their workout came to a conclusion.

The workout put on by Barnes was different than those of other trainers observed, primarily due to his focus on conditioning just as much as actual on court basketball training. Basically every drill involved some sort of full court running and was done with high intensity. Interestingly enough, as if these drills weren't enough conditioning, the players also do a series of track workouts and hit the weights 4 days a week. The former basketball and football player-turned agent seems to have his mind set on what will best prepare his client for the NBA Draft and from what we saw, it appears that he's doing a pretty good job thus far.

JaVale McGee Breakdown

Physically, much has changed for McGee since leaving Reno to come train with Barnes. Listed at 237 pounds, the big man came into training weighing around the 228 pound mark. Since then, McGee has begun working diligently in terms of sculpting his body and improving his core strength. With his added 8 pounds of muscle, he now legitimately weighs 237 pounds and has body fat hovering around the 5.7% area according to Barnes. Still relatively underdeveloped in terms of upper body strength, the son of WNBA great Pam McGee has a very sturdy lower body that bolsters his explosive leaping ability. Throw in a 7'6 wingspan, the ability to run the floor like a deer, and a frame that could easily add another 20 pounds and it's easy to see why he's such an interesting prospect.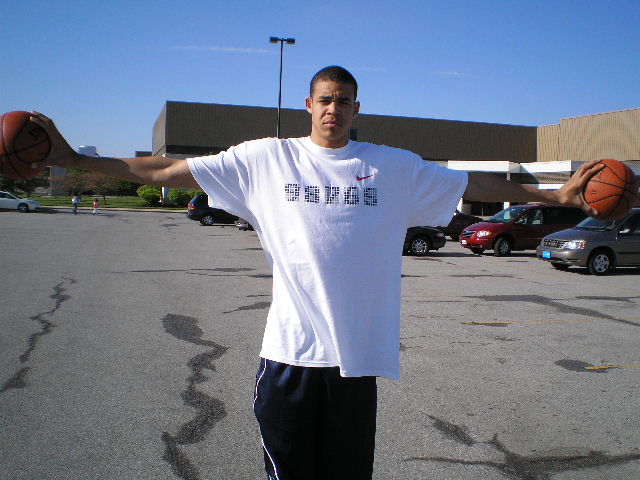 Rodger Bohn/DraftExpress.com



For a player standing a legit seven feet, there is plenty of intrigue with the raw skills that he possesses from the outside. Shooting the ball, he owns NBA range and shows flashes of being a threat from there with improved fundamentals. McGee was a bit streaky in the drills often hitting 3 or 4 threes in a row before missing an equal amount in sequence. Much of this hinges on his tendency to dip the ball below his waist from time to time, which drastically affects his shooting accuracy. With his size and quick release, the fact that McGee shoots more of a set shot is not as big of a concern as it would be for a player standing 6'8 or 6'9.

When facing the basket, JaVale uses his long strides and quick rip-throughs to get to the rim, usually finishing acrobatically around the basket. He moves around on the floor unlike most seven footers, looking completely normal putting the ball on the floor from 20 feet away from the hoop. McGee's large hands and long arms allow him to move the ball around in the air a bit in order to finish around the cup, which he did especially well with his right hand. McGee is still far from a finished product in terms of his offensive skill set, but the raw skills he does possess when facing leave optimism for his growth in the area down the road.

Given the minimal opportunity to watch McGee in the low post, we didn't really have much to evaluate. He showed off a few gorgeous fade-away jumpers turning towards his right shoulder, which he elegantly kissed off the glass. That aside he made a number of awkward one handed swooping shots through the paint, via extending his super long arms around defenders. There is still much room for improvement in the low post for the Nevada big man though, especially in terms of footwork in the pivot and finishing with his left hand Despite owning a very strong lower body JaVale, did not show great balance when faced with physical play in the low post. His lack of balance on the blocks hindered him mightily, and uncoincidentally he tended to go towards turnaround jumpers from the post, rather than power moves towards the rim.

After struggling mightily with his on the ball defense during the collegiate season, McGee appears to be making strides as a man to man defender. While the players that he was pegged against were not anywhere near the caliber of the draftees he's going to be matched against in the upcoming weeks, he did a very nice job of eliminating any separation that opposing offensive players have created. The added explosiveness that JaVale has added has enhanced his closing speed on the defensive end, as if his shot blocking ability weren't already enough. McGee has already established himself as one of the elite help-side defenders in the draft and seems to be making the right steps to becoming a more complete defender.

Workouts will be crucial for McGee separating himself from the slew of fellow big men that could be picked in the late lottery to mid-first round. Names such as Kevin Love, Kosta Koufos, Anthony Randolph, DeAndre Jordan, Marreese Speights, Alexis Ajinca, and Roy Hibbert will certainly be amongst those JaVale has to face in order to distinguish himself from the group of big men slotted around picks 10 through 25. McGee will not be participating in the Orlando Pre-Draft Camp, but may be on the "physical only" list once it is released next week. From then on out McGee will hit the workout trail, and Barnes and Co. feel "The Big Secret" will be a secret no more.

[Read Full Article]

---
Rule Changes, Early-Entry Speculation, JaVale McGee/Lopez Twins
April 2, 2008
Rare physical specimen—has an almost unprecedented combination of size, length (7-6), athleticism and fluidity, packed on a frame that should easily be able to fill out nicely. Has excellent hands, runs the floor exceptionally well, and is extremely reactive off his feet. Has an intriguing variety of skills too—the ability to knock down 3-pointers, put the ball on the floor, and execute some incredibly smooth pivot moves in the paint, finishing elegantly off the glass with excellent extension and touch. Gets off the ground impressively and can really be a factor as a shot-blocker or on the offensive glass. A late bloomer who barely played in high school and averaged just 10 minutes a game as a freshman—the sky is clearly the limit on his upside.

The problem is he's extremely far from reaching his full potential—so far that you have to wonder if he'll ever make it considering the way he looks at times on the court. Struggles to establish position and finish in the paint, settles for some incredibly awkward off-balance shots, and is virtually a black hole with his passing skills—averaging 4 turnovers for every 1 assist. Looks very disinterested at times, doesn't hustle, gives up on plays, late getting back down the floor, and might be the worst man to man defender we've ever evaluated in the post. Gets pushed around, gambles excessively for steals, has no stance or fundamentals, doesn't move his feet, and is a complete non-factor even against the mediocre competition he faces. According to Synergy's "PlayType QuickTable stats," McGee was scored on 66% of the time when being posted up in the paint (against the likes of Fresno State, Utah State, Houston, etc). Is light years away from being able to compete on an NBA level defensively, if ever.

Chances of returning to school: 0%. Surprisingly already decided to hire an agent, from the NFL ranks. Many scouts are very high on McGee, due to his incredibly high ceiling, which gives him "home run potential" once you get outside the top 10-12 players in this draft. McGee is the type of player that GMs love, but coaches hate, since he could make someone look great down the road, but will take years and years of hard work before he has any chance to do so. If he does, watch out.

[Read Full Article]

---
NCAA Weekly Performers, 1/4/08-- Part Two
January 5, 2008
Nevada's sophomore big men has made some huge strides from his innocuous 3 point, 2 rebound, 10 minute per game freshman season. Coach Mark Fox has him up to nearly 28 minutes per game this year now that Nick Fazekas is off to the NBA, and McGee has responded with an excellent 13.4 points, nearly 9 rebounds, and 3.5 blocks per game.

In terms of pure upside, it's difficult to find that many players in college basketball who are as intriguing as McGee. Standing 7-feet tall, with a pterodactyl wingspan, McGee is already in a class of his own in terms of his physical tools. He's also an incredibly mobile player for his size, showing great fluidity and outstanding quickness, running the floor extremely well, and being super quick getting off his feet to finish around the basket or challenge shots.

More than just a physical marvel, McGee also drops some stunning glimpses of potential from time to time. He can palm the ball like a cantaloupe and swoop around the post to throw in a soft one-handed jumper off the glass, or use his outrageous extension to pull off some circus style dunks. His incredible reach also makes him an outstanding offensive rebounding threat, being able to just outreach everyone else on the floor and tip the ball to himself, sometimes to catch the ball and finish with a terrific put-back dunk, all in one fluid motion. It's hard not to come away extremely impressed by some of the plays he makes from time to time, and you only wonder how good he might become if he can somehow learn to deliver them on a more consistent basis.

Offensively, McGee has nice touch around the hoop, and shows some glimpses of a jump-hook shot or a turnaround jumper. It all comes in very small doses, though, as he lacks the strength to establish (and hold) any real position for himself in the paint, and looks very uncomfortable banging in the post and trying to finish against opposition. His footwork is quite average, and he rushes his shots badly, lacking a great feel for how to set his man up and often preferring to fade away softly from contact rather than go up and finish strong. He's particularly ineffective trying to finish moves from the left block, as his left hand is just non-existent and he makes a mess trying to force up difficult shots with his right.

Even though McGee has a hard time finding good shots for himself in the paint, he's still somewhat of a black hole, as his 0.8 assists compared with 3.0 turnovers per game average might suggest. Once the ball go towards his direction, it's very rarely going to come out, as he is more likely to just heave a bad shot up on the rim rather than survey the area using his height and maybe kick the ball out.

Despite being 7-feet tall, McGee looks pretty comfortable facing the basket, showing surprisingly good ball-handling skills putting the ball on the floor to create his own shot, and shooting range that extends all the way to the 3-point line. These are incredibly intriguing skills that could be developed into real weapons down the road, but for now, McGee has no idea what his limitations are seemingly, and sometimes does more harm than good with his forays out to the perimeter. His shot selection is poor, and he often overdoes things with his dribbling, making him a true feast or famine type of player who follows up one good play with one bad one. It doesn't seem like he's completely resolved to the fact that he's 7-feet tall and not a guard, at least based off some of the moves he tries to execute at times. It wouldn't be a stretch to say that his basketball IQ is questionable, and he surely lacks a great deal of high level experience. He's shooting only 50% from the field (pretty poor for a 7-footer), and just 59% from the charity stripe, which is usually a sign that he'd be best served working on his free throw shooting before he tries to impress with his 3-point stroke (where he is 4 for 16 so far on the year).

Defensively, McGee has game-changing potential thanks to his combination of size, length and athleticism. He also has pretty good timing on top of that, making him quite a force at times with his shot-blocking. He's had three games this year for example with 6 blocks or more, and is averaging three per game on the season in under 28 minutes.

With that said, McGee has a long ways to go on this end of the floor as well, blocks and steals aside. His lack of strength is a hindrance when trying to deal with physically developed players, and he often gets pushed around in the paint with his obvious lack of bulk and toughness. McGee suffers from the same problem that a lot of young shot-blockers do—he gives up excessive space in the post thinking he'll be able to compensate with his length and quickness to send the shot back as soon as it goes up. This is sometimes indeed the case, but at the next level it won't be as easy, and he already has a tendency to bite on pump-fakes and get caught with his hand in the cookie jar. We're often lacking a certain degree of activity from McGee, as he shows poor awareness on the defensive end and doesn't always play as hard as one might hope. He gets outhustled occasionally going after rebounds, and doesn't fight back at times when smaller players are pushing him around.

All in all, McGee is a superb prospect who is in dire need of a great deal of maturing and developing (and playing time) before he can even begin to think about the NBA. He could probably get drafted in the first round solely based off his potential, possibly this year already, but sitting on the bench for a few years is probably the worst possible thing you could wish upon a player like him. He reminds of somewhat of a mix between Brandan Wright and Patrick O'Bryant at this point in his career, but is obviously getting better day by day and still has a huge amount of upside left to tap into. It will be very interesting to see how he continues to develop.

[Read Full Article]

---