Jabari Bird
Recent Tweets
All Tweets
DraftExpress: High School Class of 2013 Reports, Part Two http://t.co/BvnuUOuK http://t.co/tCUbY1xD Jabari Bird, Marcus Lee, Tyler Ennis, Nick King, more
2012-09-12 10:33:20
DraftExpress: Updated reports coming up on Jabari Bird, Marcus Lee, Xavier Rathan-Mayes, Tyler Ennis, Nick King, Semi Ojeleye, Matt Jones, Damian Jones.
2012-09-12 09:50:35
DraftExpress: Oakland Soldiers advance to play CIA Bounce in the #eybl Peach Jam Final. 55-53 over CP3. Strong outing from Stanley Johnson and Jabari Bird
2012-07-22 11:46:04
DraftExpress: Jabari Bird fouls Theo Pinson as the buzzer expires, up 55-52. Three shots here. Wow. #eybl
2012-07-22 11:41:25
DraftExpress: Jabari Bird makes the third. 1.9 seconds left. Oakland Soldiers wins 51-50. #eybl #peachjam
2012-07-22 04:11:16
Predraft Measurements
| Year | Source | Height w/o Shoes | Height w/shoes | Weight | Wingspan | Standing Reach | Body Fat | No Step Vert | Max Vert |
| --- | --- | --- | --- | --- | --- | --- | --- | --- | --- |
| 2014 | Nike Skills Academy | NA | 6' 6" | 199 | 6' 7" | NA | NA | NA | NA |
| 2012 | LeBron James Camp | NA | 6' 5.5" | 179 | 6' 7" | NA | NA | NA | NA |
| 2012 | Kevin Durant Camp | NA | 6' 5.5" | 179 | 6' 7" | NA | NA | NA | NA |



Basic Per Game Statistics

- Comprehensive Stats - Statistical Top 25s
| Year | League | Name | GP | Min | Pts | FG | FGA | FG% | 2Pt | 2PtA | 2P% | 3Pt | 3PtA | 3P% | FTM | FTA | FT% | Off | Def | TOT | Asts | Stls | Blks | TOs | PFs |
| --- | --- | --- | --- | --- | --- | --- | --- | --- | --- | --- | --- | --- | --- | --- | --- | --- | --- | --- | --- | --- | --- | --- | --- | --- | --- |
| 2015/16 | NCAA | Jabari Bird | 6 | 27.5 | 8.8 | 3.8 | 8.2 | 46.9 | 3.0 | 4.7 | 64.3 | 0.8 | 3.5 | 23.8 | 0.3 | 1.0 | 33.3 | 1.8 | 2.0 | 3.8 | 0.8 | 0.5 | 0.5 | 0.5 | 2.0 |

Player Page&nbsp&nbsp| Player Stats | Mock Draft History | Related Articles&nbsp&nbsp| Add to My Draft Express&nbsp
&nbsp
Top NBA Prospects in the Pac-12, Part Five: Prospects #5-10
September 7, 2015
Matt Kamalsky

One of the streakier teams occupying what became a crowded middle-tier in last year's Pac-12 race, California finished 18-15 in their first year under Head Coach Cuonzo Martin. Returning most of their contributors from a year ago, including do-it-all point guard Tyrone Wallace, the Golden Bears figure to take a major step forward this season after landing one of the top recruiting classes in the country headlined by small forward Jaylen Brown and big man Ivan Rabb.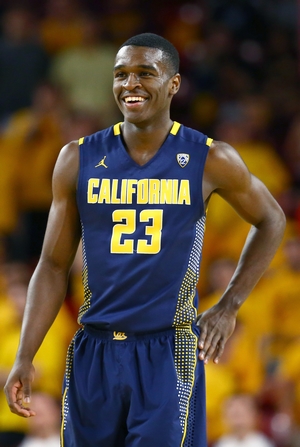 US Presswire



Something of a forgotten man on a team that suddenly sports a number of intriguing NBA prospects, Jabari Bird, arguably the most talented and highly anticipated recruit ex-Head Coach Mike Montgomery landed in his stint at Cal (at least since Leon Powe in 2003), returns to Berkley for his junior year facing somewhat unusual circumstances for an upperclassman.

Ranked as one of the top-25 players in the class on 2013, Bird came to Cal with a reputation as a talented offensive player with good scoring instincts. Playing a fairly significant role and coming on strong out of the gates with a big performance at the Maui Invitational as a freshman, Bird wasn't able to make the most of the momentum he built in NBA circles after an ankle injury kept him out of action for a number of games in the middle of the season, even though he once again stood out in Cal's NIT run.

Last season, Bird boosted his scoring average into double figures and again looked good early, but a stress fracture once more kept him out of action for a stretch in the middle of the season. Looking explosive at times in the later part of the year, but also quite inconsistent, Bird showed the ability to score in bunches, but wasn't particularly productive otherwise finishing the year averaging 14.6 points, 4.6 rebounds, and 2.4 assists per-40 minutes pace adjusted.

An aggressive offensive player, who, as we've noted previously, doesn't always pick and choose his spots effectively, Bird does the majority of his damage in spot up and transition situations. A good shooter whose NBA prospects would benefit immensely if he emerged as a great one, Bird has nice mechanics when he's shooting in rhythm, gets good elevation both off the catch and off the dribble, and made 37% of his 3-point attempts a year ago. He looks a bit rigid shooting off the catch at times, which limits his effectiveness, especially from the corners, and settles for highly contested shots at times, particularly inside the arc where he attempted 50 jump shots last year, but made just 38% of those attempts.

A fluid, but not overwhelmingly quick or explosive athlete, Bird shows the ability to get to the basket off the dribble, showing nice body control finishing inside, even if he sometimes tries to make shots from near impossible angles. Asked to run the pick and roll a bit a year ago and given a lot of freedom in transition, Bird is not a great shot creator for himself or others and prefers to settle for jump shots, but shot a tremendous 64% at the rim a year ago in limited attempts thanks to his instincts and knack for finishing around defenders inside.

Standing 6'6 with a 6'7 wingspan, Bird has good size for a shooting guard, but lacks overwhelming length. Though he's not a freak athlete and, like the Golden Bears as a team, created very few turnovers defensively a year ago, Bird has developed into a fairly attentive defender. He's not impervious to being a step slow recovering to the ball after helping down low or getting beat off the dribble, but he appears to have developed more of a sense of urgency on this end of the floor under Martin, even if his impact and upside are limited. His strength remains a concern as he struggles to fight through screens and defend bigger wing scorers.

Finishing as Cal's fourth leading scorer a year ago behind two guards who both return this season, Bird will face stiff competition for touches with Brown and Rabb entering the fold as well. There's no question he's a talent offensively, but he's yet to take the type of big step forward as a player that would establish him as a potential early-entry candidate. His injuries surely haven't helped in that regard, and if he can remain healthy and show progress as a decision-maker and shooter this season, he could make a strong impression on scouts, as they'll be in attendance in Berkley early and often this season. Cal employed a fairly balanced offensive attack in their tour of Australia, and it will be interesting to see how that holds during the regular season.

[Read Full Article]

---
Top NBA Prospects in the Pac-12, Part 4: Jabari Bird Scouting Video
September 5, 2014


Mike Schmitz is the video analyst for DraftExpress. Follow him on twitter and check out the DraftExpress Video section. He will be breaking down the NBA draft in digital format all year long for us.

[Read Full Article]

---
2014 adidas Nations Interview: Jabari Bird
August 31, 2014
[Read Full Article]

---
McDonald's Interview/Practice Highlights: James Young, Selden, Bird
April 13, 2013
[Read Full Article]

---
High School Class of 2013: Elite Prospect Scouting Reports, Part Two
September 12, 2012
Jonathan Givony

Recruiting Rankings: ESPN: #20, Scout: #15, Rivals: #20, 24/7: #21

Strengths:
-Good size for a wing
-Frame should fill out nicely in time
-Good athlete
-Talented one on one player
-Can create his own shot with either hand
-Solid mid-range game
-Finishes well around the basket, sometimes in acrobatic fashion
-Excellent shooting mechanics
-Can make shots off the dribble or with feet set
-Elevates well creating separation from defender to get pull-up jumper off

Weaknesses:
-Average wingspan (measured 6-7)
-Lacks strength. Only 179 pounds. Will take time for body to fill out
-Needs to improve polish, experience-level in half-court
-Average ball-handler
-Can't consistently create good shots around the basket in the half-court at a high rate yet
-Settles for bad shots at times
-Outside shot prone to streakiness

Outlook:
Talented wing with excellent scoring instincts. Still a bit rough around the edges, but that's to be expected considering his age. Has the potential to develop into an extremely interesting prospect long term.

Highlights:




[Read Full Article]

---