Jabari Parker
Recent Tweets
All Tweets
DraftExpress2: Year of the injury on the NBA. From Paul George to Kyrie Irving...as well as Durant Kobe Melo Bosh Love W Matthews Jabari Parker etc.
2015-06-05 18:37:12
DraftExpress: How did Jabari Parker and Andrew Wiggins fare in their last head to head matchups? We broke down the videos http://t.co/dLFFAFnBD2
2014-07-11 20:01:09
DraftExpress2: Jabari Parker is likely to be the early favorite to win Rookie of the Year. Perfect fit on the Bucks.
2014-06-26 19:50:04
DraftExpress: With the #2 pick in the 2014 NBA Draft the Bucks select Jabari Parker
2014-06-26 19:47:11
DraftExpress: Andrew Wiggins now the odds on favorite to be picked #1 according to Vegas Wiggins\u00a02\/7 Jabari Parker\u00a09\/4 Joel Embiid 12\/1 (h\/t @bovadaLV)
2014-06-26 12:51:10
Team: Bucks
Physicals
Positions
Rankings
Salary
Misc
H: 6' 8"
W: 241 lbs
Bday: 03/15/1995
(20 Years Old)

Current: SF/PF
NBA: SF/PF
Possible: SF/PF

RSCI: 5

Agent: Arn Tellem
Current Salary:$4,930,560

High School: Simeon Vocational
Hometown: Chicago, IL
Drafted: Pick 2 in 2014 by Bucks

Predraft Measurements
| Year | Source | Height w/o Shoes | Height w/shoes | Weight | Wingspan | Standing Reach | Body Fat | No Step Vert | Max Vert |
| --- | --- | --- | --- | --- | --- | --- | --- | --- | --- |
| 2013 | Kevin Durant Camp | NA | 6' 8.5" | 240 | 6' 11.5" | NA | NA | NA | NA |
| 2013 | Hoop Summit | NA | 6' 8" | 241 | 7' 0" | 8' 8" | NA | NA | NA |
| 2011 | LeBron James Camp | NA | 6' 8.5" | 222 | 6' 11" | NA | NA | NA | NA |
| 2011 | Kevin Durant Camp | NA | 6' 9" | 222 | 6' 11" | NA | NA | NA | NA |
| 2010 | NBA Top 100 Camp | 6' 6" | NA | 235 | 6' 10" | 8' 6" | NA | NA | NA |



Basic Per Game Statistics

- Comprehensive Stats - Statistical Top 25s
| Year | League | Name | GP | Min | Pts | FG | FGA | FG% | 2Pt | 2PtA | 2P% | 3Pt | 3PtA | 3P% | FTM | FTA | FT% | Off | Def | TOT | Asts | Stls | Blks | TOs | PFs |
| --- | --- | --- | --- | --- | --- | --- | --- | --- | --- | --- | --- | --- | --- | --- | --- | --- | --- | --- | --- | --- | --- | --- | --- | --- | --- |
| 2015/16 | NBA | Jabari Parker | 12 | 23.1 | 9.7 | 4.1 | 8.3 | 49.0 | 4.1 | 8.3 | 49.5 | 0.0 | 0.1 | 0.0 | 1.5 | 1.7 | 90.0 | 1.0 | 2.5 | 3.5 | 1.0 | 0.6 | 0.4 | 0.7 | 1.1 |

Player Page&nbsp&nbsp| Player Stats | Mock Draft History | Related Articles&nbsp&nbsp| Add to My Draft Express&nbsp
&nbsp
2014 NBA Draft Media Day Interivews: Parker, LaVine, Payne
June 26, 2014
[Read Full Article]

---
The Past, Present and Future of the SF Position and the 2014 NBA Draft
June 24, 2014
In Parker's case, digging a little deeper into the comparisons above shows that Glenn Robinson faced similar criticisms as a highly productive freshman. As much weight as Parker put on as he battled injuries as a high school senior, his height and weight combo are virtually identical to what Glenn Robinson posted coming out of Purdue after his sophomore year. While Parker's size and post-heavy role led some to label him as a combo forward, he was more perimeter-oriented than Robinson was as a freshman. It wasn't until Robinson was a 21 year old sophomore that he developed into a prolific perimeter shooter, but even after that, his ability to take smaller forwards into the post was a key part of his skill set until the end of his career.

[Read Full Article]

---
Jabari Parker vs NBA Length Video Analysis
June 3, 2014
A detailed video analysis by Mike Schmitz of how Jabari Parker performed in his match ups against players and teams with NBA length and athleticism.

---
More Situational Videos from Mike Schmitz
Noah Vonleh vs NBA Length
Elfrid Payton vs Elite Competition
Doug McDermott vs NBA Length
Jabari Parker vs, Aaron Gordon
Joel Embiid vs NBA Caliber Centers
Julius Randle vs NBA Length
Andrew Wiggins vs Marcus Smart
---
Take a look at our brand new video section for a compilation of all the videos we've produced this year.
[Read Full Article]

---
Jabari Parker 2014 NBA Pre-Draft Workout Video
June 3, 2014
Footage of Jabari Parker working out in preparation for the 2014 NBA Draft.



Previous 2014 NBA Draft Workout Videos


-Noah Vonleh
-T.J. Warren
-Elfrid Payton
-Zach LaVine
-Aaron Gordon
-Doug McDermott
-Nik Stauskas
-Adreian Payne
-K.J. McDaniels
-Sean Kilpatrick
-Joe Harris

[Read Full Article]

---
Jabari Parker vs Aaron Gordon Head to Head Matchup Analysis
May 31, 2014
A detailed video analysis by Mike Schmitz of how Jabari Parker and and Aaron Gordon performed in their matchup against each other this season, with a specific focus on how they looked guarding each other. We examine the strengths of weaknesses of each prospect first and then see how Parker and Gordon actually fared.

---
More Situational Videos from Mike Schmitz
Julius Randle vs NBA Length Video Analysis
Joel Embiid vs NBA Caliber Centers Video Analysis
Andrew Wiggins vs Marcus Smart
---
Take a look at our brand new video section for a compilation of all the videos we've produced this year.
[Read Full Article]

---
NBA Draft Prospect of the Week: Jabari Parker
December 2, 2013
Jabari Parker was the most productive freshman in college basketball in the month of November, averaging 23 points and 8 rebounds per game while shooting a scorching 57% from 2-point range and 50% from beyond the arc.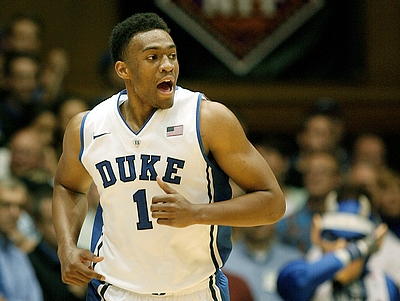 US Presswire



Parker's Duke squad lost their two toughest outings of the season, versus Kansas in Chicago and against Arizona at Madison Square Garden, but are still 6-2 with plenty of big games still left to come.

Playing on some of the biggest platforms of college basketball thus far has given us ample opportunity to evaluate Parker's very distinct strengths and weaknesses as a prospect, which we've done in the following video scouting report courtesy of Mike Schmitz.



All of our video scouting reports this season can be found here.

[Read Full Article]

---
2013 Nike Hoop Summit Practice Drill Videos
April 24, 2013
[Read Full Article]

---
2013 Hoop Summit USA Junior Team Measurements
April 19, 2013
Jabari Parker
Height w/ Shoes: 6'8
Weight: 241
Reach: 8'8
Wingspan: 7'0

[Read Full Article]

---
Jabari Parker McDonald's All-American Interview/Practice Highlights
April 8, 2013
More McDonald's Game Content
-2013 McDonald's All-American Dunk Contest Videos
-Mcdonald's All-American Week Player Evaluations
-Kentucky's 2013 Recruiting Class at the McDonald's All-American Game
-2013 McDonald's All-American Duke-UNC Smackdown, Part 7
[Read Full Article]

---
HoopHall Classic Scouting Reports: Elite 2013 Prospects
January 24, 2013
Jabari Parker, 6'7, SF, Simeon, 2013
Committed to: Duke

Recruiting Rankings: ESPN: 2, Rivals: 3, Scout: 2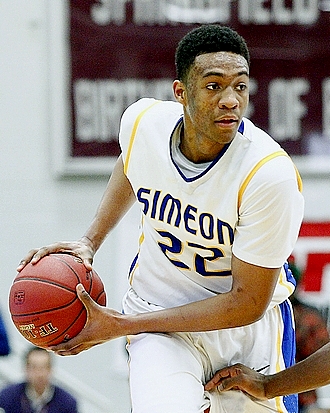 US Presswire



Strengths:

-Terrific size at 6-9
-Strong frame
-Very advanced scoring instincts
-Outstanding shooter with feet set, as well as off the dribble
-Capable of generating good looks in mid-range area with size, high release point and ability to fade and create separation
-High basketball IQ. Plays under control. Makes the extra pass
-Can post up a bit, mostly to shoot a turnaround jumper
-Good anticipation skills for rebounds/blocks. Shows good instincts tracking offensive rebounds coming off the glass
-Has a go-to mentality. Very confident in his abilities

Weaknesses:
-Allowed himself to get extremely out of shape during injury, gaining a substantial amount of weight
-Body still looks very loose
-Struggles to get all the way to the basket in the half-court
-Doesn't have the first step needed to turn the corner against better defenders
-Tends to settle for a lot of low percentage shots, contested pull-up jumpers with a high degree of difficulty
-Lacks great lateral quickness. May struggle to contain explosive small forwards off the dribble
-Effort on defense looks questionable at times

Outlook: Shows tremendous scoring instincts at 6-9, but with his thick frame, is looking more and more like a power forward these days than a small forward. Has the type of body that can get out of shape quickly, which may be a concern long term. Never been an overly explosive athlete, so must do everything he can to maximize himself physically. Remains to be seen how much more upside he still has to grow into.

[Read Full Article]

---
HoopHall Classic Scouting Reports: 2013 and Beyond Prospects
January 24, 2012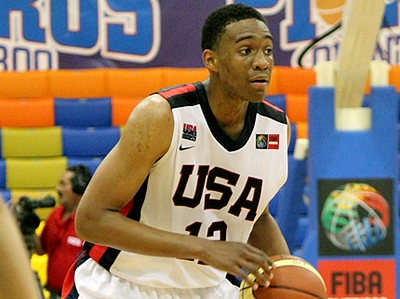 USA Basketball



Jonathan Givony

Considered by most to be the #1 prospect in the 2013 high school class, Jabari Parker (#1 Scout, #2 Rivals, #1 ESPN) came into this Hoophall Classic event with major expectations. The end result was somewhat uneven, as his Simeon squad was blown out 75-50 by Findlay Prep, with Parker scoring 24 points on 10-22 shooting.

Parker stands out first and foremost thanks to his tremendous size. He measured 6-9, 222 pounds at the 2011 LeBron James Skills Academy, with a 6-11 wingspan, but plays almost exclusively on the wing.

Still only 16 years old, Parker is likely still far from reaching his full athletic potential. At this point, he appears to possess just average quickness and explosiveness, something that may become more pronounced in the future as the level of competition he faces stiffens.

Incredibly polished and mature, Parker has an outstanding skill-level for a player his age. His shooting mechanics are excellent, complete with terrific footwork and deep range. He can make shots with his feet set, but is also extremely dangerous pulling up off the dribble, being capable of getting clean looks off fairly easily thanks to his size, smarts, and ability to create separation smoothly from his defender.

More than just a shooter, Parker is also a capable passer who appears to enjoy getting teammates involved. He passes ahead in transition when the opportunity presents itself and plays the game at a very nice pace, keeping mistakes to a minimum and showing impressive basketball acumen considering his lack of experience. He finds plenty of ways to score around the rim at this level, whether he's seeking out a putback by crashing the offensive glass or being aggressive on a simple post-up play, Parker shows very nice instincts for picking up easy points.

Despite his tremendous size, Parker can also handle the ball in transition or take his man off the dribble in the half-court, even if he's not an exceptionally efficient shot-creator. His lack of explosiveness hampers him somewhat from getting all the way to the rim, as he still needs to improve his ball-handling skills, particularly with his left hand. If he's unable to simply bully his way to the rim using his superior strength, he's pretty content settling for pull-up jumpers fading away from his opponent, which he can often make with a hand in his face, albeit not a terribly high percentage.

Defensively, Parker shows clear-cut strengths and weaknesses at the moment, like virtually all players his age. On one hand, his size, length, smarts and competitiveness help out tremendously, as he's typically the biggest player on the floor at the high school level and sees most of his time at power forward or center. On the other hand, his underwhelming lateral quickness makes it difficult for him to stay in front of most wing players at the moment, and his intensity wavers, as he tends to get winded late in games due to his average conditioning level. To reach his full potential on this end of the floor, Parker will need to improve his technique, awareness and toughness—things that will likely come in time as he continues to mature.

Despite only being 16 years old, Parker has received as much national attention at this stage as any high school player we've seen since O.J. Mayo. The son of former NBA first round pick Sonny Parker, Jabari is often lauded for his outstanding intangibles. He's reportedly an outstanding student, an excellent teammate and extremely coachable, which will surely help in his long-term development. He's been described by many respected analysts as the best prospect in high school basketball, and was awarded the prestigious USA Basketball's Male Athlete of the Year honor, being the youngest recipient ever.

Parker will have to work extremely hard to live up to the incredible accolades he's received at such a young age. It will be interesting to see how he develops athletically over the next few years, as he does not appear to possess the type of quickness and explosiveness you typically find in a #1 overall recruit. With that said, his skill-level, maturity and basketball IQ are unheard of for a player his age. Just how high is Parker's ceiling as a long-term prospect? We'll have to continue to watch and evaluate.

[Read Full Article]

---