Jackie Carmichael
Recent Tweets
All Tweets
DraftExpress: We had 55\/60 of the overall players drafted. Missed on Jackie Carmichael Myck Kabongo James Southerland Trevor Mbakwe and C.J. Leslie.
2013-06-28 00:11:33
DraftExpress: Still available DeShaun Thomas Jackie Carmichael Myck Kabongo Trevor Mbakwe Bojan Dubljevic C.J. Leslie James Southerland
2013-06-28 00:05:01
DraftExpress: DX Jackie Carmichael Pre-Draft Workout and Interview http://t.co/0zaJgRBKvd
2013-06-05 09:16:01
DraftExpress: Mason Plumlee Tim Hardaway Jr Isaiah Canaan & Jackie Carmichael signed w\/ Mark Bartelstein of @PrioritySports. Brad Ames signed Elias Harris
2013-04-30 17:17:15
DraftExpress: Last 5 DX Scouting Reports Mason Plumlee Shabazz Muhammad Mike Muscala (w\/video) Michael Snaer Jackie Carmichael http://t.co/1pmLVUtIyG
2013-04-05 09:52:48
Team: Banvit
Physicals
Positions
Salary
Misc
H: 6' 9"
W: 241 lbs
Bday: 01/02/1990
(25 Years Old)

Current: PF
NBA: PF
Possible: PF

Agent: Andy Shiffman

High School: South Kent
Hometown: Manhattan, KS

Predraft Measurements
| Year | Source | Height w/o Shoes | Height w/shoes | Weight | Wingspan | Standing Reach | Body Fat | No Step Vert | Max Vert |
| --- | --- | --- | --- | --- | --- | --- | --- | --- | --- |
| 2013 | NBA Draft Combine | 6' 7.5" | 6' 9" | 241 | 7' 1.5" | 8' 11" | 5.8 | 30.0 | 32.0 |
| 2012 | LeBron James Camp | NA | 6' 8.5" | 241 | 7' 0" | NA | NA | NA | NA |
| 2012 | Amare Stoudemire Camp | NA | 6' 8.5" | 241 | 7' 0" | NA | NA | NA | NA |



Basic Per Game Statistics

- Comprehensive Stats - Statistical Top 25s
| Year | League | Name | GP | Min | Pts | FG | FGA | FG% | 2Pt | 2PtA | 2P% | 3Pt | 3PtA | 3P% | FTM | FTA | FT% | Off | Def | TOT | Asts | Stls | Blks | TOs | PFs |
| --- | --- | --- | --- | --- | --- | --- | --- | --- | --- | --- | --- | --- | --- | --- | --- | --- | --- | --- | --- | --- | --- | --- | --- | --- | --- |
| 2015/16 | Eurocup | Jackie Carmichael | 2 | 15.0 | 5.5 | 2.5 | 6.0 | 41.7 | 2.5 | 6.0 | 41.7 | 0.0 | 0.0 | &nbsp | 0.5 | 1.0 | 50.0 | 2.0 | 2.5 | 4.5 | 0.0 | 0.0 | 0.5 | 0.0 | 1.5 |

Player Page&nbsp&nbsp| Player Stats | Mock Draft History | Related Articles&nbsp&nbsp| Add to My Draft Express&nbsp
&nbsp
Jackie Carmichael Pre-Draft Workout and Interview
June 5, 2013
Video film and production courtesy of Tad Hathaway of 312 Media
[Read Full Article]

---
NBA Combine Interviews: Zeller, Olynyk, Carmichael, Mbakwe
May 18, 2013
[Read Full Article]

---
Jackie Carmichael Video Scouting Report
March 25, 2013




More Video Scouting Reports:



-Erick Green
-Giannis Adetokunbo
-Nerlens Noel
-Victor Oladipo
-Kelly Olynyk
-Russ Smith
-C.J. McCollum
-Mam Jaiteh
-Ben McLemore
-Leo Westermann
-Sergey Karasev

Mike Schmitz is the video analyst for DraftExpress. Follow him on twitter and subscribe to his YouTube channel. He will be breaking down the NBA draft in digital format all year long for us.

[Read Full Article]

---
Trending Prospects: Jackie Carmichael
March 15, 2013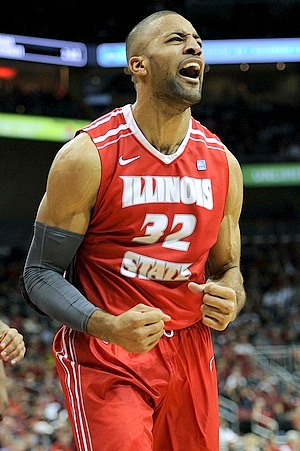 US Presswire



Derek Bodner

After a break-out junior year, Jackie Carmichael and the Illinois State Redbirds had an interesting offseason. Set to return virtually every major contributor from the team that went 21-14 and had strong showings in the Missouri Valley and NIT tournaments, the Redbirds saw coach Tim Jankovich leave in the offseason to pursue an assistant coaching opportunity with SMU where he has been pegged as Larry Brown's successor, and freshman point guard Nic Moore followed his coach, transferring to SMU over the summer.

While the Redbirds did not quite replicate their success from a year ago and have struggled with the lofty expectations and unexpected departures, Carmichael has continued his progress into an impact player and legitimate NBA draft prospect.

Carmichael is primarily a back to the basket player at the college level, using his size and bulk to establish solid post position. At 6'9" he's undersized for a center, but he has solid length and a high release point, which allows him to get his shots off in the post, and should allow him to see minutes at power forward in more traditional lineups. According to Synergy Sports Technology, Carmichael gets over 40% of his own offense from the post, and his efficiency places him near the top 25% in terms of post scoring. His ability as a finisher at the basket and willingness to absorb contact also allows him to draw fouls at a good rate, with his 8.1 free throw attempts per-40 ranking third amongst power forward prospects and fourth amongst centers.

While Carmichael's moves are still not the most polished – he would be well served to continue working on moves over his left shoulder, and do a better job feeling out the defender and developing counter moves – he does a good job of getting to his spots, fighting for position, using his length to score over defenders and finishing through contact. His primary weapons are his jump hook and his turnaround jumper, both of which he shows good touch and feel on. He's also a solid passer who does a nice job of reading defenses and finding the open man.

Carmichael is a very good finisher around the basket, with excellent touch, soft hands, and solid athleticism— converting 66% of his attempts around the rim in the half-court. Besides showing itself in cuts to the basket and offensive rebounds, this also manifests on pick and rolls, where he dives hard to the basket and does a good job of finishing. This pick and roll game is perhaps a glimpse of his future role, as it should be relatively easy to incorporate this skill set into an offense. Illinois State struggled with guard play and shot-selection all season, and it's not difficult to imagine Carmichael being much more of a factor in this area with better passers and spacing at the pro level. His strong frame, excellent hands, impressive timing as a roller and soft touch could make him a legitimate weapon in this area down the road.

His development as a jump shooter continues to be one of his bigger question marks. He's taking more jump shots now than at any time during his collegiate career, but the results have not quite been as improved as one would hope. He shows solid touch on his turnaround from the post, and has shown some improvement from mid-range. He gets good elevation and has a high release point, and has some potential in this facet going forward. He has struggled with consistency, however, and his range is mostly limited to 15' and in. If he were able to refine his consistency and extend his range somewhat, it would likely help his transition to the NBA quite a bit.

Another valuable asset Carmichael provides is his rebounding, particularly on the defensive end. While he hasn't quite duplicated his outstanding 2011-2012 output, where his defensive rebounding percentage of 28.8% ranked 5th in the nation, he's still one of the best rebounders in the country on the defensive end. He has good technique as a rebounder and is willing to put a body on his man and has the strength to hold his ground, and seems to be an instinctive rebounder who does a good job tracking down loose balls.

He also continues to be an effective shot blocker, upping his blocks to 2.5 blocks per 40 minutes pace adjusted, which is in the top half of big men in our top 100 ranking. He has also done a much better job staying out of foul trouble, cutting his fouls per 40 minutes pace adjusted in half from his freshman season – from 6.2 fouls per 40 minutes pace adjusted to 4.2 his sophomore year, 3.8 his junior season, and 3.1 this year. He overall does a good job not biting on pump fakes and staying on his feet.

His length and strong lower body allow him to be a solid post defender, even if he sometimes plays too straight up and will lose his focus at times. On the perimeter, he has average foot speed, which could be a concern when projecting to the next level considering the more perimeter oriented big men he'll be asked to defend at the power forward position at times. Illinois State was a relatively poor team defensively, and Carmichael certainly played a role in that as he does not do a great job stepping outside the paint on the pick and roll.

Jackie Carmichael has shown continual progress in his efforts to transform himself into a legitimate NBA prospect. With his strong physical attributes, high basketball IQ and solid skill-set, he seems to have all the makings of a NBA rotational big man, and thus should have a solid chance of hearing his name called on draft night. Having not played the highest level of competition, and with no assurances of even an NIT invite after missing out on making the NCAA tournament, how he performs at settings like Portsmouth (should he chose to attend) and in private workouts could go a long way to determining where he gets drafted.

[Read Full Article]

---
Top NBA Prospects in the Non-BCS Conferences, Part Five
November 16, 2012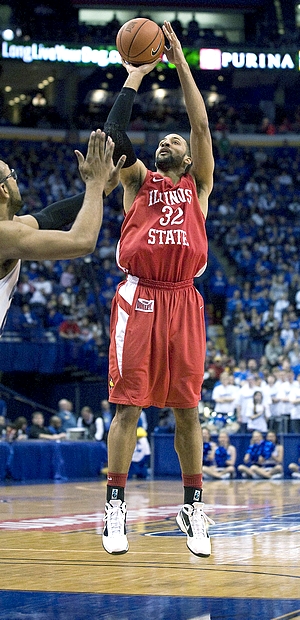 US Presswire



Kyle Nelson

After an solid showing in the NIT last season, Illinois State power forward Jackie Carmichael was offered the opportunity to compete with some of college basketball's top prospects at the LeBron James Skills Academy. He did not disappoint, emerging as one of the camp's top performers and generating buzz from [url]= https://twitter.com/franfraschilla/statuses/222219022035456000]national sportswriters[/url] and scouts alike. Now with increased expectations, NBA scouts will be watching to see if he can take the next step in his development and boost his draft stock.

Part of what makes Carmichael such an interesting prospect is his physical profile. He has just average size for a power forward, as he stands somewhere between 6'8 and 6'9, but he compensates with his 7'0 wingspan and an excellent frame. Furthermore, he is an above average athlete who runs the floor hard, is aggressive, and can play above the rim.

In addition to his solid physical profile, he had an impressive junior season to the tune of a career high 19.5 points per 40 minutes pace adjusted while shooting 53.3% from the field. He also possesses a true back-to-the-basket power forward's game, as Synergy reveals that nearly 90% of his shots come around the basket.

Though he plays primarily with his back to the basket, what makes his game intriguing from an NBA perspective is how naturally he scores, showing terrific instincts and feel from the low and mid-post alike. 37% of his offensive possessions come in post-up play types and he shows soft hands, solid footwork, a nifty jump hook with his right hand and a fade away jump shot with very nice touch.

Not just a bruiser who gets his points through sheer force backing down weaker opponents, Carmichael also shows nice finesse facing up opponents and beating them off the dribble with impressive patience and skill, creating high percentage shots for himself and getting to the free throw line at a high rate. The problem is that he struggles to go left and either looks to pass immediately or panics when forced to his weak side. His still developing post instincts are to blame for many of his 3.1 turnovers per 40 minutes pace adjusted, which ranks him in the top half of turnover prone power forwards in our database.

Carmichael also possesses the ability to score out of the pick-and-roll, where he sets good screens and rolls hard to the basket with excellent timing. He is a terrific finisher at the college level due to his soft hands, long arms and solid explosiveness, being capable of taking a hit and still finishing plays, drawing a good amount of fouls in the process. Given the popularity of the pick-and-roll in the NBA, his proficiency in this area will certainly be of interest to scouts.

Another intriguing aspect of his offensive game is his jump shot. While he only made 11 of 38 jump shots and attempted only three shots from beyond the arc, he nevertheless showed the ability to face his man up and quickly get his shot off. He has a high arcing shot that, if he can consistently knock it down, could be a weapon down the road given his average size at the next level. While his range extends out to around the college three-point line, he looked far more comfortable from mid-range where he made 31% of his attempts versus 26% inside of 17-feet. Nevertheless, scouts will be watching to see if he can improve into a more prolific and efficient catch-and-shoot option as a senior.

He is a solid defender at the collegiate level, even though he mainly guards opposing centers. His lateral quickness is only about average for his size, but he does a good job of staying involved in plays even after he gets beaten. He has also maintained his reputation as a solid shot blocker, rejecting two shots per 40 minutes pace adjusted. While he is a factor in the post and on the perimeter, from the weak side and while trailing, he sometimes finds himself out of position in his pursuit of shots.

He is, however, an outstanding rebounder, particularly on the defensive boards where he averages 10.4 defensive rebounds per 40 minutes pace adjusted. This ranks him in a tie with Delaware's Jamelle Hagins as the second best returning defensive rebounder among all prospects in our database. His combination of length, strength, energy, athleticism and timing allow him to excel on the boards and, despite some of the question marks that accompany him on offense and defense, translate as an attractive skill when projecting his role at the next level.

Following a solid post season and outstanding summer, expectations are clearly higher for Jackie Carmichael now than they were one year ago. While he struggled against elite competition as a junior, he will be expected to produce against Louisville, in a late-season BracketBusters match up and against in-conference rivals Creighton and Witchita State. He is also older than many in his class, as he turns 23 this January, and if he fails to improve substantially on his weaknesses, then he will have to answer the question of how much room he still has to grow.

Despite these question marks, Illinois State returns most of their 2011-2012 roster and Carmichael will be expected to lead Redbirds into the NCAA Tournament while continuing to showcase his skills in front of scouts on a nightly basis. While opportunities to shine against NBA-caliber talent may be limited due, scouts should still have plenty of opportunities to evaluate him throughout the season, in the post-season and most likely in the Portsmouth Invitational Tournament. No longer flying under the radar, Jackie Carmichael will have every opportunity to put himself into the position of hearing his name called on draft night.

[Read Full Article]

---