Jahlil Okafor
Recent Tweets
All Tweets
DraftExpress: DX The Evolution of the NBA Center Position Through the Eyes of Karl Towns Jahlil Okafor and the 2015 NBA Draft\nhttp\/\/t.co\/SDFAk1dNJM
2015-06-24 15:02:42
DraftExpress: New on DX The Evolution of the Center Position in the NBA Through The Eyes of Karl Towns and Jahlil Okafor\nhttp\/\/t.co\/SDFAk1dNJM
2015-06-24 11:50:09
DraftExpress: Analyzing the one on one matchup between Jahlil Okafor and Karl Towns at the Nike Hoop Summit http://t.co/FUJtrMhp4H http://t.co/p3vSgyWBnK
2015-06-22 16:40:55
DraftExpress: Jahlil Okafor and Karl Towns matched up head to head in a game last year. What happened there & what could we learn? http://t.co/FUJtrMhp4H
2015-06-22 11:30:47
DraftExpress: Jahlil Okafor vs Karl Towns - Nike Hoop Summit Flashback http://t.co/FUJtrMhp4H - Analyzing the one on one matchup possession by possession
2015-06-22 09:49:47
Team: 76ers
Physicals
Positions
Rankings
Salary
Misc
H: 6' 11"
W: 272 lbs
Bday: 12/15/1995
(19 Years Old)

Current: C
NBA: C
Possible: C

RSCI: 2

Agent: Bill Duffy

High School: Whitney Young Magnet
Hometown: Chicago, IL
Drafted: Pick 3 in 2015 by Philadelphia

Predraft Measurements
| Year | Source | Height w/o Shoes | Height w/shoes | Weight | Wingspan | Standing Reach | Body Fat | No Step Vert | Max Vert |
| --- | --- | --- | --- | --- | --- | --- | --- | --- | --- |
| 2014 | Hoop Summit | NA | 6' 10.75" | 272 | 7' 5" | 9' 2.5" | NA | NA | NA |
| 2013 | USA Basketball | 6' 9.5" | 6' 11" | 277 | 7' 6.25" | 9' 3" | NA | NA | NA |
| 2013 | USA Basketball | NA | 6' 10.75" | 273 | 7' 6" | 9' 3" | NA | NA | NA |
| 2011 | LeBron James Camp | NA | 6' 10" | 272 | 7' 3" | NA | NA | NA | NA |



Basic Per Game Statistics

- Comprehensive Stats - Statistical Top 25s
| Year | League | Name | GP | Min | Pts | FG | FGA | FG% | 2Pt | 2PtA | 2P% | 3Pt | 3PtA | 3P% | FTM | FTA | FT% | Off | Def | TOT | Asts | Stls | Blks | TOs | PFs |
| --- | --- | --- | --- | --- | --- | --- | --- | --- | --- | --- | --- | --- | --- | --- | --- | --- | --- | --- | --- | --- | --- | --- | --- | --- | --- |
| 2015/16 | NBA | Jahlil Okafor | 17 | 33.1 | 18.0 | 7.6 | 16.3 | 46.9 | 7.6 | 16.2 | 47.1 | 0.0 | 0.1 | 0.0 | 2.7 | 4.0 | 67.6 | 2.4 | 5.5 | 7.9 | 1.3 | 0.3 | 1.7 | 2.9 | 2.9 |

Player Page&nbsp&nbsp| Player Stats | Mock Draft History | Related Articles&nbsp&nbsp| Add to My Draft Express&nbsp
&nbsp
The Evolution of the Center Position, Through The Eyes of Towns/Okafor
June 24, 2015
That isn't to say that there isn't a place for a dominant offensive big man in the NBA today. They're just competing against a far more loaded deck than they were a decade ago and especially before the hand check rule led to more unrestricted play movement away from the rim.

In 2015, the NBA players using over 500 post-up possessions collectively scored .906 points per post up possession. In 2005 a far older group of centers averaged .923 points per post up possession. Even though we've seen power forwards like LaMarcus Aldridge, Dirk Nowitzki, and Zach Randolph run extremely hot in post-up situations over the last few postseasons, the NBA's primary post threats aren't as efficient as they were 10 years ago, especially at the center position.

The implications of post play for both Okafor and Towns as pros is extremely interesting. 54% of Okafor's possessions were post ups last season, and aside from some less than stellar performances in the NCAA Tournament, he turned in one of the most efficient, prolific post up scoring seasons of any elite NBA prospect in recent memory, outscoring a number of teams from the low block on the year by himself, shooting .922 points per possession over 8.4 possessions per game.

[Read Full Article]

---
Jahlil Okafor NBA Draft Scouting Report and Video Breakdown
April 15, 2015
Scouting Report by Jonathan Givony. Video Analysis by Mike Schmitz

Considered a game-changing prospect already in middle school, Jahlil Okafor came into his freshman season with huge expectations, and did not disappoint in the least bit. He was named ACC player of the year and a First Team All-American, and played a major role in Duke's NCAA Tournament run culminating in a championship over Wisconsin.

Standing 6-11, 270 pounds, with a 7-5 wingspan, a 9-2 ˝ standing reach and absolutely gigantic hands, Okafor has ideal physical attributes for an NBA center. He's extremely nimble and agile for a player his size on top of that, running the floor well when motivated, and being very graceful with his movements.

(Video may not load with Internet Explorer. Use Chrome or Firefox)

A huge share of Okafor's offense this season came with his back to the basket, where he shows a tremendous feel for the game and is nothing short of an absolutely devastating presence. He has the size to establish deep post-position, and the strength to move players around inside the paint once he catches the ball, showing an incredibly rare combination of power, quickness and finesse. Extremely nimble, Okafor has outstanding footwork, and he does an excellent job of feeling out his defender and reacting appropriately, having all the countermoves in the book, and being capable of executing beautiful spin-moves with superb body control, often using the glass. He uses shot-fakes well and draws a foul on over 18% of his post-possessions according to Synergy Sports Technology, often finishing through contact for an And-1. Unfortunately he only converts 51% of his free throws, which is something he'll need to improve on in time.

He's also a very good passer for a 19-year old big man, looking extremely patient with his moves and having no qualms whatsoever about throwing the ball out if he faces a double-team or sees an open teammate spotting up on the perimeter. His huge hands and long arms gives him the ability to pass over the top of the defenses to anywhere on the floor, be it with a bounce pass to his fellow big man, a skip pass to a shooter in the opposite corner, or anywhere in between. His basketball IQ is so high that it isn't hard to see this part of his game developing even further. Whatever coach he ends up with could certainly utilize this even more from different spots on the floor as a significant part of his team's half-court offense.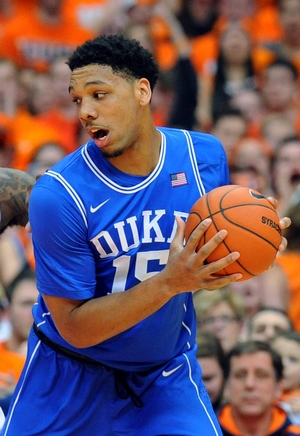 US Presswire



As good as Okafor is creating his own offense inside the paint, he's even better as a finisher when receiving the ball with a head of steam off cuts, pick and rolls, or running the floor in transition. He converted an outstanding 79% of his shots around the rim in the half-court this season in non-post-up situations, the top mark in the college game by a wide margin. His gigantic hands allow him to palm the ball like a grapefruit en route to the rim, and his incredibly long arms gives him a variety of vantage points to throw it into the basket with feathery soft touch and either hand. While not overly explosive, Okafor is extremely quick off his feet and shows no hesitation going up around the basket confidently.

While Duke didn't need to use this part of his game too often, partially due to the reduced spacing of the college game, Okafor can also face the basket and create his own offense off the dribble. He's a very good ball-handler for his size, and has the ability to make quick and precise moves in small spaces thanks to his terrific footwork and body control.

Okafor is also a major presence on the offensive glass, grabbing 4.6 boards per-40 minutes, third best in the DX Top-100. His big frame, long arms, soft hands and terrific instincts help him out quite a bit here, and he's not afraid to throw his body around and move opponents around en route to loose balls.

(Video may not load with Internet Explorer. Use Chrome or Firefox)

The biggest question marks around Okafor revolve around his play on the defensive end, where he was very inconsistent this season. He has the size, strength and length to be more than adequate if he puts his mind to it, and did show some flashes on this end of the floor from time to time, particularly as a post-defender.

With that said, Okafor typically looked far too lackadaisical on this end of the floor, jogging back nonchalantly and looking downright lazy in stretches. He gives up deep post-position too often and isn't aggressive enough looking to body his man when he does receive the ball, possibly out of fear of getting in foul trouble.

More concerning is how badly he struggles stepping outside of the paint in pick and roll situations, where he looks sluggish and slow-footed, showing poor awareness and being late to react on the fly. As gifted as he is offensively, he is almost just as poor on the other end of the floor. Duke was forced to play a very conservative style of defense on the pick and roll, with Okafor going way underneath screens to give himself a big enough cushion to recover and not get burned, which is certainly not ideal against the better guards he'll face in the NBA. He struggles hedging screens on the perimeter and certainly can't be asked to switch onto smaller players, as he already struggles in one on one situations against big men.

Not being particularly explosive, he offers very little in the way of rim-protection, which is a concern in today's NBA game where practically every team's defensive plan revolves around having a big man in the paint who can serve as an anchor, clean up mistakes and not allow easy baskets.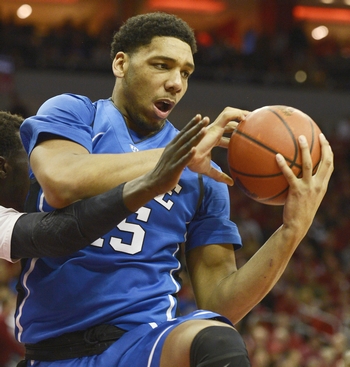 US Presswire



He's also not a very good defensive rebounder, posting just 6.5 per-40 minutes, one of the worst rates among big men in our Top-100. He looks somewhat lethargic here too, often standing and watching rather than putting a body on an opponent, and being a bit slow to react to loose balls coming off the glass.

Okafor would be best suited playing next to a power forward who can defensive rebound, protect the rim, and space the floor from the 3-point line, which is as rare a player as you can find (Serge Ibaka, and…?).

With that said, players in Okafor's mold who can have a half-court offense built around them thanks to an incredible wherewithal their his back to the basket are also rare and coveted specimens, although perhaps not as much in this era as they were in the past. Still, he's such a gifted offensive player that teams will certainly learn to live with his limitations and do their best to surround him with the right type of players to get the most out of him. At age 19, there is certainly time for him to work on his weaknesses, and he's already shown he can improve his conditioning and appears to be a highly coachable player as well.

[Read Full Article]

---
Jahlil Okafor vs Jakob Poeltl Head to Head Matchup Video
March 28, 2015
A detailed video analysis by Mike Schmitz of the head to head matchup of Jahlil Okafor and Jakob Poeltl from the NCAA Tournament game between their Duke and Utah teams last night.





More Situational Videos from Mike Schmitz



-Jahlil Okafor vs Frank Kaminsky
-Myles Turner vs Kentucky's NBA Frontcourt
-Kristaps Porzingis vs Barcelona
-Ben Simmons vs Ivan Rabb
-Jakob Poeltl vs Cliff Alexander
-Montrezl Harrell vs Kentucky's NBA Frontcourt
-Rashad Vaughn vs Arizona
-Christian Wood vs Arizona
-Jerian Grant vs J.P. Tokoto
-Bobby Portis vs Damian Jones
-D'Angelo Russell vs Louisville
-Delon Wright vs Rondae Hollis-Jefferson
-Stanley Johnson vs Anthony Brown
-Robert Upshaw vs Jakob Poeltl
-D'Angelo Russell vs Indiana
-Justise Winslow vs Justin Anderson
-Mario Hezonja vs Real Madrid
-Karl Towns vs Jarell Martin
-Delon Wright vs Tyrone Wallace
-Jerian Grant vs Kris Dunn
-Christian Wood vs James Webb
-Kevon Looney vs Arizona
-R.J. Hunter vs Iowa State
-Kennedy Meeks vs Kentucky
-Emmanuel Mudiay's Chinese Playoff Comeback
-D'Angelo Russell vs Rondae Hollis-Jefferson
---
Take a look at our video section for a compilation of all the videos we've produced this year.
[Read Full Article]

---
SportVU Insight on Jahlil Okafor as a College Player and NBA Prospect
January 30, 2015
For the past few years, NBA teams and fans have been enjoying the unique insight provided by SportVU, the data tracking camera systems installed at every NBA arena.

That technology is slowly trickling down to the college level, and we were fortunate enough to receive a treasure trove of data in the past few days, providing some incredibly unique insight into potential #1 pick Jahlil Okafor as a college player and NBA prospect.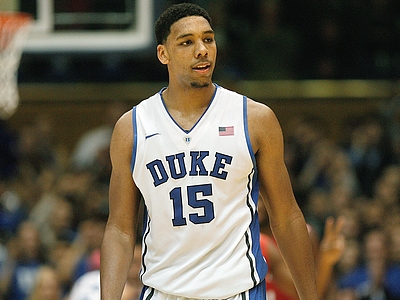 US Presswire



To better explain the data, we've added in a video breakdown of Okafor's impact on the offensive and defensive ends, which help visualize his unique skill-set, as well as his strengths and weaknesses at the moment.

What can we learn?

A Solid Sample to Work With

Duke has played 19 games so far this season, 10 of them on their home floor at Cameron Indoor Stadium, where the cameras are installed. Thankfully, of the nine games they've played away from home, four were played at NBA arenas (the homes of the Brooklyn Nets, New York Knicks, Indiana Pacers), giving us a solid 14 game sample size of nearly 450 minutes. Additionally, looking at the games we don't have data for, it doesn't appear that Okafor had any less success offensively, on average, than he did in the games we do have at our disposal.

Comparing Okafor With Other NBA Centers

This should certainly not be viewed as an apples to apples comparison, since Okafor is going up against significantly worse competition in the form of 18-22 year old college players, but it does provide a baseline for which to understand the different categories we are looking at. In particular, it shows how much Okafor's role in Duke's offense differs from that of the NBA centers we looked at, as well as the impact a player of his caliber can have in the college basketball setting. It will be interesting to see how Okafor's role evolves as the year moves on, as well as how he'll be utilized in the pros.



SportVU



Okafor Rarely Touches the Ball Outside of the Paint

Perhaps one of the biggest things that stood out on first glance is how rarely Okafor touches the ball on the perimeter for Duke, which isn't the case for most NBA centers we looked at using the same stats. 52% of Okafor's half-court touches come off post ups, which is a huge number compared to the likes of Al Jefferson (32.8%), Nikola Pekovic (31.4%), Dwight Howard (19.2%), Nikola Vucevic (18.4%), DeMarcus Cousins (13.5%), Marc Gasol (12.5%), Tim Duncan (11.1%), and Enes Kanter (4.3%), according to SportVU data we were provided with.

Okafor's Impact on Duke's Offense

Before we delve further into the data, it's important to distinguish the difference between a "post touch" and a "paint touch" in the SportVU terminology.

Post Touch: A post touch occurs when an offensive player catches a pass while in the act of trying to score with his back to the basket (posting up), regardless of whether he's inside the paint or not.

As we'll see in the video below, many of Okafor's post-up attempts begin outside of the paint, but end up close to the basket, because of his sheer strength and terrific skill-level.

Okafor has posted up incredibly often for Duke--200 times so far this season in the 14 games we have data on. As mentioned, this represents 52% of his overall half-court touches, and Duke scores 1.3 points per possession when Okafor gets a post touch, even though he only actually attempts a field goal 41% of the time. That percentage is a bit low compared with his NBA counterparts, and likely representative of how often he's double-teamed. Okafor draws fouls at a tremendous rate (8 times per-40), and is a very solid passer as well.

By contrast, Duke scores just .993 points per possession overall in half-court situations, per Synergy Sports Technology (including Okafor's post-up attempts) which helps explain why they look to get him the ball with his back to the basket as frequently as they do. 14.3 of Okafor's 25.9 half-court touches per game come off Post Touches.

For comparison's sake, only one player in the NBA gets more post-touches than Okafor currently does in college: Al Jefferson. His post touches aren't quite as fruitful for the Charlotte Hornets as Okafor's are for Duke at .98 PPP, which is understandable since he's going up against NBA caliber defenders, who are far more physically gifted and equipped to handle a player of his dimensions.

Another interesting facet of the SportVU data is the breakdown of a players' success rate off zero, or 1-2 dribbles. It's usually far more difficult to score off the dribble than it is in situations when a player can simply catch and shoot immediately, and Okafor's splits confirm that to a certain extent.

When taking a field goal off zero dribbles, Okafor converts an outrageous 75% of his attempts, while when forced to dribble once or twice, that number drops to a still very impressive 58%. Of the six NBA centers we looked at in this sample, only Al Jefferson and DeMarcus Cousins are forced to operate off the bounce more frequently than Okafor does.

Paint Touch: This refers to all instances in which the player "receives a pass" inside the paint, including the post touch category above (but excluding post-ups which start outside the paint), adding in such actions as cuts, pick and roll finishes, or when a player receives the ball after running the floor in transition. The player doesn't need to have both feet, or even all of one foot in the paint to count as a paint touch.

Okafor sees quite a few of these, eight per game to be exact. Duke scores 1.46 points per possession when he does get a paint touch, as he converts on an impressive 75% of his field goal attempts in these situations. As you'll see in the video below, his hands, footwork, touch and dexterity are nothing short of amazing for a player his size.

(Video may not load with IE. Use Chrome or Firefox)



Okafor's Impact on Duke's Defense



While Okafor is the most prolific and skilled offensive big man in college basketball, his play on the defensive end of the floor doesn't inspire anywhere near the same praise.

SportVU keeps stats on "rim protection," which is any instance where the defender is within five feet of the basket and within five feet of the offensive player attempting the shot.

The numbers here suggest that Okafor hasn't been quite as ineffective as he appears to be on film at times. Okafor has been in a "rim protection" situation 8.8 times per game on average, which is a similar amount to that of his NBA center counterparts we studied in our six player sample. Opposing players have converted 45.5% of those field goal attempts.

There are a number of potential explanations for this. Our 14 game sample includes games against the likes of Presbyterian, Fairfield, Furman, Army, Elon, Toledo and Wofford, some of were huge blowout wins for Duke. At the same time, Duke's home ACC slate included games against Boston College and Pittsburgh, neither of which present imposing frontcourt challenges.

Watching the film, it's clear that when Okafor is operating at full intensity, he is able to make his presence felt with his strong frame, terrific length (wingspan measured between 7-5 and 7-6 in various settings) and solid anticipation skills. He's blocked 28 shots in 19 games so far this season, a decent mark, but his lapses in intensity, average awareness and fundamentals, and seeming unwillingness to be a consistent presence on a full-time basis have been quite glaring at times this year.

Okafor's ability to emerge as a legit rim-protector, as well as his prowess as a pick and roll defender, which we studied closely in the following video, will likely play a huge role in the type of NBA player he ends up developing into.

(Video may not load with IE. Use Chrome or Firefox)

[Read Full Article]

---
Jahlil Okafor vs Frank Kaminsky Head to Head Matchup Video Analysis
December 5, 2014
A detailed video analysis by Mike Schmitz of how Duke's Jahlil Okafor and Wisconsin's Frank Kaminsky performed in their head to head matchup this past week in Madison.





More Situational Videos from Mike Schmitz



-Kyle Anderson vs Aaron Gordon
-Rodney Hood vs. K.J. McDaniels
-Andrew Wiggins vs Jabari Parker
-Dante Exum vs Team USA at the FIBA U19 World Championships
-Zach Lavine w/out Jordan Adams/Kyle Anderson
-Clint Capela vs Jusuf Nurkic
-Jabari Parker vs NBA Length
-Nik Stauskas vs Gary Harris
-Noah Vonleh vs NBA Length
-Elfrid Payton vs Elite Competition
-Doug McDermott vs NBA Length
-Jabari Parker vs Aaron Gordon
-Joel Embiid vs NBA Caliber Centers
-Julius Randle vs NBA Length
-Andrew Wiggins vs Marcus Smart
---
Take a look at our new video section for a compilation of all the videos we've produced this year.
[Read Full Article]

---
Top NBA Prospects in the ACC, Part 1: Jahlil Okafor Scouting Video
October 15, 2014

Mike Schmitz is the video analyst for DraftExpress. Follow him on twitter and check out the DraftExpress video section. He will be breaking down the NBA draft in digital format all year long for us.

[Read Full Article]

---
2014 Nike Hoop Summit Video Interview: Jahlil Okafor, Brandone Francis
April 18, 2014
[Read Full Article]

---
2014 Nike Hoop Summit: USA Measurements
April 12, 2014
Jahlil Okafor
Weight: 272 lbs.
Height (w/ shoes): 6'10.75"
Wingspan: 7'5"
Standing Reach: 9'2.5"

[Read Full Article]

---
2013 FIBA U19 World Championship Interviews: Okafor, Lyles, Gordon
July 7, 2013
[Read Full Article]

---
USA Basketball U19 World Championship Training Camp Report, Part Two
June 19, 2013
Going up against players nearly two years older than him, Jahlil Okafor didn't look out of place for a single moment here in Colorado Springs, showing that his terrific skill-level, basketball IQ and maturity would make him a devastating force at the college level already next year if he were eligible.



Interview




Okafor established position inside the paint at will thanks to his massive frame, and then unleashed a barrage of phenomenal post moves time after time to score points virtually whenever he pleased. He drew fouls at a steady rate simply by catching the ball and being aggressive, being very difficult to contain thanks to his unique combination of power, finesse and smarts. His arsenal includes a variety drop-steps, spin-moves, up and unders and jump-hooks with either hand, as he was clearly the most fundamentally sound post-player in attendance despite only just having completed his high school senior year.

Not just a brute force with his back to the basket, Okafor can also operate in the mid-post as well, showing the ability to create his own shot off the dribble with a strong first step, great patience, outstanding footwork and soft touch around the basket.

In addition to his excellent skill-level, Okafor impresses with his willingness to play inside, not being afraid of playing through contact with the older players here in Colorado Springs. He clearly realizes what his strengths are and didn't shy away from banging inside even when things got very physical inside the paint, which is a good sign for his transition from high school to college and eventually the NBA.

Defensively, Okafor is a major presence inside thanks to his terrific frame and 7-3 wingspan, but his lack of experience shows much more on this end of the floor than it does offensively. He has a difficult time stepping out onto the perimeter due to his average lateral quickness, and isn't much of a rim protector as he does not possess tremendous explosiveness rotating over from the weak-side. He is a very good rebounder, though, doing a nice job cleaning up the glass on both ends of the floor.

Okafor appeared to be a lock to make the team from the very first moment he stepped on the floor thanks to his advanced skill-set and feel for the game, as he's simply a game-changer inside the paint that very few international teams will have an answer for. The US squad will likely look to utilize him heavily every time he steps on the floor, and he'll surely play a major role in any success this team has.

[Read Full Article]

---
High School Class of 2014: Elite Prospect Scouting Reports, Part One
September 27, 2012
Jonathan Givony

Recruiting Rankings: ESPN: #3, Scout: #4, Rivals: #2, 24/7: #6

Strengths:
-6-10 in shoes with a 7-3 wingspan
-Massive frame. 272 pounds, but looks to be in good shape physically
-Huge, soft hands. Palms ball like a grapefruit
-Very comfortable operating with back to the basket
-Excellent footwork and a natural feel for posting up and taking what the defender gives him
-Great body control and an array of spin moves
-Establishes position inside with ease
-Catches everything that is thrown to him
-A magnet for drawing fouls
-Finishes with either hand
-Tremendous offensive rebounder. Terrific length. Gives multiple efforts on the glass. Catches anything in his area
-Very good basketball IQ for his age
-Seems very grounded and well spoken off the court
-Incredibly young. Won't turn 17 until December

Weaknesses:
-With his body type, conditioning could be an issue in the future
-Good, not incredible athlete. Must continue to work on becoming more explosive
-Needs to improve free throw shooting
-Didn't log a single assist in eight games at the FIBA U17 World Championship. Only recorded six assists in 19 EYBL games
-Relatively untested defensively. Can he handle other players his size?

Outlook: Extremely poised young big man with tremendous size, length and strength. Has no qualms about playing inside. Very difficult to contain with his physical tools, skill-level and basketball IQ. A bigger version of Jared Sullinger? Still only 16 years old.

Highlights:



[Read Full Article]

---