2015 Kentucky Combine Measurements and Analysis
October 11, 2015
Measuring a bit smaller than he has at previous events at 6'4.25 with a 6'6.5 wingspan and a 207-pound frame, Jamal Murray has similar size to Rodney Stuckey, who measured 6'4.5 in shoes with a 6'6.25 wingspan and a 207-pound frame in 2007. For a player who isn't often noted as being overwhelmingly explosive, as is better known for his terrific skill-level, Murray's 39.5 inch maximum vertical leap is impressive.

[Read Full Article]

---
Top NBA Prospects in the SEC, Part 3: Jamal Murray Scouting Video
September 25, 2015
Mike Schmitz continues our coverage of the top NBA prospects in the SEC with a video scouting report of the #3 prospect in the conference, Kentucky's Jamal Murray.
---
More DX Conference Preseason Previews:
-The Top 20 NBA Draft Prospects in the Pac-12
-The Top 20 NBA Draft Prospects in the Big East
-The Top 15 NBA Draft Prospects in the Big 12
---
Top NBA Draft Prospects in the SEC


(#1) Skal Labissiere (Scouting Video)
(#2) Ben Simmons (Scouting Video)



#3 Jamal Murray, Freshman, PG/SG, Kentucky



Strengths:



Weaknesses:



Mike Schmitz is the video analyst for DraftExpress. Follow him on twitter and check out his archive. He will be breaking down the NBA draft in digital format all year long for us.

[Read Full Article]

---
2015 Nike Hoop Summit Final Recap
April 11, 2015
Murray came out firing early and didn't slow down as the game progressed, going for a game-high 30 points and five assists on 12-for-23 shooting and 3-for-7 from three. The 6' 5" versatile guard from Kitchner, Ontario showed the entire package on Saturday. He knocked down shots with range both off the catch and the dribble, carved up the Team USA defense with crafty change of direction dribbles, and finished creatively in traffic both in the half court and transition.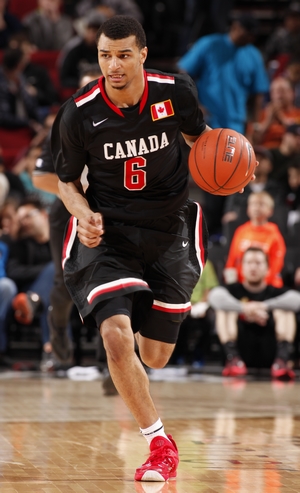 Cameron Browne/USA Basketball



Murray certainly wasn't perfect, as he made a couple of crucial turnovers toward the end of both halves, missed a layup with 17 seconds left and the World Team up three that he probably should have pulled out to run clock, and showed a tendency to over-dribble in the half court, having to heave up a tough jumper at the end of the clock.

But overall he was absolutely stellar, showing his ability to play both guard spots and score from all three levels effectively. Murray's skill set has really evolved since the 2014 Nike Hoop Summit, a game where he played fairly well scoring 10 points on 4-for-8 shooting while grabbing five rebounds and dishing five assists.

At this point last year Murray was predominantly a spot up shooter who could handle a little bit in small doses, but didn't have much in his arsenal in terms of shot-creation and ball-skills. The game was a bit too fast for Murray and his lack of elite athleticism was clear. But after a year of seasoning Murray was the best player on the floor on Saturday against a US Team loaded with high-level guards.

All week long we harped on the stellar guard play of the US Team, but when the lights came on it was Murray who stole the show. The 2016 guard is currently uncommitted, but said Saturday that he's going to consider reclassifying to the 2015 class.

[Read Full Article]

---
2015 Nike Hoop Summit Video Interview: Jamal Murray
April 11, 2015
An interview with Canadian shooting guard prospect Jamal Murray of the World Select Team at the 2015 Nike Hoop Summit.

(Video may not load with Internet Explorer. Use Chrome or Firefox)

---
More DX Nike Hoop Summit Coverage
-International Practice Recap, Day Four
-One on One Drills: Skal Labissiere vs Thon Maker
-Tai Wynyard Interview
-Federico Mussini Interview
-2015 Nike Hoop Summit: International Practice: Day Three
-USA Practice Day One
-Skal Labissiere Interview
-Ben Simmons Interview
-International Practice Recap Days One and Two
-World Select Team Measurements and Analysis
-2015 Nike Hoop Summit International Roster Breakdown
---
[Read Full Article]

---
2015 Nike Hoop Summit: International Practice: Day Three
April 8, 2015
Fairly quiet in the first two days, Jamal Murray came alive today, showcasing his extremely impressive skill-level that has him ranked as one of the top guard prospects in the 2016 high school class. Murray is clearly more comfortable at this stage with the ball in his hands, as he tends to get quiet and somewhat passive when he isn't the focal point of the action. Playing a heavy ball-handling role, Murray made some slick passes out of the pick and roll, a beautiful turnaround jumper in the post, and a series of gorgeous floaters from the free throw line area. He capped that off with an open 3-pointer and even hit a miracle half-court buzzer-beater to finish off the scrimmage, putting an exclamation point on what was a terrific all-around performance.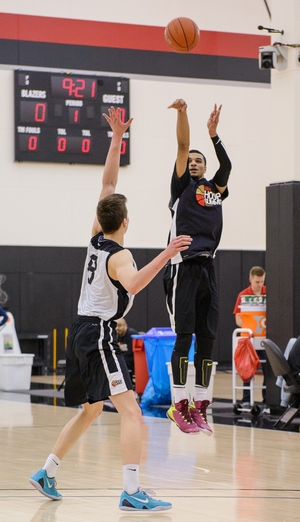 Ken Nowaczyk/USA Basketball



While not an exceptional athlete, Murray is extremely smooth and does a terrific job of playing at different speeds, relying more on his high skill-level and strong feel for the game. He shows the ability to make some creative passes, and is relatively active and competitive on defense, which helps considering he doesn't have tremendous length with his 6-7 wingspan and especially his 8-2 ½ standing reach, relatively average for either guard spot. Talking to Murray, he had absolutely zero interest in discussing the topic of which class he will end up in, instead preferring to thoughtfully talk about a variety of issues revolving around Canadian basketball, the path he's taking as somewhat of a trendsetter in his home country, and his own personal growth as a player. We will release that interview in the coming days.

[Read Full Article]

---
2015 Nike Hoop Summit: International Measurements
April 6, 2015
Jamal Murray
Height (w/ shoes): 6-5
Weight: 204
Wingspan: 6-7
Hand Width: 10 1/4
Hand Length: 8 3/8
Standing Reach: 8-2 1/2
Country: Canada

-Jamal Murray possesses excellent size for a player who can play a bit of point guard. He's almost exactly the same size as Austin Rivers, who measured 6'5 in shoes with a 203-pound frame and a 6'7 wingspan coming out of Duke. His standing reach of 8-2 ½ is certainly on the small side, even if his overall dimensions are similar to those of Kirk Hinrich for example.

[Read Full Article]

---
Jamal Murray at the 2015 NBA Basketball Without Borders Global Camp
February 20, 2015
Highlights of 6-5 Canadian guard Jamal Murray from the 2015 Basketball Without Borders Global Camp in New York City during NBA All-Star Weekend.

Murray was arguably the top performer at the Camp, impressing with his improved playmaking ability and defense to go along with his outstanding scoring instincts and deep shooting range.



[Read Full Article]

---
2015 Basketball Without Borders Camp Roster Analysis
February 5, 2015
-Canadian swingmen Jamal Murray and Justin Jackson are two of the country's top rising talents. Murray made an impression at the 2013 Jordan Brand International game scoring 24 points before getting an invite to last year's Nike Hoop Summit. A scoring guard with a terrific jump shot, rumors continue to swirl that Murray will reclassify from the class of 2016 to the class of 2015 and play college basketball next season. Murray isn't a particularly impressive athlete or defender, but highly fluid guards who can put points on the board in bunches from the perimeter like him are very much en vogue these days, and Murray has the scoring instincts and smarts to compensate for his limitations.

[Read Full Article]

---
2014 Nike Hoop Summit Video Interview: Damien Inglis, Jamal Murray
April 15, 2014
[Read Full Article]

---
2014 Nike Hoop Summit: International Measurements
April 8, 2014
Jamal Murray
Weight: 196 lbs.
Height (w/ shoes): 6'4.5"
Wingspan: 6'8"
Standing Reach: 8'4.5"
Hand Width: 10.5"
Hand Length: 8.5"

[Read Full Article]

---