James Blackmon
Recent Tweets
All Tweets
DraftExpress: Fun battle between James Blackmon & Angelo Delgado. Blackmon super skilled guard. Fantastic shooter. Delgado is a Reggie Evans clone #eybl
2013-07-13 13:14:15
Team: Indiana, Sophomore
Physicals
Positions
Rankings
Misc
H: 6' 3"
W: 184 lbs
Bday: 04/25/1995
(20 Years Old)

Current: SG
NBA: SG
Possible: SG

Pick: 39 in 2017 Mock Draft
Rank 14 in NCAA Sophomores
RSCI: 19

High School: Marion
Hometown: Marion, IN

Predraft Measurements
| Year | Source | Height w/o Shoes | Height w/shoes | Weight | Wingspan | Standing Reach | Body Fat | No Step Vert | Max Vert |
| --- | --- | --- | --- | --- | --- | --- | --- | --- | --- |
| 2014 | Hoop Summit | NA | 6' 3" | 184 | 6' 8.5" | 8' 4" | NA | NA | NA |
| 2013 | USA Basketball | NA | 6' 3" | 187 | 6' 8.5" | 8' 4" | NA | NA | NA |
| 2013 | LeBron James Camp | NA | 6' 3.5" | 179 | 6' 8" | NA | NA | NA | NA |
| 2013 | Kevin Durant Camp | NA | 6' 3.5" | 179 | 6' 8" | NA | NA | NA | NA |



Basic Per Game Statistics

- Comprehensive Stats - Statistical Top 25s
| Year | League | Name | GP | Min | Pts | FG | FGA | FG% | 2Pt | 2PtA | 2P% | 3Pt | 3PtA | 3P% | FTM | FTA | FT% | Off | Def | TOT | Asts | Stls | Blks | TOs | PFs |
| --- | --- | --- | --- | --- | --- | --- | --- | --- | --- | --- | --- | --- | --- | --- | --- | --- | --- | --- | --- | --- | --- | --- | --- | --- | --- |
| 2015/16 | NCAA | James Blackmon | 6 | 24.0 | 14.3 | 5.3 | 11.0 | 48.5 | 2.5 | 4.7 | 53.6 | 2.8 | 6.3 | 44.7 | 0.8 | 1.0 | 83.3 | 1.0 | 3.7 | 4.7 | 2.2 | 1.2 | 0.2 | 3.5 | 1.7 |

Player Page&nbsp&nbsp| Player Stats | Mock Draft History | Related Articles&nbsp&nbsp| Add to My Draft Express&nbsp
&nbsp
Top NBA Prospects in the Big 10, Part Nine: #11-15
October 28, 2015
Derek Bodner

Indiana freshman guard James Blackmon Jr. came in and started from day one for the Hoosiers, making an immediate impact on one of the best offensive teams in the nation. Blackmon was second on the team in scoring at 15.7 points per game, the sixth highest per-game scoring average among freshman in the country.

Blackmon is a very dangerous perimeter shooting threat, as evidenced by his 38.7% shooting from three point range on six attempts per game. Indiana, led by a perimeter combination of Yogi Ferrell and Blackmon, was one of the best perimeter shooting teams in the nation last year, coming in at ninth in the country in three pointers made and sixth in three point percentage, and Blackmon was a big part of that success.

Blackmon has consistent range out to the NBA three point line, which allows him to extend the defense and open up the lane for his teammates. He gets excellent elevation on his jumper and has a high release point, which along with a quick, compact release allows him to get his shot off with little space.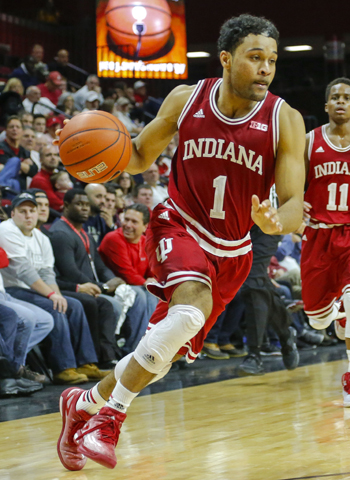 US Presswire



That's good, because over 75% of his catch and shoot attempts were guarded according to Synergy Sports Technology, a very high rate for a perimeter threat. Despite the attention he received Blackmon connected on 39% of his catch and shoot attempts, with the 1.17 points per possession he generated in these situations just outside of the top 20% in the nation, according to Synergy Sports Technology.

Blackmon isn't just a standstill shooter, however, as he's comfortable using one or two dribbles to setup a pull-up jumper. This is especially effective off the pick and roll, where the elevation he gets on his shot, combined with his quick release, once again makes it difficult for defenders to contest. Blackmon is only an average ball handler and doesn't have elite quickness turning the corner off of the pick, so he becomes a little bit one-dimensional as a scorer off the pick and roll, but it's a dimension that he can continue to be effective in.

Blackmon doesn't create all that much off the dribble, limited mostly to attacking closeouts. He has a strong pull-up game, and shows some touch on runners in the lane, but he struggles at times to get all the way to the hoop. The primary culprit in his struggles to create at a high volume is that he's just an average athlete by NBA standards, without the burst with the ball in his hands to really blow by the first tier of defenders, and without great elevation to score in traffic.

One area where Blackmon could improve is as a shooter coming off of screens. He's an excellent shooter overall and appears comfortable shooting on the move in other areas, namely off the dribble and when sliding around the perimeter to find an opening. He wasn't completely ineffective when attempting such shots, and looked mostly comfortable when doing so, but it just wasn't a consistent part of his offense. Especially since Blackmon doesn't project to be a high-level shot creator off the dribble, proficiency coming off screens and using his threat as a perimeter shooter could help him get a step on his defender, and open up driving lanes in the process.

Blackmon didn't create a whole lot of opportunities for his teammates, which is somewhat concerning at his size, collecting just 1.5 assists per game and 2.0 assists per 40 minutes when adjusting for pace. The fact that he doesn't create a lot in the paint plays a part in this, but he's not the most creative passer in the world either. He did do a good job making smart decisions with the ball and limiting his turnovers, but NBA teams would undoubtedly like to see him develop into somewhat of a combo guard considering how small he is.

On the defensive side of the court, Blackmon measured only 6'3" in shoes and would be undersized for an NBA shooting guard, without a great frame to match. That being said, he measured with a 6'8.5" wingspan and an 8'4" standing reach at the 2014 Nike Hoop Summit, both strong measurements for his size which help him play bigger than his listed height.

Blackmon's average athleticism comes into play on this side of the court as well, as he'll struggle to stay in front of some of the better athletes in the Big Ten, something which will also be the case when he makes the jump to the next level. Even so, he is an attentive defender who gives consistent effort on this side of the court, something which coaches will appreciate. He's also reportedly added weight to his previously slender frame, something which could help him fight through picks on the perimeter and make him a more versatile defender.

James Blackmon Jr. had an excellent freshman season for the Hoosiers, establishing himself as one of the best perimeter shooting threats in the Big 10. He had offseason knee surgery to repair cartilage in his left knee, but should be ready for the start of the season; though a slow start as he returns to form isn't out of the question. Still, Blackmon has a chance to build on his excellent start to his college career, and if he can get a little bit more comfortable creating off the dribble and become a more consistent contributor on the defensive side of the court, he's the kind of shooting threat that can find a role at the next level.

[Read Full Article]

---
2014 Nike Hoop Summit Video Interview: Reid Travis, James Blackmon
April 18, 2014
[Read Full Article]

---
2014 Nike Hoop Summit: USA Measurements
April 12, 2014
James Blackmon
Weight: 184 lbs.
Height (w/shoes): 6'3"
Wingspan: 6'8.5"
Standing Reach: 8'4"

[Read Full Article]

---
High School Class of 2014 Scouting Reports, Part One - the Guards
August 31, 2013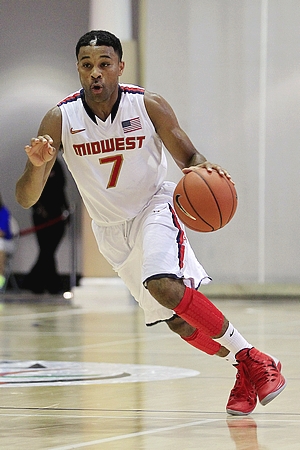 US Presswire



Jonathan Givony

Recruiting Rankings: 247: #31, ESPN: #25, Scout: #57, Rivals: #33

Strengths:
-Versatile shooting guard.
-One of the best shooter/scorers in high school basketball. Averaged nearly 30 points per-40 making 48% of his 3-point attempts in 20 Nike EYBL games in 2013
-Outstanding with his feet set, but also capable of making pull-up 3-pointers off the dribble with ease. Has a beautiful, effortless stroke with deep range
-Shifty and smooth. Operates at different speeds
-Mature player who looks very under control. Reads the floor well. Makes the extra pass. Rarely turns the ball over
-Can handle the ball and drive and dish creatively.
-Has a 6-8 wingspan which allows him to play bigger than his height

Weaknesses
-Only 6-3 1/2 in shoes. Undersized for a shooting guard
-Good, not great athlete
-First step is average
-Doesn't get to the free throw line at a high rate, just 3.4 times per-40 at the EYBL
-Somewhat stuck between positions. 1/1 assist to turnover ratio
-Average defender. Doesn't show great lateral quickness. Doesn't get in the passing lanes
-Tore his ACL in February of 2012

Outlook: Terrific scorer who can do more than just make shots from outside. Committed to Indiana prior to his freshman year of high school, but decided to reopen his recruitment. Father was a McDonald's All-American who went to college at Kentucky and was drafted by the New Jersey Nets.

[Read Full Article]

---