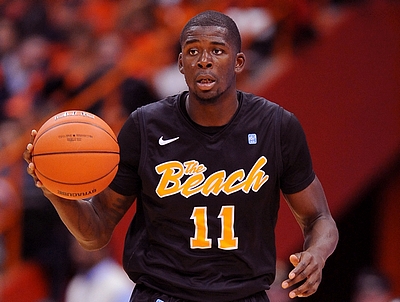 Joe Treutlein
Coming off a solid junior season, his first playing Division I basketball,
James Ennis
took some nice steps forward as a senior, significantly expanding his role while taking better advantage of his physical attributes on both ends of the floor.
Still a largely raw player from a skills and awareness perspective, the 6'7 former high jumper with only two years of high-level basketball experience is best known for his physical attributes. Ennis is a very quick leaper with a deceptively strong frame (though one that could still get better), and he did a much better job his senior year utilizing those tools with more aggressiveness both with and without the ball.
On the offensive end, Ennis significantly increased his usage his senior season, seeing his field-goal attempts per 40 minutes pace adjusted rise sharply from 9.3 to 12.9. Correspondingly, he created much more of his own shots, both from the perimeter and taking the ball to the basket, though the results remained shaky given his still underdeveloped ball-handling.
Ennis is at his best finishing at the basket, something he does very well both in the half court in transition. Possessing great leaping ability, excellent length, and no hesitance to throw the ball down with power both when open and in traffic, Ennis is a very dangerous player around the rim, and one that could become even more impressive as he'd see his offensive role become more compact at the next level.
While Ennis' game is undeniably raw in terms of his ability to create his own shots, he did make some strides with his ability to put the ball on the floor as a senior, and is capable of making straight-line drives to the basket and even converting on some floaters and runners in the painted area. When he can't create his own shot conventionally, he does a great job of pursuing the ball off the rim on the offensive end, being a strong offensive rebounder for a wing with an outstanding second bounce.
Ennis' physical attributes and finishing ability around the rim are definitely his most impressive assets from an NBA perspective at this stage, but how his spot-up three-point shooting develops is likely the most important factor to his short and long-term success. Ennis shot a respectable 35.8% as a senior from behind the arc (and 35.0% as a junior), while doing so on a significant 4.8 attempts per game, accounting for over 40% of his field-goal attempts overall. While Ennis' jumper is somewhat inconsistent at this stage, he has a solid groundwork in place and should get plenty of chances to find a niche in the league if he can take this area of his game to the next level.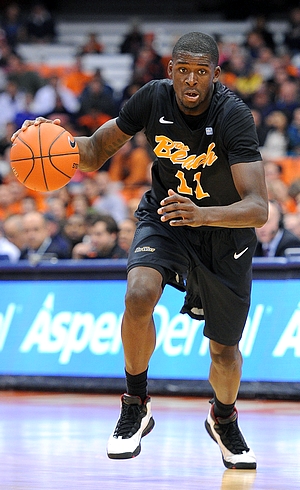 Ennis' defensive game may have been the most welcome development for him his senior year, as he showed an increased level of focus and awareness on this end of the floor, taking much better advantage of his physical tools. Ennis has great size and length for either wing position and has enough size and lateral quickness to respectably stick with power forwards and point guards in switches as well. His fundamental base is still a work in progress and he can lose focus on plays that drag on too long, but overall did a much better job in man-to-man defense as a senior and has very good potential on this end of the floor with the right coaching at the next level. Further, his off-ball defense with his ability to crash the passing lanes remains very impressive, as he frequently creates his own one-man fast breaks out of perimeter defense, often leading to powerful dunks on the other end of the floor.
Looking forward, Ennis' physical tools, finishing ability, budding defensive game, and the groundwork of a spot-up jumper he has in place make him an intriguing prospect teams will likely consider in the second round. The fact that he has only two years of Division I experience and made noteworthy improvements as a senior certainly help his cause, though on the other hand he's going to be turning 23 in July, which should temper expectations some on his potential.
Regardless, many coaches in the league have plenty of places for athletic, defensive-minded, spot-shooting wings, and there aren't many who will have an advantage in the athleticism department on Ennis. He could help his stock by performing well in workouts and locking down opposing wings, but more important to his success will likely be taking his spot-up shooting to the next level and how he responds to the higher level of competition and coaching in the pros.