James Ennis
Recent Tweets
All Tweets
DraftExpress: Really strong game for James Ennis. Measured well (6-7 6-11 wingspan). Good athlete. Can shoot a bit. Defends. Has a chance to get drafted.
2013-04-12 16:42:09
DraftExpress: Top Non-BCS NBA Prospects #21-#25 Matthew Dellavedova James Ennis Ronald Roberts Eric Ferguson Zeke Marshall http://t.co/t4q994x4
2012-11-27 13:04:21
DraftExpress: Top Non-BCS NBA Prospects #21-#25 Matthew Dellavedova James Ennis Ronald Roberts Eric Ferguson Zeke Marshall - http://t.co/t4q994x4
2012-11-26 19:44:10
DraftExpress: Impressive. 6-7 athlete. Defends multiple positions. Need to see more of skill-level. RT @AndyGlockner: What did you make of James Ennis?
2011-11-17 10:31:13
Predraft Measurements
| Height w/o Shoes | Height w/shoes | Weight | Wingspan | Standing Reach | Body Fat | No Step Vert | Max Vert | Bench Press | Lane Agility | 3/4 Court Sprint | Class Rank |
| --- | --- | --- | --- | --- | --- | --- | --- | --- | --- | --- | --- |
| 6' 5.75" | NA | 206 | 6' 11.5" | 8' 9" | NA | NA | NA | NA | NA | NA | NA |



Basic Per Game Statistics

- Comprehensive Stats - Statistical Top 25s
| Year | League | Name | GP | Min | Pts | FG | FGA | FG% | 2Pt | 2PtA | 2P% | 3Pt | 3PtA | 3P% | FTM | FTA | FT% | Off | Def | TOT | Asts | Stls | Blks | TOs | PFs |
| --- | --- | --- | --- | --- | --- | --- | --- | --- | --- | --- | --- | --- | --- | --- | --- | --- | --- | --- | --- | --- | --- | --- | --- | --- | --- |
| 2012/13 | NCAA | James Ennis | 31 | 33.5 | 16.0 | 5.4 | 11.2 | 48.3 | 3.7 | 6.4 | 57.6 | 1.7 | 4.8 | 35.8 | 3.5 | 4.2 | 85.3 | 1.8 | 4.6 | 6.5 | 2.1 | 1.7 | 1.3 | 2.9 | 2.3 |

Player Page&nbsp&nbsp| Player Stats | Mock Draft History | Related Articles&nbsp&nbsp| Add to My Draft Express&nbsp
&nbsp
NBA Combine Interviews: Oladipo, Crabbe, Goodwin, Ennis
May 20, 2013
[Read Full Article]

---
Top NBA Prospects in the Non-BCS Conferences, Part Seven
November 26, 2012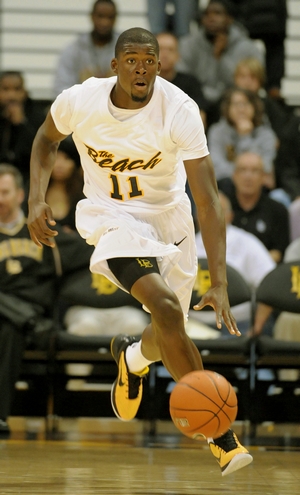 US Presswire



Kyle Nelson

As a junior at Long Beach State, James Ennis was better known for his acrobatic dunks than for his basketball ability. After all, he cleared 6'11 in the high jump as a freshman at Oxnard College, even before he emerged as one of California's top junior college prospects. It seems as though the tide is starting to change. The junior college-transfer looks to be in the midst of a breakout senior season, however, complete with 17-point and 7-rebound and 18-point and 8 rebound performances against Arizona and North Carolina, respectively. The question now remains as to whether Ennis can replace Casper Ware's productivity while solidifying himself as a legitimate draft prospect.

Ennis is already an elite athlete with excellent quickness in the open floor and off his feet, capable of exploding quickly off of the floor, which makes him a human highlight reel in transition. In addition to his outstanding athleticism, he stands 6'7 with an incredibly long and wiry 210-pound frame, prototypical size for an NBA wing.

Ennis certainly looks the part, but his basketball ability has always lagged behind his athleticism. Last year he was a complementary player in Long Beach State's offense, with nearly 75% of his shots being created for him. He was able to convert an excellent 66% of his 2-point attempts, one of the best rates in the country, but struggled to get to the free throw line and relied too heavily on his streaky outside jumper.

Ennis was most effective scoring in transition as a junior, where he saw over 31% of his offensive possessions and where he utilized his elite quickness and athleticism to finish at an efficient 57.1% clip. He also thrived receiving the ball off of cuts and using his physical tools and shooting touch to get easy baskets. Almost all of his offense inside the arc came directly at the rim, as he lacks any type of mid-range game or ability to pull-up off the dribble for a jump-shot.

Ennis possesses physical and athletic advantages over almost anybody that guards him at the college level, but he lacks the ball handling ability to get to the basket and was not able to consistently draw contact when he did manage to get in the lane. He was not particularly turnover prone as a junior, but he has struggled mightily as a senior, getting to the line more often, but turning the ball over 4.3 times per game. So, while he clearly has a bigger offensive role as a senior, and looks more eager to attack opponents off the dribble, he is a long way away from being able to create his own shot consistently at this level, let alone at the next.

Where Ennis did show potential as a junior was as a long-range shooter, as he attempted 4.9 perimeter shots per 40 minutes pace adjusted and made 35% of his attempts. While his shooting motion starts a bit low and he does not get a lot of elevation on his shot, he has consistent mechanics and has shown the ability to make shots effectively from a standstill. He was a very good spot-up shooter from long range, making 43.8% of his unguarded attempts from distance. He has yet to find his groove as a shooter during his senior year, but he looks more comfortable as a shooter and quicker on the draw, which is a good sign when considering what he can offer at the next level.

There are significant question marks on the defensive end, however, as his below average awareness and inconsistent effort and focus belied his potential as a defender at the collegiate level. He did not always close out hard on shooters and he struggled to fight through screens as a junior, but his excellent length and solid lateral quickness allow him to be a formidable perimeter defender when he put his mind to it. His 2.1 steals per 40 minutes pace adjusted are a testament to how disruptive he can be, even with an inconsistent effort. Scouts will be watching to see if he can consistently work hard on the defensive end as a senior, as he certainly has the physical tools to be a better than average defender at the next level.

The question remains: can James Ennis develop into more than just an athlete on a consistent basis? He has embraced a larger role as a senior and has definitely showed more on the offensive end of the floor; but four games into the season, the answer is still unclear. He will likely never be more than a role player at the next level, but he must first prove to scouts that he can consistently hit spot-up three point shots while maintaining his focus and intensity on the defensive end. Fortunately, scouts will have plenty of opportunities to watch him in December match-ups against Syracuse, Ohio State, and UCLA, not to mention the Big West slate and the Portsmouth Invitational Tournament. Should James Ennis continue to play well against elite competition, then he could certainly see his draft stock rise in the coming months.

[Read Full Article]

---