James Ennis
Recent Tweets
All Tweets
DraftExpress: Top performers from the 2014 Orlando Summer league (PER) Mason Plumlee James Ennis Nerlens Noel Kentavious Caldwell-Pope Jordan Adams.
2014-07-12 22:39:05
DraftExpress: Top Performers at Orlando SL so far (50 total min+) in PER Mason Plumlee Kentavious Caldwell-Pope James Ennis Nerlens Noel Jordan Adams
2014-07-10 10:13:35
DraftExpress: As far as I can tell just one--James Ennis. Might be all-time low. RT @Bobcat_LOVE How many Portsmouth PIT participants were drafted?
2013-06-28 08:57:56
DraftExpress: Five guys we didn't project getting drafted that did Carrick Felix Alex Oriakhi Jannis Timma Arsalan Kazemi James Ennis.
2013-06-28 00:15:08
DraftExpress: Really strong game for James Ennis. Measured well (6-7 6-11 wingspan). Good athlete. Can shoot a bit. Defends. Has a chance to get drafted.
2013-04-12 16:42:09
Team: Grizzlies
Physicals
Positions
Salary
Misc
H: 6' 7"
W: 201 lbs
Bday: 07/01/1990
(25 Years Old)

Current: SF
NBA: SF
Possible: SF

Agent: Scott Nichols
Current Salary:$507,336

High School: Ventura HS
Hometown: San Buenaventura (Ventura), CA
Drafted: Pick 50 in 2013 by Heat

Predraft Measurements
| Year | Source | Height w/o Shoes | Height w/shoes | Weight | Wingspan | Standing Reach | Body Fat | No Step Vert | Max Vert |
| --- | --- | --- | --- | --- | --- | --- | --- | --- | --- |
| 2013 | NBA Draft Combine | 6' 5.75" | 6' 7" | 201 | 6' 11.5" | 8' 8.5" | 4.5 | 29.5 | 36.5 |
| 2013 | Nets Workout | 6' 5.75" | 6' 7" | 201 | 6' 11.5" | 8' 8.5" | 4.5 | 29.5 | 36.5 |
| 2013 | Portsmouth | 6' 5.75" | NA | 206 | 6' 11.5" | 8' 9" | NA | NA | NA |



Basic Per Game Statistics

- Comprehensive Stats - Statistical Top 25s
| Year | League | Name | GP | Min | Pts | FG | FGA | FG% | 2Pt | 2PtA | 2P% | 3Pt | 3PtA | 3P% | FTM | FTA | FT% | Off | Def | TOT | Asts | Stls | Blks | TOs | PFs |
| --- | --- | --- | --- | --- | --- | --- | --- | --- | --- | --- | --- | --- | --- | --- | --- | --- | --- | --- | --- | --- | --- | --- | --- | --- | --- |
| 2015/16 | NBA | James Ennis | 3 | 2.3 | 0.0 | 0.0 | 0.0 | &nbsp | 0.0 | 0.0 | &nbsp | 0.0 | 0.0 | &nbsp | 0.0 | 0.0 | &nbsp | 0.0 | 0.0 | 0.0 | 0.3 | 0.0 | 0.0 | 0.0 | 0.3 |
| 2015/16 | NBA | James Ennis | 2 | 1.5 | 0.0 | 0.0 | 0.5 | 0.0 | 0.0 | 0.0 | &nbsp | 0.0 | 0.5 | 0.0 | 0.0 | 0.0 | &nbsp | 0.5 | 0.0 | 0.5 | 0.0 | 0.5 | 0.0 | 0.0 | 0.0 |

Player Page&nbsp&nbsp| Player Stats | Mock Draft History | Related Articles&nbsp&nbsp| Add to My Draft Express&nbsp
&nbsp
Trending Prospects: James Ennis
June 12, 2013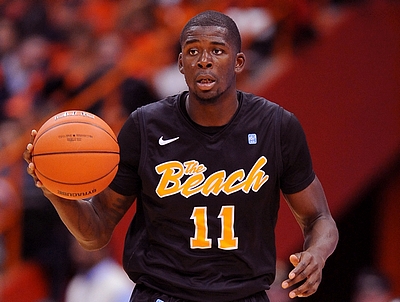 US Presswire



Joe Treutlein

Coming off a solid junior season, his first playing Division I basketball, James Ennis took some nice steps forward as a senior, significantly expanding his role while taking better advantage of his physical attributes on both ends of the floor.

Still a largely raw player from a skills and awareness perspective, the 6'7 former high jumper with only two years of high-level basketball experience is best known for his physical attributes. Ennis is a very quick leaper with a deceptively strong frame (though one that could still get better), and he did a much better job his senior year utilizing those tools with more aggressiveness both with and without the ball.

On the offensive end, Ennis significantly increased his usage his senior season, seeing his field-goal attempts per 40 minutes pace adjusted rise sharply from 9.3 to 12.9. Correspondingly, he created much more of his own shots, both from the perimeter and taking the ball to the basket, though the results remained shaky given his still underdeveloped ball-handling.

Ennis is at his best finishing at the basket, something he does very well both in the half court in transition. Possessing great leaping ability, excellent length, and no hesitance to throw the ball down with power both when open and in traffic, Ennis is a very dangerous player around the rim, and one that could become even more impressive as he'd see his offensive role become more compact at the next level.

While Ennis' game is undeniably raw in terms of his ability to create his own shots, he did make some strides with his ability to put the ball on the floor as a senior, and is capable of making straight-line drives to the basket and even converting on some floaters and runners in the painted area. When he can't create his own shot conventionally, he does a great job of pursuing the ball off the rim on the offensive end, being a strong offensive rebounder for a wing with an outstanding second bounce.

Ennis' physical attributes and finishing ability around the rim are definitely his most impressive assets from an NBA perspective at this stage, but how his spot-up three-point shooting develops is likely the most important factor to his short and long-term success. Ennis shot a respectable 35.8% as a senior from behind the arc (and 35.0% as a junior), while doing so on a significant 4.8 attempts per game, accounting for over 40% of his field-goal attempts overall. While Ennis' jumper is somewhat inconsistent at this stage, he has a solid groundwork in place and should get plenty of chances to find a niche in the league if he can take this area of his game to the next level.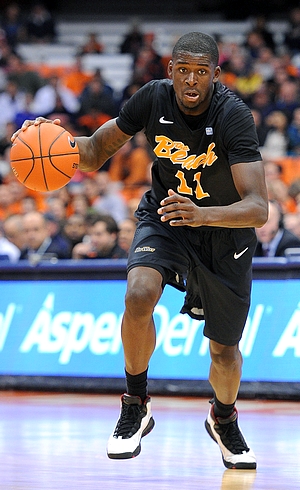 US Presswire



Ennis' defensive game may have been the most welcome development for him his senior year, as he showed an increased level of focus and awareness on this end of the floor, taking much better advantage of his physical tools. Ennis has great size and length for either wing position and has enough size and lateral quickness to respectably stick with power forwards and point guards in switches as well. His fundamental base is still a work in progress and he can lose focus on plays that drag on too long, but overall did a much better job in man-to-man defense as a senior and has very good potential on this end of the floor with the right coaching at the next level. Further, his off-ball defense with his ability to crash the passing lanes remains very impressive, as he frequently creates his own one-man fast breaks out of perimeter defense, often leading to powerful dunks on the other end of the floor.

Looking forward, Ennis' physical tools, finishing ability, budding defensive game, and the groundwork of a spot-up jumper he has in place make him an intriguing prospect teams will likely consider in the second round. The fact that he has only two years of Division I experience and made noteworthy improvements as a senior certainly help his cause, though on the other hand he's going to be turning 23 in July, which should temper expectations some on his potential.

Regardless, many coaches in the league have plenty of places for athletic, defensive-minded, spot-shooting wings, and there aren't many who will have an advantage in the athleticism department on Ennis. He could help his stock by performing well in workouts and locking down opposing wings, but more important to his success will likely be taking his spot-up shooting to the next level and how he responds to the higher level of competition and coaching in the pros.

[Read Full Article]

---
2013 Nets Combine Recap
May 24, 2013
Ennis stands out first and foremost thanks to his strong physical attributes, measuring 6-7 in shoes with a 6-11 ½ wingspan and solid athletic ability. He's a relatively versatile player who can create his own shot reasonably well thanks to his strong first step and solid aggressiveness, and is also an acceptable perimeter shooter, having made 36% of his 3-point attempts as a senior. Ennis shows great potential defensively as well with his long arms and strong athleticism. Somewhat of a late bloomer having only played two seasons of Division I basketball, he is a prospect a team could decide to take a flyer on in the second round to see if they can continue to round out his skill-level and feel for the game and develop him into a rotation player.

D.J. Stephens, Memphis- [p=D.J. Stephens]Stephens made his mark before he even stepped onto the floor for the competitive portion of the workout with his freakish athletic testing results, measuring the highest no-step and max-vertical leap in the history of our database, at 40 and 46 inches respectively, as well as the fifth best ¾ court sprint time ever. He put the entire scouting section on the edge of their seat any time he touched the ball as you could collectively hear virtually the entire gym holding their breath to see what he would do next. With that said, Stephens reiterated in New Jersey that he is for the most part a very limited basketball player at this stage. He sports a very ugly flat-footed jump-shot that he struggles to make with any real consistency and is a crude ball-handler who can't do much outside of attacking the rim in a straight line.

Stephens spent some time guarding the perimeter, with limited success, looking much more comfortable around the rim where he can use his 7-foot wingspan and freakish explosiveness to challenge and reject shots. While he made some very impressive plays getting off the floor for blocks and offensive rebounds, that might be somewhat of a challenge in the NBA considering he measured just 6-4 ½ without shoes, and weighed in at only 194 pounds. Some scouts compare him to Utah Jazz power forward Jeremy Evans, a similarly freakish and extremely lean athlete, but Evans is listed at 6-9.

[Read Full Article]

---
NBA Combine Interviews: Oladipo, Crabbe, Goodwin, Ennis
May 20, 2013
[Read Full Article]

---
Top NBA Prospects in the Non-BCS Conferences, Part Seven
November 26, 2012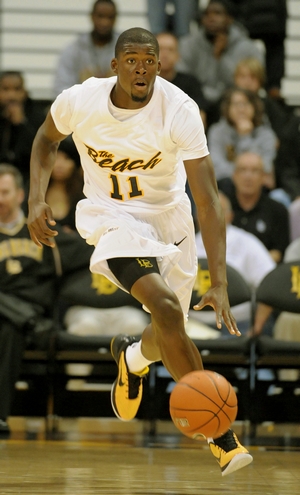 US Presswire



Kyle Nelson

As a junior at Long Beach State, James Ennis was better known for his acrobatic dunks than for his basketball ability. After all, he cleared 6'11 in the high jump as a freshman at Oxnard College, even before he emerged as one of California's top junior college prospects. It seems as though the tide is starting to change. The junior college-transfer looks to be in the midst of a breakout senior season, however, complete with 17-point and 7-rebound and 18-point and 8 rebound performances against Arizona and North Carolina, respectively. The question now remains as to whether Ennis can replace Casper Ware's productivity while solidifying himself as a legitimate draft prospect.

Ennis is already an elite athlete with excellent quickness in the open floor and off his feet, capable of exploding quickly off of the floor, which makes him a human highlight reel in transition. In addition to his outstanding athleticism, he stands 6'7 with an incredibly long and wiry 210-pound frame, prototypical size for an NBA wing.

Ennis certainly looks the part, but his basketball ability has always lagged behind his athleticism. Last year he was a complementary player in Long Beach State's offense, with nearly 75% of his shots being created for him. He was able to convert an excellent 66% of his 2-point attempts, one of the best rates in the country, but struggled to get to the free throw line and relied too heavily on his streaky outside jumper.

Ennis was most effective scoring in transition as a junior, where he saw over 31% of his offensive possessions and where he utilized his elite quickness and athleticism to finish at an efficient 57.1% clip. He also thrived receiving the ball off of cuts and using his physical tools and shooting touch to get easy baskets. Almost all of his offense inside the arc came directly at the rim, as he lacks any type of mid-range game or ability to pull-up off the dribble for a jump-shot.

Ennis possesses physical and athletic advantages over almost anybody that guards him at the college level, but he lacks the ball handling ability to get to the basket and was not able to consistently draw contact when he did manage to get in the lane. He was not particularly turnover prone as a junior, but he has struggled mightily as a senior, getting to the line more often, but turning the ball over 4.3 times per game. So, while he clearly has a bigger offensive role as a senior, and looks more eager to attack opponents off the dribble, he is a long way away from being able to create his own shot consistently at this level, let alone at the next.

Where Ennis did show potential as a junior was as a long-range shooter, as he attempted 4.9 perimeter shots per 40 minutes pace adjusted and made 35% of his attempts. While his shooting motion starts a bit low and he does not get a lot of elevation on his shot, he has consistent mechanics and has shown the ability to make shots effectively from a standstill. He was a very good spot-up shooter from long range, making 43.8% of his unguarded attempts from distance. He has yet to find his groove as a shooter during his senior year, but he looks more comfortable as a shooter and quicker on the draw, which is a good sign when considering what he can offer at the next level.

There are significant question marks on the defensive end, however, as his below average awareness and inconsistent effort and focus belied his potential as a defender at the collegiate level. He did not always close out hard on shooters and he struggled to fight through screens as a junior, but his excellent length and solid lateral quickness allow him to be a formidable perimeter defender when he put his mind to it. His 2.1 steals per 40 minutes pace adjusted are a testament to how disruptive he can be, even with an inconsistent effort. Scouts will be watching to see if he can consistently work hard on the defensive end as a senior, as he certainly has the physical tools to be a better than average defender at the next level.

The question remains: can James Ennis develop into more than just an athlete on a consistent basis? He has embraced a larger role as a senior and has definitely showed more on the offensive end of the floor; but four games into the season, the answer is still unclear. He will likely never be more than a role player at the next level, but he must first prove to scouts that he can consistently hit spot-up three point shots while maintaining his focus and intensity on the defensive end. Fortunately, scouts will have plenty of opportunities to watch him in December match-ups against Syracuse, Ohio State, and UCLA, not to mention the Big West slate and the Portsmouth Invitational Tournament. Should James Ennis continue to play well against elite competition, then he could certainly see his draft stock rise in the coming months.

[Read Full Article]

---