Jan Vesely
Recent Tweets
All Tweets
DraftExpress: RT @MrMichaelLee Not good huh? RT @WizardsXTRA Jan Vesely has played 1 min in last 4-games 7 mins this month 13 mins since 1\/26. DNP ...
2013-02-20 16:32:52
DraftExpress: Not good huh? RT @WizardsXTRA Jan Vesely has played 1 min in last 4-games 7 mins this month 13 mins since 1\/26. DNP in 10 of last 13 #WOW
2013-02-20 13:48:00
DraftExpress: RT @darrenrovell: Ha! RT @NotDRovell TOP 10 PICKS GIRLFRIEND RANKINGS: 1) Jan Vesely - 9.2. T2) All others. #nocontest
2011-06-23 07:48:42
DraftExpress: RT @ZachLowe_SI: Jan Vesely wins draft night. It's over.
2011-06-23 07:10:32
DraftExpress: NBA Draft Media Day Video Interviews: Derrick Williams, Kemba Walker, Jan Vesely, Markieff Morris: http://t.co/WEvr6Is (more coming later)
2011-06-22 10:15:39
Top 25s - Full List
Team: Fenerbahce
Physicals
Positions
Salary
Misc
H: 6' 11"
W: 240 lbs
Bday: 04/24/1990
(25 Years Old)

Current: PF
NBA: PF
Possible: PF

Agent: Arn Tellem

High School:
Hometown: Ostrava, Czech Republic
Drafted: Pick 6 in 2011 by Wizards
Best Case: Andrei Kirilenko
Worst Case: Joe Alexander




Basic Per Game Statistics

- Comprehensive Stats - Statistical Top 25s
| Year | League | Name | GP | Min | Pts | FG | FGA | FG% | 2Pt | 2PtA | 2P% | 3Pt | 3PtA | 3P% | FTM | FTA | FT% | Off | Def | TOT | Asts | Stls | Blks | TOs | PFs |
| --- | --- | --- | --- | --- | --- | --- | --- | --- | --- | --- | --- | --- | --- | --- | --- | --- | --- | --- | --- | --- | --- | --- | --- | --- | --- |
| 2015/16 | EURO | Jan Vesely | 7 | 27.0 | 11.9 | 5.1 | 9.3 | 55.4 | 5.1 | 9.1 | 56.3 | 0.0 | 0.1 | 0.0 | 1.6 | 2.9 | 55.0 | 2.7 | 3.6 | 6.3 | 2.1 | 1.4 | 0.9 | 1.0 | 3.1 |

Player Page&nbsp&nbsp| Player Stats | Mock Draft History | Related Articles&nbsp&nbsp| Add to My Draft Express&nbsp
&nbsp
Media Day Interviews: Williams, Walker, Vesely, Markieff Morris
June 22, 2011
[Read Full Article]

---
Situational Statistics: the 2011 Forward Crop
June 19, 2011
Comparing where Jan Vesely ranked in various situational stat categories with his NCAA peers doesn't make a great deal of sense considering how different European basketball is with the college game, but it still sheds some interesting insight onto his profile.

Vesely's usage rate ranks last amongst this group of players at just 10 possessions per game, which hints at the fairly limited role he played offensively for Partizan Belgrade this year.

He rarely, if ever, was asked to go out and create his own shot on his own, seeing just 2.8% of his offense in isolation situations, which ranks 15th of the 18 players in this study, ahead of Malcolm Thomas and Matthew Bryan-Amaning, but nevertheless ranked as the 5th most turnover prone, coughing the ball up on 15% of his possessions.

By contrast, 25% of his possessions came in spot-up situations, which puts him near the top in this category after Robin Benzing (39%), Chandler Parsons (26.2%) and Justin Harper (25.5%).

He was not terribly effective as a jump-shooter, though, garnering .78 points per shot he attempted, 5th worst in this group—almost all of which in catch and shoot situations.

On the other hand, Vesely's athleticism shines through with the way he was able to convert opportunities around the basket, shooting 74% from the field in these situations, first in this group.

Not surprisingly, Vesely ranks amongst the most effective finishers off cuts (3rd), offensive rebounds (2nd), post-ups (3rd) and in transition (6th).

He was also able to draw free throws at the third highest rate (on 19.4% of his possessions) in this study, trailing just Derrick Williams and Jimmy Butler.

If Vesely can shore up his ball-handling and perimeter shooting ability, he has all the makings of an incredibly versatile player.

[Read Full Article]

---
Tracking the Progress of Jan Vesely
January 4, 2011
Jonathan Givony

It's not every day that you see a player passing up the chance to be a top 10 pick. That's exactly what Jan Vesely decided to do last April, though, just a few days before playing one of the best games of his young career, at the Euroleague Final Four in Paris.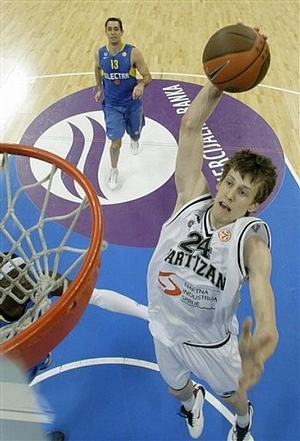 AP



Citing a desire to "continue to learn," Vesely elected to remain in Partizan for another season under legendary coach Dusko Vujosevic. Alas, things did not work out as planned, as a huge financial offer from CSKA Moscow lured the Montenegrin coach away from Belgrade, and put his young assistant Vlada Jovanovic in charge of Vesely's future development.

"There was a system in Partizan under Coach Vujosevic," Vesely told us. "Coach Jovanovic has continued to run that system. We practice hard, and we play hard."

Both Vesely and Partizan's 2010-11 season started off in disappointing fashion, as the team struggled badly coming out of the gates, forcing them to replace their inconsistent and inexperienced point guard, Oliver Lafayette, after just one month. Better results have followed since then, and Vesely seems to have hit his stride. He played some of his best basketball in the month of December.

Twenty one games into the season, and fresh off watching him compete in an Adriatic league contest against Cibona Zagreb, we can start drawing observations about Vesely's progression from last year.

Statistically, not much has changed. He's still playing around 24 minutes per game, while his scoring production is down slightly. He appears to be shooting the ball better from beyond the arc, though, particularly over his last 12 games, where he's made 12 of his last 20 attempts, and is knocking down 42% of his 3-pointers on the season.

Sifting through his recent film, Vesely is clearly shooting the ball with great confidence these days, boasting a quicker, smoother and more fluid release. This has helped him become more reliable with his feet set than he was in the past. He's even knocking down the occasional off-the-dribble jumper for good measure.

We'll have to see if this keeps up, as it's difficult to draw too many conclusions considering he's still only made 13 (of 31) 3-pointers in 21 games this season after converting 31 of 98 (32%) attempts in 68 games last year.

From a physical standpoint, Vesely remains the same extremely intriguing athletic specimen. He has terrific size and length for a small forward at 6-11 and couples that with incredible explosiveness. He looks a lot more confident in trying to utilize his athleticism as of late, as he's been responsible for a number of unbelievable dunks this season. He's gaining a reputation for being somewhat of a Blake Griffin-type spectacle at this level, doing things that people just aren't accustomed to seeing in European basketball.





At least once a game, Vesely will take off from inside the paint (or even outside it) and try to dunk on an opponent emphatically. His penchant for challenging defenders at the rim and the nastiness with which he tries to cram the ball down their throats any opportunity he has is both wildly entertaining and something NBA scouts will love to see, considering the athleticism he's showing in the process.

Another area in which we're seeing progress is in Vesely's post-up game. He will always have a size advantage at the small forward position at 6-11, and he's slowly learning how to use this better. While he hasn't added much weight to his frame since we last saw him, he does have the ability to establish position reasonably close to the basketball and then just shoot over his opponent. If he can continue to fill out his frame and improve his footwork in the post, this could become an even more dangerous weapon for him down the road.

"I'm trying to play more with my back to the basket this season. I'm working on this part of my game in practice. I feel more comfortable down there," Vesely told us.

Vesely continues to struggle in many of the same areas we outlined in previous reports, and it's still difficult to say that he's an overly skilled player.

His ball-handling skills remain mediocre at best. Watching him handle the ball in the open floor is definitely not a pretty sight. He's able to beat his defender off the dribble at times with his first step, but it's still something of an adventure for him trying to create his own shot from the perimeter—you just never know how things are going to turn out. He's not someone you want making decisions with the ball. His feel for the game is just average and it's not rare to see him make bad decisions, particularly in the form of unnecessary turnovers.

If unable to convert with a dunk around the rim, Vesely still has problems finishing through contact due to a distinct lack of strength. He doesn't put good touch on his shots and is definitely not the most fluid or instinctive offensive player you'll find. Many times he seems to just throw the ball up on the rim hoping for the best.

Even with his prodigious athleticism, Vesely still isn't much of a presence on the glass. He grabs just one defensive rebound for every 10 ˝ minutes he's on the court, which is a very poor rate. It's here that his lack of girth and poor instincts seem to show the most. He's too skinny to put a body on opponents, and he doesn't pursue the ball off the rim the way you might hope.

Defense is the part of Vesely's game that is most likely to spark debate when it comes to his future. On one hand, you cannot ignore the terrific physical tools Vesely enjoys – his excellent size, length and athleticism allow him to get his team plenty of extra possessions in the form of steals and blocks. He's also an intense competitor who's always willing to stick his nose in to get the job done, which definitely helps.



On the other hand, it's tough to ignore the fact that opposing coaches in Europe clearly game-plan against him, trying to create situations where they can isolate their best wing player against him with space to operate. In these situations, Vesely tends to struggle. He has difficulty getting in a low stance at his size and just doesn't have the lateral quickness to stay in front of the extremely quick and aggressive shot-creators he often finds at the small forward position.

To his credit, Vesely acknowledges that this is an issue for him. "Of course," he told us. "they are smaller than me, they are faster so I have to work on my aggressiveness, try to get faster and play better defense."

How well Vesely is able to adapt in this area will play a crucial role in the type of NBA career he's able to carve out for himself.

While NBA teams likely would have hoped to see Vesely make a more pronounced jump in productivity this season, it's safe to say he'll enter the league a better player for deciding to stay in Europe another year. Based on what we're seeing, it's a pretty safe to bet to say that he would have struggled as a rookie in the NBA this season, and even though he'll probably get picked a bit lower than he would have in the 2010 draft, he'll likely be better off in the long run for it.

Vesely continues to maintain that the NBA is indeed his end goal. "Its my dream to play in the NBA," he told us. "I would do anything to go there."

When pressed, he remains hesitant to talk too much about his plans regarding the draft, as he does not want to give his employers at Partizan the feeling that he's looking past this season and the current situation at hand.

We asked whether his contract situation could potentially be an impediment to him joining the NBA. "I don't think so," he told us matter-of-factly.

The biggest remaining question mark is how a lockout will affect his ability to join the NBA, if he so chooses, next year.

He'll surely have to pay Partizan a buyout fee by a certain date to execute the escape clause in his contract, but unless there's a quick resolution to the NBA labor dispute, he may not have anyone to talk to by then.

With that in mind, he might have to either pay the buyout out of his own pocket or stay for yet another season in Europe, which means he'll be pushing back his eventual (and hypothetical) big payday (for his second contract) by yet another year.

Vesely doesn't sound too concerned about any of that, though.

"I'm trying to do my best here first. I will concentrate on this season, and in the end we'll see."

[Read Full Article]

---
Jan Vesely "I Decided Not to Enter the 2010 NBA Draft"
April 26, 2010
A press release from Jan Vesely, acquired exclusively by DraftExpress, explaining his decision not to enter the 2010 draft.



Jan Vesely Quotes:



After consulting with my coach Mr. Dusan Vujosevic, my Agent and my family, who has always been very supportive of me in every decision that I have made in the past, I made the decision not to enter the 2010 NBA Draft.

I have decided to stay and play for my club BC Partizan for the next season.

Basketball is my life, something that is very important to me, and I want to continue to learn more.

My Coach Dusan Vujosevic and all of the staff of BC Partizan have been great to me ever since I have arrived to Belgrade, Serbia. Because of my coaches, my teammates and the best fans in the world, Belgrade is a place that I will always call home.

Playing in the NBA has been my dream since I started to play basketball. But, to be ready for this, I feel now is the time for me to continue to work hard to realize that goal in near future.



Alexander Raskovic, Jan Vesely's agent:



After very strong two seasons with coach Vujosevic, and under his high quality work, developing his skills and all-around game, Jan has garnered a great amount of attention from NBA teams. Predictions and estimations of his possible lottery position in the 2010 NBA Draft have become realistic. So, it was very important for me, and Jan's coach to make right estimation what he should do in this moment of his career.

Staying one more season in BC Partizan with his coach will probably increase his stock and possible position for the 2011 NBA Draft.

I believe Jan has made right decision to mature and improve as both a person and as a basketball player. He will have strong progress with his career, skills and maturity of the game. His time is coming.

One more season with coach Vujosevic will lead him to think about what his future could hold for him. The NBA is something that is certainly within his reach.

[Read Full Article]

---
Serbian Scouting Trip, Part One: First Round Prospects
February 23, 2010
Continuing where we left off in our previous report, with quite a bit more information now at our disposal, we can comfortably say that Jan Vesely looks like a different player than when we last evaluated him in November.

Not looking nearly as tentative as he did early on in the season, Vesely is playing with huge emotion and appears to have an incredible amount of confidence right now.

A knee injury to Partizan Belgrade's offensive focal point Aleks Maric in early January opened up a great deal of room for Vesely to step up and show he can shoulder a bigger role, and the teenage Czech small forward took advantage of this situation about as well as he possibly could.

Getting the chance to evaluate him in person on four different occasions truly allows you to appreciate the terrific physical tools Vesely brings to the table. A legit 6-11, with a nice wingspan, a great frame and outstanding athleticism, Vesely won't have much of an issue making the transition to the NBA from a physical standpoint. He still looks far from being a finished product either, as his lower body still needs quite a bit of work, while his upper body is just now starting to fill out.

Offensively, Vesely can still be described as a fairly raw player, but he's made huge strides from when we first saw him play at the Reebok EuroCamp in Treviso back in June of 2008. His role has increased significantly as this season has moved on, and he's recently looking much more comfortable putting the ball on the floor and attempting to create his own shot.

Still obviously not a great ball-handler or shot-creator, Vesely is showing more and more potential in this area, mixing in the occasional crossover or hesitation move, and being able to get to the basket very well thanks to his long strides and terrific first step. While he appears to be gaining confidence in his ability to put the ball on the floor, he still looks more comfortable in a complimentary role. Considering the different ways he can impact the game, that's not a bad thing at all when projecting him to the NBA.

Vesely is the type of player who is constantly out in transition thanks to the speed and determination in which he runs the floor, and will attempt to finish everything around the rim with a powerful dunk, often looking like he's trying to tear the basket down in the process. The terrific 62% he shoots from inside the arc clearly isn't a fluke. He doesn't have much of a post-game at this stage, but is getting more opportunities to utilize his size in the paint with quick moves, something that he can clearly continue to develop as his frame fills out.

As a shooter is where Vesely needs to continue to improve, as he's just 11/38 (29%) from beyond the arc on the season in 33 games, not being neither prolific nor consistent at this stage. His release is a bit on the slow side, as he gets quite a bit of legs underneath him, but considering his 6-11 size, getting his shot off isn't going to be much of an issue, its more about improving his range and consistency. The 62% he shoots from the free throw line probably needs work as well.

Looking a bit mechanical at times, and clearly not the most naturally skilled or talented offensive player you'll find—as opposed to a Donatas Motiejunas for example-- Vesely must continue to put the work in to improve his overall polish, something that he's obviously more than willing to do based on the strides he's made over the last two years. His basketball IQ is clearly not off the charts—he's prone to making some questionable decisions from time to time, but we must remember that he doesn't come from a traditional background as most European prospects and is very much in the early stages of his development still.

Defensively, Vesely is the key to the style of play that head coach Dule Vujosevic likes to employ, as we discussed earlier this week. He often spearheads Partizan's full-court press and sees minutes at the top of the key in the their triangle formation in the half-court as well, constantly harassing the ball-handler with his terrific size, length and athleticism, putting in a great effort, and coming up with plenty of blocks and steals in the process.

This also gets him in quite a bit of foul trouble, though, as he averages 4.3 fouls a game in the Euroleague, ranking him tops in the entire competition. His lateral quickness can get exposed at times defending players a half a foot or more shorter than him at the small forward position, but it's not rare at all to see him recover spectacularly and still make a big play from behind. His off-ball defense looks a lot better these days, as its not rare at all to see him step in for a charge, and he doesn't get lost as much as he once did.

Vesely's rebounding numbers continue to look bafflingly poor, something that has been a trend throughout his career in every competition he's played in. Playing at the top of the key defensively and often the first one leaking out after a shot goes obviously hurts his production here, but so does the average awareness he shows tracking down loose balls and his poor lower body strength, which allows him to get boxed out with relative ease.

Although clearly projecting as more of a terrific all-around role-player than a star at the NBA level, Vesely's performances at the highest level of European competition has to be opening up some eyes as of late. There are still some question marks about whether or not he'll be able to come over to the NBA right away, due to the fact that he has a prohibitive buyout clause in his contract for this summer, which fluctuates depending on where he gets picked. The statements Vesely himself made to us ("the NBA is my goal," "my dream," etc) when we talked to him are fairly encouraging, though, and it appears that his camp will clearly try to get him to the States as soon as next season.

With the success that European small forwards such as Nicolas Batum and Omri Casspi are enjoying in the NBA these days, it's pretty obvious that players in Vesely's mold can be very valuable in the right system. Furthermore, he comes with the added versatility of being able to spend minutes at the power forward (or even center) position thanks to his terrific size, which is where a coach like Mike D'Antoni would probably use him. Still nowhere near a finished product, we can't rule out seeing him continue to improve substantially over the next few years.

[Read Full Article]

---
The Anatomy of an Underdog: Partizan Belgrade
February 21, 2010
Another reason for Partizan's success likely revolves around the amount of freedom Vujosevic affords his pupils. While the coach demands an incredible amount of discipline and execution from his players, he also develops their skill-level at the same time and wants them to make use of it during games.

Most of the top teams in European basketball expect their players to be finished products on arrival and ready to produce immediately—they pay them enormous amounts of money after all and expect consistent results every week in return, or else…

Partizan obviously can't compete with them from a financial standpoint, so Vujosevic must find players with the basic physical attributes and skill-set needed to fit his system, and then mold them to play the way he wants.

A great example of Vujosevic's dedication to player development is our trip's main focus, 6-11, and now top NBA draft prospect, Jan Vesely. A super athlete from the Czech Republic who did not receive a great deal of high-level coaching earlier in his career, Vujosevic nonetheless had the foresight to elect to develop him as a small forward rather than as a power forward when he arrived here two summers ago, despite the fact that he couldn't really shoot or dribble at that time, and was severely lacking in the fundamentals department.

Fast forward to today, and the results are astounding—the 19-year old Vesley is a huge part of their defensive philosophy--an active and aggressive style of pressure defense in the half-court, mixed in with spurts of trapping and pressing--which suits Vesey perfectly with his fantastic physical tools. He's made incredible strides on the offensive end as well, sprinting the floor like a deer in transition and regularly beating opposing players down the court, crashing the offensive glass extremely well, and becoming an increasingly respectable 3-point threat and ball-handler, looking incredibly comfortable in his own skin.

Vesely's development has culminated in two outstanding performances at the highest level of European basketball this month—13 points, 6 rebounds in a shocking road victory over Euroleague defending champions Panathinaikos, and then following that up with 13 points and 15 rebounds in a win over title favorites Barcelona, their first loss of the season in that competition.

[Read Full Article]

---
European Roundup: High Expectations for Vesely
November 20, 2009
Jonathan Givony

After a surprisingly strong debut season in the Euroleague, playing for possibly the biggest overachievers in European basketball—Partizan Belgrade-- expectations were always going to be extremely high for Czech teenager Jan Vesely going into this year.

While his minutes are up (24 per game on average compared with 18 last in both the Adriatic League and Euroleague) and his production has risen accordingly, it's increasingly clear that this is not going to be the breakthrough season that some NBA scouts had hoped for.

Part of that might have to do with the very obvious fact that Partizan is sporting a much weaker squad this season, having lost arguably their three most important playmakers on both ends of the floor in Novica Velickovic (Real Madrid), Milenko Tepic (Panathinaikos) and Stephane Lasme (Maccabi Tel Aviv), as well as a double-digit scorer in Uros Tripkovic (DKV Joventut). In their place they brought a very athletic but extremely inexperienced and often-erratic American combo guard in Bo McCalebb as their main (lone?) facilitator, and a couple of blue collar but physically limited big men in the form of Lawrence Roberts and Aleks Maric. The team seems to be struggling a lot more this year in both the Euroleague and Adriatic League so far (5-6 record combined), but obviously it's still extremely early, only 11 games into the season.

For someone who is clearly a hustling role-player and energy guy like Vesely, this change in team dynamics will have a much stronger effect. After all, it's much easier to play that type of glue-guy role while being surrounded with great teammates and unselfish passers, as his limitations offensively are now becoming much more noticeable. Those who were expecting to see a big jump this season in his technical ability and the development of his skill-set might be a little disappointed.

Vesely is starting exclusively at the small forward position for Partizan, despite standing 6-11. This is clearly the position that head coach Dusko Vujosevic intends to develop him at, which will likely be very beneficial for him long-term. Vesely's frame is slowly starting to fill out, although he still has a ways to go before reaching his full physical potential, particularly as far as his lower body strength is concerned. He's still very much the same terrific athlete he's known as, running the court like a deer and being very explosive getting off his feet to finish plays around the rim.

Offensively, Vesely's role for Partizan is fairly simple. His job is to sprint the floor in transition any opportunity he can (something he does superbly), catch and finish around the basket, crash the offensive glass, and hang out in the corners waiting for spot-up jumpers. Occasionally he'll get a chance to post-up smaller players taking advantage of his superior size and athleticism, but his average footwork and limited post-moves doesn't make this option as appealing as you might hope.

As a shooter is where Vesely needs to continue to improve the most if he's to make the full transition to playing out on the perimeter. He's 5/12 on the season from beyond the arc, a solid percentage (42%) on an extremely limited amount of attempts (about one per game) that indicates that he clearly has to work to do on this part of his game. His mechanics remain a bit on the rigid side, not quite as fluid or natural as you might hope, but more than good enough to leave room for optimism that he'll continue to develop this part of his game.

Vesely's ball-handling ability is still very much a work in progress, he doesn't show the skills or feel you look for to be trusted to create shots from the perimeter at his size. Judging by some of the decisions he makes with the ball, he's obviously not the smartest or most naturally talented guy you'll find around, as most of his game revolves around his energy and athleticism at the moment.

Defensively is where Vesely probably shows the best upside, as not only does he have a terrific physical profile for a small forward, he appears to have the lateral quickness to match. Its impressive to see the way he slides his feet and is able to stay in front of perimeter players, something that gives his team all kinds of options guarding the pick and roll. He plays extremely hard on top of that, trying to contest everything around the basket and closing out extremely well on the perimeter. Being such a big guy defending players much smaller than him, and being relatively inexperienced on top of that, he's not immune to being beat off the dribble from time to time, but the potential he shows on this end of the floor remains considerable.

While he's a solid offensive rebounder--he's just not afraid to throw his body around in the paint and has the tools to be a factor—Vesely seems to be a surprisingly average defensive rebounder at this point in time. He boxes out well and plays with big time energy on this end, but seems to lack the strength (and possibly the timing) to come away with many loose balls. Part of this likely has to do with the fact that his coaches want him getting out in transition as much as possible to take advantage of how well he runs the floor.

All in all, Vesely looks like an extremely useful player with plenty of upside to continue to develop. After all, he's only 19-years old, and is somewhat of a late-bloomer on top of that. He may not have the offensive skills or natural talent NBA teams look for in a very high pick, and probably wouldn't fit every team's style of play, but there will be plenty of coaches who could fall in love with his physical attributes and the energy he brings to the table. The way Omri Casspi is playing thus far with the Kings surely has to be helping his cause, as the two have some clear-cut similarities in their style of play, although Vesely's physical tools and upside are noticeably superior.

It will be interesting to see how Vesely's agents, David Bauman and Aleksandar Raskovic, go about deciding whether or not to enter their client's name in this year's draft. Vesely is under contract with Partizan until 2013, but the team (like almost all clubs in former Yugoslavia) has fallen on hard times financially lately, and may be tempted to sell him to a bigger European team if they were able to cash in on a significant buyout. The NBA's meager 500,000 dollars (the maximum allowed under the CBA) likely won't interest them as much. Either way, Vesely could probably use another year in Europe to continue to polish up his skill-set.

[Read Full Article]

---
European Roundup: Dominant Donatas?
February 6, 2009
The European basketball player "factory" known as Partizan Belgrade continues to churn out quality prospects, continuing to be the best team in Europe at mixing winning with player development. The latest stud to come out of their ranks is 18-year old Czech big man Jan Vesely, a player they acquired via Slovenian-based Geoplin Slovan, who has produced quite a few players (Goran Dragic, Emir Preldzic, Mirza Begic, Gasper Vidmar) themselves.

Vesely immediately stands out thanks to his physical attributes. He's listed at 6-11, and sports a well proportioned frame that should easily fill out. He's also very athletic by European standards, running the court extremely well and being very reactive getting off his feet for powerful dunks.

In terms of skill, Vesely is far from a finished product, but already shows a nice framework to build off of. He's pretty raw with his back to the basket, but has decent ball-handling skills which he'll put on display from time to time, sometimes grabbing a rebound and taking the ball coast to coast himself. He can also face-up and take his man off the dribble a little bit—nothing extraordinarily, but certainly enough to keep you intrigued considering that he's just 18-years old. Vesely looks a little bit out of control on occasion, making some unforced errors and generally being somewhat turnover prone, as his feel for the game doesn't appear to be off the charts, and he's obviously extremely young.

Vesely is mostly a hustle player for this very talented Partizan team. His offensive responsibilities generally involve running the floor, grabbing rebounds, cutting off the ball and finishing around the rim. He'll take the occasional spot-up jumper, showing solid shooting mechanics and range out to the European 3-point line, but he's not consistent at all from that range, hitting just 3/24 on the season, and 31/59 (53%) from the free throw line.

The fact that his coach (Dusko Vujosevic, considered arguably the top talent developer in European basketball) even allows him to shoot 3-pointers tells you a lot about the amount of freedom young players are given at Partizan. This is not just another European team mind you—they are currently playing (competitively) in the Top 16 of the Euroleague, and are in 1st place in the Adriatic League. Vesely is gaining an unbelievable amount of experience as a starter for them—which is incredibly rare at this level relative to his age.

Defensively, Vesely does a pretty solid job—if he didn't, there is no way he would see minutes. He plays hard, moves his feet well on defense, and gets his hands on a lot of balls thanks to his activity level. He's a pretty solid rebounder (better offensively than defensively) and is capable of blocking shots and getting in the passing lanes. He needs to get stronger, smarter and more experienced, but there is a lot to work with here.

All things considered, Vesely is one of the more intriguing prospects to emerge on the European scene this season, both in terms of his current high-level production and particularly his long-term upside. If he continues to work and develop, he has a chance to emerge as a serious NBA prospect in the next few years.

[Read Full Article]

---