Jared Cunningham
Recent Tweets
All Tweets
DraftExpress: Sounds like Eric Moreland already got feedback on his draft stock & is leaving regardless because "they were wrong about Jared Cunningham."
2013-03-23 10:48:59
DraftExpress: Atlanta is on the clock at 23, and we already know the next three picks (John Jenkins, Jared Cunningham, Tony Wroten). The information era.
2012-06-28 09:47:26
DraftExpress: NBA Combine Video Interviews: Damian Lillard, Marquis Teague, Jared Cunningham http://t.co/Wi4BEKVq
2012-06-10 10:10:14
DraftExpress: ICYMI: DX Trending Prospects: Updated scouting reports on Tyler Zeller, Jared Cunningham, Yancy Gates & Kyle O'Quinn - http://t.co/cUfpm5SA
2012-03-30 03:35:58
DraftExpress: DX Trending Prospects (3/29) Updated scouting reports on Tyler Zeller, Jared Cunningham, Yancy Gates and Kyle O'Quinn http://t.co/cUfpm5SA
2012-03-29 08:12:35
Team: Mavericks College Team: Cavaliers
Physicals
Positions
Rankings
Salary
Misc
H: 6' 5"
W: 188 lbs
Bday: 05/22/1991
(24 Years Old)

Current: SG
NBA: SG
Possible: SG

RSCI: 139

Agent: Sam Goldfeder
Current Salary:$915,243

High School: San Leandro HS
Hometown: Oakland, CA
Drafted: Pick 24 in 2012 by Mavericks
Best Case: Jeremy Lin
Worst Case: Jerome Dyson

Predraft Measurements
| Year | Source | Height w/o Shoes | Height w/shoes | Weight | Wingspan | Standing Reach | Body Fat | No Step Vert | Max Vert |
| --- | --- | --- | --- | --- | --- | --- | --- | --- | --- |
| 2012 | NBA Draft Combine | 6' 3.5" | 6' 5" | 188 | 6' 6.5" | 8' 2" | 3.6 | NA | NA |



Basic Per Game Statistics

- Comprehensive Stats - Statistical Top 25s
| Year | League | Name | GP | Min | Pts | FG | FGA | FG% | 2Pt | 2PtA | 2P% | 3Pt | 3PtA | 3P% | FTM | FTA | FT% | Off | Def | TOT | Asts | Stls | Blks | TOs | PFs |
| --- | --- | --- | --- | --- | --- | --- | --- | --- | --- | --- | --- | --- | --- | --- | --- | --- | --- | --- | --- | --- | --- | --- | --- | --- | --- |
| 2015/16 | NBA | Jared Cunningham | 15 | 11.7 | 3.4 | 1.1 | 3.3 | 32.0 | 0.7 | 2.2 | 30.3 | 0.4 | 1.1 | 35.3 | 0.9 | 1.5 | 59.1 | 0.1 | 1.1 | 1.1 | 0.8 | 0.4 | 0.1 | 0.7 | 1.3 |

Player Page&nbsp&nbsp| Player Stats | Mock Draft History | Related Articles&nbsp&nbsp| Add to My Draft Express&nbsp
&nbsp
NBA Combine Interviews: Lillard, Teague, Cunningham
June 10, 2012
[Read Full Article]

---
Trending Prospects (3/29/2012)
March 29, 2012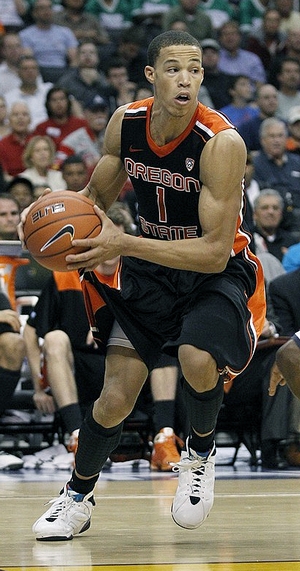 Icon SMI



Jonathan Givony

After a solid junior year culminating in first team All-Pac 12 honors, Jared Cunningham will put his name in the draft pool according to recent reports, and appears to be leaning towards moving on to the pro level.

Standing between 6-3 and 6-4, with a skinny frame, Cunningham is somewhat undersized for a NBA shooting guard, but possesses strong athleticism which should help compensate for his average size. He has a good first step and excellent quickness in the open floor, and is capable of playing above the rim, sometimes in highlight reel fashion.

Cunningham spent a little more time playing point guard for Oregon State this year, particularly later in the season, often being asked to bring the ball up the court and initiate the team's offense. He's not a selfish player, looking willing to make the extra pass, especially in drive and dish situations, but he still has to improve at controlling the tempo of the game, limiting careless turnovers and showing better shot-selection and decision making.

Considering his 1/1 assist to turnover ratio and -2.79 pure point ratio (low even amongst shooting guards) it's difficult to say that he'll be able to make the conversion to being a full-time playmaker down the road.

Cunningham's best attributes revolve around using his speed to get out in the open floor and turn the corner in the half-court, something he's able to do frequently on a team that played at the fastest tempo in the Pac-12. He is one of the most efficient scorers in college basketball in transition situations, converting 66% of his field goal attempts and getting to the free throw line at a prolific rate.

Cunningham also does a good job moving off the ball in Oregon State's modified Princeton offense, being a frequent target for teammates to throw lobs to taking advantage of his strong leaping ability.

Where Cunningham is still a work in progress is as a playmaker in pick and roll and isolation situations. While he's capable of blowing by opponents with his excellent first step, he doesn't show the ability to operate at different speeds, and is just an average overall ball-handler in the half-court. Cunningham struggles to get all the way to the rim, often electing to settle for tough floaters from 5-7 feet away that are not particularly high percentage shots. Cunningham lacks some size and strength to help him finish in traffic, and tends to avoid contact at times around the rim, raising some questions about his toughness. Nevertheless, Cunningham ranked among the top-50 players in the country in fouls drawn, showing that he does have very good potential in this area.


The other area where Cunningham must improve in the most is as a perimeter shooter. He attempted over four 3-pointers per game this season, but converted just 34%. While he shows solid mechanics and is capable of making shots with his feet set, particularly in rhythm, he struggled badly shooting the ball off the dribble this season, hitting just 17 of his 74 pull-up jumpers.

Part of this has to do with his average shot-selection, but the considerable role he was forced to shoulder on a team that does not have very much talent around him obviously was a factor as well. All things considered, is does not appear that his jumper is "broken" and it's certainly not out of the question that he ends up being at least a decent shooter as a pro if he puts the work in.

Defensively, Cunningham has real virtues, as evidenced by the fact that he was named to the Pac-12 all-defensive first team, despite playing on the conference's fourth worst defense.

On one hand, he has quick feet and excellent anticipation skills, helping him rank in the top-10 amongst all prospects in steals this season, and #1 last season.

His average size and frame might make it difficult at times to keep up with some of the bigger and more physical shooting guards he'll encounter in the NBA, but his peskiness and ability to put excellent pressure on the ball will surely work in his favor on this end of the floor.

Finishing just 7-11 in the weak Pac-12, and not really showing much improvement over last season statistically, Cunningham is not entering the draft with a great deal of momentum behind him. While he has some interesting characteristics with his strong athleticism, ability to score in transition and defensive merits, he will need to have strong private workouts if he's to improve his stock enough to justify forfeiting his senior season.

[Read Full Article]

---
Top NBA Draft Prospects in the Pac-12, Part Two (#6-10)
October 8, 2011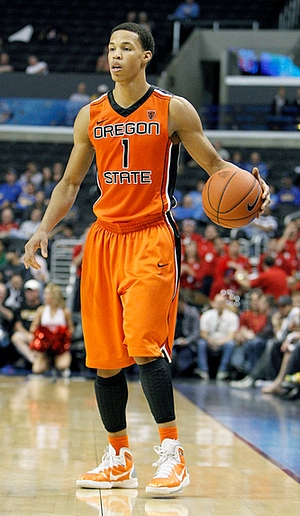 Icon SMI



Joseph Treutlein

After an underwhelming freshman campaign, Jared Cunningham more than doubled his scoring production as a senior, leading his team with 14.2 points per game. Playing on a dismal Oregon State team (11-20 overall record last season), Cunningham tends to see a lot of defensive attention from the opposition, but his skill set is still fairly raw for someone who is his team's offensive focal point.

Standing 6'4 with a wiry strong frame and very good length, Cunningham has good fluidity, excellent quickness and some nice bounciness to his movements, and is a pretty impressive athlete overall. Still just 20 years old and not necessarily physically filled out, he may not have peaked with his athleticism yet and could improve as he continues collegiate level strength training.

Looking at Cunningham's offensive game, despite being his team's leading scorer, he's not a finished product by any means, doing the majority of his work getting out in transition, spotting up, and cutting off the ball.

In the half-court, Cunningham shows a very high motor and very good awareness, constantly being in motion off the ball, moving to open spots behind the arc, and reading lanes well to attack on backdoor cuts to the basket. He clearly shows a developed basketball IQ on this end of the floor and appears to have the mentality to excel more as a role player in the long term, something that will likely be necessary at the next level. Cunningham's savvy allowed him to get to the free throw line at an outstanding rate last year, trailing just Derrick Williams in the Pac-10 in that category.

Cunningham's most developed skill at this point is likely his outside shot, where he shows very good mechanics but just decent results at 36% from behind the arc on only 2.5 attempts per game. He's very good when spotting up, but has some trouble pulling up off the dribble, not really having the ball-handling to easily get separation on his man.

In terms of attacking the basket from isolations, Cunningham shows similar issues, having very little in terms of advanced ball-handling and relying mostly on straight-line drives, which somewhat negates his excellent quickness. Cunningham doesn't have the size or strength to finish at a high rate around the basket yet, making it difficult at times to convert the opportunities he creates for himself off the dribble. Despite his prowess in transition, he only made 47% of his 2-point attempts last year, mainly because of his issues finishing around the basket in the half-court.

Getting out in transition is another area Cunningham excels, being very aggressive leaking out and even in creating his own opportunities with an excellent 2.8 steals per game. He shows good quickness and goes to the basket hard in these situations, elevating impressively when he has momentum, finishing consistently at the rim.

On the defensive end, Cunningham really shines in using his length and good hands to pick off balls both on and off the ball, playing the passing lanes especially well. He's aggressive looking for turnover opportunities and creates a lot of one-man fast breaks for himself. On the other hand, Cunningham tends to show some struggles defending in isolations, not having the greatest lateral quickness and being prone to play off his man or get faked hard off the ball. He has occasional flashes drawing charges or sticking with his man on drives while using his length to contest the ball, but needs to be much more consistent putting in the work here.

Looking forward, Cunningham has a decent groundwork of skills for a potential role playing shooting guard at the next level, along with average size and very good length. Becoming more of a three-point marksman and maximizing his athleticism and isolation defense would go a long way for his stock, and those are all areas he has potential with. Stuck on a weak team without much help on the horizon, Cunningham will have every opportunity to elevate his game, along with plenty of adversity to learn from.

[Read Full Article]

---