Jared Sullinger
Recent Tweets
All Tweets
DraftExpress: Boston tells me that the Jared Sullinger+#16 for #9 rumors are "not legit at all." Lots of speculation online.
2015-06-25 18:42:09
DraftExpress: Celtics fans should be excited about the way their rookies Kris Joseph and Jared Sullinger looked here. Both should see minutes next season.
2012-07-12 12:45:51
DraftExpress2: A perimeter shootout between Perry Jones and Jared Sullinger? This right here is what the NBA Summer League is all about.
2012-07-09 14:46:39
DraftExpress: RT @ESPNAndyKatz: Boston Celtics felt comfortable with Jared Sullinger saying he's a top 10 talent. Doctors said back issues were a low ...
2012-06-28 09:49:04
DraftExpress: Highest rated players on our mock draft still available: Arnett Moultrie (#15), Perry Jones (#18), Jared Sullinger (#20) Evan Fournier (#23)
2012-06-28 09:24:01
Team: Celtics
Physicals
Positions
Rankings
Salary
Misc
H: 6' 9"
W: 268 lbs
Bday: 03/04/1992
(23 Years Old)

Current: C
NBA: PF/C
Possible: C

RSCI: 2

Agent: David Falk

High School: Northland
Hometown: Columbus, OH
Drafted: Pick 21 in 2012 by Celtics
Best Case: Luis Scola
Worst Case: Glen Davis

Predraft Measurements
| Year | Source | Height w/o Shoes | Height w/shoes | Weight | Wingspan | Standing Reach | Body Fat | No Step Vert | Max Vert |
| --- | --- | --- | --- | --- | --- | --- | --- | --- | --- |
| 2012 | NBA Draft Combine | 6' 7.75" | 6' 9" | 268 | 7' 1.25" | 8' 9.5" | 10.7 | 29.5 | 31.0 |
| 2011 | LeBron James Camp | NA | 6' 10" | 281 | 7' 1" | NA | NA | NA | NA |
| 2011 | Amare Stoudemire Camp | NA | 6' 10" | 281 | 7' 1" | NA | NA | NA | NA |
| 2010 | Amare Stoudemire Camp | NA | 6' 9" | 286 | 7' 1" | NA | NA | NA | NA |
| 2009 | LeBron James Camp | NA | 6' 9" | 262 | 6' 11.5" | NA | NA | NA | NA |
| 2009 | Amare Stoudemire Camp | NA | 6' 9" | 262 | 6' 11.5" | NA | NA | NA | NA |



Basic Per Game Statistics

- Comprehensive Stats - Statistical Top 25s
| Year | League | Name | GP | Min | Pts | FG | FGA | FG% | 2Pt | 2PtA | 2P% | 3Pt | 3PtA | 3P% | FTM | FTA | FT% | Off | Def | TOT | Asts | Stls | Blks | TOs | PFs |
| --- | --- | --- | --- | --- | --- | --- | --- | --- | --- | --- | --- | --- | --- | --- | --- | --- | --- | --- | --- | --- | --- | --- | --- | --- | --- |
| 2015/16 | NBA | Jared Sullinger | 18 | 25.6 | 10.9 | 4.6 | 9.9 | 45.8 | 3.8 | 7.8 | 48.9 | 0.7 | 2.1 | 34.2 | 1.1 | 1.7 | 63.3 | 3.1 | 6.2 | 9.3 | 2.5 | 1.1 | 0.9 | 1.3 | 2.4 |

Player Page&nbsp&nbsp| Player Stats | Mock Draft History | Related Articles&nbsp&nbsp| Add to My Draft Express&nbsp
&nbsp
Situational Statistics: the 2012 Big Men Crop
June 23, 2012
Jared Sullinger also ranks favorably in this study when accounting for usage (4th) compared with efficiency (6th), and like Zeller, the Ohio State big man got it done in variety of ways. Sullinger is the 4th best post-scorer among the 26 big men despite seeing the most touches with his back to the basket every game (7.8 possessions) by a wide margin. That comes as no surprise given how effective he is at keeping turnovers to a minimum down low (8.3% of post-possessions, 4th best).

Thanks to his terrific touch, Sullinger is also an excellent finisher off cuts (1.426 PPP, 4th best) and the 5th best shooter in this study.

[Read Full Article]

---
NBA Combine Interviews: Sullinger, Melo, Sims
June 21, 2012
[Read Full Article]

---
Jared Sullinger Video Scouting Report
June 20, 2012
Mike Schmitz takes a look at the strengths and weaknesses of Jared Sullinger with the help of Ohio State game film, ESPN Analyst Jay Bilas, and Sullinger himself.






---




More DraftExpress Video Breakdowns:


-Perry Jones Video Scouting Report
-Thomas Robinson Video Scouting Report
-Andre Drummond Video Scouting Report
-Quincy Miller Video Scouting Report
-Tony Wroten Video Scouting Report
-Terrence Ross Video Scouting Report
-Tyshawn Taylor Video Scouting Report
-Damian Lillard Video Scouting Report
-Jeremy Lamb Video Scouting Report
-Bradley Beal Video Scouting Report
-Dion Waiters Video Scouting Report
-Kendall Marshall Video Scouting Report
-Moe Harkless Video Scouting Report
-Meyers Leonard Video Scouting Reports
-Michael Kidd-Gilchrist Video Scouting Reports
-Harrison Barnes Video Scouting Report
-Austin Rivers Video Scouting Report
-Tyler Zeller Video Scouting Report
-Arnett Moultrie Video Scouting Report
-John Henson Video Scouting Report
-Terrence Jones Video Scouting Report


---


Mike Schmitz is a writer for ValleyoftheSuns, a member of the TrueHoop Network. Follow him on twitter and subscribe to his YouTube page.

[Read Full Article]

---
NBA Draft Prospect of the Week: Jared Sullinger
February 9, 2012
Jonathan Givony

Jared Sullinger surprised many by electing not to enter the 2011 NBA draft last April, despite being projected as a likely top-5 pick. Sullinger stated his desire to win a national championship as his motivation for returning to Ohio State after his team lost to Kentucky in the Sweet 16, and, to his credit, held true to his commitment. He did not rest on his laurels in the offseason, noticeably slimming down and improving his physique considerably.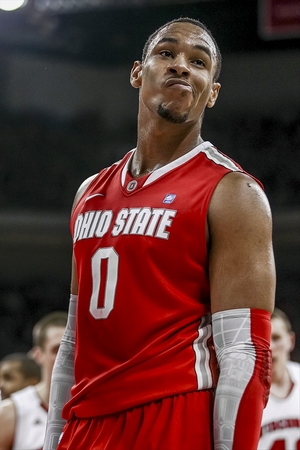 Icon SMI



Sullinger is having a strong season both individually and from a team perspective as the centerpiece of Ohio State's offense. His scoring rate and efficiency are both up, as he ranks as the 4th best per-minute scorer in our top-100 rankings, making nearly 60% of his 2-point attempts, 45% of his 3s and 76% of his free throws. He remains a very good rebounder at the college level, rarely turns the ball over, and is getting more blocks and steals per game. By all accounts, Sullinger is producing like a national player of the year candidate, and should be firmly in the mix for most every award he's eligible for.

Sullinger continues to see the majority of his offense with his back to the basket this season, where's he's one of the most dangerous players in college basketball. He works extremely hard to establish deep position inside with his strong lower body and low center of gravity, drawing plenty of fouls by simply forcing opponents to try and contain him in the paint.

Patient, mature and extremely polished in the post, Sullinger backs players down with brute force and has excellent footwork, being capable of finishing with a jump-hook or spinning into a smooth turnaround jumper. He rarely finishes plays above the rim, usually using his excellent touch to finish plays with his skill-level rather than sheer explosiveness. This is what differentiates him from other top-10 candidate big men such as Anthony Davis, Andre Drummond or Thomas Robinson.

His soft hands allow him to catch most anything that's thrown his way, making him an ideal (and very rare) target to build a half-court offense around. While not the most prolific passer at this stage, Sullinger shows good vision passing out of double teams, turns the ball over at an extremely low rate and rarely forces up bad shots, which only adds to his to his terrific scoring efficiency.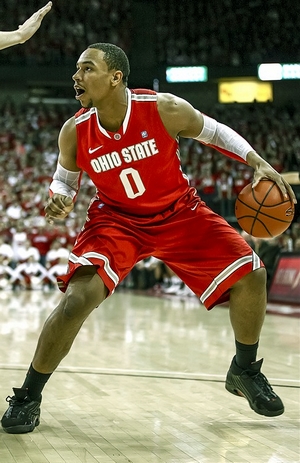 Icon SMI



Facing the basket is where Sullinger seems to have improved the most this season. He's regularly stepping out to the perimeter, and is attempting one 3-pointer per game, making 45% of his shots from that range thus far and 36% of his overall jumpers.

Where he's even more dangerous is in the mid to high post, where he sees a large amount of isolation plays in Ohio State's offense every game. Sullinger can put ball on the floor effectively and attack his matchup in a straight line off one or two dribbles, being very difficult to contain thanks to his strength and aggressiveness. Sullinger bounces off opponents and can make difficult shots on the move thanks to his excellent touch, at times using the glass. This is a part of his game that should translate very nicely to the NBA level.

Defensively, Sullinger is fairly effective at the NCAA level as the anchor of the best defensive team in college basketball.

With that said, question marks linger about his potential on this end of the floor at the NBA level, mainly due to his average physical tools. Slightly undersized for a center and not especially agile for a power forward, Sullinger doesn't cover ground very quickly on the perimeter, and isn't explosive enough to offer much of a presence in the paint rotating from the weakside.

He's very intelligent on this end, knowing how to bait opponents into take the shots he wants them to, and doing a good job contesting shots and bodying up opposing big men without fouling. His smarts and solid intensity level help him here, as does his above average length.

Playing for one of the best defensive coaches in the NCAA in Thad Matta, Sullinger has surely learned plenty of tricks that will help him out at the professional level, but his upside here is a bit limited by his average lateral quickness and leaping ability.

Assuming he elects not to forgo competing against other prospects, private workouts could end up playing a role in exactly how high Sullinger is picked. Certain teams drafting high in the lottery could have some question marks about his heavy feet, below the rim style, and perceived lack of upside, wondering how he might fare against bigger, more athletic and skilled big men in the NBA on both ends of the flooróand will want to see him matching up head to head in individual settings.

To Sullinger's credit, there is already a model in the NBA for players in his mold (such as Kevin Love, Luis Scola or Paul Millsap) who can be incredibly effective with similar limitations, so it may not be prudent to overanalyze his flaws and ignore his tremendous productivity.

The one thing NBA teams will want to study intently is Sullinger's medical report, as he's been slowed this season by back spasms caused by an aggravated disc and plantar fasciitis, being forced to sit out two games in December.

[Read Full Article]

---
adidas Nations Highlights and Interview: Jared Sullinger
August 18, 2011
A video profile featuring Ohio State sophomore Jared Sullinger from the adidas Nations Experience in Los Angeles.



[Read Full Article]

---
Podcast: Talking NBA Prospects at the NCAA Tournament with SI
March 17, 2011
Will Jared Sullinger be an impact player in the NBA?

[Read Full Article]

---
NBA Draft Prospect of the Week: Jared Sullinger
December 14, 2010
Jonathan Givony

The most productive freshman in the NCAA statistically, Jared Sullinger hasn't had any issues making the transition from high school standout to college star.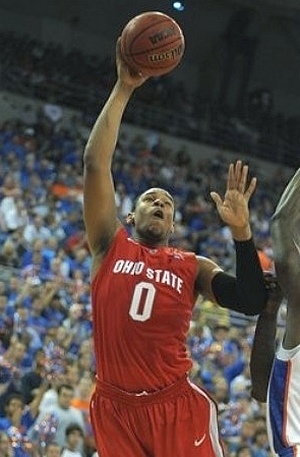 AP



Playing for a still-undefeated (8-0) team ranked second in the nation with two impressive road wins over Florida and Florida State, Sullinger has already established himself as Ohio State's clear-cut go-to guy, and has been ridiculously efficient in doing so. Averaging 24.4 points per-40 minutes pace-adjusted, shooting 62% from 2-point range, getting to the free throw at an outstanding rate, and coming off a 40-point outing last week, Sullinger has been everything he was billed as coming into college and then some thus far.

We've been writing about Sullinger for the better part of three years now, and much of what we said about him back then continues to ring true today.

The biggest change we've seen from Sullinger over the years revolves around his body, as he's slimmed down considerably from when we first saw him. He still hasn't reached his maximum physical potential, but the strides he's made are very encouraging and show that he's willing to put the time in and make the sacrifices needed.

While Sullinger continued to show more and more perimeter skills every time we saw him in high school, he's been primarily an inside threat for Ohio State this season. This makes sense from both an individual and team standpoint, as he's flashing a highly coveted skill from an NBA perspectiveóa polished back to the basket gameóand has proven to be downright unstoppable for college defenders. This is a big reason why his team hasn't missed a beat from last season despite the loss of last year's 2nd overall pick, Evan Turner.

40% of Sullinger's offense comes in post-up situations according to Synergy Sports Technology, and he ranks amongst the most efficient back to the basket players in the NCAA, scoring on over 50% of his field goal attempts when creating his own shot inside and getting fouled on nearly a quarter of his possessions.

The biggest key to Sullinger's dominance has been the opposition's inability to keep him outside of the paint. While he's lost a good deal of weight, he's still retained all of the strength in his lower body that makes him so difficult to handle one on one. With his terrific base and low center of gravity, Sullinger is constantly working to establish better post-position down low. Tough and extremely aggressive, he's not afraid to simply put his ass into a defender and go to work until he gets to where he wants to on the floor.

Once there, he has incredibly soft hands to catch pretty much anything thrown his way and an unbelievable awareness for where he is on the court relative to his teammates and opponents. Patient and confident, he has extremely polished footwork and excellent body control, showing a wide array of spins and counter-moves that help him create even higher percentage shots. With his feathery touch and ability to shoot with either hand, he doesn't miss very often despite the fact that he's rarely getting his shot off over the top of the defense. When the double-team inevitably comes, he's extremely quick to recognize rotations and does a very good job of finding open teammates spotting up on the wing.

With his excellent motor and insatiable hunger to score, Sullinger doesn't relent for even a minute when he's on the court, putting a tremendous amount of pressure on the opposition to alter their game-plan to stop him, fouling out entire frontcourts, and getting his team into the bonus early and often.

Sullinger's hands are never more impressive than when watching him operate on the offensive glass. With his wide frame, solid length (7-1 Ĺ wingspan), excellent fundamentals boxing out and terrific timing anticipating where loose balls will end up, Sullinger already has a major advantage over opponents. The fact that he has magnets for hands make him a Kevin Love-like force of a rebounder at the college level, though, ranking him #1 by a wide margin amongst freshmen in this category, and 7th overall on a per-minute basis. Even though he gets his shot blocked a decent amount, he's got such great instincts that he's often able to follow up and get himself a good look after quickly snagging the loose ball.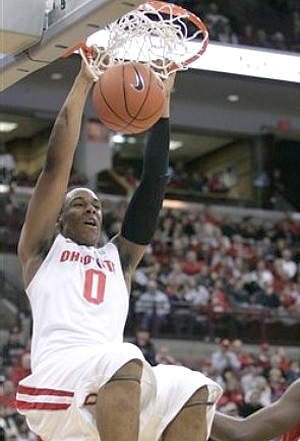 AP



Sullinger is very effective diving to the rim and finishing for many of the same exact reasons, giving him great potential as an off the ball threat as well. While we rarely see Ohio State run much pick and roll action due to their lack of personnel (their guards aren't great shot-creators), Sullinger could be very effective in this area, as he not only has great hands, but is also a fairly quick leaper if able to catch the ball in the stride. From stand-still situations Sullinger is very much a below the rim guy, but we've seen him be extremely effective running the floor in transition and finishing drive and dish plays this year, giving us reason to believe that he could be an excellent weapon in the NBA half-court alongside a dynamic point guard.

Strictly an inside player early on in his high school career, Sullinger showed more and more potential as a perimeter shooter every time we saw him over the past three years. That's yet to manifest itself at the college level thus far, as he's only attempted six jump-shots this season. With his excellent mechanics, soft touch and strong work ethic, it's reasonable to assume that he will at least develop into a capable mid-range, if not a 3-point shooter, down the road. He's already an above average free throw shooter (67%) for a freshman big man.

Not an exceptional athlete, and slightly undersized standing somewhere between 6-8 and 6-9, Sullinger will need to continue to work on his body and expand his offensive arsenal if he's to translate his scoring production from college to the NBA. While he makes the most of his physical tools, Sullinger is not very quick or explosive compared to some of the more athletic power forwards he'll match up with on a nightly basis, making it important for him to keep himself in peak physical condition and maximize the tools he does possess. If he can polish up his face-up game and improve his ability to attack defenders off the dribble, he'll be that much more effective in the low post.

On the defensive end is where NBA teams are bound to have the most questions about Sullinger's potential. Undersized to play the center position he's ideally suited for, and lacking the lateral quickness to keep up with perimeter oriented power forwards, Sullinger will probably never be a first-team all-defender type. He's smart enough to not be a liability down the road, but has definitely struggled at times this season, being taken advantage of off the dribble in one-on-one situations, sometimes against very average opponents.

Sullinger offers very little presence as a shot-blocker around the basket, isn't using his length to contest opponents' shots, and isn't doing a good enough job of being physical and using his body to his advantage defensively early on in his college career. His focus and intensity-level seems to waver, and he's not nearly as fundamentally sound here as he is on the offensive end of the floor. This is where freshmen tend to struggle the most with the transition from high school to the NCAA, and Sullinger is no exception thus far.

While not possessing the same long-term upside of some of the other big men prospects in this draft, such as Perry Jones or John Henson, Sullinger is clearly not a finished product at age 18. He looks much more ready to step in and play from day one, though, which has to be deemed attractive for the worst teams in the NBA that will be picking first in the draft. Despite his limitations, players in Sullinger's mold, such as Kevin Love, Paul Millsap and Luis Scola have proven to be extremely effective in today's NBA. Add in his outstanding intangiblesóhe has a winner's mentality, is highly intelligent and appears to be an excellent teammateóand you're talking about one of the safer bets in the draft.

[Read Full Article]

---
adidas Nations Player Profile: Jared Sullinger
September 2, 2010
Video film and production courtesy of Tad Hathaway of 312 Media
[Read Full Article]

---
Mcdonald's All-American Week Player Evaluations and Interviews
April 5, 2010
Arguably the most impressive player seen from a production standpoint over the course of the week, Jared Sullinger easily justified his lofty recruiting rankings and even exceeded them to a certain extent.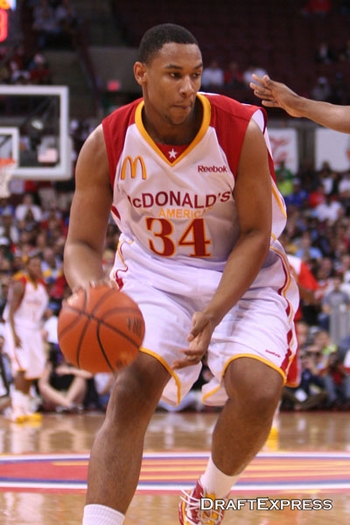 Jim Hlavac / DraftExpress



Sullinger is a prospect we've seen numerous times at this point and have written about at great length, but its impressive to see the strides he continues to make with his overall game, particularly on the perimeter. His jump-shot looks absolutely terrific, knocking down a number of 3-pointer in the practices and in the actual game, and showing off far better ball-handling skills than we've seen from him in the past. He took his man off the dribble with both his left and right hand, finishing impressively around the rim with either hand and displaying far more agility and dexterity than we've seen from him in the past. His body looks better and better every time we see him, and the fact that he continues to make strides with his skill level is a very encouraging sign.

Sullinger might not have the best long-term potential amongst the big men in this class, but his intangibles appear to be phenomenal and he's clearly going to be an extremely productive player at the collegiate level. Scouts will continue to monitor his progress closely, but there's already quite a bit to like about Sullinger based on what he's shown over the past few years.

[Read Full Article]

---
Adidas Nations Tournament: High School Prospects
August 24, 2009
After thoroughly evaluating him last summer, there doesnít seem to be a great deal of new information to add to Sullingerís (#4 Scout, #3 Rivals, #2 ESPN) profile one year later. Heís still the same extremely intelligent, ultra-productive big man, showing amazing hands in the low-post and some of the best rebounding skills weíve seen at this level. Sullinger was a man in the paint throughout the Adidas Nations camp, establishing deep position in the paint time after time, and showing great wherewithal operating inside and finding ways to create shots for himself with his amazing touch, often through contact. Heís truly a natural scorer with his back to the basket, which is quite a rarity at this level, as well as in the NCAA.

Sullingerís conditioning looks a lot better than it did a year ago, but there is still more work to be done on his body. Considering that heíll always be a below the rim type of player, itís imperative that he gets himself into the best shape possible in order to maximize his athletic potential.

On the offensive glass is where Sullinger may have made the strongest impression at this camp. He was absolutely ferocious moving opponents around with his strong body, and shows great timing going after loose balls, using his smarts more so than his leaping ability to come up with extra possessions. With that said, he did surprise us at times with his ability to get off the ground and hammer home some emphatic put-back dunks.

Sullinger didnít show much of a face-up game, but to his credit, he really didnít have to with how poor his teamís spacing was and how much of an advantage he enjoyed in the low post. His free throws werenít really falling for him at a great rate, which is probably a sign that he needs to continue to work on his jump-shot. Defensively, there will be some adjustments he needs to make once he gets to college, but considering the effort level and basketball IQ he shows, that shouldnít be that much of an issue.

Sullinger is going to be a fantastic addition to Ohio Stateís lineup, but itís still a little too early to gauge how good of an NBA prospect he is, since he doesnít possess the same blend of size, athleticism and upside you typically look for in a top-5 type recruit. Some will compare him to Lonny Baxter and some will say heís the next Paul Millsap. Weíll just have to wait and see.

[Read Full Article]

---
Flyin To The Hoop: Elite Prospects
January 21, 2009
Jared Sullinger (#3 Rivals, #2 Scout, #1 ESPN) picked up 2 fouls within the first 2 minutes of his matchup with Jeremy Tyler, relegating him to the bench for the remainder of the first half. From the minute the second half started he got the best of Tyler however, scoring 21 points while being defended by his heralded counterpart the entire time.

Initially Sullinger was bothered by Tylerís length and athleticism, having a few shots rejected early on. He then made an adjustment and used his body to shield off his more athletic foe, allowing him to finish with relative ease around the rim with a flurry of post moves. Though still on the heavy side, Sullinger looked more explosive than we last observed him, throwing down three powerful dunks in traffic.

The most glaring improvement in Sullingerís game since we last covered him is certainly the progression of his perimeter skills. It was a common occurrence to see Sullinger draw Tyler out to the perimeter and easily beat him off of the dribble with one of his creative moves off of the dribble. Itís not too often that you see a bulky power forward like Sullinger put the ball between his legs three or four times in a row before crossing it over and getting to the rim or finishing with a soft floater, much less against an athlete of Tylerís caliber. The big man also showed off an effortless jumper from the three point line with good fluidity. Given that he is an undersized post, the advancement of his skills facing the basket leave more optimism for his long term potential.

Sullinger had the night off defensively, as his Northland teammates shared the duties of defending Tyler for the majority of the game. He did a nice job on the glass and showed good rotation when helping double team Tyler, but wasnít much of a game changer with his man to man defense.

Only a junior, we are still nearly 2 years away from Sullinger playing his first collegiate game. Obviously he is going to have to continue to work on his conditioning and explosiveness, since it doesnít appear that heís getting any bigger. Thereís no denying though that we are looking at easily the most productive high school big man in the class of 2010, and one that should make a considerable impact immediately at Ohio State.

[Read Full Article]

---
adidas Nations Experience: 2010/11 High School Prospects
August 20, 2008
The inside reference for the 2010 US team, Jared Sullinger (#2 Scout, #3 Rivals, #7 ESPN) came up huge in the final game to help knock off the 2009 high schoolers. There is very little doubt in our minds that Sullinger is going to be an outstanding get for Thad Matta and the Ohio State Buckeyes, and he comes with the added bonus of being the type of player who will likely have to stick around for a few years to develop his all-around game.

Sullinger is an undersized center (around 6-8 or so) right now who is a true load in the post. He establishes position extremely well, and has the ability to score very effectively with fantastic touch around the rim. He has a great feel for operating inside, showing fundamental footwork and an extremely effective jump-hook. He has no problem finishing thorough contact, and is pretty quick off his feet finishing at the rim, showing a good wingspan, quick feet and phenomenal hands which allow him to catch just about anything thrown at him, and also make him a fantastic offensive rebounder.

Besides being a rare and highly coveted post presence, Sullinger is even more attractive a prospect due to the fact that he plays hard and has a very nice basketball IQ to boot, which makes him a fairly effective passer, particularly passing out of double teams. He is an unselfish player and seems to have strong intangibles from what we could tell too.

In terms of things he could improve on, Sullinger will need to be able to use his left hand better on the offensive end if heís to be able to reach his potential as a scorer at the collegiate level. Being able to face the basket and put the ball on the floor (which he can do a little bit right now) would make him that much more versatile, as well as adding a more effective jump-shotóas his range currently extends to about 15 feet or so (with nice touch and solid form actually), but he rarely shows it.

Defensively, Sullinger is very limited on the perimeter, as he doesnít have great lateral quickness and really struggles stepping out to guard the pick and roll, but also isnít very tall or explosive and thus isnít a shot-blocking presence inside the paint. Losing weight in order to maximize his athleticism could help him a bit in this regard.

All in all, Sullinger probably wonít ever be considered the most attractive NBA prospect in the world due to his average physical tools, but could definitely develop into serious NBA draft material if he takes himself seriously. Heís drawing comparisons that range from Richard Hendrix to Kevin Love, but to us he looks like a carbon copy of Lonny Baxter at the moment. Despite his obvious limitations, itís really hard not to like what he offers as a prospect, and he appears to have a great future ahead of him.

[Read Full Article]

---
adidas Nations Experience 2008: NCAA Counselors,High School Interviews
August 12, 2008
[Read Full Article]

---
2008 King James Classic: Top Big Men
May 4, 2008
Sullinger led his All Ohio Red team to the 16-U crown with his dominant inside play, easily showing that he was the top player that the 2010 class had to offer at King James. At around 240 pounds, he is far stronger then the majority of his peers, enabling him to establish excellent position in the pivot. The brother of former Ohio State guard J.J. Sullinger, Jared has a fairly advanced skill set in the low post, able to finish around the rim with both hands and showing off promising footwork. He is far more mature physically then most other players in his class, allowing him to overpower opposing players to score through a series of drop steps and power moves to the rim.

Sullingerís perimeter game is still fairly limited at this point, and he is far more comfortable doing his damage within 10 feet of the basket, though he has shown flashes of a developing jumpshot facing the basket over the last year. He is a relatively limited athlete with not a ton of lift off of the ground, relying on his strength and wingspan to get shots up and contest shots on the defensive end. Weight issues have also surrounded Sullinger in the past and was rumored to have weighed as much as 260 pounds at one point this past season.

The future Buckeye may not have the long term upside of some of the athletic big men that this event had to offer, but he is arguably the most productive big man in the class of 2010. Many have compared Sullinger to Alabama forward Richard Hendrix because of their similar bodies and style of play, a comparison that we completely agree with. The opportunity for Sullinger to have the same impact in Columbus that Hendrix had at Alabama is certainly there, if he continues to develop and manages his weight over the next few years.

[Read Full Article]

---