NCAA Tournament NBA Draft Prospect TV Schedule: Friday
March 17, 2016
Whether they are able to bust out of their slump will depend heavily on their senior forward Jarrod Uthoff, who at 6'9 is one of the most skilled perimeter players you'll find in college basketball at his size. Uthoff's percentages have fallen to a middling 49% from 2-point range and 28% from beyond the arc over the last ten games, but more disappointing has been the passivity and inability to handle physicality you wouldn't expect from a player turning 23 years old in two months. Uthoff's talent and natural basketball instincts have never been questioned, he is one of the best shot-blockers you'll find for a ¾ combo forward at 3.3 per-40 for example, but his stoic demeanor and lack of toughness in late-game situations has some NBA scouts perplexed.
[
Read Full Article
]
Top NBA Prospects in the Big 10, Part Eleven: #21-25
October 31, 2015
Josh Riddell

Jarrod Uthoff's collegiate career got off to a slow start and he is just now starting to find his footing. After enrolling in the University of Wisconsin as the 111th ranked recruit according to RSCI in 2011, he redshirted his freshman season. He then decided to transfer but was caught in a lengthy transfer saga that saw Bo Ryan initially limit his ability to transfer before relenting to public pressure and allowing Uthoff to enroll at the University of Iowa.

He then had to sit out a second straight season due to transfer rules and he finally got to make his Hawkeye debut in the 2013-14 season. After playing a supporting role in his first season, he took on a larger role in his redshirt junior season where he averaged 16.4 points and 8.5 rebounds per 40 minutes. Returning for his senior season, he is starting to catch the eye of NBA scouts and another strong season could place him firmly in the draft conversation.

Uthoff is somewhat of a mixed bag from a physical standpoint. While he may not have the single attribute that makes him stand out and will be above average relative to NBA players, his overall athletic package builds a nice foundation for his prospects. Measured at 6'9.5 at the 2015 Nike Skills Academy, he is very skinny considering his age (216 pounds) and has a poor 6'10.5 wingspan. He has the height to measure up to perimeter players but may not have the length or physicality to compete.

He doesn't have great speed for a perimeter player in the open court but he has long strides and runs smoothly down the floor. He doesn't get much lift on his jump shot, so at first glance he doesn't look explosive, but he has the bounce off of two feet in the lane to dunk in traffic.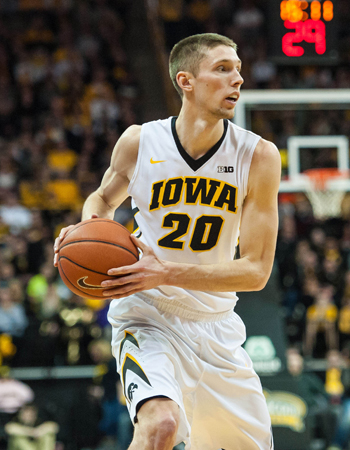 US Presswire
Uthoff is mainly a jump shooter with 68.9% of his field goal attempts classified as jumpers by Synergy Sports Technology. In catch and shoot situations, he has a confident release and is a consistent shot maker, connecting on 38% of these attempts according to Synergy Sports Technology. Many of these attempts were three pointers, as 40% of his field goal attempts were from beyond the arc. He doesn't have the quickest release and his release point isn't that high, so it may not be easy for him to get clean looks against NBA defenders when he doesn't have ample daylight.
He isn't as accurate shooting on the move, either or transition or coming off screens. He struggles to get on balance which can throw off his shooting motion. His counter move to being a stand still 3-point shooter is a strong pump fake before a one dribble pull-up jumper inside the arc. He can create space by forcing the defender to bite on his fake before taking a big step with his one dribble to get away from his defender. He has success with these shots, shooting 45.6% according to Synergy Sports Technology.
When Uthoff puts the ball on the floor, he isn't looking to do much other than take one dribble and pull up. He's a limited passer with his eyes focused on the basket when he has the ball and he doesn't have the ability to get all the way to the rim by himself.
Uthoff took only 53 shots around the rim last season according to Synergy Sports Technology, many coming off cuts. He's a good finisher considering his lanky frame as he can make plays above the rim. He avoids contact, attempting just 3.0 free throws per 40 minutes pace adjusted, but he's a crafty enough finisher at the rim to allow him to covert 60.4% of his attempts according to Synergy Sports Technology. As a 22 year old senior, he will have to become more comfortable absorbing contact around the rim to show he can withstand the physicality of the NBA game.
Despite his average strength and length, Uthoff is a little better defensively than you might expect. He's versatile for his size, able to switch onto nearly anyone on the perimeter and stay in front of them without fouling. He does have a tendency to play a few steps off perimeter players to give himself a better shot at disrupting penetration which gives his opponent open air to shoot over him. If teams ask him to play tighter to his man, he may be susceptible to getting beat off the dribble if he can't match his opponent's quickness.
He tallied a unique combination of steals (1.5) and blocks (2.2) per 40 minutes pace adjusted, which further demonstrates his versatility on this end of the floor. He also contributes as a defensive rebounder, pulling down 6.1 per 40 minutes pace adjusted. He has quick reactions and instinctive timing that allow him to be a good shot blocker and rebounder.
With the graduation of Aaron White, Uthoff will be asked to take on a larger offensive role for the Hawkeyes this season. With his outside shooting, NBA organizations have already taken notice of his potential. Turning 23 in May, his ceiling may be somewhat limited but teams will continue to monitor his progression to see if he adds to his skill set to be able to fulfill a role with a NBA team. Big small forwards who can stretch the floor and guard multiple positions are very much en vogue in today's NBA, and Uthoff is in a great situation to prove he's worth of a roster spot this season.
[
Read Full Article
]