Jason Thompson
STRENGTHS:
- Ball-handling skills
- Ability to face the basket
- Excellent hands
- Excellent Touch
- Potential
- Strong Intangibles
- Unselfishness
- Work ethic
- Solid passer
- Ability to run the floor
- Frail frame
- Mobility
- Size for position
- Undersized
- Wingspan
- Excellent rebounder
- Mid-range Jumper
WEAKNESSES:
- Settles for bad shots
- Atrocious defender
- Gets backed down in post
- Perimeter defense
- Basketball IQ
- Focus
- Physical Toughness
- Strength
Recent Tweets
All Tweets
DraftExpress: In that regard, Keith Benson reminds me of Jason Thompson. I thought he was very soft at Rider, showed poor awareness. Drafted 12th anyway.
2011-03-18 01:01:08
Portsmouth Invitational Tournament, Day One: http://bit.ly/9qPibg - The scene, the scouts and Jason Thompson's brother Ryan dominating.
2010-04-08 14:38:05
Top 25s - Full List
Team: Kings College Team: Warriors
Physicals
Positions
Salary
Misc
H: 6' 11"
W: 250 lbs
Bday: 07/21/1986
(29 Years Old)

Current: C
NBA: C
Possible: PF/C

Agent: Leon Rose
Current Salary:$6,037,500

High School: Lenape
Hometown: Mount Laurel, NJ
Drafted: Pick 12 in 2008 by Kings
Best Case: Mark Blount
Worst Case: Malik Allen




Basic Per Game Statistics

- Comprehensive Stats - Statistical Top 25s
| Year | League | Name | GP | Min | Pts | FG | FGA | FG% | 2Pt | 2PtA | 2P% | 3Pt | 3PtA | 3P% | FTM | FTA | FT% | Off | Def | TOT | Asts | Stls | Blks | TOs | PFs |
| --- | --- | --- | --- | --- | --- | --- | --- | --- | --- | --- | --- | --- | --- | --- | --- | --- | --- | --- | --- | --- | --- | --- | --- | --- | --- |
| 2015/16 | NBA | Jason Thompson | 7 | 6.6 | 2.1 | 1.0 | 2.1 | 46.7 | 1.0 | 2.1 | 46.7 | 0.0 | 0.0 | &nbsp | 0.1 | 0.3 | 50.0 | 0.7 | 1.3 | 2.0 | 0.7 | 0.3 | 0.3 | 0.4 | 1.4 |

Player Page&nbsp&nbsp| Player Stats | Mock Draft History | Related Articles&nbsp&nbsp| Add to My Draft Express&nbsp
&nbsp
NBA Summer League Player Reports (Part Two)
July 26, 2009
One of the most intriguing prospects in attendance, Thompson came into this yearís Summer League fresh off of a very impressive rookie season where he instantly became one of the top offensive rebounds in the NBA. Coming into the week facing lofty expectations, Thompson didnít disappoint. His 19.0 points per game was amongst the top marks posted here, but while he was highly productive, he showed some of the same raw decision-making he showed at this event last year.

Possessing a big frame, and a fine blend of strength, athleticism, and skill, Thompsonís ability to score in a variety of ways didnít always help him here, as he tossed up some very questionable shots over the course of the week. He took a handful of fadeaway jumpers on the block that barely drew iron, forced some guarded pull ups, and rushed a handful of put back opportunities. Though Thompson is capable of making some jump shots, he showed last season that his midrange game is still a major work in progress. Heís not a capable shooter off the dribble, and he still doesnít shoot well when his defender gets a hand in his face Ėtwo things he can work on moving forward.

While Thompson didnít show very well in limited perimeter touches, he didnít look too bad around the rim. Heís sometimes too eager for his own good, but his ability to get up the floor in transition as well as make tough baskets in the lane is interesting to say the least. The name of the game for Thompson in the future will be to better use some of his opportunities around the rim by developing a go to move. He appears to have spent some time working to develop a turnaround jumper, but needs to focus on an up and under move or drop step. Though such a maneuver will require him to develop more polished footwork, it would yield significantly better results. Considering how easily Thompson gets to the line, the fact that one of his favorite post weapons is an inconsistent turnaround jumper tells you just what he could be capable of if he develops more polish, discipline, and patience inside.

A similar statement could be made about the way Thompson plays defense, showing solid lateral quickness and excellent length, the former Rider star can keep up with most players at his position, and even looked good against Anthony Randolph for stretches. Thompson still needs to learn to finish plays out on the perimeter, but he showed nice competitiveness and a knack for contesting jumpers this week. By comparison, his perimeter defense looked better than the work he put in down low.

Playing an average of 33 minutes in each contest, Thompson showed one of his biggest weaknesses Ėhis lack of discipline when defending inside. Though heís good for an occasion highlight reel block and will get his hand on a loose ball every now and again, Thompson averaged seven fouls per game in Vegas, and had three games where he tallied 9 fouls in total. A bit too quick to initiate contact with his upper body down low, Thompson is prone to hacking shooters and generally is caught with his hand in the proverbial cookie jar on a regular basis. Some of his problems have to do with his footwork, which is still a work in progress, and his lack of experience is often apparent when heís contesting shots around the rim.

Given how productive Thompson was this week, Sacramento is undoubtedly optimistic moving forward, even if he wonít solve their interior defensive woes. Still a few years away from competing, Sacramento fits Thompson well, since he is still a few years away from reaching his potential. While he accomplished some nice things this season, most young big men make noticeable strides in their second and third years. With added polish, Thompson could be a very solid player, making him a prospect to keep an eye on this year and down the road.

[Read Full Article]

---
Las Vegas Summer League Day Five
July 16, 2008
Thompson really came through today, making a lot of plays down the stretch and ultimately winning the game by finishing an and-one. He showed very nice touch at the rim today, and didnít force things nearly as much as he did in his last outing. While he turned the ball over a little too much, he did it within the flow of the game, and it was more because he was well defended than because he was pressing. His ability to get to the line was on full display today, and heís got the body to be a very imposing physical presence on both ends. He cleaned the glass efficiently and does a good job using his bulk to gain position in the lane. Defensively, he showed great timing coming over from the weak side, but he doesnít always see drives coming and will get a little too aggressive on the ball at times.

[Read Full Article]

---
Las Vegas Summer League Day Two
July 13, 2008
Thompson had an up and down debut, reinforcing many of the things that we already knew about him. He can shoot the ball well from the outside, has a nice right handed hook around the rim, and can block shots due to his impressive length. His range extends out to the three point line, but his comfort level from that deep is still a work in progress. The areas that he struggles with include taking contact, staying in position defensively, and decision-making. His defensive and ball handling will only develop with time, and he could add muscle to remedy his issues with contact. Thompson may have been taken a little bit too high considering his current skill level, but heís got solid potential and is the type of person that will take the steps to become a good NBA player. He looked nervous today, but thatís to be expected from a rookie in his first game against pros.

[Read Full Article]

---
Cross-Country Workout Swing, Part 5, A.T.T.A.C.K. Athletics, Chicago
May 25, 2008
Coming off a minor shoulder injury he suffered last week going up against Sun Ming-Ming of all people, Thompson did not participate in the scrimmage, and looked fairly limited in the shooting drills as well. He had a bit of a hitch in his shot that almost certainly was caused by the shoulder injury, making it pretty tough to take much of anything away from what we saw here. He looks like heís in very good shape and was moving very well up and down the floor. To draw any more conclusions from what we saw would be pretty irresponsible. Weíll settle for the half dozen games we saw him play in this season and the very impressive showing we took in in person at the NABC game in San Antonio.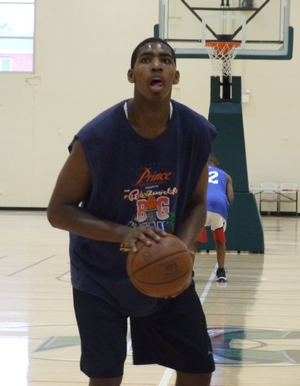 Jonathan Givony/DraftExpress.com



Thoughts from Procopio: The injury against Sun Ming-Ming was a teaching point for Jason. We were doing a drill where he needed to finesse his way around the basket like Pau Gasol, and he tried to just run through his man. I told him: Ďthere is only one person that went through the Great Wall of China, and thatís David Copperfield. Youíre not David Copperfield.í He just learned the hard way. Heís gonna be fine.

The first time I saw him was last summer at the LeBron James camp. He stood out to me a little bit. I thought we might have something here. He has length, is a good athlete, has a good body, and can take contact. He will be a very solid 4-man in the league. I can see him being a Channing Frye type. He can make shots, heís great from 17 feet. He can run, and he rebounds at a very high rate. He can defend multiple positions in the league, but is more of a 4. He has a body that can put on weight. I think he can be a starting post player in time. Heíll have some growing pains initially, but heís a very talented offensive player. He can pick and pop, he can turn to either shoulder. Heís a very serviceable, very skilled post player. A tough kid. Just a meat and potatoes type player that makes shots. A Juwan Howard type. Heíll be able to go out and get you 12 and 7 every night.Ē

[Read Full Article]

---
Blogging through Championship Week (Part Two)
March 13, 2008
We got a nice chance these past few days to take in three consecutive games of Jason Thompson as his team advanced all the way to the finals of the MAAC tournament, where they lost to Siena. That probably makes a good dozen times weíve watched him in the past couple of years, but still, itís hard to really get an accurate gauge of the type of prospect heíll be in the NBA. Most of that has to do with the incredibly poor level of play the low-major MAAC is known for. Thompson had one average game in the first round against Canisius (a terrible team even for the Metro Atlantic), saddled by foul trouble, one terrific game against Marist (whoís coach shockingly decided not to double him even once), and one lackluster game in the finals against Siena, where he absolutely ran out of gas in the second half.

What he showed was a real mixed bag of strengths and weaknesses-- some very nice pivot moves and touch in the post, almost unopposed against JV-type defenses, the ability to handle the ball semi-well in the open floor, and a jump-shot with range that extends out the NCAA 3-point line (even if he air-balled one attempt badly). At the same time, he played little to no defense, lost his focus and failed to box out his opponents for rebounds on some key possessions, and showed an all-around awareness, toughness and basketball IQ that leaves a lot to be desired. At times he seems too comfortable just blending in, not appearing to be very comfortable trying to dominate his weak opponents, and being all too happy being the nice guy who feeds his teammates on the perimeter rather than trying to help his team by carrying them offensively.

Still, you canít ignore the fact that heís 6-11, with a good frame, solid mobility, long arms, some very versatile skills, the ability to operate in the high post, and seemingly a nice amount of upside that he has yet to tap into. Once you get outside the top-15 or 20 picks or so in the draft, there are not many guys you can still say that about. Even if heís only a Mark Blount-style backup, that still has some value.

Many teams are going to want to work him out at the end of the day, and weíll probably learn a lot more watching him in the pre-draft camp against legitimate high-major big menóif he decides to show up.

[Read Full Article]

---
Getting To Know: Jason Thompson
January 31, 2008
Jason Thompson is a prospect who, until recently, has played in relative obscurity for the Rider Broncos in the MAAC Conference. This season, however, he has had the opportunity to showcase his abilities in nationally televised games against the likes of Kansas State, North Carolina State, Penn State, and Rutgers. Now, following an away victory we attended against Marist, Thompsonís Rider Broncos are sitting on top of the MAAC standings alongside rival Siena, and seem poised for a big finish.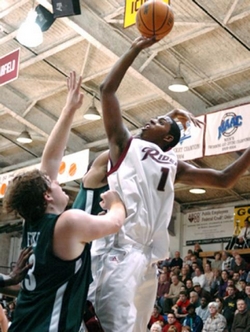 Rider Sports Information



Offensively, Jason Thompson is a versatile prospect. Possessing the inside-outside game that scouts like to see from a 6í11 big men, Thompsonís problem has always been putting it all together. Tonight did nothing to dispel this notion, as he had a typical statistical night, but showed the positives and negative aspects of his game to an audience of scouts that included Cavaliers GM Danny Ferry and scouts from the Cavaliers and Kings. Going up against Maristís smallish frontcourt, Thompson rarely used his superior size, quickness, and athleticism to his advantage. While he had a couple of nice possessions in which he faced the basket and attacked the rim, he had trouble maintaining his position in the low post and was visibly frustrated by his lack of touches as the game wore on. In fact, he did not successfully score with his back to the basket until he literally muscled a Marist big man from the perimeter for an easy basket with 8 minutes remaining in the second half! His low post game, in particular suffered because he was unable to find his touch around the basket, which has been a question throughout the season. He did have a nice defensive game, proving himself to be a good shot blocker with his combination of timing, patience, and athleticism. He did a good job of not biting on the Marist post playersí ball and head fakes, and really using his size and length to his advantage on the low block. At times, though, his concentration on the defensive end seemed to wane, and he let some undersized and fairly unskilled big men have their way with him around the basket.

However, Thompson again showed a range of tantalizing flashes that allow him to dominate at this level, even if he has a lot more work to do on his game. He often releases his shot after the peak of his jump for example. Focus is a key, as well. Thompson can afford to coast if things are not going his way at this level, but at the next level, he must be willing to fight during the entire game on both ends of the floor. Consistency is also important. Right now, it seems that Thompson is still learning his role and how to incorporate his set of skills into a cohesive and consistent offensive game. While he didnít always do enough to convince everyone differently in past analysis, Thompsonís abilities and potential are undeniable and his efforts against high-major big men this year, including Kansas Stateís Michael Beasley and North Carolina Stateís J.J. Hickson have showed the draft pundits that he can compete with NBA level size and athleticism. But, if last nightís game is any indication, Thompson will have to continue to make his case at the pre-draft camps and team workouts if the high draft expectations that follow him around are going to come to fruition.

Following his 20 point (8/17 field goals, 4/6 free throws), 9 rebound (4 offensive), 4 assist, and 4 block performance, we had a chance to catch up with the Thompson and ask him about his improvements, the implications of an NBA prospect playing for a mid-major school, and the surprising emergence of his brother Ryan into a prospect:

DX: Your path to Rider has been publicized by the media this year. You started out as a 6í8 underrated high schooler. Could you talk a little bit about your journey and things that youíve worked on improving?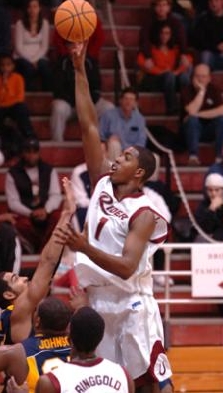 Rider Sports Information



JT: Yeah, coming in as a freshman. I was an unproven type playing. I was more of an energy guy: 6í8, just trying to get rebounds. Just trying to help my team. I led my team to a conference championship. Over the years, the coaches really have seen that I have high potential. Some of things that I needed to work on were my strength, and working on a consistent jump-shot, and establishing a post game. Over the years, Iíve done that and itís really helped me out. Also, growing a few inches from 6í8 to 6í11 has helped as well, and thatís why some of the numbers that Iíve been putting up are giving me national attention that I think I deserve.

DX: Now, looking at your numbers this year, youíve had some percentages go down and some percentages go up, youíre not scoring as much, but youíre rebounding more. What did you work on in the off-season and what motivated you?

JT: I just give a lot of credit to my coaches and strength and conditioning coaches. Iíve been trying to lift weights, not just for the competition that I have here, but for bigger, higher level teams we play against, and even for the next level. So, thatís definitely helped me out. Iíve been more committed and more motivated about getting in the gym and getting more shots up, even working on dribbling and guard skills a little bit. Thatís a hard matchup for other teams when I can go outside and dribble and bring the ball up and shoot from outside. And if I have a smaller guy or a same sized guy on me, I can post him up. Itís a tough matchup.

DX: That being said, do you have anything that people donít know about you at this stage that weíre not going to see until you go to workouts and you start training?

JT: Yeah. Iím always working hard. I donít give up on anything, even if Iím tired. In the offense that we run, I donít shoot as many threes as Iím capable of shooting. But we have a lot of good shooters. I have a consistent mid-range game and a consistent post game that not a lot of post guys do nowadays. Thereís more of that European style. I have that same style, but I can post guys as well.

DX: One question, just to clarify: weíve seen you listed anywhere from 6í10, 245. to 6í11, 250. Can we set the record straight?

JT: 6í11, 250.

DX: Youíve played against NC Stateís J.J. Hickson, Kansas Stateís Michael Beasley, and even Rutgersís JR Inman. What have you learned from playing against these guys. What weaknesses were exposed? What did you do well?

JT: I went to camps in the summer. LeBron Jamesí camp, Amare Stoudemireís camp, and Pete Newellís camp in Las Vegas. Those camps had me playing against top guys like that. So, being at a mid-major school, Iíve played against more mid-major teams and people say that Iíve been putting up big numbers, but heís only putting them up against smaller colleges. Having that experience and playing against a couple of NBA guys has helped me out and gotten my confidence up. I have a certain swagger when I play against these higher-level guys. Going into the summer prepared me for these games; I think I played well. I can see that the speed is different and the strength is different, but I donít let it bother me. I was already used to that in the summer, and playing guys like that really helped me out.

DX: So, what do you think about being a mid-major player as well as an NBA draft prospect? Does the fact that you play for a team like Rider hurt your potential at all?

JT: I donít think it really hurts. I think itís good for other mid-major players to see a guy like Paul Millsap in Utah and Rodney Stuckey in Detroit. It gives me a lot of confidence. Guys like that, from mid-major schools, are playing for big time playoff teams in the NBA. Itís not that I play for a mid-major team, but that Iím playing against higher-level teams and trying to expand my game.

DX: While weíre talking about expanding your game, have you put any thought into what you need to work on before getting to the next level?

JT: Iím going to have to get a little more flexible. I have a bigger frame than Iíve had in the past, and I need to keep working with weights. I need to stay consistent with my jump shot because guys my size in the NBA need to be good at certain things, and if Iím good at these certain things, it should help me out.

DX: As you get closer to the end of your senior season, have you encountered the agent-recruiting scene? Have you started to run into any of these situations that guys experience when they are beginning to prepare for the NBA Draft?

JT: You definitely get calls and youíve got guys coming to my games, and stuff like that. But what Coach has prepared me for is really not to worry about this stuff right now. Itís going to come. After the season, Iíll wait until after the season to make my decision and to start talking to certain guys. Iím not worried about that right now. Iím just worried about my team winning games and winning the championship.

DX: At the end of the season do you plan to start working out and start preparing right away. Or will you take a break?

JT: When the season is over, Iím going to probably get right to it, maybe take a week off or so, but definitely not take a lot of time off. I know that Iím not 100% ready for the next level. Iím going to work out and get used to the NBA workouts with certain trainers in order to get ready for the next level.

DX: Will we be seeing you at Portsmouth? Have you received an invitation yet?

JT: Yeah, I did get an invitation to Portsmouth and an invitation to Orlando. Itís just a matter of which one Iím going to or if Iím going to both. So, weíll see.

DX: So, your brother Ryan Thompson has emerged as quite the player this year. Could you tell us a little about him and what your influence over him has been?

JT: You know, Ryan has definitely improved his game over the past few years. Last year he came in as a freshman and he didnít have the confidence. But, you could definitely see his talent. I know because Iím his older brother. Me being here definitely helps him, helping him out, explaining some things at the college level that he hasnít experienced. Now, heís more comfortable and heís gotten stronger. Heís an important piece of the puzzle.

DX: You two play great together, too. So, we might be writing about him in a couple years?

JT: Hopefully. He has the potential.

DX: All right. Thank you very much, Jason. Congratulations on the win and good luck with the rest of your season.

[Read Full Article]

---
NCAA Weekly Performers, 12/05/2007 -- Part One
December 5, 2007
Having shown a good deal of progress over the summer, as well as possibly even having grown an inch, Jason Thompson has done a solid job early on in his senior season acclimating himself with any NBA scouts that were still not familiar with him. Standing somewhere 6-11, with an excellent body and frame, itís not hard to tell why he would be drawing attention on first glance. Thompson also had some nice showings against pretty legit competition to start off the year as well, highlighted by a 24 point, 15 rebound effort against N.C. State, and a 24 point, 17 rebound game against Kansas State.

It was in those games that Thompson continued to show off his bread and butter of what has made him such a productive college playeróhis back to the basket game. Thompson has a couple of nice moves he can utilize in the post, including spin moves, turnaround jumpers, and a solid jump-hook shot with his right hand. But he also has fairly average footwork, avoids going to his left hand for the most part (and shows poor touch when he does), and doesnít always fully square himself in fundamental fashion when rushed, which can lead to some awkward, wild shots that he just seems to heave up at the rim. For the most part, though, Thompson is a pretty imposing target in the paint at the collegiate level.

We knew all that for the most part last year already, though. The biggest progression Thompson seems to have made lately seems to be in his ability to create shots for himself, making him both much more dangerous offensively at this level, as well as significantly more intriguing for the next level. Thompson can put the ball on the floor fairly well with either hand, sometimes in impressive fashion, either to go the basket and finish with a layup or floater, or even pull up off the dribble from mid-range, in not-so-fluid fashion. He will also knock down an occasional jump-shot, maybe even a 3-pointer at times, which is not something you typically expect from a guy this size who looks like a clear cut inside player. Itís not the prettiest shot in the world, with an inconsistent release point coming from above his head, but it goes in at a decent clip and shows some potential.

Defensively, Thompson can make his presence felt thanks to his combination of height, length, and strength. He lacks the vertical explosiveness to be an outstanding shot-blocking presence, but his timing and activity mean he can be productive at times in this facet. Not the most fluid player in the world, his hips are definitely on the stiff side. When forced to step out on the perimeter and hedge a screen or challenge a jump-shot, Thompsonís average lateral quickness gets exposed somewhat, but his toughness and aggressiveness allow him to rotate over to draw an occasional charge. These same attributes make him a very good rebounder at the collegiate level, even if more athletic players can outquick him at times, although this doesnít happen all that often.

The biggest hurdles Thompson faces as far as establishing himself as a top center prospect in this draft revolve around his average athleticism and the fact that he does not seem to know his limitations. He doesnít really have a conscious on the offensive end, trying to execute moves that are well out of his repertoire, and thus throwing up really bad shots, often airballs. At times heíll look absolutely terrific, while in others heíll look extremely averageóthere really doesnít seem to be any consistency or middle-point to his game at this juncture. The fact that he bobbles so many balls in the post make you wonder sometimes just good his hands are.

Thompson looks like a bit of a cross between Nazr Mohammed and Jason Collins (probably a less effective version defensively), two fairly useful NBA players who get minutes even though their games arenít the prettiest. At this point, Thompson looks like a backup center for the next level, but even those end up being drafted in the first round sometimes. Weíll have to see how good of a season his team and him can have, and how he fares at places like Portsmouth and the pre-draft camp.

[Read Full Article]

---
Top NBA Draft Prospects in the 'Other' Conferences (Part Two: #6-#10)
November 2, 2007
When youíre one of only three players in Division 1 basketball to average 20 points and 10 rebounds per game, youíre going to draw some attention. So even though Jason Thompson played on a .500 Rider team last season, the senior still was a recognized prospect in basketball circles. Thompsonís impressive numbers from last season have earned him preseason player of the year honors in the MAAC this year. With his numbers having improved significantly in each of his first three seasons with the Broncs, his senior campaign should prove to be a strong one.

Physically, there are some things to like about Thompson, but plenty that could hold him back. He has average size for an NBA center, but has great length which lets him play bigger than he is sometimes. He doesnít have great leaping ability, but makes up for it by being very quick off his feet. Thompson certainly is an active player as well, very rarely is he stagnant on the offensive end of the floor. What does hurt Thompson is his overall athletic ability. He isnít tremendously agile or quick, and while he may seem to do fine in conference play, this is against weaker and smaller competition than most other big man prospects face.

As one would expect from a player of Thompsonís size in a smaller conference, he gets the majority of his touches in the post. He does a fairly good job of getting position and keeping it, but at 250 pounds, there is room on his frame to add more muscle, which would certainly help him at the next level. What is interesting to observe, is despite having a height advantage on most of his defenders, Thompson often tries relying on his speed rather than his size to score. He has a fairly quick spin move and shows decent footwork on the block. He is very aggressive going to the basket and shows nice touch around the hole, but as is common with so many college big men, he often rushes his shot, releasing before he is squared to the rim. From the tape we saw of Thompson though, it looks like most of the time he is able to take advantage of his size advantage in the post when scoring, rather than possessing an elite skill set or feel for the game.

Thompson likes to roam around on the perimeter a lot, where he will catch and shoot from time to time (even beyond the arc), or drive to the basket. Thompson has awkward form, but a quick release, and still has a lot of work to do before he can be considered any sort of a consistent threat from the outside. Against MAAC defenders, Thompson was able to drive to the basket from the perimeter and finish some shots in the lane at times. He doesnít show the quick first step or overall explosiveness that indicates he could do this against higher level competition consistently, though.

One thing that really stands out about Thompson is his hustle. He averaged just fewer than three offensive rebounds per game last year, and his aggressiveness when going to the basket translated into nearly eight free throws attempted per game last season. Factor in that he shot a respectable 72.4% from the line, and Thompson was able to do some damage against teams that consistently fouled him.

Defensively, Thompson was a stand out in the MAAC last season. He led the conference in rebounds (10.1) and blocked shots (2.2). Again, even though Thompson isnít a tremendous leaper, he is able to block and alter a lot of shots because of his length and quickness off the ground. He does a solid job fronting the post, but again could stand to add on a little more weight to prevent stronger players from backing him down. Thompson looks a bit lost at times within his teamís half-court offense (his awareness here leaves something to be desired) and still needs to do a better job of closing out on shooters. Perhaps the best part of Thompsonís defensive game is the same as his offensive game; he is active. Throughout the course of the game his head is on a swivel, constantly scanning the floor to see where he should position himself.

Thompson has put up stellar numbers thus far in his career, but there are always skeptics of mid-major players who produce against sometimes lesser competition. While Thompson has shown a lot of promise, his athleticism and feel for the game are major question marks. He is often too mechanical on the court and it doesnít appear that he has the physical abilities that would make him an effective power forward at the next level. Despite this though, there are still aspects of Thompsonís game that will get the attention of some scouts. If he has a strong senior season, he should get the chance to test himself against tougher competition at the various pre-draft camps and tournaments.

[Read Full Article]

---