Jeff Green
Recent Tweets
All Tweets
DraftExpress: At the Celtics-Warriors game. "Big men" currently on the court Carl Landry Draymond Green Chris Wilcox Jeff Green. Size what?
2013-03-01 21:02:58
DraftExpress: Sure was. KD & Jeff Green together not a good match RT @WBHUAlum: You mustve been really confused when they initially played Durant at the 2
2011-04-23 11:09:10
DraftExpress: Jeff Green was looking very tentative to start game. So what do teammates do? Get him a bunch of easy dunks. That's how you get a guy going.
2011-03-04 08:25:19
Top 25s - Full List
Team: Celtics College Team: Grizzlies
Physicals
Positions
Rankings
Salary
Misc
H: 6' 9"
W: 228 lbs
Bday: 08/28/1986
(29 Years Old)

Current: SF/PF
NBA: SF
Possible: SF/PF

RSCI: 112

Agent: David Falk
Current Salary:$9,200,000

High School: Hyattsville Northwestern
Hometown: Hyattsville, MD
Drafted: Pick 5 in 2007 by Celtics
Best Case: Boris Diaw
Worst Case: Luke Walton

Predraft Measurements
| Year | Source | Height w/o Shoes | Height w/shoes | Weight | Wingspan | Standing Reach | Body Fat | No Step Vert | Max Vert |
| --- | --- | --- | --- | --- | --- | --- | --- | --- | --- |
| 2007 | NBA Pre-Draft Camp | 6' 7.75" | 6' 9.5" | 228 | 7' 1.25" | 8' 7" | 3.7 | 33.5 | 38.0 |



Basic Per Game Statistics

- Comprehensive Stats - Statistical Top 25s
| Year | League | Name | GP | Min | Pts | FG | FGA | FG% | 2Pt | 2PtA | 2P% | 3Pt | 3PtA | 3P% | FTM | FTA | FT% | Off | Def | TOT | Asts | Stls | Blks | TOs | PFs |
| --- | --- | --- | --- | --- | --- | --- | --- | --- | --- | --- | --- | --- | --- | --- | --- | --- | --- | --- | --- | --- | --- | --- | --- | --- | --- |
| 2015/16 | NBA | Jeff Green | 18 | 26.8 | 10.6 | 3.6 | 8.6 | 41.3 | 2.9 | 6.6 | 43.7 | 0.7 | 2.0 | 33.3 | 2.8 | 3.0 | 92.6 | 0.8 | 3.4 | 4.2 | 1.6 | 0.7 | 0.3 | 1.3 | 2.3 |

Player Page&nbsp&nbsp| Player Stats | Mock Draft History | Related Articles&nbsp&nbsp| Add to My Draft Express&nbsp
&nbsp
Orlando Summer League, Day Two
July 9, 2008
Jeff Green has also been outstanding—he actually lead Oklahoma City in scoring today with 28 points. He's displayed a very complete game—his jumper looks excellent (both catch and shoot and off the dribble), he has been super aggressive taking his man off the dribble, and he moves off the ball extremely well to find open spots to make plays in. Green lived at the line today, and made 13 of his 15 attempts, a clear indication of just how active he was offensively. It's amazing to see the difference between how controlled he played at Georgetown and how he looks now. We were a bit skeptical about him when Presti decided to draft him 5th overall last year, but he's definitely making believers out of us with the way he's playing here.

[Read Full Article]

---
Orlando Summer League, Day One
July 8, 2008
This was a solid, albeit uneven performance from last year's #5 draft pick. Green was criticized at times in college for not being aggressive enough offensively, but you never would have guessed that based off the way he played in day one. Green's body looks good and he appears to be taking things quite seriously, which is always a good sign.

Green scored in a variety of ways, whether it was off post ups, turnaround jumpers, or mid-range and long range baskets, while being very assertive getting to the free throw line. His ball-handling skills are still nothing to write home about, even if he can attack the basket effectively on straight-line drives. The next step for him will be adding in the ability to create for himself from the perimeter using advanced moves, changing directions with the ball, and so forth. He's obviously a very versatile guy (even if we certainly missed some passing in his game…) and at age 21, is obviously still not a finished product just yet.

[Read Full Article]

---
NCAA Tournament: NBA Draft Stock Watch (Final Four)-Stock Down/Neutral
April 1, 2007
During the season, Georgetown's rise to the top of the Big East strongly correlated to the play of Jeff Green. The junior forward's all-around game and leadership allowed him to win the Big East player of the Year award. Green has never been a go-to scorer, but he did try and step up as the main option during a few key stretches in the NCAA Tournament. Against Ohio State in the Final Four, he did the usual small things on the floor he has become known for this season, but failed to elevate his game to push Georgetown past Ohio State.

In the first half, Green was relatively quiet, though he did collect 6 rebounds. Offensively, he only scored five points on two back door cuts and a free throw attempt, and these points came with under 3 minutes left in the first 20 minutes. He didn't particularly help himself in any area of the game, though he did draw a charge in addition to creating a couple scoring chances for teammates after one of his offensive rebounds.

The second half is where Green had his chance to shine, but he failed to lead Georgetown on a surge when it was needed the most. He did make a couple nice reads in the Princeton offense which lead to a couple nice scoring attempts, mostly on cuts to the basket. With around 8:45 remaining in the game, Georgetown's go-to scorer Roy Hibbert picked up his 4th foul. Green was unable to contribute any points while playing as the first option on the offensive end, and Ohio State went on a 7-0 run, which essentially put the game out of reach.

In terms of NBA potential, Jeff Green's game has some limits right now. First of all, he lacks a true position at the next level, and can be most accurately labeled as a combo-forward at this point in time. In terms of creating offense, he struggles going to the basket off the dribble, and lacks the tremendous explosiveness other wing players in this draft have. He has displayed some ability in the post, but this mostly comes against smaller players.

There is a lot to like about Green when it comes to the NBA, however. When given the ball inside in the right position, he has the ability to use his long arms and athleticism to make some very impressive finishes. Green brings great passing ability to the floor, which he showed off a number of times against Ohio State. In the Princeton offense, he often receives the ball at the top of the key, and his ability to read the defense has lead to a 3.2 assist per game average this season. When rebounding, Green not only uses his great physical attributes, but he also positions himself well and shows good anticipation in getting to the ball.

Though Jeff Green played poorly in the final game of his junior season, he did plenty throughout the course of the season to boost his draft stock. He has the potential to be a very good role player at the next level, considering he has already showed the willingness to do all the little things at the college level. At this point, it seems likely that Green will try his luck with the draft and test his stock, and if he decides to keep his name in, he will have every chance to land somewhere between the late lottery to mid first round.

[Read Full Article]

---
NCAA Tournament: NBA Draft Stock Watch (Elite Eight, Sunday games)
March 27, 2007
Green isn't known as your prototypical go-to scorer, so when a player this versatile and well-rounded goes out and scores 22 clutch points in the most important game of his career, it is certainly going to make waves with the scouts. This wasn't a performance that will change the general perception of what Green can do at the next level, but further cements the idea that he has come a long way since last season.

There was little Green didn't do on the court on Sunday afternoon, as he accomplished whatever he wanted whenever he wanted against a defender in Brandan Wright that clearly wasn't prepared for the type of versatility Green brings to the table. It took him a while to heat up, clanking a couple of early shots and committing an ugly ball-handling miscue. But as the game wore on, the junior kept at it. He began to occasionally burn Wright on back-cuts, or find a lane to the basket in the open court. By the time the second half rolled around, Green was pouring in points the old fashioned way – with his back to the basket. While the moves he displays are far from refined, besides his jump-hook, the touch is soft and he correctly identified that the skinny Wright did not want to start banging bodies with him.

His fallaway from the mid-post over the fully extended Wright put Georgetown up by 6 with 2 minutes to go in the lopsided OT session, essentially sealing the deal for the Hoyas. This was Green's most impressive move of the night, probably the only two points he created all night that would have caught the eye of a scout without the rest of his play to go along with it. He does a great job of not forcing the action, but still threw up a handful of ugly shots when attempting to get fancy on the perimeter. But Green can do so many things well on the offensive end and does such a great job of recognizing what the defense is giving him that most teams are likely to look past the fact that he probably won't be true shot-creator at the next level.

While Jeff Green's stock has been steadily on the rise since the beginning of the season, the tournament has undoubtedly helped even more. Not only is he showing that he can score at a high level on a consistent basis, but he is also making clutch plays when the game is on the line. Green should really be able to show off his craft against an Ohio State team that has no ideal defensive matchup for him.

[Read Full Article]

---
NCAA Tournament: Stock Watch (Sweet 16, Friday )--Stock Down/Neutral
March 24, 2007
With 3:38 remaining in the second half of its Sweet 16 match up with Vanderbilt, Georgetown found themselves at a crossroad, trailing by 3 points. Enter Big East Player of the Year Jeff Green. The long, athletic junior tapped in an offensive rebound and drew a foul. Just a few moments later he would knock down the free throw, tying the game. Fast forward 3:30 and Georgetown would call on their star player again, this time trailing by 1 with the clock ticking down. Green caught the ball around the right elbow, turned to drive but was double teamed. Keeping his composure, he split the double team, picked up his pivot foot, elevated and banked home the winning basket, moving the Hoyas to the Elite 8. While Green's late game heroics showed why he is the go to player for Georgetown, the rest of the game wasn't as spectacular as the game's final four minutes.

As has been the case this season, Green did most of his scoring with his mid-range game. The 6-9 inside/outside player hit a couple of soft jumpers in the paint, and of course hit the game winning leaner from 7 feet out as well. Vanderbilt did a pretty good job keeping Green from driving, which he likes to do. He tried going to his spin move once, taking his man off the dribble, only to pick up a charge as he finished strong.

Green, who is a great passer for a bigger player, moved the ball very well for the Hoyas, picking up 3 assists, but his contribution to the offense will not be seen in the box score. The Commodores did a fantastic job taking center Roy Hibbert out of the Georgetown attack in the first half, but Green was able to set his teammate up with some nice looks after the half. Green also showed great court vision out of the post, hitting Patrick Ewing Jr. a couple of times in the corner for open jump shots.

On the glass Green had a below average night, but not due to his own shortcomings. Green was very aggressive down low, blocking out very well against defenders, and even picking up a couple of fouls, but Vanderbilt just swarmed to the glass at points. This aggressiveness on the part of Green carried over to his defense. He was beaten to the basket a couple of times, but did a fairly solid job with on the ball and help defense. Green relied on his length and athleticism to deter a lot of opponents from attempting outside shots, and then forced a lot of kick outs thanks to his tough defense on players driving to the basket.

As a whole, this game didn't do much to help or hurt Green, but the last few minutes of play showed a lot about how he has matured as a player. He showed a tremendous amount of poise in knocking down two big shots that helped Georgetown escape with a win. Green is still a question mark to how successful he will be at the next level. He can go inside and outside at the college level, but in the NBA he isn't big enough for the post and isn't skilled enough or fast enough for the perimeter. Green still has plenty of upside, and is continuing to improve as a player. Another strong showing in the post season could ensure him as a mid first round pick, the real question now is how good of a player can Green become at the next level.

[Read Full Article]

---
NCAA Tournament: Stock Watch (round of 32, Saturday)--Down/Neutral
March 18, 2007
It wasn't a great night for Jeff Green, who was thoroughly outplayed by Jared Dudley on both ends of the court and finished the night having shot just 4-12 from the floor and having committed 5 turnovers. Early on it was Dudley and Marshall repeatedly getting behind Green (and the Georgetown defense in general) for easy baskets, and Green really forcing things on the offensive end. BC didn't make much of an effort to come out and guard the multi-talented forward, and he spent the entire night clanking outside shots off the rim. He rushed a couple of ill-advised post moves as well, and made a poor pass midway through the second half that led to an easy Boston College bucket and kept the Eagles' dwindling momentum alive for a bit longer.

But Green would also play a role in finishing off the pesky Golden Eagles, blasting home a spectacular offensive rebound dunk that got the crowd going, and coming up with another offensive rebound late in the game to add to the Hoyas' lead. Green did his job on the glass the entire night, finishing with 12 rebounds on the game. This was a contest that showed why Green isn't a lock to find success in the NBA – he doesn't have that one dominant trait he can go to. He can create mismatches, but there are downsides to mismatches as well. Green appears to be a first rounder whenever he wants to be, but has the look of a situational pick if selected too high in the first round.

[Read Full Article]

---
NBA Draft Stock Watch: Conference Tournament Week (Part Two)
March 13, 2007
Georgetown's meteoric rise to a 2-seed in the 2007 NCAA Tournament has been fun to watch, and the Hoyas enter March Madness as perhaps the country's hottest team. Along with 7-footer Roy Hibbert, junior swingman Jeff Green has led Georgetown back to the top of the Big East. Despite averaging only 14 ppg in John Thompson III's slow-paced offensive system, Green was recently named Big East Player of the Year. He then tore through the Big East Tournament, scoring 30 huge points and grabbing 12 rebounds in a hard-fought win over Notre Dame and netting 21 in the championship game, a blowout win over rival contender Pittsburgh.

Opinions on Green's future tend to vary quite a bit, as he doesn't fit very well into an NBA positional mold. He doesn't have the body type or skill-set of a traditional small forward, but certainly isn't a pure post player, either. Green does most of his damage facing the basket, capable of operating in the post against smaller defenders, but more comfortable attacking in the midrange against larger opponents. His perimeter skill-set has improved over the past three years, and he really began to emerge as a scorer over the second half of Big East play this year. But at the same time, he still has a long ways to go on virtually every aspect of his perimeter game. Green is an adequate standstill shooter out to the 3-point line, but he can polish up his form and isn't a player that is going to force teams to guard him actively on most nights. His ball-handling and first step are very much works in progress as well.

But at the same time, there is a definite polish to Jeff Green's game. This comes in his ability to identify and take advantage of opportunities within Georgetown's Princeton-based system. As a player who can find a way to burn a defense in almost any situation, Green is a near constant threat to find one of his teammates on a back-cut, displaying excellent court vision and a true understanding of what his teammates are doing at all times on the offensive end. If he isn't whipping a pass into the lane through multiple defenders, he is waiting for cutters to clear the lane, leaving the paint vulnerable to a slashing move. Green doesn't exactly move like a true wing, but he is athletic and mobile enough to attack bigger defenders off the dribble. His court vision and ability to take what the defense gives him certainly help here.

Even though Green doesn't appear to be on the fast track to superstardom, it is easy to see him having success in a smaller lineup where he pulls defenders away from the basket and attacks from the high post. Much like Boris Diaw, he probably will be most effective against a bigger defender, and struggle a bit when forced to matchup with true wing forwards. But most of all, it is clear that Green knows how to play within the team concept. He certainly could play in a more selfish manner, as Georgetown's most talented offensive player, but he has accepted his role as facilitator, and the entire Georgetown program has benefited from it. After a deep NCAA Tournament run, it could be the time for Green to test the NBA waters.

It will take the right match, but this is a forward capable of making an immediate impact and filling a niche for a team interested in winning right away.

[Read Full Article]

---
DraftExpress 2006-2007 Big East Postseason Awards
February 27, 2007


Player of the Year:

Jeff Green, 6-9, Junior, SF/PF, Georgetown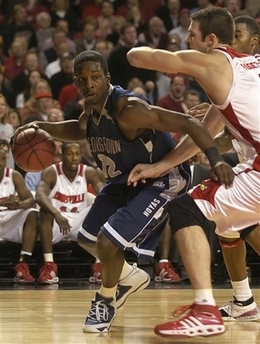 AP



Green might not have the best stats around, largely due to a slow start, but he's been the most impressive all-around player in the Big East since the in-conference portion of Georgetown's schedule kicked off. Coincidentally, his draft stock has also skyrocketed over the past six weeks.

[Read Full Article]

---
NCAA Weekly Performers, 2/16/07-- Part Two
February 16, 2007
It's no coincidence that the emergence of Green and his frontcourt partner Roy Hibbert has coincided with his team's recent success, as Green only averaged 9 points on 6 shots per game in Georgetown's five losses, hitting only two 3-pointers during that stretch. He's an incredibly influential part of their offense, a point-forward of sorts, and that is reflected in the 5.1 assists he averages per tempo-adjusted 40 minutes, second in this draft amongst small forward prospects only to Corey Brewer at 5.2. Georgetown plays a unique Princeton-type offense that may or may not suit his strengths and weaknesses as a player, but Green does everything for them on the court.

Standing 6-9 with a small forward's frame, he has good size for the 3-spot, but is certainly not a prototype as far as his hypothetical future NBA position goes. Cutting to the basket on back-door plays is another one of Georgetown's specialties, and Green finds a lot of success doing so thanks to his high basketball IQ. Green is very solid getting off his feet, and also possesses outstanding hands, and therefore most lobs thrown his way will see his point guard credited with an easy assist. A decent amount of his offense comes with his back to the basket, where he does an excellent job using his combination of quickness, strength and smarts to spin off his man and either finish craftily or draw fouls. When teams throw a zone at Georgetown, as they often do, Green is the one that moves to the top of the key to force the zone to collapse around him, which gives him plenty of opportunities to show off his excellent decision making skills--either to find the open man or knock down a static mid-range jumper if the defense doesn't react quickly enough.

This area, his perimeter shooting, is precisely where Green has improved the most this season, knocking down 41.5% of his 3-point attempts compared with 31.5% last year. He's only attempting just over 2 and a half attempts per game on the year, though, which is not a high rate at all. For the most part he looks good knocking down shots from college range with his feet set, but his mechanics and accuracy take a hit when forced to shoot on the move or pull up off the dribble. As a ball-handler is where Green has the most work to do if he's to play the small forward position full time, though. He's clearly hesitant to use his dribble and the ball slows him down significantly, making his first step quite methodical, and he has a tendency to expose the ball to his defender, which leads to turnovers. When he does put the ball on the floor, it's usually after using a shot-fake to get his man in the air and then finding an angle to methodically make his way to the basket. Green is a throwback player with an old-man's game--which we mean in the best way possible-- and sometimes you'll see him swooping into the lane and throw up an incredibly old-school sky-hook.

As a rebounder and defender, Green is very solid. He has good physical tools, including strength and length, and is smart and fundamental enough to get the job done. There are some concerns about how he'll do defending athletic small forwards on the perimeter due to the way he's played in college at the power forward position, but he leaves the impression that he should be able to adapt fairly quickly. Generally speaking, Green doesn't wow you on first sight with phenomenal athleticism or upside, but the more you watch him play, the more he grows on you. He isn't the type of player that will fit in every, or even most, NBA systems, but if put in the right niche where he's able to play up to his strengths, he will find success as a versatile role player. Teams like the Utah Jazz or Los Angles Lakers with the offenses they run seem like the best fit. Persistent rumors from the DC area all season long indicate that he is strongly considering entering his name in this year's draft and leaving it in if he's considered a first round pick.

[Read Full Article]

---
Top NBA Draft Prospects in the Big East (Part One: #1-#5)
November 6, 2006
Georgetown forward Jeff Green will use his junior season to solidify himself as a legitimate small forward prospect, and attempt to shed the dreaded "tweener" label that has been placed on him for his first two years in college. While he has shown flashes of potential to make the transition, there are still some doubts as to if he will fully be able to make the switch.

Offensively, Green is built for the Hoya's Princeton-type offense. He is a constant threat to score out of the high post, whether it be via shooting the outside jumper or by beating players off the dribble with his explosive first step. The junior's passing ability is what really makes him stand out in this area however, as he displays remarkable court vision for a player playing primarily at power forward. Never was this more evident than during Georgetown's upset win last season over Duke, where Green picked the Blue Devil passing apart with his adept passing skills. He finished the game with 7 assists, although that figure would have easily reached double digits had his teammates finished better inside.

Green has shown the ability to step out and consistently knock down the three point shot, although primarily from a spot up position. When shooting on the move, his shot becomes increasingly more erratic; resulting in his 31.5% three point percentage last season. Green's ball handling skills could also use work if he plans to transition to small forward, as he displayed a pretty average handle at best throughout last season when pressured.

As far as defense is concerned, the Maryland native uses his length to assert himself as a threat to pick up a block or two a game and a steal or two a game, but isn't quite the man to man defender that you'd hope he'd be with his superior athletic ability. With all of the tools he owns (long arms, good frame, nice lateral quickness, great leaping ability), one would expect him to be at least an above average defender, when he is only a marginal one at the moment. Green also is a pretty average rebounder, bringing in 6.5 rebounds per game and relying strictly on his athleticism to corral boards. If he ever decides to consistently box out and exert a little more effort on the defensive end, we could be looking at a guy who gets 9 plus rebounds in addition to 2 steals and 2 blocks per night.

This is a huge year for Jeff in terms of his NBA stock. He has not yet used his draft card, so it is certainly not out of the question for him to entertain the possibility of entering the draft this season. With only average improvement from last season, Green should still be able to land in the first round, due to his passing ability and athletic prowess. However, if the Georgetown junior is able to solidify himself as a small forward prospect, we certainly have a mid first round player on our hands to say the least.

[Read Full Article]

---
NCAA Tournament: Minneapolis Bracket NBA Draft Prospects
March 14, 2006
Like Bowman, Jeff Green has been plagued by inconsistent play this season. Last year's Big East Rookie of the Year showed flashes of stardom against top teams such as Duke and Villanova, but then struggled mightily in games against St. John's, Providence, and Marquette. It seems as if you never know which Jeff Green you'll get, and I'm sure Hoya fans are having nightmares over that as they approach the NCAA tournament.

Georgetown will look for Green to provide a solid all around punch playing as a high post power forward. He has shown flashes of brilliance here, and will need to keep that play up in order for the Hoyas to make it past the second round this year. Green is one of the more intelligent players you'll find on this side of the bracket, possessing excellent passing skills, a solid motor and plenty of all-around skills that do not show up in the stat-sheet.

Scouts will be looking to see if Green shows the potential to make the transition to small forward, which he will most likely be forced to do at the next level due to his lack of height and power forward skills. A strong performance is crucial for Green's draft stock this year, although he is much better suited to return to D.C. for at least another year to hone his perimeter skills before entering the draft.

[Read Full Article]

---