Jeff Taylor
Recent Tweets
All Tweets
DraftExpress: Big time smile from the future commish. Charlotte takes Jeff Taylor at #31. Great pick for them.
2012-06-28 09:33:12
DraftExpress: Highest slated players on our mock still available, going into the 2nd round: Draymond Green (#26), Jeff Taylor (#28), Will Barton (#29)
2012-06-28 09:29:04
DraftExpress: Five best talents available entering the 20s (in my opinion): Jared Sullinger, Jeff Taylor, Quincy Miller, Doron Lamb, Tyshawn Taylor
2012-06-28 08:33:32
DraftExpress: Our latest DX video scouting report from @Mike_Schmitz: Vanderbilt's Jeff Taylor http://t.co/02mRCiQ5
2012-06-25 10:10:08
DraftExpress: Other guys getting good reviews from NBA people at the Combine today: Damian Lillard (big time), Royce White, Jeff Taylor, Terrence Ross.
2012-06-07 09:35:02
Team: Bobcats College Team: Real Madrid
Physicals
Positions
Rankings
Salary
Misc
H: 6' 7"
W: 213 lbs
Bday: 05/23/1989
(26 Years Old)

Current: SF
NBA: SF
Possible: SF

RSCI: 95

Agent: Todd Ramasar
Current Salary:$915,243

High School: Hobbs
Hometown: Hedvig, Sweden
Drafted: Pick 31 in 2012 by Bobcats
Best Case: Arron Afflalo
Worst Case: Bobby Jones

Predraft Measurements
| Year | Source | Height w/o Shoes | Height w/shoes | Weight | Wingspan | Standing Reach | Body Fat | No Step Vert | Max Vert |
| --- | --- | --- | --- | --- | --- | --- | --- | --- | --- |
| 2012 | NBA Draft Combine | 6' 6" | 6' 7.25" | 213 | 6' 6.25" | 8' 5.5" | 4.2 | 33.5 | 40.0 |
| 2011 | Kevin Durant Camp | NA | 6' 7" | 226 | 6' 6" | NA | NA | NA | NA |



Basic Per Game Statistics

- Comprehensive Stats - Statistical Top 25s
| Year | League | Name | GP | Min | Pts | FG | FGA | FG% | 2Pt | 2PtA | 2P% | 3Pt | 3PtA | 3P% | FTM | FTA | FT% | Off | Def | TOT | Asts | Stls | Blks | TOs | PFs |
| --- | --- | --- | --- | --- | --- | --- | --- | --- | --- | --- | --- | --- | --- | --- | --- | --- | --- | --- | --- | --- | --- | --- | --- | --- | --- |
| 2015/16 | ACB | Jeff Taylor | 6 | 18.2 | 9.0 | 3.8 | 5.8 | 65.7 | 3.2 | 4.8 | 65.5 | 0.7 | 1.0 | 66.7 | 0.7 | 1.5 | 44.4 | 0.7 | 1.3 | 2.0 | 0.5 | 0.3 | 0.3 | 1.7 | 3.3 |
| 2015/16 | EURO | Jeff Taylor | 5 | 17.6 | 5.8 | 2.2 | 4.0 | 55.0 | 2.0 | 3.0 | 66.7 | 0.2 | 1.0 | 20.0 | 1.2 | 2.0 | 60.0 | 0.0 | 1.2 | 1.2 | 0.2 | 0.2 | 0.0 | 0.6 | 2.8 |

Player Page&nbsp&nbsp| Player Stats | Mock Draft History | Related Articles&nbsp&nbsp| Add to My Draft Express&nbsp
&nbsp
Jeff Taylor Video Scouting Report
June 25, 2012
Mike Schmitz takes a look at the strengths and weaknesses of Jeff Taylor with the help of Vanderbilt game film, ex-Mississippi State head coach Rick Stansbury, and Taylor himself.






---



More DraftExpress Video Breakdowns:


-Perry Jones Video Scouting Report
-Thomas Robinson Video Scouting Report
-Andre Drummond Video Scouting Report
-Quincy Miller Video Scouting Report
-Tony Wroten Video Scouting Report
-Terrence Ross Video Scouting Report
-Tyshawn Taylor Video Scouting Report
-Damian Lillard Video Scouting Report
-Jeremy Lamb Video Scouting Report
-Bradley Beal Video Scouting Report
-Dion Waiters Video Scouting Report
-Kendall Marshall Video Scouting Report
-Moe Harkless Video Scouting Report
-Meyers Leonard Video Scouting Report
-Michael Kidd-Gilchrist Video Scouting Report
-Harrison Barnes Video Scouting Report
-Austin Rivers Video Scouting Report
-Tyler Zeller Video Scouting Report
-Arnett Moultrie Video Scouting Report
-John Henson Video Scouting Report
-Terrence Jones Video Scouting Report
-Jared Sullinger Video Scouting Report
-Marquis Teague Video Scouting Report
-Draymond Green Video Scouting Report

---


Mike Schmitz is a writer for ValleyoftheSuns, a member of the TrueHoop Network. Follow him on twitter and subscribe to his YouTube page.

[Read Full Article]

---
NBA Combine Interviews: Harkless, Taylor, Crowder
June 17, 2012
[Read Full Article]

---
Trending Prospects (3/15/2012)
March 15, 2012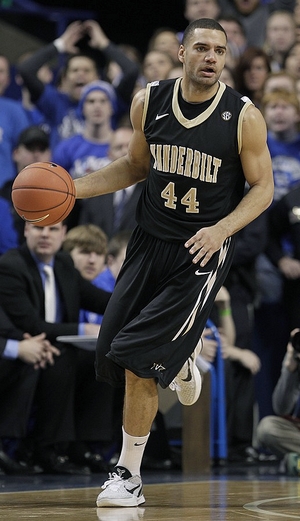 Icon SMI



Kyle Nelson

While Jeffery Taylor has seemingly been a prospect since he stepped foot on Vanderbilt's campus as a freshman, the 6'7 swingman struggled throughout his career to prove that he was more than just an elite athlete with a raw skill set. That assessment has certainly changed throughout his senior season, however, as Taylor is playing the best basketball of his career, especially after leading Vanderbilt to its first SEC Tournament championship in over 60 years.

The differences in Taylor's game have been pronounced all season, beginning with his increased role and efficiency. Taylor scored a career high 20.2 points per 40 minutes pace adjusted, while shooting 50% overall from the field.

Most notably, Taylor has turned into an excellent jump shooter, knocking down an outstanding 43.2% of his 5.3 attempts per 40 minutes pace adjusted while ranking as one of the best perimeter shooters amongst small forwards in our database. To put this feat in perspective, he was making 9.1% of 0.5 attempts per 40 minutes pace adjusted just two years ago. His form has improved significantly, far quicker and more fluid than in the past. Furthermore, though he is primarily a spot-up shooter at this stage in his career, his form stays relatively consistent with or without a hand in his face.

In addition to his significant improvement as a shooter, he has made some progress developing his game off of the dribble. The results here have been mixed overall, however, largely consistent with many of our past observations. While Taylor possesses a quick first step and does look more comfortable putting the ball on the floor, his average ball-handling skills limit him primarily to straight line drives at the basket.

His limitations as a shot creator are further magnified by Vanderbilt's lack of shot creators and distributors. More so than most raw 6'7 wings, Taylor is expected to create out of the pick-and-roll and in isolation sets far more than his skill set suggests should be the case, and surely more than he will be asked to the NBA.

Playing with a traditional point guard will allow him to play more to his strengths and his role will likely consist of spotting up around the perimeter, finishing in transition and off of cuts to the basket, and occasionally taking his man off of the dribble. His steady improvement at Vanderbilt has been impressive, however, and by all accounts his work ethic and intangibles are outstanding, so it is not out of the question that he will continue to add elements to his game throughout his career.

NBA scouts will need to evaluate how much his bouts of passivity within games and general inconsistency from week to week will affect him at the next level. While not nearly as pronounced as in the past, Taylor has tends to disappear for long stretches, for example in the SEC Tournament against Ole Miss, where he posted just two points on 1/5 FG despite not being in foul trouble or being particularly well guarded. Taylor's past confidence issues are well documented, so scouts will need to do their due diligence in pre-draft workouts and interviews.

While Taylor's offensive game remains a work in progress, he is still an outstanding defender who should be able to contribute immediately in the NBA on that end of the floor. While his reported 6'6 wingspan is unimpressive to say the least, he has excellent lateral quickness to stay in front of all but the quickest point guards and the strength to guard four positions at the collegiate level. Furthermore, and as we have written before, his fundamentals are superb across the board, giving him the chance to be a real presence on this end of the floor at the next level.

Though he will be 23 years old on draft night, Taylor is one of the few players in this draft who should be ready to contribute immediately. At 6'7 with a solid 226-pound frame, a respectable perimeter jump shot, and lockdown defensive potential; Taylor has solidified his standing as a first round draft pick this season who could rise up draft boards in June if he strings together a solid NCAA Tournament run and strong individual workouts.

[Read Full Article]

---
Trending Prospects (3/18/2011)
March 18, 2011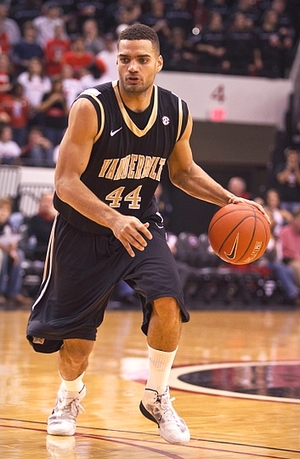 Icon SMI



Jonathan Givony

From a production standpoint, Jeff Taylor isn't having the breakout season many expected from him in this, his junior year. His scoring rate has fallen slightly, his field goal percentage is down nearly 5%, he's rebounding worse (offensively) and he's getting to the free throw line much less frequently than he has in the past.

From an NBA standpoint, though, Taylor's prospects have never looked rosier.

Taylor's rising draft stock is attributable to one development in particular: the discovery of a jump shot. He was just 1-for-11 from beyond the arc as a sophomore, but Taylor has knocked down a solid 35% of the 113 3-pointers he's taken as a junior, demonstrating a serious learning curve and leaving plenty of room for optimism when analyzing his excellent shooting mechanics.

Taylor has always been one of the most athletic players in college basketball. He's spectacular in transition, a product of his excellent speed in the open floor and his highlight reel-caliber explosiveness. He has great size at 6-7 and an outstanding frame, showing the strength and toughness to finish through contact in difficult situations.

He still lacks polish offensively—his touch is just average and his overall scoring instincts leave something to be desired, particularly as a shot-creator–but Taylor has redeeming characteristics in other areas, which is enough to lead us to believe that he has what it takes to hold his own on the offensive end in the NBA.

Taylor has a rare blend of prototypical physical tools, excellent toughness and a very good feel for the game. He shows all the characteristics the NBA looks for in a complimentary wing player (a la Raja Bell or Thabo Sefolosha), but he is a far more explosive .

Converting on 35 of the 98 jump shots he's taken this season (36%) with his feet set, Taylor can space the floor in a semi-credible manner, and looks comfortable playing a role. He's a very good passer and has potential as a post-up threat (something Vanderbilt surprisingly does not take advantage of very often). He also scores within the flow of his team's offense--be it in transition or in half-court sets, usually above the rim.

Where Taylor gets in trouble when he's asked to do more than that, though—something that happens fairly often in Vanderbilt's stagnant offense. None of the other players on his team can create their own shot effectively, which puts a lot of pressure on Taylor (Vandy's best athlete) to make things happen on a regular basis, which is clearly not his game.

Taylor can beat his man off the dribble (he has an excellent first step), but he is not a very dynamic ball-handler at this point in time--he lacks the ability to change speeds or direction with the ball. He elevates nicely on shots in the mid-range but converts just 33% of his off-the-dribble attempts. Then again, that's a shot he'll rarely be asked to take at the next level.

Playing alongside better guards who can regularly create good looks for him, it's not a stretch to say that Taylor will become a more efficient offensive player in the NBA.

With that said, defense is clearly the most interesting aspect of Taylor's professional profile.

He is a rare case defensively in that he has ideal physical attributes for an NBA swingman (excellent size, mature frame, solid length, outstanding athleticism) as well as excellent fundamentals both on and off the ball and a willingness to stop his man on every possession.

He slides his feet extremely well on the perimeter, gets low in his stance and shows the toughness to stick his nose in and make a gritty play. He denies slashing angles with his sheer strength, uses his wingspan effectively to contest shots and switches onto multiple positions if called upon—Taylor is asked to guard everything from point guards to power forwards on a given night for Vanderbilt.

Despite all this, there is surprisingly little buzz about Taylor's draft prospects at the moment. This is likely a product of his underwhelming scoring average (14.7 points per game), the general undervaluation of defensive stoppers, and the fact that his team was just 9-7 in the SEC.

Taylor turns 22 this May. It seems likely he will at least explore the option of entering the NBA next season, which would give him the ability to attend private workouts and collect precise feedback about his professional outlook. It will be interesting to see what scouts have to say.

Even though Taylor might not have the same offensive upside as some of the other wings in this draft, it's tough to see many prospects projecting better as role players. Will NBA teams agree with that assessment? We'll find out soon enough.

[Read Full Article]

---
NCAA Weekly Performers, 3/18/10
March 18, 2010
Kyle Nelson

Jeff Taylor had a very promising and productive freshman season, which raised expectations significantly for his sophomore campaign. The results have been somewhat underwhelming, however, indicative of both his need to improve and his very high ceiling. There is no denying his success in the Vanderbilt system, however, and with his team set to make a run in the NCAA Tournament, scouts and fans alike will be watching to see if he can break out of his late season slump and continue to help his team win games.

As we have stated before, Taylor should have no trouble adapting to the NBA from a physical standpoint. He looks the part of a prototypical NBA small forward with excellent size at 6'7, a solid frame, and good length. He is a very smooth athlete, as well, with the ability to explode at the rim and run in transition.

On the offensive end, however, the outlook is more complicated, and, while he is improved in many areas, he has regressed in some as well. He was more of a combo-forward during his freshman season, and while he still has the game of a "power wing," it has been encouraging to see him get more touches on the perimeter. It is clear however that he has a long way to go in this area.

For one, he is still not a very good jump shooter. Though his shooting motion does not look bad, he could definitely stand to get more elevation on his shot and work to make his release less deliberate with less excess motion in his lower body. He lacks confidence, as well, making just one perimeter shot on eleven attempts this season for a miserable 9.1%. He draws front iron on most of his shots from distance, showing that he just does not have good range at this point in his career, though it doesn't appear to be out of the question for him to develop a solid perimeter jump shot down the road.

In a more positive development, he has worked to add a mid-range game into his offensive repertoire. This season, though his ball handling is still in need of serious work, he has become more comfortable taking a few dribbles and attempting pull-up jump shots. If he can continue to improve his handles and shooting mechanics, his solid first step and explosiveness could help him develop into a solid mid-range option at the next level.

His shaky handle also limits him as a slasher. He is a fantastic athlete with good footwork, and agility, but his dribbling abilities do not allow him to play as fast as he is capable of playing. His touch around the rim is also somewhat suspect, but his size, strength, and body control allow him to adjust into better scoring positions around the basket.

He is still a very good defender, showing the strength and lateral quickness to guard almost every single position on the floor. He also remains a good rebounder for a wing, even if his numbers are down this season to 7.4 rebounds per 40 minutes pace adjusted. His reputation as a defender is earned and it is important for his draft stock that he continues to assert himself on this end of the floor.

There is already some buzz around Taylor's NBA potential, although that will probably have to be put on hold for another season. A strong NCAA tournament showing could help establish him as an early 2011 prospect.

[Read Full Article]

---
Top NBA Draft Prospects in the SEC (Part One: #1-5)
September 18, 2009
Jonathan Givony

One of the most pleasant surprises in last season's mediocre SEC was the emergence of Vanderbilt freshman Jeff Taylor. An under the radar high school recruit, largely due to his non-traditional background going to high school in New Mexico, by way of Sweden, Taylor regardless managed to emerge as Vanderbilt's most important player for big stretches of the season, being named to the All-SEC Freshman team for his efforts.

Taylor has prototypical physical tools for a high-caliber NBA wing player, starting with great size at 6-7, a frame that should have no problem putting on weight, and a good wingspan. He is an absolutely electrifying athlete on top of that, regularly playing well above the rim thanks to his tremendous leaping ability, and also possessing a very quick first step. His NBA upside is significant for these reasons alone, but he has some legit talent, as evidenced by the defense he played and the 18.4 points he averaged per-40 minutes pace adjusted in his first season of college basketball.

Offensively, Taylor is clearly at his best in the open floor, where his athleticism really shines through. He's nowhere near as effective in the half-court at this point, though, as he's an average ball-handler and a fairly mediocre shooter.

Taylor can beat his man off the dribble quite effectively thanks to his excellent first step and long strides, but he struggles to create his own shot at times since he lacks advanced ball-handling moves and struggles to operate with his left hand or change directions with the ball. He is a very fluid player, though, with nice footwork and some very interesting spin-moves in his arsenal, so it may only be a matter of time until he becomes a high-level shot-creator. As it is, he is a pretty solid mismatch threat already at the collegiate level.

Spending heavy minutes at the power forward position, a sizable amount of Taylor's offense is created by others, especially in Vanderbilt's Princeton offense, which stresses a great deal of off the ball movement. His terrific size, quickness and leaping ability make him an ideal candidate to run backdoor cuts for, a play that gets him plenty of great looks around the basket. He doesn't show any type of post-up game (a shame considering his tools), but is a fairly good passer, even if that is negated somewhat by his high turnover averages. Taylor gets to the free throw line at an excellent rate, nearly 7-times per-40 minutes pace adjusted, although he could stand to improve somewhat on his 69% shooting from the charity stripe.

As a shooter is where Taylor needs to improve the most to reach his extremely high ceiling. He made just 9 of 41 3-point attempts last season (22%), mostly of the spot-up variety. Taylor sports a slow, deliberate release, not looking all that confident hoisting up shots past 17-18 feet, and seeing streaky results even from that range. He actually has decent shooting mechanics, and is smart enough to know to step into the mid-range area if he has time to get his shot off, but will have to improve considerably in this area if he's to make the transition to playing out on the wing full-time. He has almost zero ability to pull-up off the dribble at this point as well, not getting much elevation on his jumper.

Defense might be Taylor's biggest selling point as a prospect, and probably will continue to be his calling card in the NBA. He has outstanding tools to get the job done on this end of the floor, and he's both willing and able to use them to the benefit of his team. Taylor gets low on every possession in an intense fundamental stance, moving his feet extremely well and absolutely smothering smaller opponents with his size, length and outstanding lateral quickness. He is almost always assigned to defend the opposing team's best player, and is a great weapon to have against the pick and roll since he can switch on anyone from the 1-4 positions. Taylor is also a phenomenal rebounder (particularly offensively) for his position, pulling down nearly 10 rebounds per-40 minutes pace adjusted. This is a testament to his physical tools, but also his excellent activity level.

Despite the fact that he's getting almost no exposure whatsoever from the national media, Taylor appears to be on the verge of a breakout season that will put him firmly on the radar of NBA talent evaluators, and likely in a major way. Considering that he owns a European Union passport (he was born in Sweden and already played for their national team) he will likely be pursued heavily by some of the top teams in Europe next summer if he decides to pass up declaring for the draft, but surely has the NBA in his future if he's willing to be patient. At this point he's just starting to scratch the surface on his true potential.

[Read Full Article]

---
U-18 EC Division B: Searching for Hidden Gems
August 6, 2007
A very athletic player, Taylor features a nice bunch of terrific characteristics for a wing, but he's highly limited by his non-existent shooting touch, seriously jeopardizing his potential as an elite player.

Taylor shows a nice long frame and a ripped body. He's an explosive athlete, extremely quick off his feet and an excellent leaper. Given his lack of shooting ability, he always looks for the paint, particularly the baseline, either off the dribble or off the ball. He's a very solid ball-handler, which paired with his quickness, allows him to consistently beat his match-ups in individual settings. He shows nice footwork in the slashing department, with the ability to display reverses and various changes of direction. But he's also a very active guy playing without the ball, looking for spaces near the rim, where he can easily finish thanks to his leaping ability. A bit of an inconsistent defender, his tools are perfect to match him up against wings, but his effort is not always there. A decent passer, his basketball IQ seems, if not great, at least decent.

The recipe for Taylor seems clear: shoot, shoot and keep shooting until he develops a decent stroke.

[Read Full Article]

---