Jeff Withey
Recent Tweets
All Tweets
DraftExpress: Portland takes Jeff Withey at #39. Kind of surprising he fell this far. Best big man defender in college basketball?
2013-06-27 23:22:00
DraftExpress: Jeff Withey clearly more of a 5 on 5 guy. Body doesn't look great compared to other big men and he hasn't been so impressive in the drills.
2013-05-17 10:31:06
DraftExpress: DX Trending Prospects Jeff Withey (w\/video analysis from @Mike_Schmitz) http://t.co/LML79GNjb5
2013-04-05 16:48:12
DraftExpress: Trending Prospects Jeff Withey (w\/Video Analysis) http://t.co/LML79GNjb5 -Evaluating arguably the best defensive prospect in the 2013 draft
2013-04-05 13:32:27
DraftExpress: Top NBA Prospects in the Big 12, 2-5: Myck Kabongo, Jeff Withey, Elijah Johnson, Pierre Jackson http://t.co/gv5xnU6J
2012-09-28 09:15:11
Team: Jazz
Physicals
Positions
Rankings
Salary
Misc
H: 7' 0"
W: 222 lbs
Bday: 03/07/1990
(25 Years Old)

Current: C
NBA: C
Possible: C

RSCI: 29

Agent: Arn Tellem
Current Salary:$816,482

High School: Horizon
Hometown: San Diego, CA
Drafted: Pick 39 in 2013 by Trailblazers

Predraft Measurements
| Year | Source | Height w/o Shoes | Height w/shoes | Weight | Wingspan | Standing Reach | Body Fat | No Step Vert | Max Vert |
| --- | --- | --- | --- | --- | --- | --- | --- | --- | --- |
| 2013 | NBA Draft Combine | 6' 10.75" | 7' 0.5" | 222 | 7' 2" | 9' 2.5" | 8.7 | 26.5 | 29.0 |
| 2012 | LeBron James Camp | NA | 6' 11.5" | 229 | 7' 1.5" | NA | NA | NA | NA |
| 2012 | Amare Stoudemire Camp | NA | 6' 11.5" | 229 | 7' 1.5" | NA | NA | NA | NA |



Basic Per Game Statistics

- Comprehensive Stats - Statistical Top 25s
| Year | League | Name | GP | Min | Pts | FG | FGA | FG% | 2Pt | 2PtA | 2P% | 3Pt | 3PtA | 3P% | FTM | FTA | FT% | Off | Def | TOT | Asts | Stls | Blks | TOs | PFs |
| --- | --- | --- | --- | --- | --- | --- | --- | --- | --- | --- | --- | --- | --- | --- | --- | --- | --- | --- | --- | --- | --- | --- | --- | --- | --- |
| 2015/16 | NBA | Jeff Withey | 8 | 8.0 | 1.8 | 0.8 | 1.5 | 50.0 | 0.8 | 1.5 | 50.0 | 0.0 | 0.0 | &nbsp | 0.3 | 0.8 | 33.3 | 1.0 | 1.0 | 2.0 | 0.1 | 0.5 | 0.8 | 0.4 | 1.0 |

Player Page&nbsp&nbsp| Player Stats | Mock Draft History | Related Articles&nbsp&nbsp| Add to My Draft Express&nbsp
&nbsp
NBA Combine Interviews: Plumlee, Withey, Muscala, Dedmon
May 23, 2013
[Read Full Article]

---
Trending Prospects: Jeff Withey (with Video Analysis)
April 5, 2013
Scouting Report by Jonathan Givony. Video Analysis by Mike Schmitz

Jeff Withey has developed remarkably the past two seasons, from being a total non-factor his first three years in college to arguably the best overall defender in the NCAA.

Standing close to 7-feet, with an excellent 7-3 wingspan and very good athletic ability, Withey has excellent physical tools for his position, which happens to be the most difficult to fill in the NBA. A former volleyball player, he's a mobile big man who is quick off his feet and can elevate impressively around the rim, and shows tremendous coordination on the defensive end.

Withey's biggest shortcoming from a physical standpoint lies in his average frame, as he still needs to continue to add strength, especially to his lower body. It's unclear how much room he has left for physical development considering his age (23) and the fact that he comes from a college program known for doing good work in the strength and conditioning department.

Video Analysis:



Offensively, Withey was a relatively productive (17 points per-40) and highly efficient (62% True Shooting Percentage) scorer, but is certainly not what you would call an overly skilled or talented player on this end of the floor. He's most effective operating off the ball, finishing in pick and roll or drive and dish situations, where his soft hands, long arms and ability to play above the rim make him an excellent option for his guards to throw the ball to when he's on the move. Withey ranked as the #1 finisher in college basketball in non-post up situations, converting an outstanding 79% of his field goal attempts.



Withey is significantly less effective with his back to the basket, looking very mechanical at times operating in the post, as he struggles to establish great positioning due to his average lower body strength. He does not have great range on his moves and does not show any semblance of a right hand, refusing to finish with his off-hand even when the situation calls for it. Opposing teams caught onto this and exploited it quite a bit this season, forcing him to settle for awkward looks. Combine that with the fact that he's not the toughest or strongest player around and it's easier to understand why he doesn't deal all that well with contact around the rim.

Withey is not particularly aggressive looking to establish himself in the post even against inferior competition, and doesn't always look all that interested in making his presence felt offensively in general, seemingly saving his energy for his work on the other end of the floor at times. This lack of aggression shows up in particular in his relatively mediocre work on the offensive glass, where his 2.6 offensive rebounds per-40 ranks last amongst top-100 centers.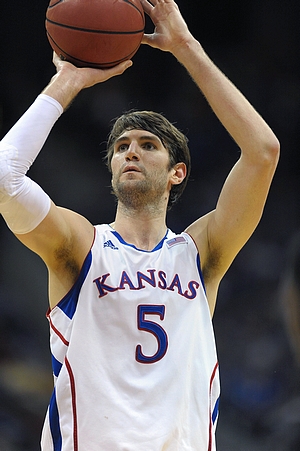 US Presswire



Adding a consistent mid-range jumper to his repertoire could add another dimension to Withey's offensive game. He attempted just 14 jump-shots this season in 37 games, which indicates either a lack of confidence or this simply not being a part of his coaching staff's game-plan. Although the sample size is very small, Withey did make 8 of those 14 attempts, showing solid mechanics in the process. That, combined with the fact that he shot 71% from the free throw line, leaves some room for optimism regarding his ability to incorporate a jump-shot into his game at a later stage of his career.

The defensive end of the floor is where Withey looks like an entirely different prospect. He appears infinitely more comfortable here, playing with a higher energy level and far more confidence. This is somewhat of a microcosm of Kansas in general, as they ranked as the 6th best defensive team in college basketball, but just the 27th best offensively. Withey's contribution to that shows up primarily in Kansas' defensive 2-point percentage, which ranked #1 in the country. The Jayhawks allow opponents to convert just 39% of their attempts inside the arc, an outstanding accomplishment. By comparison, in the season before Withey's emergence as a junior, Kansas' defensive 2P% was 44.5%.

It's not a stretch to say that Withey was the biggest defensive difference maker in college basketball this season. He blocked 4.9 shots per-40 minutes this season, down from 5.7 last year, but is far more than just a shot-blocker. Withey possess cat-like instincts on this end of the floor, showing unbelievable instincts as both a man to man and help-side defender. He does an amazing job of going straight up into the air and absorbing contact while avoiding committing a foul, aided greatly by his long reach, quick jump and tremendous timing. He almost always is able to keep his blocks in-bounds, which is infinitely more valuable than having a shot-blocker who simply sends opponent's shots into the second row. This is perhaps where his volleyball background shows up the most.

He uses his length incredibly well to not only challenge, alter and reject shots around the rim, but also in contesting attempts away from the basket. He reminds of Shane Battier somewhat in his ability to instinctively get a hand right into his opponents' field of vision, not even trying to touch the ball, but rather making it impossible for him to get a clean look off. Rarely if ever will you see him bite on a shot-fake, which is a major reason he only commits 2.6 fouls per-40 minutes.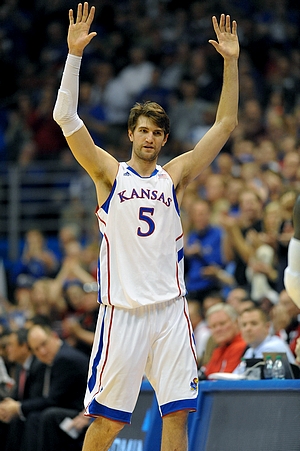 US Presswire



Big 12 teams had an impossible time scoring against Kansas inside the arc virtually all season long, and Jeff Withey is the main reason why. Although the individual box-score numbers don't back it up, it's safe to say he is one of the most dominant defensive centers we've seen at the collegiate level in the last few years.

The NBA is a very different game, though, and Withey will have some major adjustments to make at the next level. For one, he is nowhere near as effective when opposing teams are able to force him to step outside the paint, something he rarely did as part of Kansas' game-plan. Against more talented guards, this could become a lot more of an issue, as we saw in the NCAA Tournament last week where Trey Burke was able to slice apart Kansas' defense primarily on the pick and roll. When Withey does step outside the paint, he appears very upright in his stance, and struggles to stay in front of speedier players with his seemingly average lateral quickness.

There's also the question of how he will he deal with the bigger and stronger back to the basket centers (ala Nikola Pekovic) he will encounter in the NBA, something he rarely had to deal with at the college level. Will he be able to hold his ground in the paint effectively?

Perhaps most concerning for him long-term is the average approach he brings to the game mentally at times. He has a tendency to fades in and out of games, not always looking focused and seemingly lacking some degree of a killer instinct. He doesn't appear to be the toughest player from a physical standpoint either. There might be some question marks about how he will fare early on in his NBA career when faced with adversity. Withey has talked about the fact that he decided to quit playing basketball at one point as a teenager, and he was a highly touted recruit who did very little in his first three years in college, so it's fair to wonder how leaving the cocoon of the KU program and no longer being a focal point might affect him.

Withey is also already 23 years old, so there may be an element of "what you see is what you get" in terms of his upside.

Athletic 7-footers with great defensive instincts and excellent finishing ability don't grow on trees, though, so there will surely be a market for his services this upcoming June. A playoff team drafting in the second half of the first round could be very happy picking a player who is well-coached, experienced and ready to compete from day one, as if he pans out, he could present excellent value to a NBA team playing on a rookie scale contract.

[Read Full Article]

---
Top NBA Draft Prospects in the Big 12, Part Two
September 28, 2012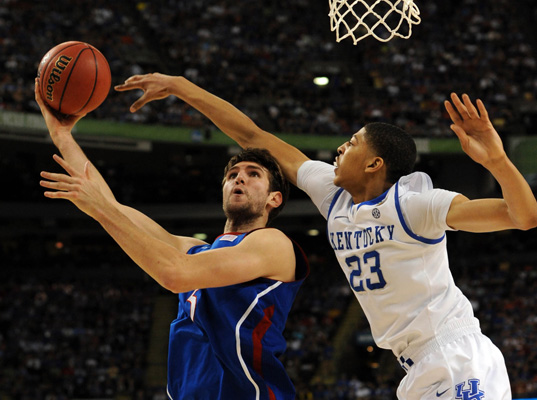 US Presswire



Joe Treutlein

After two unimpressive seasons to start his college career at Kansas, Jeff Withey finally burst onto the scene as a junior, ranking second in our database in blocks per 40 minutes pace adjusted, trailing only 2012 NBA Draft #1 pick Anthony Davis.

From a physical standpoint, Withey has made some nice strides since the last time we profiled him, filling out his frame some and adding notable lower body strength. Withey has benefitted from a lot of time in Kansas' weight room and working with a Kansas coaching staff that has a well-deserved reputation for developing big men.

On the offensive end, Withey does most of his damage finishing on simple cuts and open looks around the basket, where he does an excellent job utilizing his size and length to finish easily at the basket. He does a good job elevating when he takes one or two steps to build momentum, and doesn't really need to get up very high to throw down a dunk given his standing reach, though he has more trouble getting off the ground from static positions.

Withey actually shows some struggles finishing when he has a man closely defending him and he isn't able to build momentum, not having the raw explosive power to elevate and finish through contact consistently. He makes up for this with a solid touch in his finesse game, showing the ability to score on lay-ups and hook shots around the rim, but he's still developing the feel to know which situations to rely on finesse and which on power.

Withey's post game isn't as far along as his ability to finish on cuts around the rim, as he's still developing his arsenal of moves and footwork. He's gotten better at using his size and strength to back down his man in the past year, being much more confident and capable establishing himself in the paint. On the other hand, despite good coordination, Withey isn't the most fluid player around, and he can be a bit slow in some of his post moves, not easily getting separation and struggling when the defense collapses on him. He shows solid ability with his hook shots and going forward would probably be best served focusing on simple moves he can get off quickly that take advantage of his massive size.

The rest of Withey's offensive game isn't worth much mention, as he unsurprisingly has little in the area of perimeter skills. He's probably never going to be (and shouldn't be) one to put it on the floor in face-up situations, though he does show some potential with his mid-range jumper. Withey shot a very impressive 79.5% from the free-throw line on a significant 4.0 attempts per game, though it's yet to translate to live action, as he hit just 2 of his 16 jump shot opportunities on the season according to Synergy Sports Technology. This is definitely something to watch out for this season, and adding this wrinkle of versatility could certainly improve his stock.

The defensive end is where Withey really makes his impact at the collegiate level, where he's a very effective shot blocker in both man and help defense. Off the ball, Withey does an excellent job positioning himself, rotating, and being aware of everything on the floor, showing good timing and decision-making going for shot block attempts. He's also done an excellent job cutting down on his propensity for fouls, dropping from 6.4 to 3.9 personal fouls per 40 minutes pace adjusted last year.

In man-to-man defense, Withey's post defense is extremely impressive, as he does a great job utilizing his size and length to his advantage in matchups. Despite not having the greatest lateral quickness, Withey is rarely beaten laterally by his man, as he does a terrific job using his wide stance and long arms to keep his man at bay. His timing blocking shots in individual defense is superb, and he uses every inch of his very long reach to contest shots.

Withey actually does surprisingly well when he's put on the perimeter defensively, again using his length very well to defend his man while still giving himself enough space to adjust if a drive to the basket ensues. He does a good job using his length and timing to block and contest shots from behind when he does get beat. Withey's pick-and-roll defense is less promising, however, as his lack of great change of direction ability obviously is exploited more there, and that may always be something he doesn't excel with.

Looking forward, Withey made exceptional strides with his game as a junior and brings an interesting set of tools to the table for a big man. He has some pretty clearly defined strengths and weaknesses on both ends of the floor, though is obviously still developing and is just scratching the surface of his potential in some areas. His lack of great athleticism will always leave him somewhat limited in some areas, but he's still growing into his body and probably could still benefit some from additional lower body strength. Withey could help his stock most this year by becoming a better finisher from standstill positions around the basket, developing a simple, go-to post move to take advantage of his size, and translating his free-throw shooting prowess to a serviceable mid-range jumper, all of which are well within his reach to do.

[Read Full Article]

---
Top NBA Draft Prospects in the Big 12, Part Three (#11-15)
October 4, 2011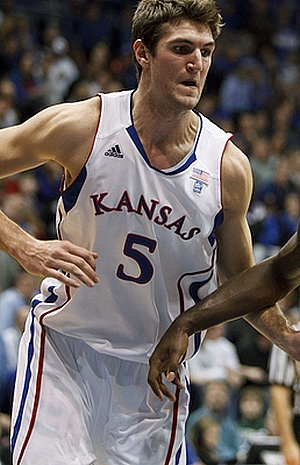 Icon SMI



Kyle Nelson

Jeff Withey averaged just 2.5 points per game as a sophomore at Kansas and has never scored more than eight points in a game during his career. Yet the 7-foot redshirt junior was ranked ahead of NBA lottery picks Klay Thompson and former teammates Marcus and Markieff Morris coming out of high school. Now that the Morris brothers are in the NBA, scouts will be watching to see if he can assume a larger role and live up to his significant high school hype.

Originally committed to Louisville, Withey started his college career initially at Arizona. He requested to leave the program following the abrupt retirement of Lute Olson just weeks before the start of his freshman season, but was denied. Eventually he was given his release and transferred to Kansas, where he sat out a full year and became eligible after essentially missing out on the first season and a half of his college career, something that undoubtedly set him back.

Withey looks the part of an NBA center, standing around 7'0 with an excellent wingspan and a broad-shouldered, though underdeveloped, 240-pound frame. He is a year older than most of his classmates so it will be interesting to see how much stronger he looks after another offseason of strength and conditioning in Lawrence. He is a good athlete for his size, though, both mobile and reasonably explosive around the basket.

Withey is still an extremely raw player despite going into his fourth year of college--not a surprise considering that he has only seen around 200 minutes of actual game time in his career thus far. He's never really been a part of any meaningful playing time, usually playing at the tail end of blowout wins or losses, so it is difficult to evaluate him on either side of the ball.

While watching him in the post, it is clear that Withey lacks toughness at the moment, not possessing the strength or aggressiveness needed to back his man down, often choosing to fade away from contact. His footwork is equally unrefined and untested, but he did show some basic moves from jump hooks to drop steps that, combined with his soft touch around the basket, suggest his post-game could develop with greater minutes. He struggles nearly every time he has to put the ball on the floor, however, and ranks as one of the most turnover prone centers in our database, coughing the ball up on over 22% of his possessions.

On defense, his lateral quickness seems below average and he therefore struggles significantly chasing his man onto the perimeter. Though he lacked the strength to be a factor in the post as a sophomore, he is a solid shot blocker due to his timing, showing good timing in limited minutes last season. Conversely, he is also the most foul-prone player amongst prospects in our database, averaging 6.4 fouls per 40 minutes pace adjusted, which partially explains, among many reasons, why he did not see many minutes.

Obviously, Withey has a long way to go before realizing his potential at the collegiate level. While he is very raw from a skills perspective, players in his mold are rare commodities at the professional level. Considering his pedigree, as well as Kansas' track record with developing big men, he's certainly a player worthy of keeping a close eye on. There is no doubting his intriguing physical tools, but scouts will be watching to see if he can take a significant step as a junior and contribute for the first time in his career.

[Read Full Article]

---