Jerami Grant
Recent Tweets
All Tweets
DraftExpress: With the #39 pick. Philadelphia selects Jerami Grant. Long long wait for Grant who entered the draft process projected as a 1st rounder.
2014-06-26 23:18:00
DraftExpress: Best available players now according to the DX Top-100 rankings K.J. McDaniels P.J. Hairston Kyle Anderson Jerami Grant Jarnell Stokes
2014-06-26 22:16:12
DraftExpress: Interesting development on the eve of the draft...no one has any clue where Syracuse's Tyler Ennis & Jerami Grant are going. Boeheim knew?!
2014-06-25 22:50:16
DraftExpress: New on DX Jerami Grant 2014 NBA Pre-Draft Workout Video\nhttp\/\/t.co\/EJqjFEo5lB
2014-06-07 10:13:08
DraftExpress: Top NBA Draft Prospects in the ACC (Prospects #5-9) http://t.co/pn8tNCbZl0 Jerami Grant Olivier Hanlan Dez Wells Rodney Hood Joe Harris
2013-09-10 17:39:09
Team: 76ers
Physicals
Positions
Rankings
Salary
Misc
H: 6' 8"
W: 214 lbs
Bday: 03/12/1994
(21 Years Old)

Current: SF
NBA: SF
Possible: SF

RSCI: 42

Agent: Happy Walters
Current Salary:$884,879

High School: DeMatha Catholic
Hometown: Hyattsville, MD
Drafted: Pick 39 in 2014 by 76ers

Predraft Measurements
| Year | Source | Height w/o Shoes | Height w/shoes | Weight | Wingspan | Standing Reach | Body Fat | No Step Vert | Max Vert |
| --- | --- | --- | --- | --- | --- | --- | --- | --- | --- |
| 2014 | NBA Draft Combine | 6' 6.5" | 6' 7.75" | 214 | 7' 2.75" | 8' 11" | 3.8 | NA | NA |
| 2013 | USA Basketball | 6' 6" | 6' 7" | 217 | 7' 2.5" | 9' 0.5" | NA | NA | NA |
| 2011 | Kevin Durant Camp | NA | 6' 8" | 196 | 7' 2" | NA | NA | NA | NA |



Basic Per Game Statistics

- Comprehensive Stats - Statistical Top 25s
| Year | League | Name | GP | Min | Pts | FG | FGA | FG% | 2Pt | 2PtA | 2P% | 3Pt | 3PtA | 3P% | FTM | FTA | FT% | Off | Def | TOT | Asts | Stls | Blks | TOs | PFs |
| --- | --- | --- | --- | --- | --- | --- | --- | --- | --- | --- | --- | --- | --- | --- | --- | --- | --- | --- | --- | --- | --- | --- | --- | --- | --- |
| 2015/16 | NBA | Jerami Grant | 18 | 27.6 | 10.3 | 3.6 | 8.6 | 41.3 | 3.1 | 6.3 | 48.2 | 0.5 | 2.3 | 22.0 | 2.7 | 3.7 | 71.6 | 1.5 | 3.5 | 5.0 | 1.2 | 0.7 | 1.7 | 1.3 | 3.1 |

Player Page&nbsp&nbsp| Player Stats | Mock Draft History | Related Articles&nbsp&nbsp| Add to My Draft Express&nbsp
&nbsp
Situational Statistics: the 2014 Small Forward Crop
June 20, 2014
Jerami Grant's raw skill set shows here, but so does his ability to put his terrific athleticism to good use. Using a sample low 11.9 possessions per-game, Grant didn't play a prominent role in Syracuse's offense. He saw 30.6% of his offense on a combination of cuts and possessions as the roll man in pick and rolls, easily the most of any player in this group. He ranked average using 15.4% of his possessions in isolation situations, well below average with 7.3% of his touches coming in the post and 16% coming in spot-up situations.

Functioning as more of a hybrid power forward, Grant ranks as both the least prolific and efficient jump shooter in this group, scoring just .58 points per jump shot on 1.8 attempts per-game. Seeing more of his possessions around the rim than any other player, 62.4% of Grant's attempts come around the basket in the half court. Due to his interior-oriented role, athleticism, and aggressiveness attacking the basket, Grant draws free throws on 25.9% of his possessions overall, easily the top mark among small forwards. His 68.2% shooting in transition provides another example of how his physical tools translate to the offensive end at this stage in his career. Though the room Grant has to grow as a perimeter scorer is on display here, his athleticism shows as well. Whether or not that's enough to earn him minutes early in his career largely depends on where he lands on draft day and the role he's expected to play.

[Read Full Article]

---
Jerami Grant 2014 NBA Pre-Draft Workout
June 7, 2014
Footage of Jerami Grant working out in preparation for the 2014 NBA Draft.



Previous 2014 NBA Draft Workout Videos


-Glenn Robinson III
-Khem Birch
-Gary Harris
-Noah Vonleh
-T.J. Warren
-Elfrid Payton
-Zach LaVine
-Aaron Gordon
-Doug McDermott
-Nik Stauskas
-Adreian Payne
-K.J. McDaniels
-Sean Kilpatrick
-Joe Harris

[Read Full Article]

---
2014 NBA Combine Interviews: Brown, Grant, Thames
May 20, 2014
[Read Full Article]

---
Jerami Grant Scouting Report and Video Breakdown
April 25, 2014
Scouting Report by Matt Kamalsky. Video Breakdown by Mike Schmitz

Jerami Grant took a significant step forward as a sophomore, finding new ways to take advantage of his tremendous physical tools as a key member of Syracuse's rotation. We take an inventory of everything he displayed this season as an NBA prospect, as well as the things he still has to improve on.
---
-James Young Scouting Report and Video Breakdown
-Gary Harris Scouting Report and Video Breakdown
-Kyle Anderson Scouting Report and Video Breakdown
-P.J. Hairston Scouting Report and Video Breakdown
-Zach Lavine Scouting Report and Video Breakdown
-Artem Klimenko Scouting Report and Video Breakdown
-Tyler Ennis Scouting Report and Video Breakdown
-Rodney Hood Scouting Report and Video Breakdown
-Doug McDermott Scouting Report and Video Breakdown
-Andrew Wiggins Scouting Report and Video Breakdown
-Elfrid Payton Scouting Report and Video Breakdown
-Marcus Smart Scouting Report and Video Breakdown
-NBA Draft Prospect of the Week: C.J. Wilcox (Video Scouting Report)
-NBA Draft Prospect of the Week: T.J. Warren (Video Scouting Report)
-NBA Draft Prospect of the Week: A.J. Hammons (Video Scouting Report)
-NBA Draft Prospect of the Week: K.J. McDaniels (Video Scouting Report)
-NBA Draft Prospect of the Week: Deonte Burton (Video Scouting Report)
-NBA Draft Prospect of the Week: Noah Vonleh (Video Scouting Report)
-NBA Draft Prospect of the Week: Nik Stauskas (Video Scouting Report)
-NBA Draft Prospect of the Week: Aaron Gordon (Video Scouting Report)
-NBA Draft Prospect of the Week: Clint Capela (Video Scouting Report)
-NBA Draft Prospect of the Week: Thanasis Antetokounmpo (Video Scouting Report)
-NBA Draft Prospect of the Week: Shabazz Napier (Video Scouting Report)
-NBA Draft Prospect of the Week: Bogdan Bogdanovic (Video Scouting Report)
-NBA Draft Prospect of the Week: Joel Embiid (Video Scouting Report)
-NBA Draft Prospect of the Week: Julius Randle (Video Scouting Report)
-NBA Draft Prospect of the Week: Jabari Parker (Video Scouting Report)
-Revisiting Giannis Antetokounmpo (Video Scouting Report)
-Revisiting Damian Lillard (Video Scouting Report)
-Revisiting Nikola Mirotic (Video Scouting Report)
-Revisiting Alexis Ajinca (Video Scouting Report)
---
Grant's intrigue at the next level starts with his promising physical tools. He has excellent size for small forward, standing 6'8 in shoes with a huge 7'2.5 wingspan, and sports an increasingly strong frame that has improved by leaps and bounds since his high school days, but still has a ways to go. The former consensus top-50 recruit is also an outstanding athlete. Quick, fluid, and exceptionally explosive around the rim, Grant nearly aces the eye test.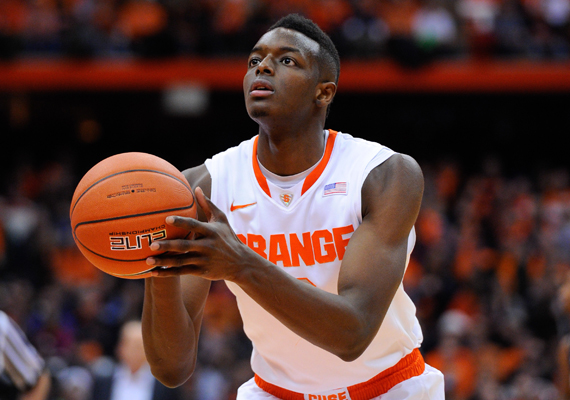 US Presswire



Grant's size and athleticism paid dividends for him on both ends last season, but were especially key for him offensively, where his skill level is still very much a work in progress. The DeMatha Catholic product did most of his damage inside, where his leaping ability and touch helped him finish consistently and resulted in plenty of material for his highlight reel. Running the floor well, moving without the ball, playing off his teammates, crashing the glass aggressively, and showing the ability to attack the rim with his quick first step from the midrange attacking close outs or as the roll man in the two man game, Grant shot 57% at the rim in the half court and 68% in transition according to Synergy Sports Technology.

Ranking third among small forward prospects in our top-100 attempting 7.7 free throws per-40 minutes pace-adjusted, Grant attacks the rim with reckless abandon, which is as much a positive aspect of his game as it is symptomatic of his lack of perimeter shooting ability and advanced offensive skills. Attempting just five 3-pointers last season and connecting on only 29% of his total jump shots, Grant has questionable mechanics and is not an intimidating threat away from the basket at this point in his career. He's also yet to develop a reliable post arsenal or the advance ball-handling ability to help him create his own shot regularly one-on-one against quality defenders.

Looking ahead, it will be Grant's ability to find a way to keep defenders honest away from the rim and carve out and identity beyond his hustle and athleticism that will determine just how much of a weapon he can be offensively. Grant's motor, assertiveness, and physical tools helped him score consistently as a slasher and catch and finish option at the NCAA level, but he tends to force the issue at times, lacks a degree of strength, and remains very raw on this end of the floor.

Generally speaking, the same things the can be said Grant offensively can be said about his defensively, where he has terrific potential thanks to his size and lateral quickness, but looked green at times playing in the back line of Syracuse's 2-3 zone. Playing with the same effort that afforded him some success offensively, Grant had some terrific sequences tracking the ball on the perimeter and contesting would-be finishers at the rim, but still has a lot of room to improve his awareness and fundamentals as he acclimates to playing man-to-man defense on a regular basis. His length and speed could give him valuable versatility on this end of the floor down the road.

In many ways, it is what Grant could become that makes him so interesting. His length, athleticism and competitive streak could help him fill a role early in his career, but the fact that he just turned 20 and only has one year of significant college experience under his belt leaves plenty of room for optimism that he'll expand his offensive game and become the type of defensive player he has the tools to be in the coming years. Grant's upside will get him plenty of looks from teams picking in the mid to later part of the first round.

We've taken a more visual look at his strengths and weaknesses thanks to game film from Syracuse in the following video scouting report, courtesy of Mike Schmitz.



All of our video scouting reports this season can be found here.

[Read Full Article]

---
Top NBA Draft Prospects in the ACC, Part Five (#5-9)
September 10, 2013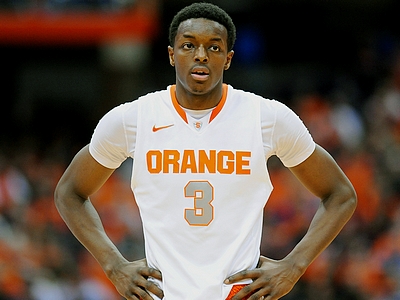 US Presswire



Matt Kamalsky

Coming off a freshman season where he was one of the first players off the bench for a Syracuse team whose season ended with a trip to the Final Four, Jerami Grant had an eventful summer. A member of the USA U18 National Team that won a gold medal at the 2012 FIBA Americas Championship a year ago, he was poised to once again suit up for his country after being one of twenty-six players invited to the USA U19 National Team Training Camp held at the US Olympic Training Center in Colorado Spring during the beginning of June.

One of the 12 players surviving the final round of cuts to make Billy Donovan's gold medal-winning World Championship squad, Grant's defensive versatility and athleticism earned him a ticket to Prague, and while he made the trip, he never had a chance to compete. Diagnosed with mononucleosis after the team had already landed in the Czech Republic, he was unable to reap the fruits of his labor earlier in the summer.

Dropping some fifteen pounds as the illness kept him inactive for the better part of the summer, Grant returned to campus looking to regain his strength and get into game shape as the Orange prepared for their late-August exhibition schedule.

Putting back on much of the weight he lost prior to finishing as Syracuse's leading scorer and rebounder over four games against Canadian University teams, Grant ended what was a trying summer on a high note. Having lost three of his top four scorers from last season, Jim Boeheim will look to the rising sophomore to continue building on that momentum as the program looks to solidify its rotation and define its identity early on before heading into its first ACC campaign.

Standing 6'9 with an improving frame that has outstanding long-term potential, and possessing exceptional athletic ability, Grant is a terrific physical specimen who played a small role as a freshman in a short Syracuse rotation that relied heavily on its returning players offensively. Averaging a modest 3.9 points and 3 rebounds over 14.3 minutes per-game, the DeMatha (MD) product mostly blended in as a freshman, playing with a good motor and proving capable of finishing around the rim with his length and athleticism, despite struggling to deal with contact for stretches.

Skill-wise, Grant proved to be a fairly limited player last season, showing little in the way of ball-handling ability or scoring touch. Knocking down 6 of his 21 jump shots (28.6%) last season, the former consensus top-50 recruit did the vast majority of his damage right at the rim, seldom being counted on to make a play on the offensive end aside from a six game stint where he had some nice moments in extensive playing time filling in for an injured James Southerland. Despite the occasional glimpse of things to come, Grant still has a world of room to grow as a scoring threat, and his ability to find a consistent means to contribute efficiently on the offensive end will help dictate just how good of a player he can be long-term.

Where Grant does his best work and possesses the most potential at this point is on the defensive end. Bringing length and agility to the back line of Syracuse's zone, Grant proved in Colorado Springs that he can guard from the two through the four position effectively in man-to-man situations. As he continues to add weight to his frame, he could emerge as one of the more promising forward prospects in the college game from a defensive perspective, even if that is unfortunately masked at times by the system he plays in.

Still in a very early stage of development, Grant is only beginning to come out of his shell as a prospect, and looks to have huge room for growth long-term. The opportunity for him to assume a leadership role, make an impact more consistently with his athleticism and effort, and continue to add to his game will certainly be there this season. If he makes rapid progress, he could make himself a legitimate candidate for the 2014 draft and is certainly a player worth monitoring.

[Read Full Article]

---
USA Basketball U19 World Championship Training Camp Report, Part Two
June 19, 2013
The Syracuse forward continues to fill out his frame impressively, now standing at 6-9 and 215 pounds according to what he told us in the interview below. He's going to wow NBA scouts immediately just on first glance with his physical potential, even if he still has plenty of room to improve with his skill-level.



Interview




Grant's phenomenal size, length, frame and mobility will allow him to guard multiple positions and play a variety of roles on this USA Basketball squad. He's often the one assigned to bother the player in-bounding the ball, and will likely play a significant role at the top of USA's full-court press, as well as rotating over for traps in the corners, and doubling the low-post. His wingspan and strong anticipation skills allow him to make his presence felt in the passing lanes, making deflections, and coming up with plenty of blocks, steals and rebounds.

Offensively, Grant is very much a work in progress still. His ball-handling skills are fairly poor, making it difficult for him to create his own shot effectively in the half-court. He's also not a great outside shooter at this stage, not showing the best mechanics but also not looking very confident stepping into his jumper when open. Part of the reason for this is because of how much of a team player he is, as he at times seemingly prefers to make the extra pass instead of looking for his own points. With his strong first step and ability to run the floor he often finds himself in position to score around the basket, but is still working on knowing how to finish effectively, particularly through contact.

All in all, Grant is an extremely interesting long-term prospect, even if he's clearly still at a very early stage of his development. His primary impact will be felt defensively on this team, but NBA scouts will be watching closely to see what kind of potential he shows on the other end of the floor as well.

[Read Full Article]

---
HoopHall Classic Scouting Reports: 2012 Prospects (Part Two)
January 19, 2012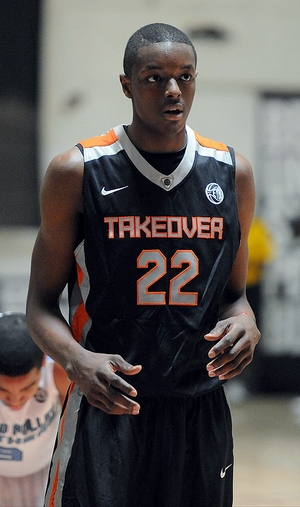 Icon SMI



Jonathan Givony

The son of Harvey Grant, nephew of Horace, and brother of Clemson graduate Jerai and Notre Dame freshman guard Jerian, Dematha's Jerami Grant (#50 Scout, #60 Rivals, #43 ESPN) surely isn't lacking for bloodlines.

Grant passes the eye test for a NBA prospect and then some, standing 6-8 with an impressive 7-2 wingspan and a frame that should fill out nicely in time. He's a very good athlete on top of that, capable of elevating off the floor nicely on both ends of the court for blocks and dunks.

Not a very polished offensive player, Grant gets most of his production at this point by running the floor in transition, crashing the offensive glass and finishing whatever his guards are able to create for him around the basket. He is an average ball-handler at best, being mostly relegated to straight-line drives, and not showing great confidence in his shot-creating ability.

Grant doesn't possess any real post game from what we've seen, but could make this part of his game a real weapon down the road with the excellent size, frame and quickness he possesses, particularly if he's able to make the conversion to playing the small forward position full time.

As a jump-shooter, Grant is fairly streaky at the moment, capable of knocking down open looks on occasion with his feet set, but possessing a long and slow release that he needs plenty of time and space to get off effectively. He'll have to work especially hard on this part of his game, as it will likely play a significant role in his long-term development and professional evaluation.

Defensively is where Grant might possess the best potential as a NBA prospect, as his combination of size, length and athleticism could allow him to guard up to three positions (2/3/4) in time, and he already shows good timing as a rebounder and shot-blocker. His intensity level wavers a bit at times, but he has all the makings of a true lock-down defender, even if playing in Syracuse's zone exclusively for a few years may make that a little more difficult to decipher.

Still in a very early stage of his development, Grant has a ways to go both physically and in terms of his skill-level before we're able to get a real gauge on his long-term potential. He'll likely see most of his time at the power forward spot initially at Syracuse, but could end up being viewed as a Chris Singleton-esqe small forward prospect for the NBA depending on how his body fills out.

[Read Full Article]

---