Jerel McNeal
STRENGTHS:
- Transition play
- Ball-handling skills
- Commitment to playing defense
- Pressure defense
- Physical Toughness
- High-level productivity
- Solid passer
- Athleticism
- Wingspan
- 3-point range
- Ability to catch and shoot
- Ability to come off screens
- Ability to shoot off the dribble
- Quick release
WEAKNESSES:
- Off-ball defense
- Size for position
Recent Tweets
All Tweets
Yes. Hasn't had a great week but is off to a good start thus far. Made two 3's early on. RT @Jack_Kennedy630 is Jerel McNeal getting any PT?
2010-07-09 13:01:01
Top 25s - Full List
Team: Aris
Physicals
Positions
Rankings
Salary
Misc
H: 6' 3"
W: 190 lbs
Bday: 07/01/1987
(28 Years Old)

Current: SG
NBA: SG
Possible: SG

RSCI: 60

Agent: Doug Neustadt

High School: Hillcrest
Hometown: Chicago, IL
Best Case: Shannon Brown
Worst Case: Ibrahim Jaaber

Predraft Measurements
| Year | Source | Height w/o Shoes | Height w/shoes | Weight | Wingspan | Standing Reach | Body Fat | No Step Vert | Max Vert |
| --- | --- | --- | --- | --- | --- | --- | --- | --- | --- |
| 2009 | NBA Draft Combine | 6' 1.5" | 6' 3" | 190 | 6' 7.25" | 8' 3.5" | 5.4 | 31.5 | 36.5 |



Basic Per Game Statistics

- Comprehensive Stats - Statistical Top 25s
| Year | League | Name | GP | Min | Pts | FG | FGA | FG% | 2Pt | 2PtA | 2P% | 3Pt | 3PtA | 3P% | FTM | FTA | FT% | Off | Def | TOT | Asts | Stls | Blks | TOs | PFs |
| --- | --- | --- | --- | --- | --- | --- | --- | --- | --- | --- | --- | --- | --- | --- | --- | --- | --- | --- | --- | --- | --- | --- | --- | --- | --- |
| 2015/16 | Eurocup | Jerel McNeal | 7 | 31.4 | 12.1 | 4.9 | 13.7 | 35.4 | 3.9 | 10.4 | 37.0 | 1.0 | 3.3 | 30.4 | 1.4 | 2.1 | 66.7 | 1.3 | 3.0 | 4.3 | 2.9 | 1.9 | 0.6 | 1.6 | 2.6 |
| 2015/16 | Greek | Jerel McNeal | 8 | 27.8 | 14.9 | 4.9 | 11.5 | 42.4 | 3.4 | 7.8 | 43.5 | 1.5 | 3.8 | 40.0 | 3.6 | 4.1 | 87.9 | 0.5 | 3.9 | 4.4 | 2.8 | 1.1 | 0.4 | 1.6 | 2.4 |

Player Page&nbsp&nbsp| Player Stats | Mock Draft History | Related Articles&nbsp&nbsp| Add to My Draft Express&nbsp
&nbsp
Situational Statistics: This Year's Shooting Guard Crop
April 27, 2009
-Jerel McNeal used a lot of possessions, but didn't really stand out apart from his 1.46 PPP in unguarded catch and shoot situations, his experience on the pick and roll (83 FGA, 1st), and his 1.39 PPP shooting off of screens. He was not terribly efficient as an all-around scorer, struggling in particular to convert opportunities around the basket. He took a lot of pull-up jumpers and was only moderately effective at doing so, but did show a raw ability to create his own shot that can certainly develop more polish in the future.

[Read Full Article]

---
NCAA Weekly Performers, 2/4/09
February 4, 2009
The Marquette Golden Eagles are one of the surprise teams in college basketball this season, as they are currently ranked 8th in the nation and 1st in the Big East, with an 8-0 record in conference play. A good amount of their success can be attributed to the play of senior guard Jerel McNeal. McNeal's off the charts shooting and stellar defense has made Marquette a team to be reckoned with, and has made him a legitimate Big East Player of the Year candidate.

McNeal has shot the ball at an unprecedented rate this year. He's averaging a touch under 20 points a game with a true shooting percentage of 61% and is connecting on 50% of his 2-point attempts. His 46% from 3-point range, though, good for 10th in the country, is the most staggering stat for McNeal as he was only a 30% 3 point shooter just last season. Not only is he making shots at an incredible rate at the moment, he's also incredibly prolific from beyond the arc, at 2.5 makes per game (up from just 1 last season).It's going to be interesting to see if he can keep up this hot shooting or if he'll eventually cool off and come back down to earth.

Nonetheless, he has certainly shown much improvement and it's difficult to imagine his numbers dropping anywhere near last year's marks. He has a very quick release, as he doesn't appear to dip the ball at all. Off a stand still dribble, he has the ability to pick up the ball and go into his shot all in one motion – making it difficult to even contest, and he's become incredibly accurate with his feet set. He also shows great balance when spotting up, as he catches the ball on a two foot jump stop with his feet under him at all times. He barely elevates in these two instances but it hasn't affected his ability to get his shot off.

When he's forced to put the ball on the ground and pull-up, he has a tendency to force shots. He kicks his legs out on occasion and also fades away often because of his 6"3 frame – making for difficult attempts. His pull-up jumper isn't falling at quite the outrageous rate that his spot-up jumper is, but it still goes in at a respectable rate.

In transition, McNeal is extremely athletic with the ball and has no problems leading a break and beating defenders down the court. In the half court however, he isn't able to utilize his athleticism quite as effectively. He doesn't display a lot of moves advanced off the dribble like hesitations or stutter steps. He likes to turn the corner on pick and rolls, put his head down and attack which gets him a decent amount of free throw attempts. His ball handling skills are good, but must still improve for the next level. With that said, he has improved his ability to drive left considerably as last season he favored his right hand significantly. Certainly not a one-dimensional shooter, McNeal is doing a very good job scoring efficiently from all over the court this season.

While McNeal posts a decent 1.45 A/TO ratio, he doesn't display great court vision. He's a scorer first and foremost and often has his head down with the mindset to put the ball in the basket. Considering how often he handles the ball however, with McNeal accounting for almost 23% of his team's offensive possessions, his 3 turnovers per 40 pace adjusted is not very high. He's managed to cut down on his turnovers substantially over the past two seasons, which is a very good sign.

On the defensive end is where he thrives. He's long and bouncy, always on the balls of his feet looking to make a play, but rarely jeopardizing his team. He plays very tight defense, getting into his man, which forces opponents to put the ball on the ground and be funneled into that great Marquette help. Off the ball he can get caught watching it and lose sight of his man. In addition, he hasn't quite figured out how to get through screens on a consistent basis. He likes to cheat through screens instead of tagging a player and can get hung up as a result.

McNeal is a 6'3" natural two guard,which in past has discouraged scouts to a certain extent. In McNeal's case however, with his spectacular shooting this year, he's impossible to ignore. In a league where you can never have too many shooters and with his toughness and ability to defend, he's going to draw some very long looks considering his play at the highest level of college basketball this season. If McNeal can keep playing this well leading into the postseason, he's going to be very difficult for NBA teams to ignore, possibly even in the first round.

[Read Full Article]

---
Jerel McNeal: "You Have to Put Winning at the Forefront"
November 21, 2008
In the waning minutes of Marquette's 95-64 exhibition win over Houston Baptist a few days ago, assistant coach Aki Collins witnessed something he had never seen before. Senior guard Jerel McNeal dove for a loose ball, got a hand on it, and had it promptly ripped away by an opposing player. Collins could only watch and laugh in the midst of his team's easy victory.

"I have never seen anyone beat Jerel McNeal to a basketball," says Collins with a half laugh. "If he enters the scrum, he's coming out with it. I don't care how big you are, how strong you are, if Jerel McNeal gets to a basketball he's coming away with it. You'll have to take his arm off to get that ball."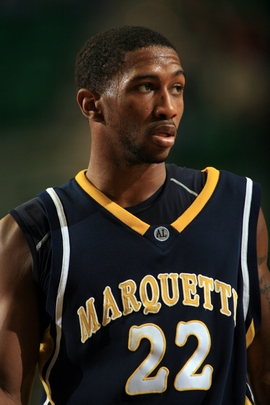 Icon SMI



That kind of toughness has allowed McNeal to develop into one of the top on ball defenders in the country and tempted him to enter his name for the NBA Draft last June after seeing his production increase drastically in the NCAA Tournament. McNeal, who didn't hire an agent, ultimately didn't attend the Orlando Pre-Draft camp and returned to campus in the fall with a newfound sense of dedication to his team and his school.

"When you get to the NBA Draft as a junior like I was, I didn't hire an agent, so really I had nothing to lose from the situation," says McNeal. "I was able to get feedback on things I need to work on to become a better player; I think I handled that pretty well. At the end of the day, I feel like I have a little more to improve on at this level and then try to make the jump next year."

From the moment he returned to school, the NBA has been the farthest thing from McNeal's mind, not that there has been a lack of distractions for the senior and his teammates in the last several months.

The first major event took place before McNeal actually opted to even return to Marquette, when longtime head coach Tom Crean left to take over the helm at Indiana. Just a few days later, the university would announce former assistant coach Brent "Buzz" Williams as the new head coach of the program. Williams, who had been with the Golden Eagles for nine months, was familiar with Crean's system as well as the players, but that didn't completely soften the blow.

"It was a confusing point for [the team] right after it happened," says McNeal. "It was something that we were all shocked about. It hurt us that Coach Crean left, but it was one of those situations where you get up and learn from it. We were lucky to have Coach Buzz step in and pick up where Coach Crean left off."

McNeal and the other three seniors on the team were able to help rally the rest of a young roster around their new coach.

"When they bought in right away, the rest of the team followed suit," says Collins. "I hate to sound corny, but it really is one big happy family here right now."

With one obstacle out of the way, McNeal and Marquette have a whole slew of questions surrounding them that will be answered in the coming months; not the least of which will surround McNeal and fellow guard Dominic James's ability to coexist in the backcourt together.

Both players, due mainly to their size, project as point guards at the next level; with only one ball to go around, it would seem that there would be potential for conflict to arise with both players trying to impress NBA scouts. Collins has repeatedly said that he doesn't expect any issues with the situation, stating that while McNeal is certainly capable of running a team, he knows that his job this season is to score points. McNeal, for all his desire to play in the NBA, has no doubts as to where his loyalties lie.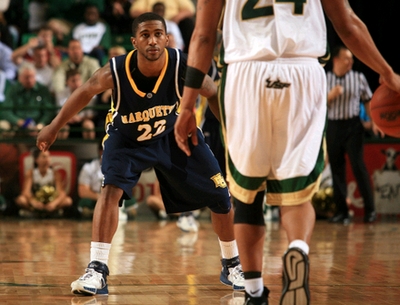 Icon SMI



"I think the main thing is any time you get a situation like that, you have to put winning at the forefront and worry about the rest later," he says. "If you're not focused on winning, then nothing is going to work for either one of us in the game."

For now, it seems the bigger concern for McNeal and the coaching staff will be how to win games with an undersized and inexperienced frontcourt in a Big East conference loaded with talented big men. The Golden Eagles have just three players taller than 6'8", and only one has logged minutes at the Division 1 level.

The coaching staff has not shied away from the fact that the team is very much focused on the play of the backcourt, particularly McNeal and James. But while the lack of an interior presence may give some bracket fillers pause come March, McNeal will tell you to not sleep on Marquette.

"We may have to worry about stopping the big guys, but they need to worry about stopping us too," he says.

But ultimately for McNeal, it is all about how he can help his team win. He's known as a lockdown defender and he's proven he can score, but he came back to school to become a more complete player. While McNeal is looking to make strides in his overall game, the coaching staff has pinpointed some specifics. Collins says that the major focus for McNeal's game in the off-season was his ball handling ability, a facet that according to Coach Collins has already improved by leaps and bounds. When it comes to what he can bring to the table in the NBA though, McNeal and Collins see much more eye to eye.

"I think whatever deficiencies he has in his game as it projects to the NBA level, you won't find a guy who is tougher than Jerel McNeal," says Collins. "I think if you have two guys who are equally talented, the tougher guy is going to win every time out."

It's that kind of praise that has followed McNeal around in his three plus years so far at Marquette. It's that kind of attitude that will allow him to lead the Golden Eagles to another successful season. It's that kind of mindset that will prevent him from losing out on another loose ball for many games to come.

[Read Full Article]

---
Top NBA Draft Prospects in the Big East (Part Three: #11-15)
October 30, 2008
After testing the NBA Draft waters in the spring, Jerel McNeal is back for his final season at Marquette, with lofty expectations for a deep run into March. The defensive stopper extraordinaire saw marginal improvements last season in his offensive game, particularly in his scoring and shooting numbers. Most encouraging though was a significant decrease in the number of turnovers he committed last year. With a new coach this season, McNeal will be expected to team with fellow backcourt mate Dominic James to lead the Golden Eagles through a loaded Big East.

Size is somewhat of an issue for McNeal, as his 6'3" frame is somewhat small for a combo-guard, even at the collegiate level. His length is very solid, though, allowing him to harass opposing players and put tremendous pressure on the ball, something he does often. He's as tough as they come, throwing his body around and refusing to back down from anyone.


McNeal's offensive game is built around him being on the move and putting the ball on the floor. Showing a terrific first step and a fearless mentality attacking the rim, he gets to the free throw line at a great rate and puts tremendous pressure on the defense. He is a far better ball-handler with his right hand than he is with his left, though, noticeably preferring not to use his off-hand, and usually pulling up off the dribble before reaching the basket if forced to do so. There is still generally plenty of room for improvement on his ball-handling skills with both hands if he's to be used in a combo-guard role in the NBA, as he won't be able to rely so heavily on his athleticism at the next level.

As a shooter, McNeal is most effective shooting mid range jumpers off the dribble. According to Synergy Sports Technology's quantified report, McNeal converted on 42% of his jumpers off the dribble, but only 30% of his catch and shoot jumpers with his feet set. He only made 30% of his 3-point attempts last season, indicating that he has a long ways to go before he can be considered even an adequate shooter.

McNeal is a very creative player, with a wide variety of moves to get his own shot, including a developing turn-around jumper, a one handed runner in the lane, and of course his pull-up jumper. When he opts to take it to the rim McNeal often uses his body to shield the ball from defenders, a practice he has had to develop due to his lack of size and strength finishing in traffic.


Defense is where McNeal really shines. When discussing the top defenders in the country his name will be at or near the top of nearly every list compiled for this season. Combining great instincts, lateral quickness, fantastic work ethic and quick hands, McNeal is nearly impossible to get consistent good looks against. Even when guarding elite scorers who are able to get their points against him, often times it is a result of these players hitting tough shot after tough shot.

There may not be a better player in the country when it comes to staying in front of his man; McNeal uses his wingspan to his advantage, but at the same time stays low to the ground to swipe at any balls that come his way. His 200-pound frame helps him fight his way through screens very well and he does a nice job of closing out on shooters. McNeal's great quickness on this side of the floor allows him to better contest shots without having to worry about getting beaten by a quick first step.

McNeal is an interesting prospect and a player that is seen on a regular basis at the college level. He is undersized and likely doesn't have the perimeter shooting ability to be a two-guard in the NBA, but he could very well endear himself to an NBA coaching staff as a combo guard off the bench thanks to his athleticism, tough-nosed mentality and defensive ability.

While his turnover numbers have dropped recently, he still loses the basketball on 20% of his possessions. Continuing to be a major scoring threat this season will be enough to keep McNeal on most people's board, with the opportunity to show off what he can do as a floor general likely to come at events like Portsmouth and Orlando.

[Read Full Article]

---
NCAA Tournament Performers, 3/25/08-- Part One
March 25, 2008
Marquette's overtime loss to Stanford will likely be remembered more for Brook Lopez's buzzer-beater than Jerel McNeal's 30 points and late game heroics (hitting three consecutive 3-pointers to start off the overtime period), but the Marquette junior had one of the best games of his career regardless, showcasing the best and worst attributes of his game on a national stage. With one-year left of eligibility remaining, McNeal certainly has a lot of improvements to make in his offensive game, improvements that look to hold the key to his potential at the next level.

McNeal is a great athlete, standing 6'3 with a nice frame and good wingspan. He has a very quick first step and shows good lateral quickness, which allows him to be effective on both ends of the floor. His size, athleticism and toughness are essential to the way that he plays, and help him out greatly against much bigger players.

Offensively, McNeal is at his best when he is slashing to the basket. Utilizing his lightning quick first step, he is able to beat his man and take the ball to the hoop, where he can finish with either hand, even though he drives right more often than he does left. He is fearless in the lane, and is a solid finisher around the basket. He is a good ball-handler as well, and therefore is just as effective with the ball in his hand as he is without.

Moving away from the basket, he loses some of his effectiveness. He has shown more semblances of a mid-range game this season, but still has a long way to go before it becomes a part of his offensive repertoire. He handles the ball well and shows the ability to pull up off of the dribble, but his shooting motion needs a lot of work. Though he sets himself up for shots well, his form at this stage is inconsistent, and does not allow him the chance to get his shot off at the apex of his jump. In the off-season, developing his mid-range game should be a top priority.

Another priority looks to be improving his shooting from the perimeter. While McNeal runs off of screens well and has the ability to get his shot off just about whenever he wants, he is not a good perimeter shooter, shooting just 30.1% from beyond the arc on three attempts per game. The problem is his shooting form, which despite a quick release, suffers greatly from various inconsistencies. For one, he shoots the ball differently on almost every attempt. Sometimes he will fade away; other times he will fall into a shot or even fall to the side. All of these factors influence where he is releasing the ball, and whether or not his form is good. On top of all of these inconsistencies is the fact that, at the moment, he is only a set shooter. He should be hitting a much better percentage of shots from the college three-point line and this, combined with his lack of NBA range, is probably the area in which he must improve most if he wants to compete the next level.

Another question mark is McNeal's position at the next level, or lack thereof. He is a 2/1, a combo guard that will likely never see heavy minutes at the point guard position. While his decision-making abilities have improved, he still lacks true point guard instincts, and he is not nearly good enough of a passer to run an offense at the next level. Due to his size, speed, and athleticism, he should be able to play in the NBA, but projects more as an energy player off of the bench at this stage.

Defensively, however, McNeal is unquestionably good. Utilizing his size, aggressiveness, lateral quickness, and strength, he is a very tough perimeter defender and likely the best the Big East has to offer. He uses his long arms to interrupt passing lanes, knock the ball away from his man, and even, on occasion, block shots. Most impressive, however, is his ability to stay in front of his man, whether he is guarding a point guard, shooting guard, or small forward: McNeal rarely runs under screens and works extremely hard on the defensive end. Likewise, in loose ball situations, he is just as aggressive and works hard on the defensive boards, despite often not being anywhere near the basket.

McNeal has one more year at Marquette and should look to improve his offensive versatility, most notably his shooting and continuing to cut down on his turnovers, if he wants to compete at the next level. Even his remarkable 30-point performance against Stanford was marred by 4/12 shooting from beyond the arc, 3 turnovers, and 0 trips to the foul line. One more year in a talented Big East should give scouts as much information as they need on McNeal, and he will have many opportunities to showcase his abilities on both sides of the ball in one of college basketball's toughest conferences. Advancing further in the tournament next year will surely not hurt.

[Read Full Article]

---
Blogging through Championship Week (Part Three)
March 14, 2008
McNeal entered the Big East tournament coming off of a couple of big games against Syracuse and Seton Hall. In a first round match-up against Notre Dame, the talented but erratic guard had his biggest game of the season, allowing the Golden Eagles to advance in upset fashion. He had a huge game both statistically (28 points, 6 rebounds, 9/16 FG, 4/7 3PFG) and in terms of impact for his team. The guard caught fire early in the second half, scoring seven straight points to bring his squad back from an eight point deficit. He showed incredible quickness while taking the ball coast to coast on a fast break, and impressive elevation on his three point jumper on the next possession. McNeal continued to show the lockdown defensive ability that first gained him notoriety as well. He's has always been criticized for his reckless style of play, but his turnovers have dropped significantly this season. He must continue to shoot the three pointer with some consistency, and we could see an increase to his draft stock next season.

[Read Full Article]

---
Top NBA Draft Prospects in the Big East (Part Three: #11-#15)
October 25, 2007
One of the most athletic guards in the Big East, Jerel McNeal gained nation-wide notoriety last season for with lockdown perimeter defense. The season was cut short for him due to injury, but not before he established himself as possibly the best defender in college basketball. Coming into his junior season healthy, McNeal will have his chance to shine again on a talented and experienced Marquette team.

Playing both on the ball and help defense, McNeal managed to make a huge impact when healthy. He had five games with over five steals, and finished the season averaging around three per game. Many guards rack up high steal numbers by gambling in the passing lanes, and they end up causing more harm than good. This couldn't be further from true with McNeal, who uses his quick hands and constant ball pressure to create turnovers. The junior guard has no problem locking down much bigger players, using superior quickness and perfect positioning to his advantage.

McNeal plays both on and off the ball for Marquette, and has some of the tools necessary to play point guard in the NBA. He shows the instincts of a distributor in transition, and will display flashes of making the proper read while playing at full speed. In the half court, he can get to the basket at will thanks to superior quickness in combination with a decent handle. Decision making in the half-court will be the biggest hurdle for McNeal to overcome in terms of running an NBA offense. He often forces the ball into crowds of defenders with no place to go, and will focus too heavily on scoring the ball when driving inside. This led to an average of 4 turnovers per game last season, far too high for a guard who splits time at the lead guard spot with another point guard in Dominic James.

McNeal often relies on his mid-range game to score the ball, using a series of floaters and running jumpers to score off the dribble. When slashing to the hoop, the junior guard tends to over-dribble and turn the ball over. He doesn't always drive all the way to the basket, but draws contact at a good rate of success while attacking the rim. To make himself more attractive for the NBA, McNeal must focus on improving his outside shooting stroke. A constantly changing release point combined with abnormal wrist motion will both need attention for him to become an accurate outside shooter.

Jerel McNeal clearly has the ability to play a lockdown defensive role in the NBA, but he must improve his perimeter shooting and decision-making skills over the next two years to maximize his potential. Marquette should make it back to the NCAA Tournament this season, and McNeal will have every chance to shine against top college competition in the Big East. It would not be surprising to see him test his stock after the season is over, but he will likely need his senior season to maximize his draft stock.

[Read Full Article]

---